In two previous posts, I put out the call for everyone's  'Favorite Classic Animal Characters' in picture books, and got two great lists going (to see the results of List 1, go here). Here's the second list of books I explored:
LIST 2:
Mouse Books (Henkes)
The Gruffalo (Donaldson and Scheffler)
Lyle Lyle Crocidile (Waber)
Sylvester and the Magic Pebble (Steig)
Corduroy (Freeman)
Martha Speaks (Meddaugh)
Maisy Mouse (Cousins)
Bear and Mouse (Becker and Denton)
Frederick (Lionni)
Alexander and the Wind-up Mouse (Lionni)
The Cat Who Wore a Pot on Her Head  (Slepian, Seidler, Martin, Follett)
Harry the Dirty Dog (Zion and Graham)
Crictor (Ungerer)
Herman and Rosie (Gordon)
Duck and Goose  (Hills)
Bear books (Wilson)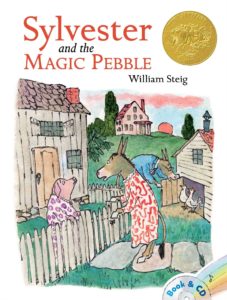 Similar to Horton Hears a Who from List 1, Sylvester and the Magic Pebble was another head slapping "D'oh!" moment. How could I forget this one? It was one of my favorites as a child. I remember vividly how it made me feel as a kid; so scared for Sylvester, so sad for his parents. When Sylvester turns into a rock, he really feels like a rock! I recall that even when Sylvester's mother and father picnic on him, my small mind still wasn't sure they would find him (a good reminder that kids don't see the end coming the way adults often can).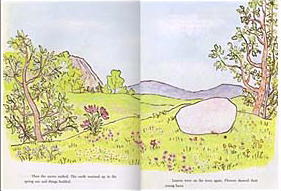 I had a great time revisiting this classic picture book. The first thing I noticed was how long it is, like many picture-books of yesteryear. At 1425 words, there might be redundant text/picture descriptions here and there, but I was surprised to feel that the length of this book is one of its positive aspects. The text builds up the characters, the situation, and the emotions. This story features a significant passage of time, so a longer text creates the feeling that it really has been a long time that these poor characters have been apart. If there had been one line per page, we would have reached that ending so quickly that I wonder if it could have possibly been as satisfying? In a word-cutting–800 words or less–picture book age, I think there are still cases in which more text can help us savor the characters, their environment, and their story. As long as it serves a purpose, it's something to consider!
By the way, for members of SCBWI, check out Theo Baker's wonderful article in the Spring 2016 issue of THE BULLETIN on this very same topic, called "The Worst that Can Happen is They Fall Asleep".
Studying these lists of picture books featuring anthropomorphic characters raised some thoughts as to why one might choose to have an animal star in their book, vs. a human character. I noticed a handful of reasons they tended to be used:
Too often, book creators seem to be using anthropomorphic characters to convey a lesson (which I'm guessing might be why anthropomorphic stories are sometimes poo poo'd in the book world). I can see why a kid could stomach watching animals learn lessons better than human characters; at least there's a degree of separation. But in more successful books of this type, like Frederick (by Lionni), a conceptual idea can be conveyed. In Frederick's case, it shows value in aspects of life that are not material.
Animals can sometimes be used to show characters in situations that might seem too scary or sad to see a child in, because it adds that degree of separation for the audience from the situation. Sylvester and the Magic Pebble was a good example of this.

Animals can be given more independence from authority than children, and can be put in adult situations, but still retain childlike qualities. 

Anthropomorphic characters have human traits, which are made more apparent and humorous. They help us to see ourselves objectively, and to sympathize with, and laugh at, ourselves.

Because it's cute, and fun, and joyful!
On my quest to find anthropomorphic characters that I could love as much as those chapter book classics (Frog and Toad, Winnie-the-Pooh, Mole and Rat), I was happy to find many more to add to that list. Thank you to everyone for all the wonderful recommendations!
~~~~~~~~~~~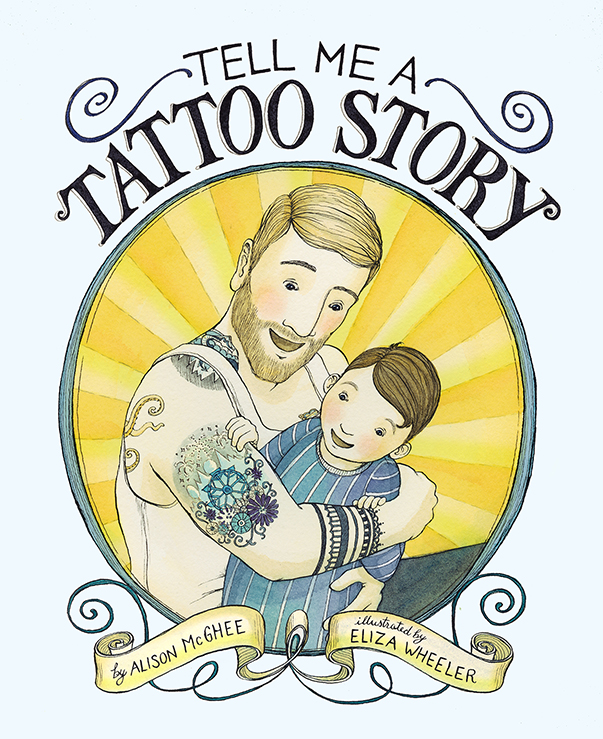 Last but not least, congratulations to the winner of my giveaway for TELL ME A TATTOO STORY:
Commenter  #14, Wendy Henrichs, come on down! I will be in touch to get your info and mail you a signed copy of the book.
Thanks to everyone who participated!