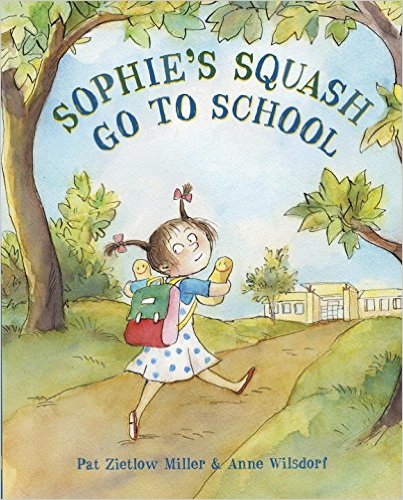 I have a new book out.
A sequel to my debut book, SOPHIE'S SQUASH.
It's called SOPHIE'S SQUASH GO TO SCHOOL
And, I cannot lie. I'm kind of excited.
So I made a list …
Five Things You Should Know About This Book
It's partly inspired by my  daughter Sonia. When Sonia — who inspired the original SOPHIE'S SQUASH — was  in preschool, a little boy admired her. He admired her so much that he told  her he was going to marry her. He drew pictures of them getting married and talked about it at great length. Sonia wanted no part of these conversations. She came home in great indignation, telling me she DID NOT WANT to marry this boy. I told her she didn't have to. Eventually, we decided she would tell him that her mother said she couldn't even think about marrying anyone until she was out of college and had a job. Of course, in SOPHIE'S SQUASH GO TO SCHOOL, Steven Green doesn't want to marry Sophie. He just wants to be friends. But Sophie is still a hard sell. It takes her a while to see that human friends could be helpful. As an aside, Sonia is now 14 and volunteers one day a week at that same preschool. Just last week, another little boy told her she was beautiful. So she's obviously appealing to 4-year-olds.
It includes a memory from my childhood. I initially didn't like several things about school, including the mandatory milk break. We drank 2 percent at home, and the school served whole milk, which I found repulsive. So Sophie saying the milk tastes funny is a direct shout-out to Merrill Elementary School in Oshkosh, Wisconsin in 1973. Eventually, my mom wrote a note excusing me from drinking milk with the rest of my classmates.
That's not a typo in the title. So many people have asked, "Shouldn't it be SOPHIE'S SQUASH GOES TO SCHOOL"? If Sophie only had one squash, this would be true. But in this book, Sophie has two squash — Bonnie and Baxter — and they go to school.
I love the endpapers. In the first Sophie's Squash, illustrator Anne Wilsdorf filled the endpapers with drawings of Sophie playing with her squash, Bernice. In this book, Anne has Sophie and Bonnie and Baxter cavorting around the endpapers with a special guest appearance by Steven's stuffed frog, Marvin.
The frog is named after my grandfather. My maternal grandfather was Marvin Hornig. And Marvin, the stuffed frog, is named after him. I also dedicated the whole book to my aunt Faye Clow, who was a wonderful librarian. She gave me my favorite book when I was a kid — THE WESTING GAME by Ellen Raskin. There's even a park named after her in Bettendorf, Iowa called Faye's Field. And , of course, it's right across the street from the library.
So now you know the inside story of this book. Feel free to amaze and astound your friends.
And, if you'd like to win your own copy, leave a comment below.
I'll choose one winner and sign the book to the person, or squash, of their choice.