Today I'm excited to introduce Anna Comstock, the pioneering scientist featured in my newest book — OUT OF SCHOOL AND INTO NATURE (Illus. by Jessica Lanan.) Anna was an important role model who boldly changed the "rules" of her day by proving that women could be researchers, scientists, and even college professors. In a word, she was remarkable!
In addition to being a scientist (at a time when women were discouraged from pursuing the sciences,) Anna was also an accomplished artist, groundbreaking educator, author, and the first woman to be named a professor at Cornell University. She is one of only four women inducted into the National Wildlife Federation's Conservation Hall of Fame. Surprisingly, few people have heard about Anna Comstock. Hopefully this book will help change that.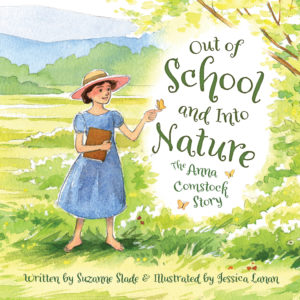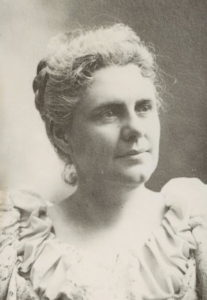 I discovered Anna Comstock years ago when I was invited to give an author presentation at Prairie Crossing Charter School. PCCS is an environmentally focused school — in their curriculum, their buildings, and the basic way they operate. During my visit I noticed a lovely wood building with an "Anna B. Comstock" plaque over the door. I soon learned this was the first LEED Certified school building in Illinois (ie. super eco-friendly.) The Comstock building was constructed with many "green" components such as recycled newspaper ceiling tiles, bamboo flooring, recycled clay tiles, and it was equipped with energy saving motion sensor lights and sinks.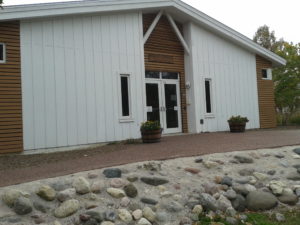 Intrigued by the Comstock building, I investigated Anna and learned about this smart, determined woman who passionately pursued her interest in nature. And before I knew it, I'd found the next story I wanted to write.
So I dug deeper into research and contacted experts at Cornell University, read Anna's autobiography, THE COMSTOCKS OF CORNELL, as well as other books she'd written and/or illustrated.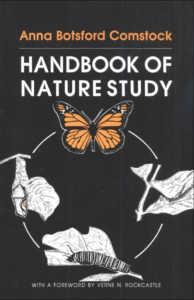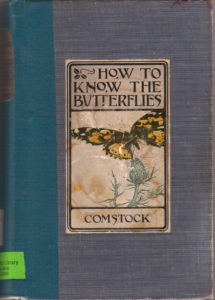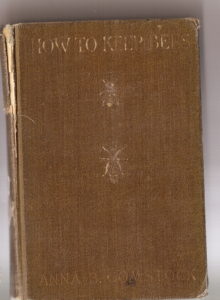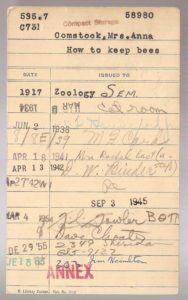 (Sidenote: I borrowed a very old copy of Anna's book, HOW TO KEEP BEES, from Northwestern University. According to its "checkout card" (remember those?), the book was first checked out in 1917!)
I also enjoyed researching Anna's engraved artwork. To create these detailed prints, she first carved hundreds of fine lines into a block of wood, then rolled ink over her wood carving and pressed paper on top. Below are a few engraved prints Anna created for an insect book her husband, Harry, wrote. (They both loved nature and bugs. Such a perfect match!)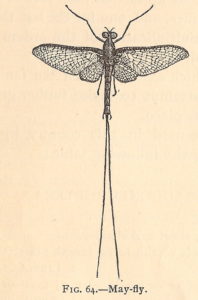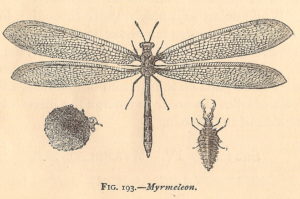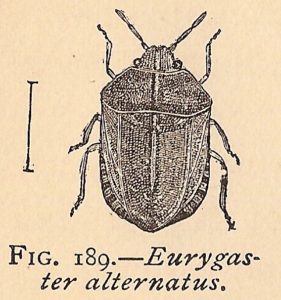 The illustrator for OUT OF SCHOOL AND INTO NATURE, Jessica Lanan, cleverly included wonderful recreations of Anna's fine insect artwork in her illustrations.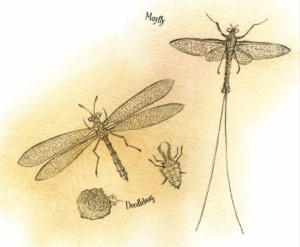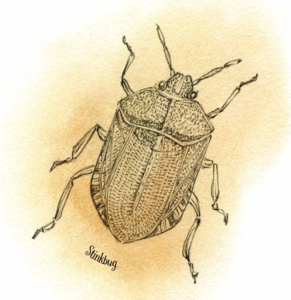 Jessica also did an incredible job of capturing Anna's inquisitive spirit and love of nature. She created these two magnificent "mirror" spreads which show Anna as a curious, young girl exploring nature, and Anna in her final days spending time with her first love — nature.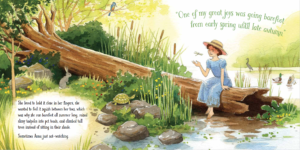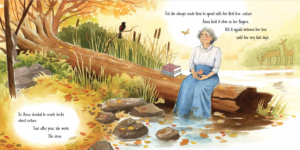 Fortunately, the publisher (Sleeping Bear Press) was able to obtain permission to include Anna's stunning "Three Butterflies" engraved art piece in the "Author's Note" section of the book, so readers can see her actual work up close.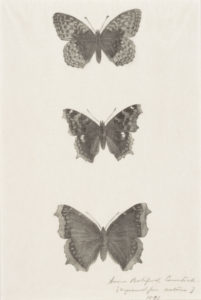 While writing this book I kept trying to think of the best title to describe Anna's passion and accomplishments. Finally, I selected OUT OF SCHOOL AND INTO NATURE because Anna strongly believed students should experience nature first-hand and encouraged teachers to take their classes outside to study nature. In fact, Anna started an outdoor nature study program in New York which eventually grew into a nationwide program.
Today many teachers concur with Anna's belief that outdoor classes are the best way to help students investigate and discover the wonders of nature. At Ottauquechee School in Vermont, teachers Eliza Minnucci and Meghan Teachout started ForestKinder to promote outdoor kindergarten classes called Forest Days. In fact, their kindergarten students spent every Thursday outside (rain or shine!) In time, more teachers joined in, and their school now has Forest Days twice a week. Like Anna Comstock, these innovative teachers understand that outside exploration is very beneficial for students.
I was curious about how outdoor classes work, so one of the Forest Day teachers, Eliza Minnucci, kindly agreed to answer a few questions.
I'm inspired by the breadth of her influence. Her emphasis on being in nature, and using children's natural curiosity to lead them to develop relationships with nature, with animals, with each other by directly engagement is an idea that I think many educators of young children arrive at again and again naturally. I think she'd be pleased to spend a day with my class in the woods! I hope that the resurgence that nature-based education is experiencing now will bring more people back to her work.
2. Why did you decide to move your class outside, and how long have you been having Forest Days?
After seeing the documentary
Schools Out
, I was inspired to have students outside, but did not actually think it possible in our educational culture. However my principal encouraged me, and so I called upon Meg Teachout to partner with and we got underway. There are so many reasons we started taking the kids outside. For five year olds I believe it is a better place to learn — even traditional academics. I also wanted to give my students authentic opportunities to develop independence, grit, compassion and curiosity. We're in our 4h year of Forest Days, and find that the setting and experiences continue to deliver on our goals. Our students are challenged in ways different from in the classroom, they have different and more positive social interactions, they develop responsibility, and they relish the variety and depth of learning the forest provides.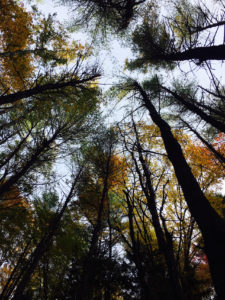 3. What do your outdoor class days include? Do the students have a schedule for Forest Days?
In our class we have a rhythm of routines every Forest Day. During morning classroom time students write and illustrate "Forest Plans" in their Forest Journal, while also taking turns answering a focusing question of the day. At least once a month we use the tremendous guide book Naturally Curious by Mary Holland to spark thoughts about what might be happening in our woods. After dressing for the day, we hike up to our forest space and start with "Sit-Spots." Sit-Spots is an idea from Coyote's Guide to Connecting with Nature by Jon Young. Each student has a space in the forest and on Forest Days everyone spends fifteen minutes in their spot — quiet, by themselves. It's an observational, introspective time to get centered before the day begins. We then have a whole group morning meeting that follows the same Responsive Classroom routines the students do inside. We greet each other, share our observations of the forest, do an active game and review the Morning Message (the question of the day the students engaged with upon entering the classroom in the morning.). We check the temperature, then head to explore or free play time. This is a long period of time that is open to student choice. Often there is cooking to be done, or a project or expedition on offer (collect birch bark for the fire, sweep out the shelter…), but mostly students play of their own design — lots of building and pretend play. We gather for snack, then split into small groups for teacher directed stations. These stations reflect current classroom units in math, literacy and science, as well as seasonal inspiration from the woods. We gather around the fire again for lunch, and often a read aloud. After lunch there is usually more free play and exploration before we hike back to school in time for related arts class.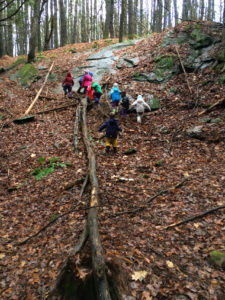 4.  What are some benefits your students gain by having class outside?
We are forced to plan in a way that is more developmentally appropriate…for example, students can run between teacher directed stations (leaping over logs and slogging through snow), and we can use gross motor movement much more in our actual lessons. We can be louder, we can take up more space and spread out during play, so there are more opportunities for independent social interactions. Our students get a better sense of their environment and their place in the environment. For example, they get way better at dressing themselves appropriately, and they get pretty accurate at guessing the temperature. They become much more responsible managing their bodies and their belongings through all kinds of weather. They learn to use non-fiction texts authentically and eagerly, as we use guidebooks frequently. They develop a sense of pride in all the things they do — stay outside in really cold temperatures, spend hours out in the rain (when everyone else has inside recess!), tap trees, haul sap and make syrup, build shelters, use an outdoor bathroom, cook over a fire… I could go on and on!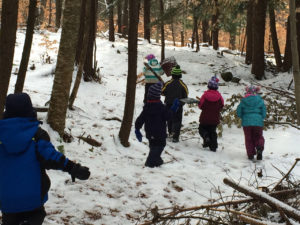 5.  Do many schools have outdoor classes? Is this becoming more popular?
There are more than a dozen classrooms in Vermont, and nationwide even more, who are following this model pretty closely. Outdoor days are definitely becoming popular. I have been amazed by the way this idea has resonated with teachers. We count new teachers among those in mid-career and near retirement who have latched onto this idea and brought it into schools of a variety of sizes and resources. I present at conferences across New England (and in April, in Vancouver, BC!) and my workshops are always bursting at the seams with attendees. I continue to be shocked that so many others share my passion, but it is a welcome surprise! Also welcomed is how earnestly these teachers develop their outdoor programming with their students. Check out the blogs from just a sampling of classrooms we've been in touch with 
http://forestkinder.org/forest-day-blogs/.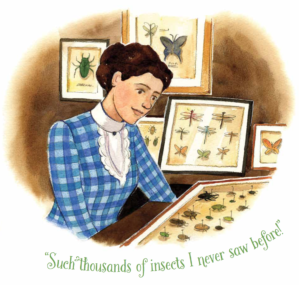 Well, I hope you enjoyed learning a bit about one of our early science pioneers, Anna Comstock, and how her passion for nature has helped several generations of kids fall in love with nature.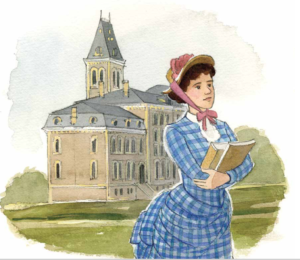 * * * * * * * * * * * * * * * * * * * Book Giveaway * * * * * * * * * * * * * * * * * * *
If you'd like to enter to win an autographed copy of OUT OF SCHOOL AND INTO NATURE, simply leave a comment on this post. A winner will be selected March 15th — the day the book officially releases! (Though it's available for pre-order now!)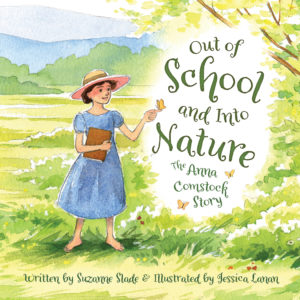 * * * * * * * * * * * * * BONUS! Student activities which tie-in with the nature topics in the book * * * * * * * * * * * * * * *
[Pssst!  Starting March 4, you can also enter to win an autographed copy of OUT OF SCHOOL AND INTO NATURE on Goodreads Giveaways!]
Kirkus *Starred* Review, OUT OF SCHOOL AND INTO NATURE – "An inspirational must-read for budding scientists and those who teach them."