I had the pleasure of meeting Annie Silvestro a couple of years ago at the NJ-SCBWI Conference. Trust me when I say Annie is every bit as delightful as her debut picture book, Bunny's Book Club.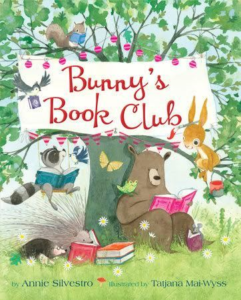 This is what Kirkus had to say about the book:
"A sweet salute to reading."
And Publishers Weekly:
"[Annie Silvestro] makes the pleasures of reading abundantly clear."
And Booklist:
"Mai-Wyss' soft, muted watercolor scenes sprinkled with charming, expressive cuddly animals is the perfect complement to Silvestro's enchanting story about the love of books."
Nice, huh?
Annie was kind enough to stop by Picture Book Builders.
Annie, congratulations on your debut picture book. Please tell us about Bunny's Book Club.
Thank you so much, Tammi! Bunny's Book Club is a love letter to libraries, my very favorite places. Bunny loves books so much he sneaks through the library's book return to get them. When Bunny's friends catch wind of what he's been up to, they want books, too. So Bunny takes them on a field trip. All is well and good…until they get busted.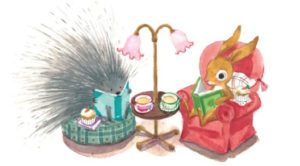 What sparked the idea for this book?
My children's preschool holds a parent show each year – I played a bunny in my debut performance. Backstage, the cast and I were all being silly in our animal costumes and I started imagining all kinds of funny things my bunny could be up to. One spark ultimately developed into an early plot of the story.
What was your revision process like?
This manuscript went through a number of revisions. At first it had more of a Western-type feel, but after speaking with my editor early on in the process, we decided to take the story in a different direction. The tone of the story changed, but its essence and heart stayed the same.
I love the warm and wonderful art created by illustrator Tatjana Mai-Wyss. I have to know–who was the genius behind the endpapers for Bunny's Book Club? They are my absolute favorite endpapers of 2017 so far!
Thank you! My incredible editor, Frances Gilbert, is the genius behind the library card on the endpapers! She worked in a library when they started phasing out the cards for computers and has always been nostalgic for them. I have fond memories of my school librarian letting me help sort and catalog the cards, so this page is particularly special to me, too. Tatjana Mai-Wyss created the beautiful images of each animal reading—I especially love the raccoon with the cowboy hat!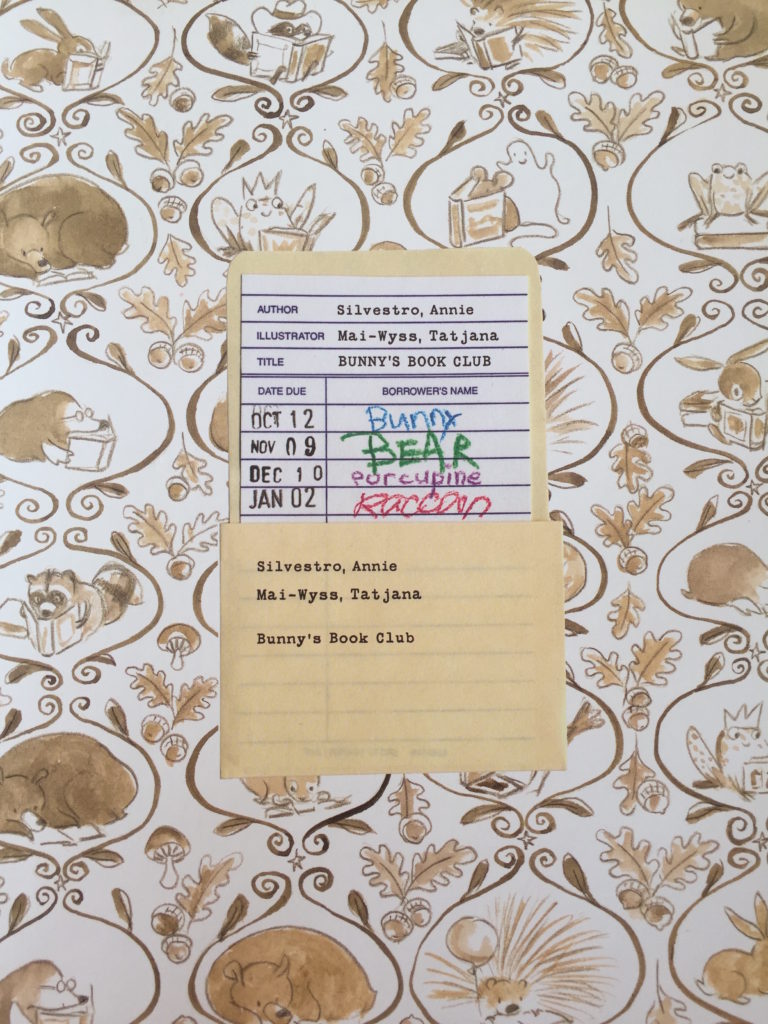 Okay, now I love Frances even more than I did before. 🙂 She was my editor for Cowboy Camp, Chicken Dance, and Bawk & Roll. She's also the editor for my upcoming book, Wordy Birdy.
If you had one key piece of advice for writers, what would it be?
Aside from reading as much as you can, I would say be sure to give your manuscript plenty of time and space. Don't rush. It's important to put each story away for a little while to try and get some fresh perspective.
Scoop time! What's next for you?
My next picture book, Mice Skating, comes out this fall with Sterling. I recently had a peek at Teagan White's illustrations and I was blown away. She is incredibly talented and perfectly matched with this story! In 2018 comes The Tree Who Loved Trains, illustrated by Paola Zakimi. I absolutely love Paola's work and I can't wait to see this story come to life.
Congratulations, Annie! We at Picture Book Builders look forward to your upcoming releases. Thanks again for stopping by.
****************************************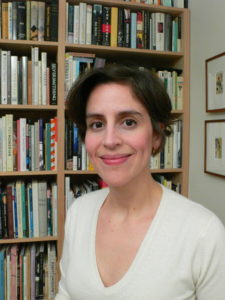 BIO:
Annie Silvestro is a lover of books who reads and writes as much as possible and can often be found shuffling piles of them around so she has a place to sit or someplace to put her teacup. Her picture books include BUNNY'S BOOK CLUB, illustrated by Tatjana Mai-Wyss (Doubleday Books for Young Readers), which has been chosen as a Kids' Indie Next List pick as well as an Amazon Best Book of the Month, MICE SKATING, illustrated by Teagan White (Sterling, Fall 2017), and THE CHRISTMAS TREE WHO LOVED TRAINS, illustrated by Paola Zakimi (HarperCollins, Fall 2018). Annie lives by the beach in NJ with her husband and two boys who like to read, and a cat who does not. Visit Annie online at: www.anniesilvestro.com and on Twitter and Instagram: @anniesilvestro
****************************************
GIVEAWAY: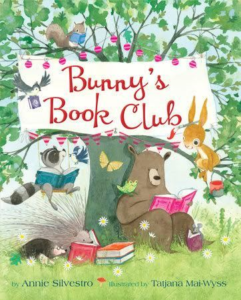 Hey, everybunny. Annie is giving away a signed copy of Bunny's Book Club to one lucky duck commenter.
****************************************
WINNER: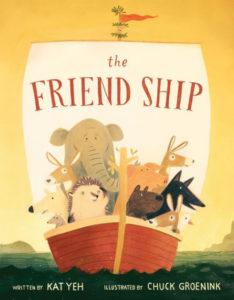 Congratulations to Katy Duffield. She is the winner of a signed copy of The Friend Ship by Kat Yeh.