So, the holiday hubbub has passed, and we're in that long wintry stretch that has many of us yearning for spring. Yes, it's still a few months away, but today's book—A ROUND OF ROBINS by Katie Hesterman—offers a lovely dose of springtime to help tide us over.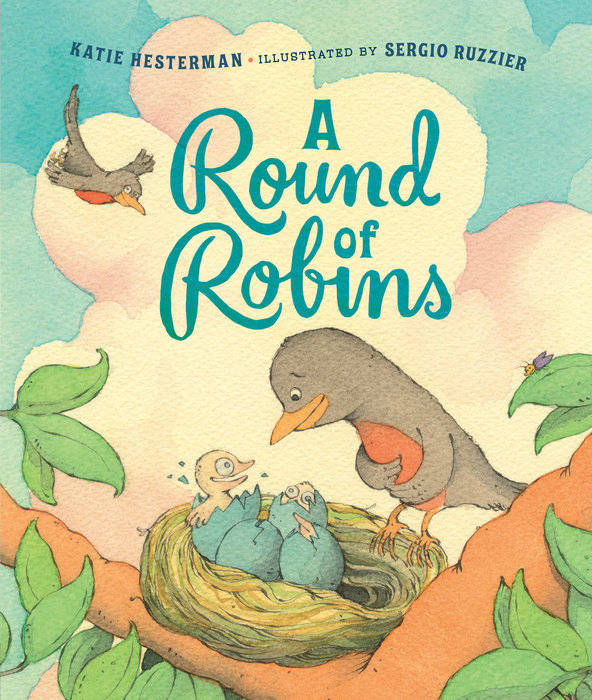 MORE good news: Katie is here to answer a few questions about the book—AND she'll be giving away a signed copy. (As usual, leave a comment below for a chance to win.)
First, about the book: In 16 short and clever poems, Katie follows Mama Robin and her mate as they prepare for the arrival of four little ones, who grow and eventually leave the nest . . . so Mama can start another round. It's informative, witty, and fun to read aloud (check out some samples below), and Sergio Ruzzier's charming illustrations are perfectly matched to the text. But don't take my word for it. The book—published by Nancy Paulsen Books—earned *three* starred reviews.
Pretty impressive, especially for a debut picture book! So here's Katie to tell us more.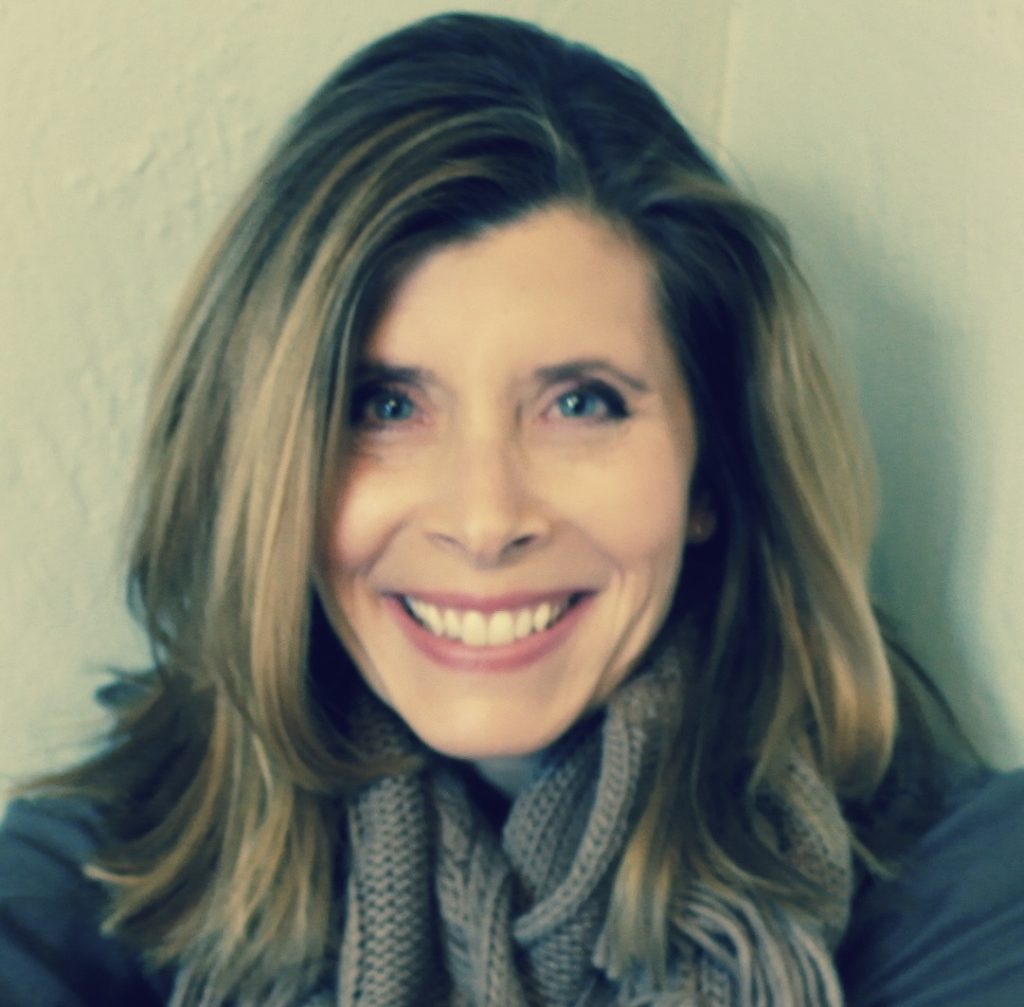 1. Let's start at the beginning. What sparked the idea for A ROUND OF ROBINS?
I'm a nature lover and I've always been fascinated by birds. As a child I wanted to be an ornithologist, so I suppose you could say the "seed" for this story was planted many years ago. In actuality, the book itself was inspired by a nesting family of robins that took up residence just outside my kitchen window.
2. I love how the book is structured, taking us through a cycle of nest-making, egg-laying, hatching, growing, and fledging, then ending with Mama Robin starting all over again with four more eggs. Did you know from the start this was how you'd structure the book?
Wow, that's a great question! The sequential aspect of my book was there from the start. The story itself started out as something very different. Initially, it followed a robin family and a mourning dove family through the nesting cycle. This structure set up a natural compare and contrast element which, in my humble opinion, made for some very interesting reading. Unfortunately, it also made my picture book much longer. Thankfully, my wonderful agent (Rick Margolis) helped me to realize that I was trying to do too much. I dropped the mourning doves, per Rick's request, focused entirely on the robins and…A Round of Robinswas born!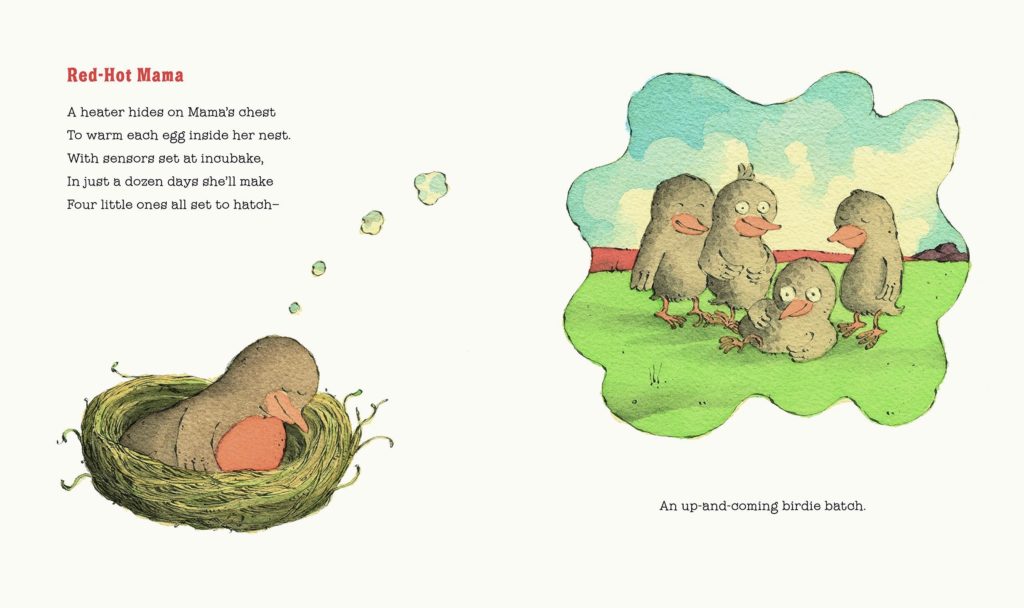 3. I always recommend that picture book writers read (and write) poetry, and this book is a perfect example of why. Every poem is a pithy, fun-to-read-aloud story, packed with wonderful language. How long have you been writing poetry? Can you tell us something about your process in writing these poems?
What a kind thing to say! I have always loved poetry. My mother, an English teacher, began reading it to me when I was just a baby. By the time I was a toddler, I was memorizing and reciting poems to anyone who would listen. As a teenager, I still loved to read poetry. When I became a parent, I found myself often reading to my children from books with lively and engaging rhyme. I didn't actually begin writing poetry until my children were young, but I believe the music of poetry had been playing in my head, and the rhythm of poetry beating in my heart, long before I ever took pen to paper.
It may seem hard to believe but a great deal of research actually goes into each one of my little poems. I spend many hours reading, watching nature documentaries and in some cases taking field trips to build my knowledge base of a topic before I even begin to write. Next, I work to condense my knowledge into interesting bite-size nuggets. My end goal for each finished poem is always the same; making the words fun to read and the information easy to digest. Though the process can at times be tedious, in the end, I find that the results are worth the effort.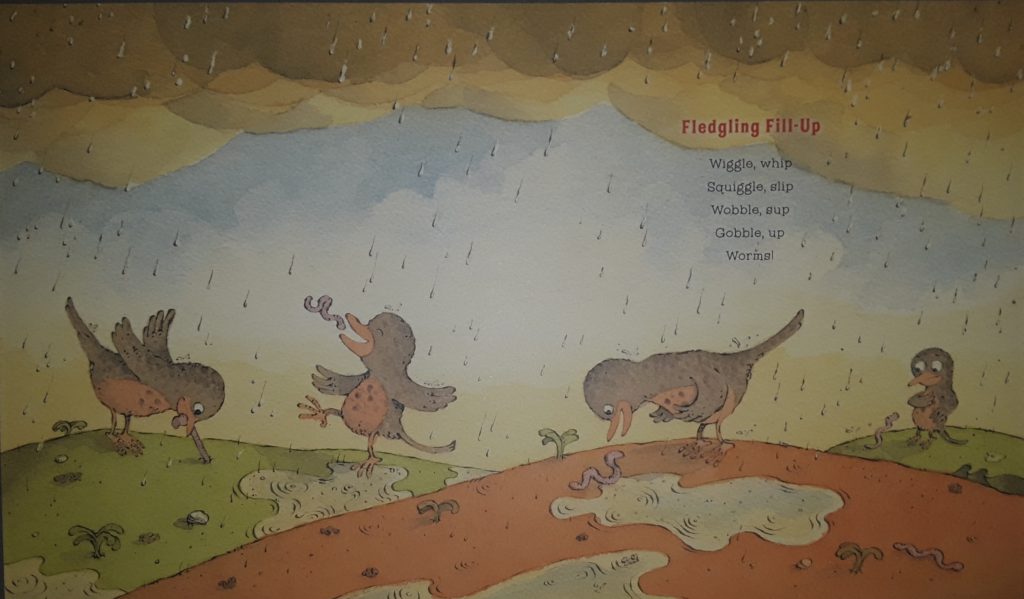 4. This is your first picture book—congratulations! Can you tell us a bit about your path to publication? (Your bio mentions a stethoscope??) How did you wind up with Nancy Paulsen? Any surprises along the way?
Thank you! Having a picture book published has been a dream of mine for many years! My path to this point has been a long and winding one. My first career choice did indeed involve a stethoscope. Unfortunately, I quickly realized that nursing was my profession and not my passion and I began searching for my actual calling. One day, as I read to my children from Ladybug Magazine, something clicked. I could write like this, I thought and so I began. I researched writing for children, joined SCBWI and then joined a local SCBWI critique group. I found early success through publication in the periodical that had inspired my passion…Ladybug Magazine. And then, just fifteen years (and one amazing agent) later, my first picture book was sold to Nancy Paulsen.
I'm not quite sure how I was lucky enough to wind up with Nancy Paulsen but, trust me, I was on cloud nine with the news. I was equally excited to learn that Sergio Ruzzier would be my illustrator. I'm absolutely thrilled with Nancy's vision for the final product!
5. What are you working on now? Any new books on the horizon?
I'm always working on the next story! My ocean inspired poetry book, with a similar set-up to A Round of Robins, is out there, swimming…in search of a publishing home. While a book of insect poems, still in the revision process, is buzzing back and forth between my agent and me. I love writing poetry but I also adore funny picture books. My next big dream is to one day carve out a small niche in the humorous picture book market.
We look forward to reading lots more of your work, Katie. Thanks so much for visiting us!
BOOK GIVEAWAY!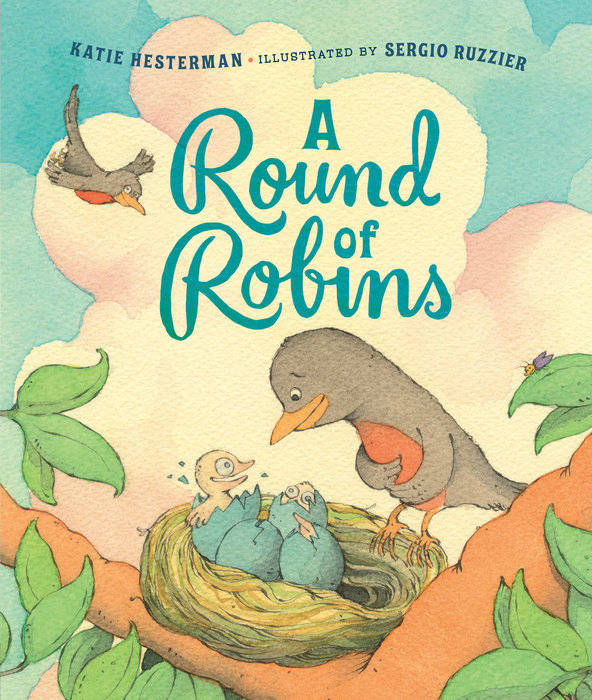 To win a copy of A ROUND OF ROBINS, leave a comment below by February 1st. I'll announce the winner in my February 5th post.
The winner of THE ART OF SLOW WRITING by Louise DeSalvo from last month's post is Danielle Hammelef. Congratulations, Danielle!
Thanks for reading, y'all—
Linda