Recently, while skimming the New York Times obituary section, I was sad to see a name I recognized: Louise DeSalvo, author of numerous memoirs, essays, fiction and writing books.
Although I didn't know Louise, I've admired her from afar. Her book The Art of Slow Writing is one of my favorite resources for encouragement, insights and practical advice. So, for my last post of 2018, I'm sending out a small thank you to Louise—and giving away a copy.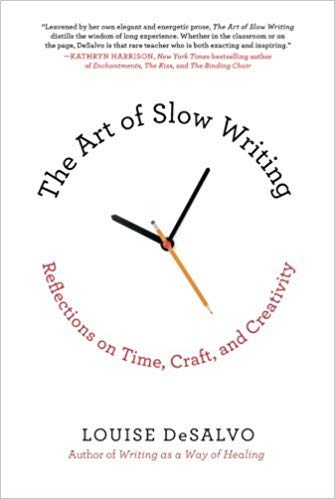 I discovered Slow Writing several years ago during one of my periodic (and typically unsuccessful) efforts to become more organized and productive. After picking up Daniel Levitin's The Organized Mind (too much brain science for me, but you can find some key recommendations here), I read The Life-Changing Magic of Tidying Up (but didn't do the work—and, alas, produced no magic).
Then I came across The Art of Slow Writing, which encouraged me to look at productivity in a different way. Mostly it reminded me that writing—like most creative endeavors—requires time and patience to do well.
Reading the book feels like spending time with a wise, empathetic and pragmatic writing coach. Louise draws upon the sorts of time-management books I look for every January, plus her many years as a writer and teacher. Best of all, she shares the fascinating habits, struggles and strategies of many successful writers, past and present. Consider:
Michael Chabon spent five years producing 1,500 pages of a novel before ultimately abandoning it (shortly thereafter, he began writing his bestselling book Wonder Boys—centered on a writer struggling to complete a problematic novel—so his experience was not entirely for naught).
Elizabeth Gilbert (of Eat, Pray, Love fame) spent three and a half years doing the research for her novel The Signature of All Things.
Many acclaimed novelists—including Jeffrey Eugenides, Donna Tartt, and Zadie Smith—typically spend five, eight, ten years writing their books, with some of that time spent completely re-imagining, restructuring and rewriting their work.
Not that I wish years of frustration on anyone, but hearing about the challenges faced by well-known authors makes me feel better about my own wrong turns and dead ends.
Because Louise primarily wrote memoir and fiction, most of the authors mentioned come from those genres. Still, the lessons apply to picture book writers and illustrators–or anyone involved in a creative enterprise. Here are a few examples:
Keep a Process Journal. Before beginning work each day, record your intentions, any thoughts about the story, and—especially—your anxieties, frustrations, or accomplishments regarding the work.
Use mindfulness techniques. If, like me, you occasionally approach your work with anxiety or negativity (e.g.,what a stupid idea; this will never sell), try cultivating a sense of curiosity and openness toward it—and yourself—instead.
Study good books. (Sound familiar?) Several of us here have talked about the value of typing up the texts of favorite picture books. It turns out novelists do the same thing—not entire books, of course, but they do copy sentences, paragraphs, and long passages to absorb the words and technique of the author.
In addition to loads of practical tips, the book also offers advice on how to balance writing with life—family, work and community—and how to deal with the inevitability of rejection (lots of rejection).
Above all, Louise emphasizes the importance of understanding ourselves, our patterns, and what motivates us, both on a day-to-day basis as well as over a lifetime, recognizing that our writing habits won't be the same when we're single and childless as when we're juggling work and childcare, or elder care, or grieving the loss of a loved one. We're complex beings, after all, constantly evolving as we learn and grow and adapt to changing circumstances.
It's a gem of a book, and a gift to all of us who sit down to write every day (or aspire to). So, thank you, Louise.
B O O K G I V E A W A Y
To win a copy of The Art of Slow Writing, leave a comment below by January 1st. I'll announce the winner in my January 8th post.
Do you have a favorite book you turn to for writing inspiration? Or time management advice? (I like The Power of Less by Leo Babauta). I'd love to hear.
Thanks, as always, for reading. And here's to a happy—if sometimes slow and occasionally frustrating—writing life in 2019!
Linda