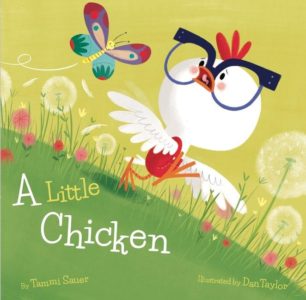 Today, A Little Chicken, written by yours truly and illustrated by Dan Taylor officially flies the coop!
Dot is the star of A Little Chicken. The first sentence tells the reader a lot about Dot.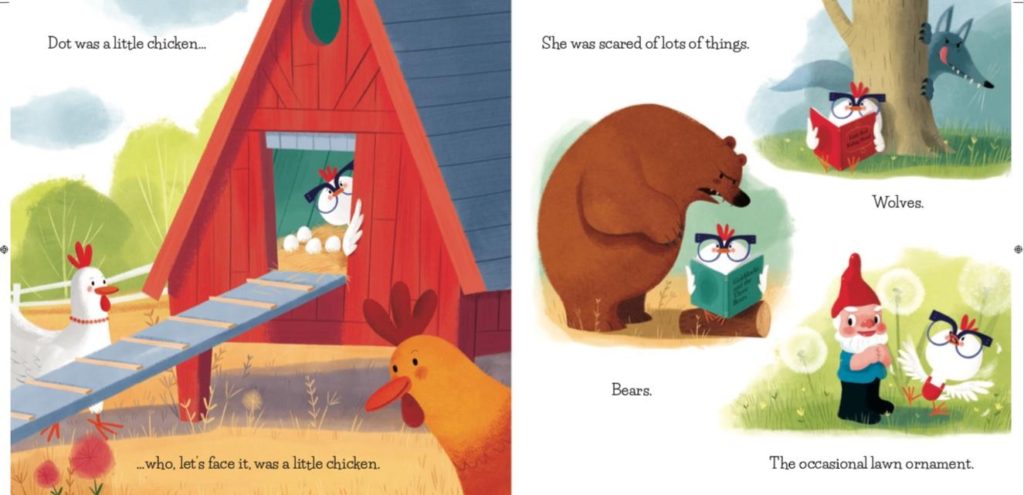 This is what Kirkus had to say about A Little Chicken:
"The effortless prose rises above, as it is concise, well-timed, and entertaining. Quick and airy, with some wordplay and a joking tone, this lighthearted selection…will encourage readers to meet their fears head on by showing that, after all, "sometimes a big hero…/…is just a little chicken."
A gently humorous take on conquering fear that's also a fine read-aloud."
Nice, huh?
Dan Taylor was kind enough to stop by Picture Book Builders and chat a bit about this book.

Welcome, Dan! What drew you to illustrate A Little Chicken? Were you worried I'd litter your yard with questionable lawn ornaments if you said no?
Hi, Tammi! I think I was drawn to illustrate ALC because it's a fun text! Plus, I don't think I've ever had the chance to illustrate a book about chickens before. Btw, you mean that wasn't you who left that creepy gnome on my doorstep!?
Maaaaybeeee.
The art in our previous book, But the Bear Came Back, has a more subdued and retro feel. (For examples, please visit my previous interview with Dan.)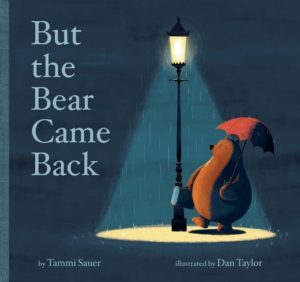 The art in A Little Chicken, however, is bright and splashy. What made you choose this particular approach for Dot's story?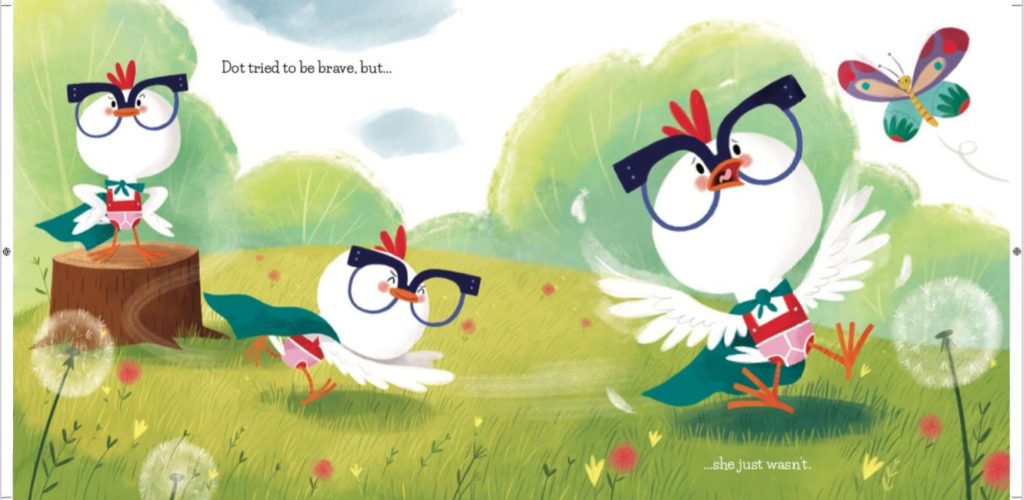 I think ALC is much bouncier in tone than BTBCB. I must have subconsciously made the art brighter?!
Take us behind the scenes. Please share a little about your process (character development, examples of roughs, cover designs).
I'm afraid I don't have a lot of development work saved for this project. I was running out of space on my HD and had to be a bit ruthless with files! I do have some character sketches – some different versions of Dot before I settled on the final awkward flappy character we see in the finished book.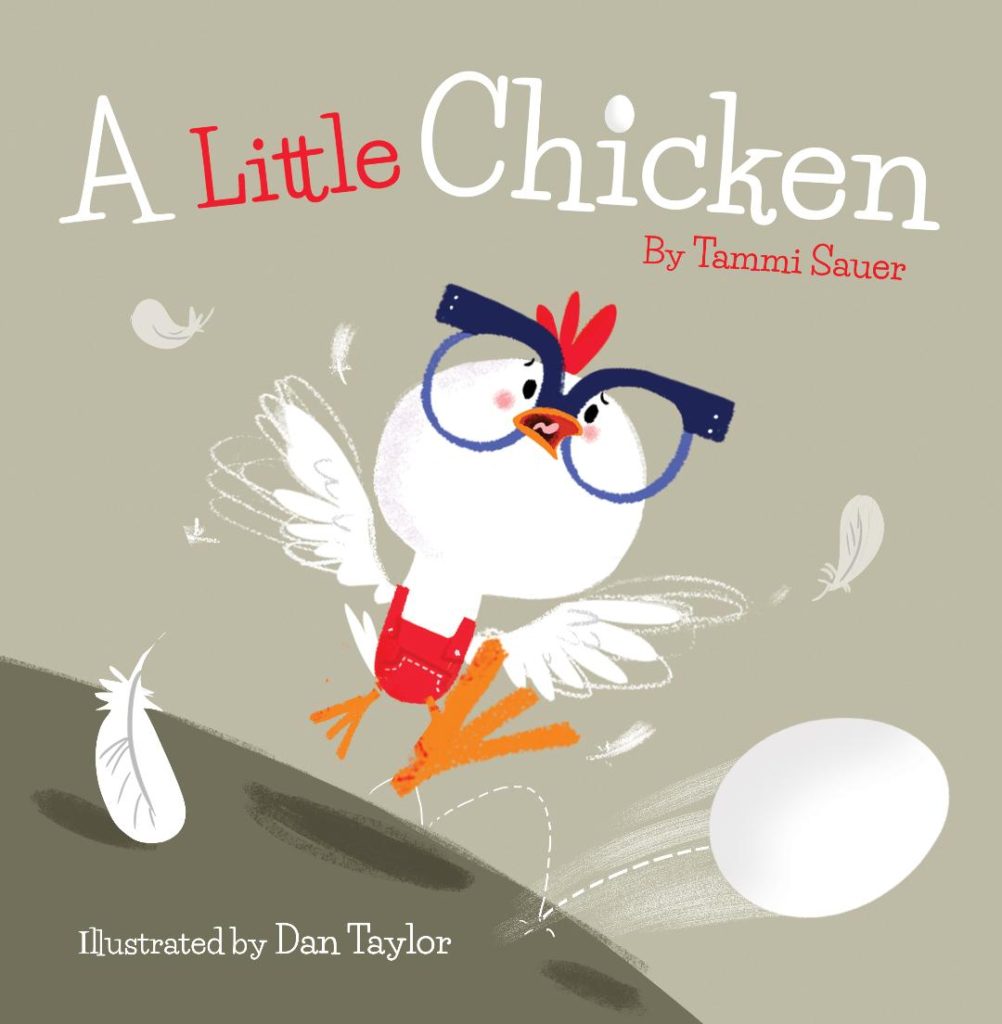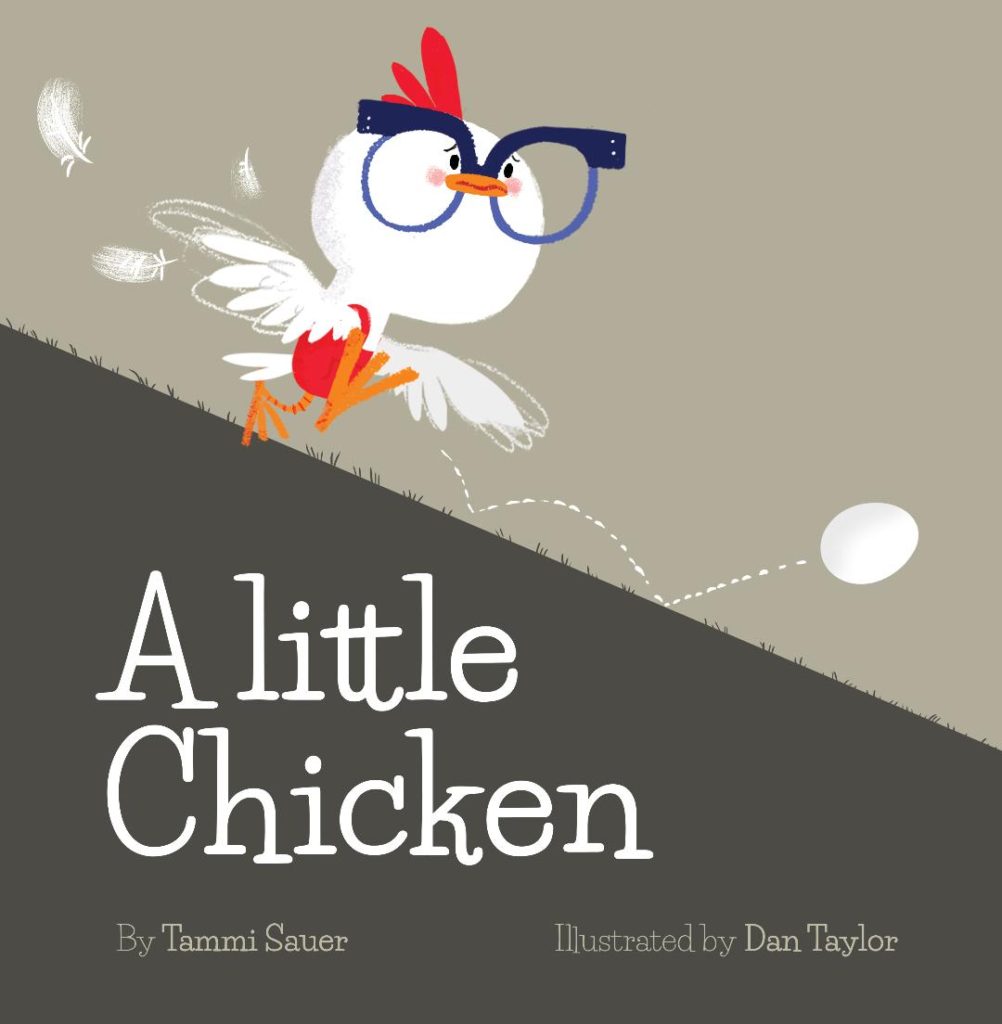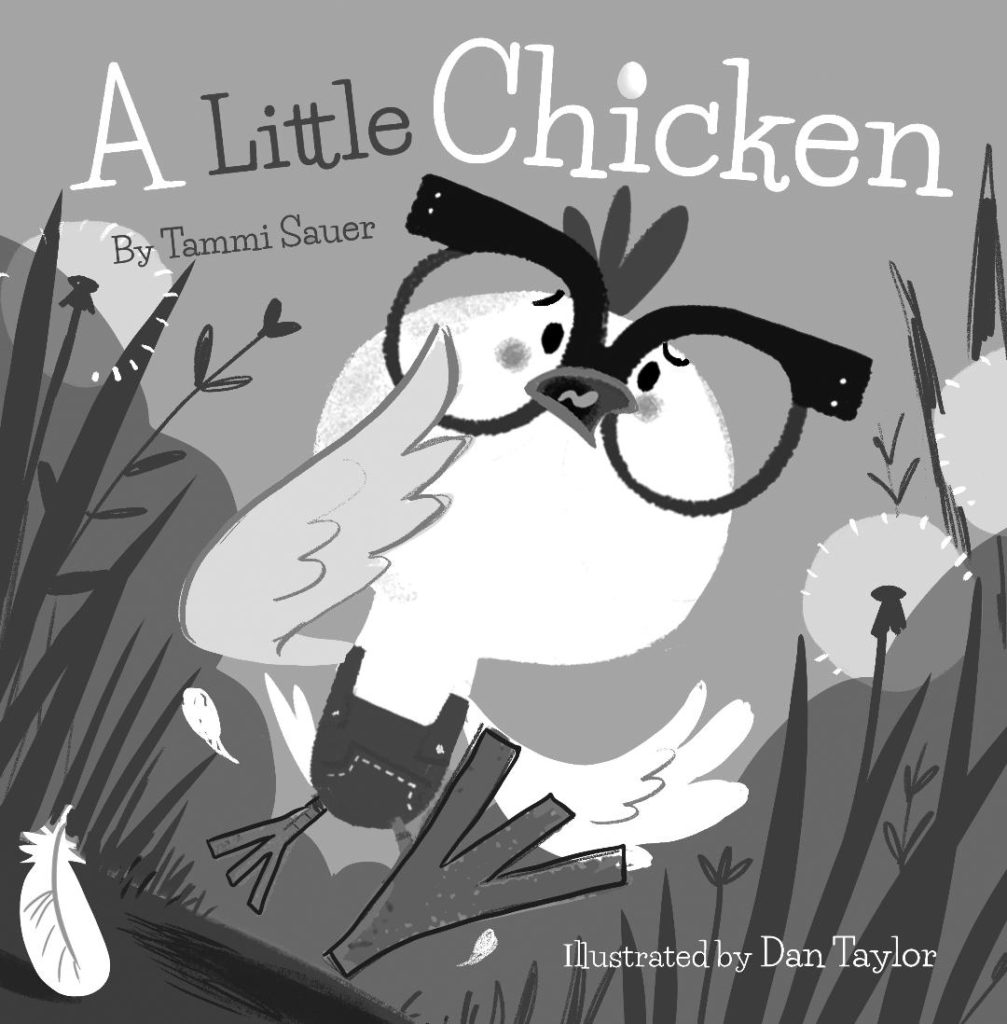 The last time you visited, you reminded us to enjoy some downtime. Valuable advice! Do you have another tip for us creative types?
Well, one thing I'm trying to apply to myself is to take at least some time in the week to experiment. I feel like I would like to have more texture and movement in my work, so I'm planning on setting aside an afternoon a week to play about with paint and develop my style a bit. Sometimes when you have projects back to back it's hard to find the time to try new ways of working. So that's my suggestion. If you feel things are getting a bit stale with your work process, make sure you give yourself time for self development and to try new things.
Scoop time! What's next for you?
I have just finished a book for Egmont in the UK, I have a novelty puppet book for Auzou in Paris and then another picturebook for Simon & Schuster UK!
Congratulations, Dan! Thanks so much visiting Picture Book Builders.
Bio: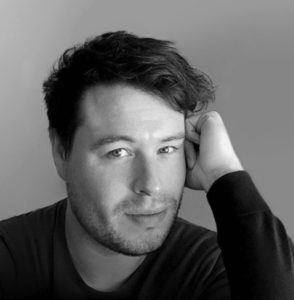 Dan Taylor is a children's book illustrator from the UK. Born in Staffordshire, Dan had a love of drawing from young age and later went on to study art and illustration, graduating with a degree in visual communication. Since then, he has illustrated a variety of books for young readers, and works using a combination of digital drawing and hand painted textures that are scanned into photoshop.
Dan is represented by The Bright Agency.
www.dantaylorillustration.co.uk
GIVEAWAY: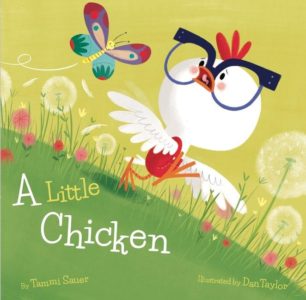 For a chance to win a copy of A Little Chicken, please leave a comment and/or share this post on Twitter. Be sure to include @SauerTammi in your tweet.
WINNERS: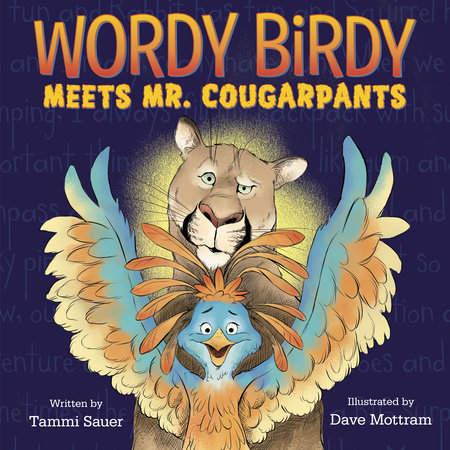 David McMullin won a copy of Wordy Birdy Meets Mr. Cougarpants!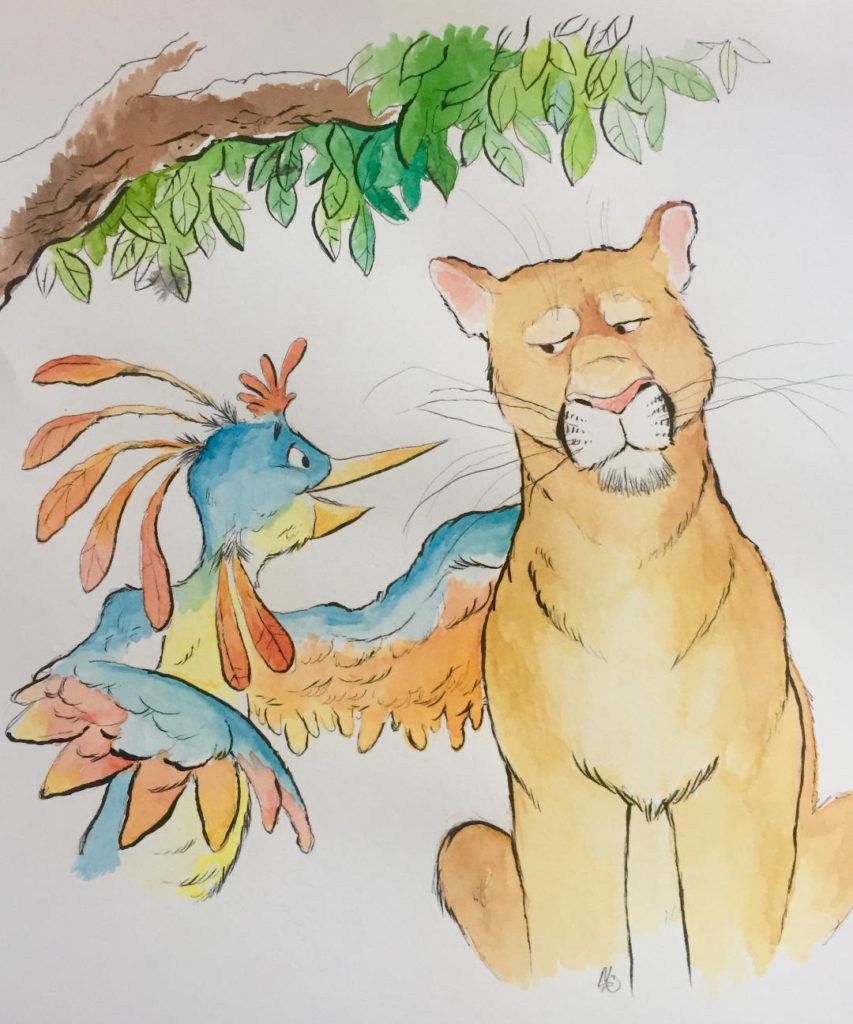 Mindy Reid won this original art by illustrator Dave Mottram!