I'm a lifelong Wisconsinite. And while I'll never wear a cheese head, I do have an affinity for all things Wisconsin. Cows. Overalls. Fish fries.
So I'm pleased to introduce a Wisconsin-made picture book today. EASTER ELF is written by Rochelle Groskreutz, who resides in Mukwonago, and illustrated by Leah DiPasquale, who lives in Madison. And the book is published by KWiL Publishing, a Milwaukee-based publishing house. The book was even printed in Stevens Point. How often does something like that happen?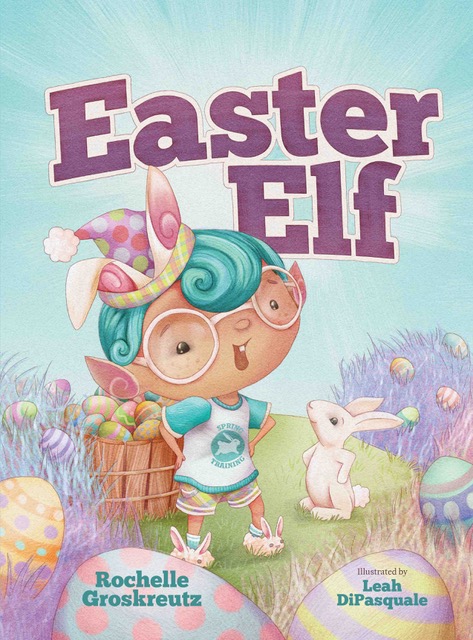 Rochelle and Leah have graciously joined me here today to talk about their brand-new book and all things Wisconsin. Let's start with Rochelle:
Tell me how EASTER ELF got its start. How did you get the idea, and what was the process for turning it into a book?
I got the idea about five years ago in later November when it was almost time for our family's annual visit from our Elf on the Shelf.™ It got me thinking about other holidays, and realizing that surely the Easter Bunny couldn't fill all those baskets hide eggs, and do other Easter-time tasks alone! My original Easter Elf character was snarky and thought Christmas elves had it easy compared to Easter elves. It started as an interactive book, but morphed into more of a holiday mash-up once I rethought the storyline with Abby Nies-Janowiec, my publisher and editor at KWiL Publishing.
This is your first-ever published picture book! What was your journey to publication like? Tell us about any ups and downs and unexpected twists.
It is! My journey to publication was like most writers and illustrators out there—enduring and full of roller-coaster-sized hills (that I'm still riding, of course).
I started writing for children in 2009, convinced that some days I could crank out a perfect manuscript in the morning, and send it out that afternoon (if you're new to this industry, do NOT make this same rookie mistake)! After completing two programs at the Institute of Children's Literature, I sharpened my writing teeth in the magazine market with nonfiction articles.
I joined SCBWI and found a critique group in 2012. It took me seven years and 108 rejections to find an agent in April 2016, but we weren't a good fit and parted ways a year later. I dusted myself off, got more involved as a volunteer with SCBWI (I'm now Co-RA for the Wisconsin Region), and kept writing and slowly submitting again. Without the constant support of SCBWI members and my critique group (shout-out to my LITtle Ladies), I would've ditched children's writing years ago!
I felt so fortunate that Abby took a chance on me with this book and offered me a contract in September 2017. At this same time this book was finalized, I started writing for an educational publisher and found that this is a market I also really enjoy (I'm a research junkie at heart).
It was a crazy ride filled with changes in direction and last-minute edits, but the collaborating is what I enjoyed most about this book. EASTER ELF is a true team effort between myself, Leah and Abby.
This is a Wisconsin book through and through, which makes me happy as I'm a lifelong Wisconsinite. Was the Wisconsin connection a coincidence? Or something you carefully planned? Or something in the middle of those extremes?
As a fellow Wisconsin lifer, I'm truly proud of the connection EASTER ELF has to our state. Leah and I are both born and raised here in Wisconsin; KWiL Publishing is a Milwaukee-based independent publisher; and all of KWiL's books have been printed in Stevens Point.
It was not on purpose or carefully planned, but rather the product of the right mix of creators coming together. Abby was actually in my original critique group before she started KWiL Publishing. Abby and I both knew of Leah's talents from past SCBWI-WI events, and Abby felt she was the perfect fit for the project. I was thrilled to be working with Abby since I always felt like I "clicked" with her feedback when she was in my critique group.
Thank you, Rochelle. Now, let's bring on Leah:
What was your reaction when you first read Rochelle's manuscript? What about it made you know that you wanted to illustrate it?
Easter is such a fun holiday, so I was super-excited when Abby, the editor at KWiL Publishing, described the project to me. I love working in bright pastel colors, and the elves sounded adorable, so I knew right away that it would be an awesome project to draw. Then when I saw Rochelle's manuscript and got to see the full story, the thing that attracted me to it the most was the character interactions. It made me really excited to design the characters, build their world, and bring their actions to life.
Walk us through how you created the illustrations. I'm always fascinated by the materials and techniques artists use and how long it takes them to create their magic.
All the illustrations in EASTER ELF were created digitally in Photoshop, but my early stages of designing the characters and layout were done in pencil and paper.
Before I began working with the story as a whole, I focused on how Easter Elf and Christmas Elf would look. Some versions were close to what it is now, others were a little more out there (ex: there's a version where Easter Elf's head was an egg). I would create versions, send them to Sheri (Art Director) and Abby at KWiL Publishing, and eventually we landed on the Easter Elf and Christmas Elf that we know today. From there, I created sketches for the whole book, and when those were approved, moved onto the digital color version.
Time-wise, I began the character exploration in December 2017, started sketched layout in January 2018, and turned in the completed artwork in November. My dust jacket bio describes how many jellybeans I ate during this process, which sounds like a lot, but when you factor in the length of time it took create everything, it's not as unhealthy as it seems (or at least I tell myself that).Q
What's your favorite illustration in the book? And why?
Ooh, this is a tough one to choose. If I had to pick just one, there is a spot illustration where Easter Elf is shredding Easter grass and is having a ridiculously hard time pulling it up that is one of my favorites. The book has lots of Easter Elf illustrations in it, but that one captures the character best for me. It shows Easter Elf's never-give-up attitude despite whatever obstacle is in the way. I also just liked drawing the teeth in that scene.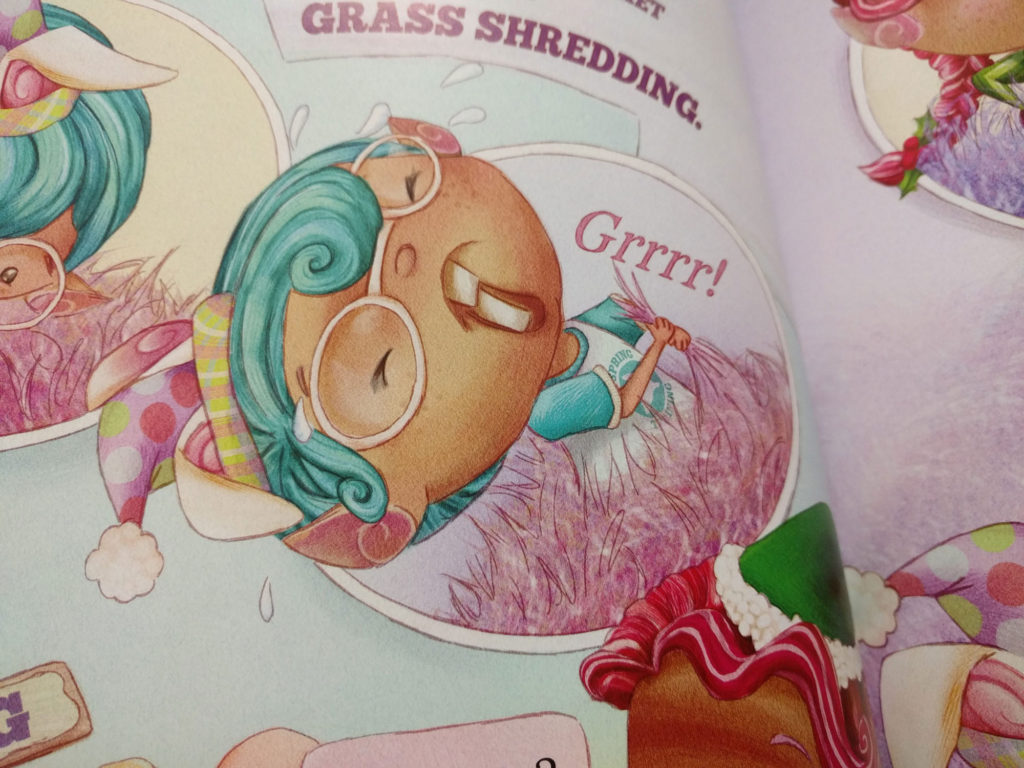 Leah DiPasquale

Rochelle Groskreutz
Are you intrigued?
EASTER ELF is available online and in bookstores. If you are a Wisconsinite, you might want to attend the book launch party at Boswell Book Company, 2559 Downer Ave., Milwaukee, at 11 a.m. on Saturday, April 6. There will be crafts, face-painting, books and more!