I'm taking a little break from talking about book-making in this post. I'm busy making heads.
My studio is a bright and sunny upstairs bedroom. The walls are covered with eclectic art by friends, family, and people whose work I love. Antique furniture holds up my printer and scanner. Two large drawing tables: one where I sit to paint, the other with a straight edge for laying out boards and cutting. A tall, old industrial table that grew up in a factory or post office, its wooden surface scared with repetitive stamping, is where I work on my computer, write, and take care of business.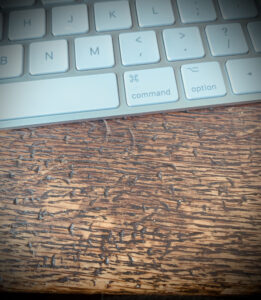 But for the past several months, as I walked to my studio each morning, I paused at the door to our guest room. The room began calling to me… "Jennifer… here is someplace else you can go… a place to make… make things… anything… create just for fun… make art just for yourself…" And so I compulsively moved furniture (with Joe's enormous help). I shopped in our basement of inherited treasures and I made my nook.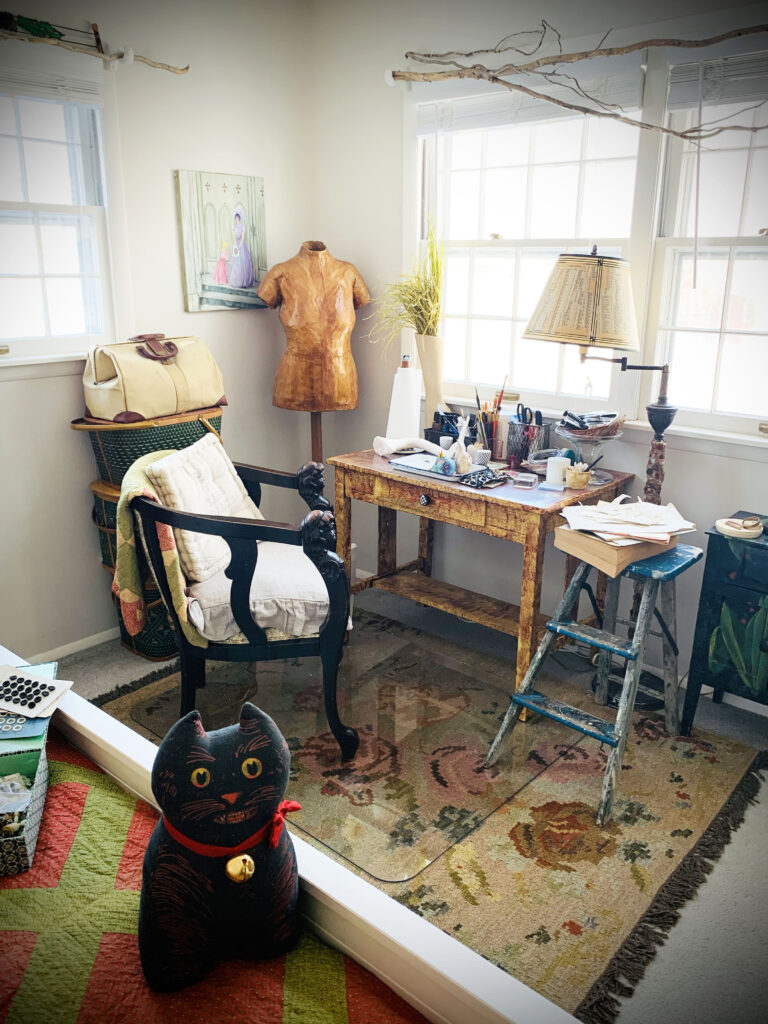 After ordering art supplies online, I now sit at my highly impractical little desk and make paper mache heads. And it feels… so… good. As a creative I believe we are not just one thing. "Illustrator", "Author", "Quilter", "Painter", "Photographer"…..etc… And I believe that being paralyzed in this Pandemic and frozen by a Polar Vortex, I knew I needed to do something for the pure joy of creating.
I have always wanted to make three dimensional characters, but struggled to figure out what to do. Long ago, after taking a class by a very famous doll-maker, I made some armatures. But, I dislike sewing if seams are required to be straight and functional, and I soon realized that my dolls would be naked.
I thought I could sew birds. Fun boro stitching with bits of embroidery here and there. But the fact that my bird needed to be stuffed with something and stand on legs, proved too tedious and technical for me.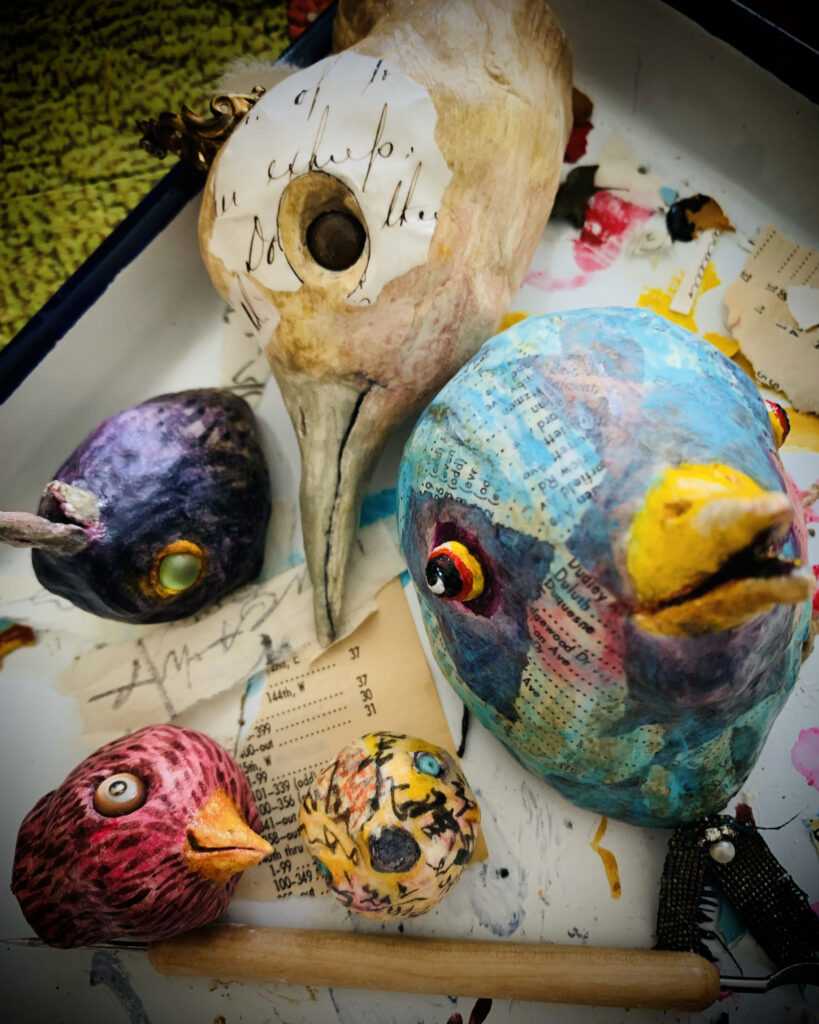 And so, here I am… in my nook. Making paper mache heads. I sit and stare out the window in a meditative state as my hands shape the clay into a nose, a beak, an ear. I will incorporate my love of ephemera, decoupage, antique bits and bobs. All that quiet thinking has given me an idea to perhaps fix a picture book flaw and I'm inspired to make the 'long trip' over to my studio and work on that… maybe tomorrow? This passion to create just for fun reminds me of a terrific movie that I watched and highly recommend on Netflix called, The Creative Brain. You can watch the trailer here.
When I spoke with Jill about wanting to do this post, she told me that she has ferreted out a creative space of her own. Where she can sew, and paint, things she hasn't done in many years. And I've noticed on Instagram, many illustrators and authors that I follow, are suddenly posting little clay creations, embroidered book covers, paintings, and ceramics. There's no big— FOR SALE sign on them. It's just a simple gift of show and tell. The need to create. The need to share. The need to nurture something that has been buried, hiding, and maybe even a little bit broken.
Have you rekindled a creative calling? Carved out some crafting space of your own? If you haven't, that is absolutely fine. But if you have, I would love to hear about it. ❤️