This little sideways book by Corey R. Tabor, published last year by Balzer & Bray …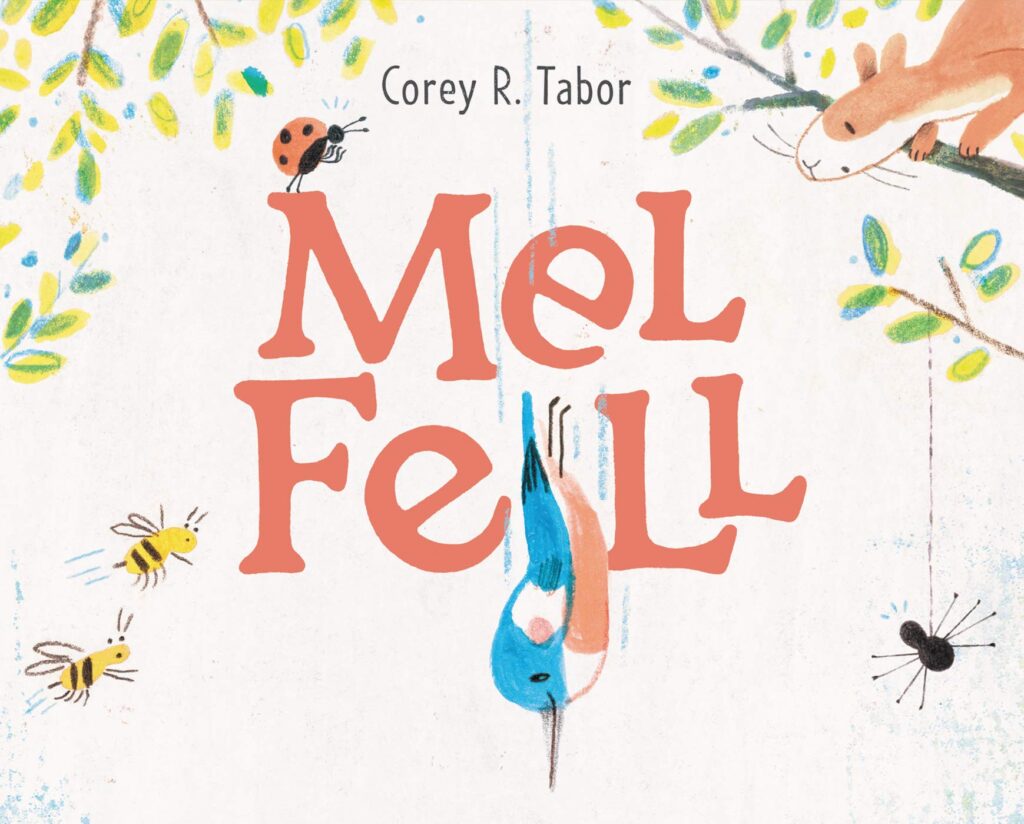 Want to write a simple story? Type out this text to get a feel for it. Sooo much characterization here, yet the text (less than 300 words) is simplicity itself. A little bird named Mel, the most adventurous and plucky of three siblings left alone in their tree hole while Mama is away, decides it's time to learn to fly, and by gum, she's going to do it.
Want to write a story that teaches kids a lesson? Perhaps how they should be brave, even when they're afraid? Rather than hit them over the head with it, consider this exchange.
"Aren't you scared?" asked her sister, Pim.
"Yes," said Mel. "But I won't let that stop me."
There it is, clear and straightforward, yet it whooshes right past as the story moves along. It doesn't call attention to itself or demand a story pause. It's just there for kiddos to take into their heads and hearts. Lovely.
Want to write a story that leaves readers with a laugh? After a triumphant, "I flew!" and cheers from Mel's tree friends and a hug from her proud Mama, the final page gifts readers with a perfectly spot-on (wordless) last scene that shows Mel trying to convince her siblings to take their own leaps. Forcefully. Made me laugh out loud and want to hug the book.
When I first read this to two of my grands, I couldn't help doing so with specific voices for Mel and her fellow tree dwellers who try to save her as she falls––squirrels, bees, a spider, ants. But it was the snail's low, slow pronouncement (when Mel's already passed), "Do…not…fear,…helpless…little…bird,…I…will…catch…you…!" that got my grandkids giggling uncontrollably. Oh, man, we had fun with this one. Now, every time they're here, they're pawing through my bookshelves demanding, "Where's that Mel Fell book?"
Mel Fell has been awarded with, among other things, a 2022 Caldecott Honor, as well as several starred reviews. Bravo, Corey R. Tabor!
Read about the creation of this book at 7 Impossible Things Before Breakfast.
---
Speaking of Caldecotts, we're incredibly proud of our blogmate Andrea Wang, whose breathtaking Watercress won the Caldecott Medal for illustrator Jason Chin, a Newbery Honor, the Asian/Pacific Islander Award for Literature, the New England Book Award, is a 2021 Boston Globe-Horn Book Honor Book and a Junior Library Guild Gold Standard Selection, and garnered 7 starred reviews.
Try saying that 3 times fast. 😉
And that's not the entire astounding list of accolades for this beauty. To see those, go here, to Andrea's website.
CONGRATULATIONS, Andrea!