This was a dangerous topic for me. I knew I'd likely tumble down a rabbit hole, all too happy to stay there. Join me in the rabbit hole to admire a legion of unsung heroes of illustration. Most of the books I'm about to share did name those illustrators. Tsk-tsk to McGraw-Hill, circa 1960, who did not think it necessary.
As much as I love picture book illustration – especially Midcentury style — there's another place to revel in the work of excellent, prolific illustrators: textbooks and songbooks. I often rescue these from the Goodwill Outlet, "where Goodwill items go to die." Right now, I'm especially glad to have rescues scattered around my house because I'm back to working on my illustration skills. Here are a few in my collection…
BASIC GOALS IN SPELLING
McGraw-Hill, 1960
No illustrator credit. (Sigh.)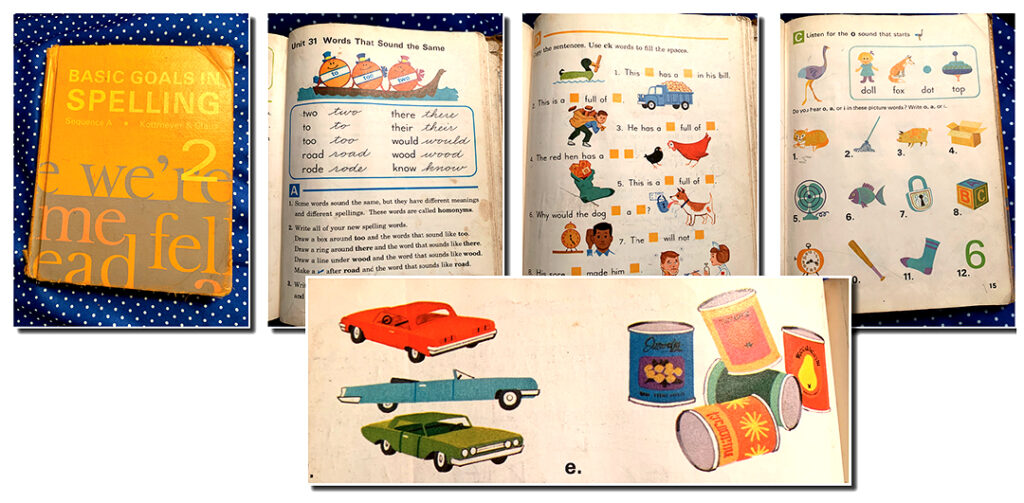 As a nerdy, former spelling book (and spelling list) lover, I know I would have adored this book. And as a long-time graphic artist, I also admire a designer who knows how to arrange a page with a lot of elements. I'm only sorry I don't know who drew hundreds and hundreds of cheerful images. Whoever they are, I award bonus points for the cool cars.
SPELL CORRECTLY
Silver Burdett Company, 1977
Edward Malsberg, illustrator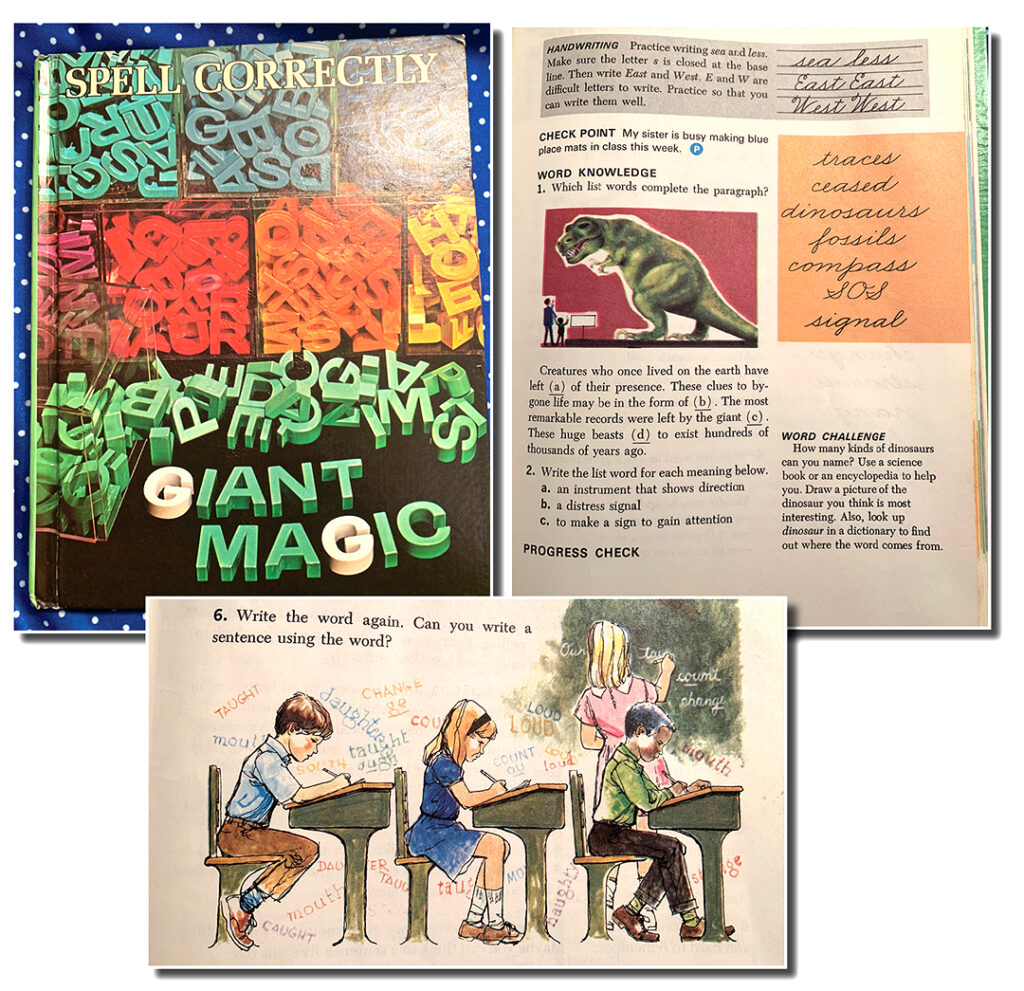 Another well-laid-out spelling book with nice line art and paint washes. I always loved a book with cursive text elegantly adorning the composition. This book, published in 1977, is more recent than many in my collection. It's a shame children of color had to wait so long to see themselves in the pages of their textbooks. It's my most common complaint about books that are pleasing in many other ways.
Something else caught my eye in this book. I was surprised to see this technique hanging on into the late 70s: See that white halo around the dinosaur? As a graphic artist old enough to remember color overlays and registration marks stuck on with tape, I remember the struggle to make sure each ink plate lined up with the color below. One trick common to the overlay era was allowing "air" around an image so the chalky background could be hastily applied without worrying it would land off-register. I know the practical reason for it, but I still think it looks cool.
FROM EIGHT TO NINE
Scott, Foresman and Company, 1962
Ati Forberg, illustrator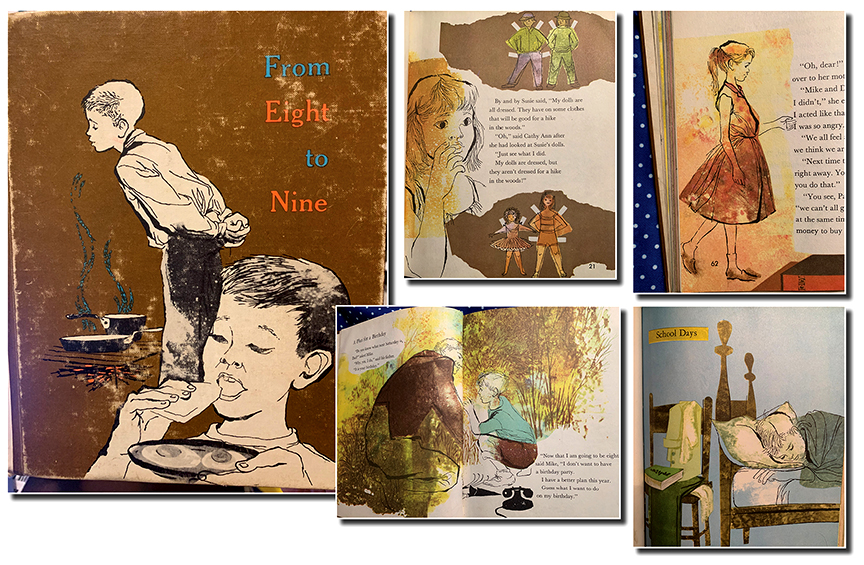 I always enjoy the results of an unruly dipped pen, so I adore the blotchy lines and luscious textures in this book. It's an exciting standout in my collection. Lots of deliberately (and delightfully) off-register illustrations, as well as inks that casually spill over the line work as they do on the sleeping boy's arm, lower right. Nothing but a sepia splash on the girl's shoes, upper right. Mr. Forberg didn't even TRY to line up the background behind the paper dolls… and I can't get enough of it! I also love the subdued colors that allow the line art to anchor each scene.
THE RAINBOW DICTIONARY FOR YOUNG READERS
World Publishing, 1947 (new cover 1972?)
Joseph Low, illustrator

Joseph Low, who died in 2007 at the age of 95, was a remarkably prolific artist. The thing I can't figure out about this book is that the cover of this 1972 edition doesn't seem to match the far superior interior artwork which – based on the cars – is obviously unchanged since the 1947 edition. The '47 images have the Midcentury vitality I love. The cover has none of it, and yet another artist is not credited. So I can't tell if they short-sightedly tried to wedge Mr. Low into a more "modern" style that doesn't hold up as well as Midcentury, or whether a different artist was commissioned for a new cover. Either way, check out the link below to revel in more of Low's exciting work:
http://www.letterology.com/2014/01/the-rebus-riddle-rhymes-of-mother-goose.html
HEALTH TRAILS
Laidlaw Brothers, 1957
Milo Winter, illustrator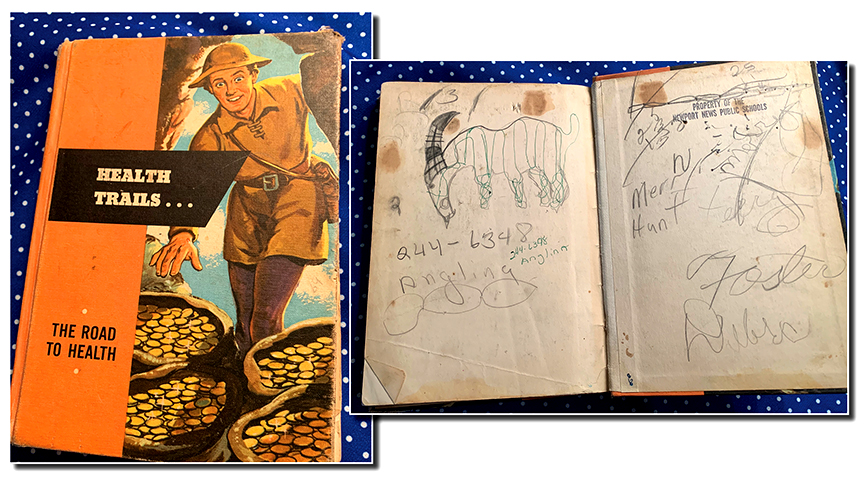 I confess I was uninspired by Mr. Winters illustrations in HEALTH TRAILS, but sometimes the treat in an old textbook is the STUDENT artwork! I also love ephemera like stickers that list years, classrooms, teachers and student names.
TOM GLAZER'S TREASURY OF FOLK SONGS
Grosset & Dunlap, 1964
Art Seiden, illustrator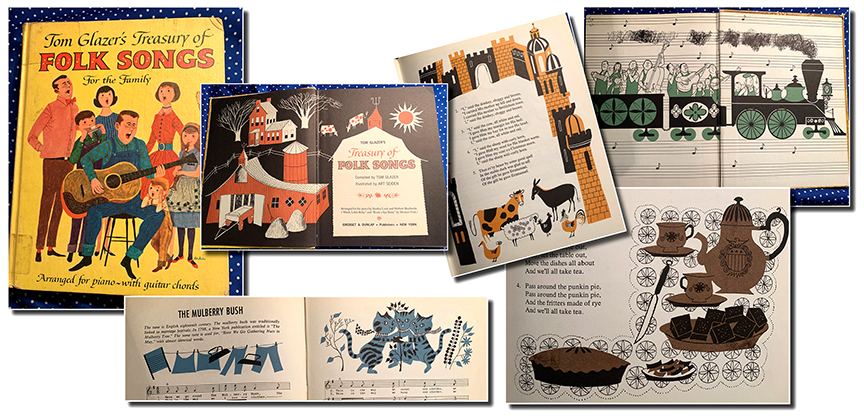 I've saved the best for last, because I'm a HUGE Art Seiden fan. There seems to be little known about his personal life, but his work is immortalized in more than 300 books! Scroll through miles and miles of his marvelous covers and illustrations here: https://fishinkblog.com/2017/07/10/art-seiden-mid-century-illustrator-of-childrens-books/
Do you have a favorite illustrator you'd like to recommend I study? Doesn't have to be Midcentury. I'm also a HUGE fan of collage illustrators, digital or analog,so if you know of any (even if it's YOU!), please tell me about them in the comments below.
Now to some very late news. Because I swapped with another contributor in May and didn't post in June, I'm also late announcing the winner of the decoupaged train case I promised in my April post. Vijaya Bodach won the drawing for the as-yet-to-be repurposed train case. She has promised to send me a photo once it's in use in her home. Congratulations, Vijaya!