The winner of Two New Years by Richard Ho and Lynn Scurfield from last month's giveaway is…Arlene Schenker! Congratulations Arlene, and thank you Richard, Lynn, and Chronicle Books for this generous offer!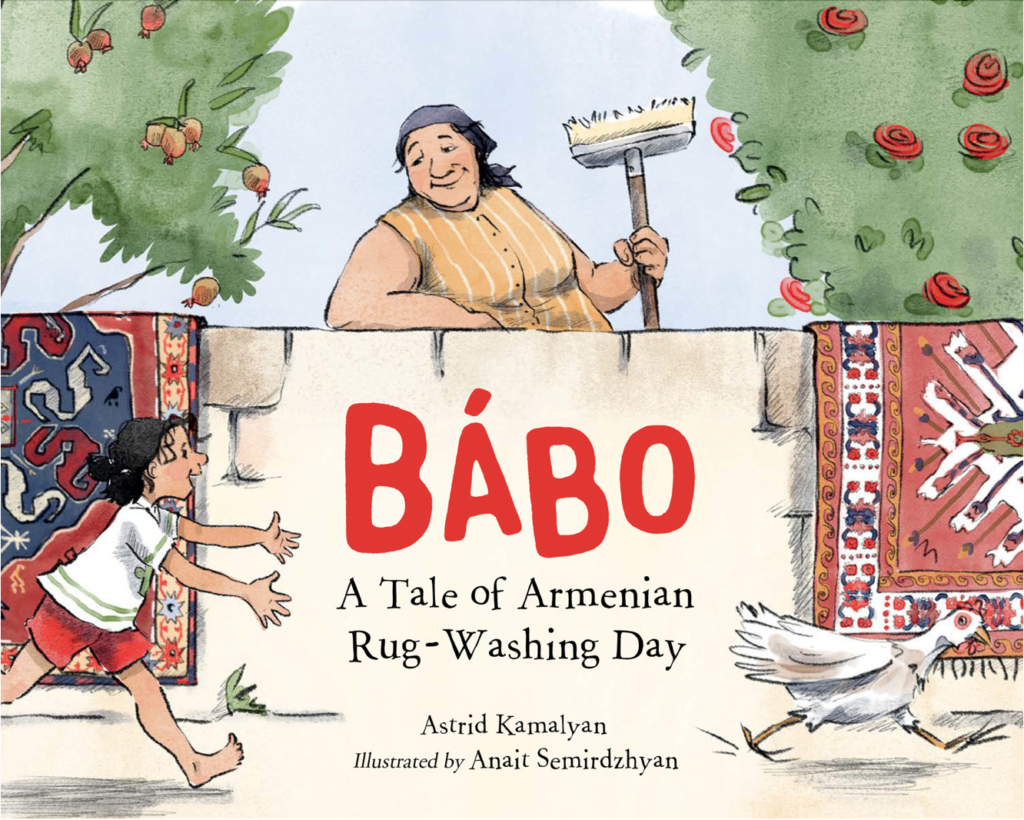 SARA: Way back when I saw the announcement for Bábo: A Tale of Armenian Rug-Washing Day in Publisher's Weekly, I was immediately intrigued. What does Bábo mean? What is rug-washing day? How will this experience be conveyed in a picture book? And now that I have been able to read this wonderful book, my curiosity is both satisfied and expanded. It's the kind of book that simply makes me want to know more. Creators Astrid Kamalyan and Anait Semirdzhyan have lovingly woven a beautiful narrative where washing the family rugs is a joyful, communal occasion. Tato, her siblings, and her neighbor all help their grandmother "soak, soap, and wash" the rugs, with brushes and bubbles, laughter and play, and a sweet dessert to enjoy as the rugs dry. I loved the energy, the sensory details, and the rich back matter that completes this book.
We are lucky that Astrid Kamalyan and Anait Semirdzhyan are joining us at Picture Book Builders today. Thank you for being here!
SARA: Astrid, you share about growing up in Yerevan and your memories of washing carpets in the author's note. What challenges and discoveries came up along the way as you turned your childhood experiences into a picture book?
ASTRID: Thank you, Sara, for having us! BÁBO is the story of my heart, and so it might seem like it was easy to write. But writing from the heart isn't always writing in the flow. How do you take the sunshine and transfer it onto a page? I had to experiment with different drafts before I found the most authentic way to tell this story. And also there was the responsibility of representing my culture, which is so ancient and beautiful. It required both, infinitely love and a good amount of research to do it. I hope everyone feels welcome in our happy Armenian family!
SARA: Anait, what compelled you to take this project on as an illustrator?
ANAIT: Hi Sara! Thank you for the opportunity to interview with you! Like Astrid, I have similar memories growing up in Yerevan, so when my agent, Christy, sent me the manuscript, and I read the title, my heart skipped a beat. A picture book about Armenian culture, and moreover, a story of my childhood? I burst into tears, and of course, I was thrilled to take on the project.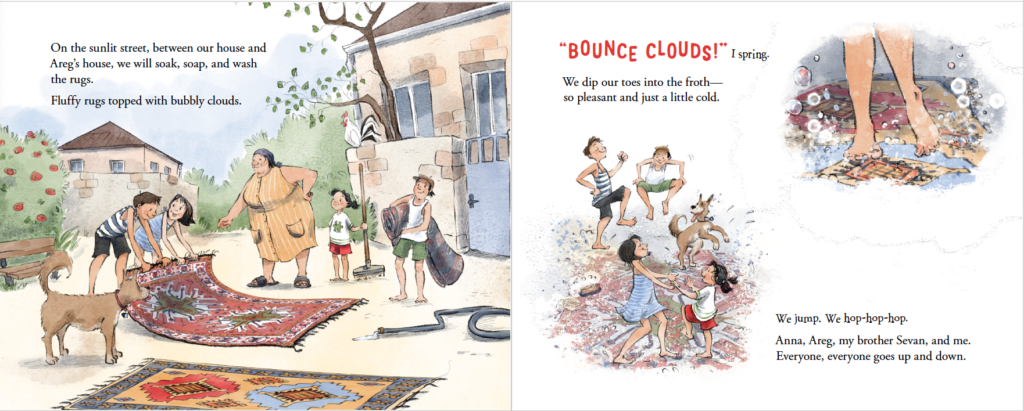 SARA: I was delighted by the movement and energy in the art. How did you approach the illustration process for this book?
ANAIT: Thanks you, Sara! The sketches and final illustrations for this book were created digitally in the Procreate app. Washing rugs on a summer day in Armenia is so much fun and truly a family affair! I wanted to capture the happiness of the kids and also make every page interesting for the reader.
SARA: One of the things I most love about the text are the rich sensory details. Astrid, can you talk to us about how you developed that?
ASTRID:
The sensory details were the easy part. I just wrote down the experience the way it was, and washing rugs is such a delightfully sensory experience! I didn't realize that all senses were engaged and represented in the text until I heard that from my CPs.
SARA: The book opens and closes with Tato sneaking a taste of the cherry plums her grandmother has dried in the sun. What is one Armenian food you can't resist?

ASTRID: So many favorites! But Jingalov Hats tops the list – it's a traditional Artsakh flatbread stuffed with a variety of herbs. A bit labor-intensive to make, but that makes both the dish and the process even more delicious! My kids help as we roll the soft dough and then stuff it with the heavenly, aromatic mixture of fresh herbs.
ANAIT: Oh, that's a tough question because there are so many delicious foods! I would have to say Lahmadjo (Armenia pizza) or a simple Brtuch – a lavash roll filled with Armenian salty cheese and fresh herbs. I also really love Armenian fruits and veggies.
SARA: What's next for you both as book creators?
ASTRID: I have more projects on the way that feature Armenian culture and traditions. I hope this will help expand the world of BÁBO for the reader. I also write humor, so I will see where that takes me.
ANAIT: I'm currently finishing work on another wonderful picture book from Charlesbridge, the same publisher as Bábo, called "Just Us" by Molly Beth Griffin. Additionally, I have two more books in the works with Candlewick Press: "Hilwa's Gifts" by Safa Suleiman and "Hana's Hajj" by Zainab Khan. I'm very excited about them all.
SARA: Is there anything else you'd like to share?
On September 19th, 2023, Azerbaijan (10 mln population) attacked the indigenous Armenian population of Artsakh (120,000 total population) with the goal of completing the ethnic cleansing of the region. Civilians were attacked by cluster bombs and drones. This happened after months of starving the population through an illegal blockade of the region. There are hundreds of victims, including children. Thousands are missing, mostly kids. The Armenian population is being forcibly displaced from their ancestral lands, as staying there means being subject to massacres. What is happening is Artsakh is a genocide organized by the dictatorial regime of Azerbaijan, backed by countries such as Turkey and Russia. If you want to help, please check out his link for action steps: https://anca.org/.
Additionally, Abril Books is donating part of the proceeds from the sales of BÁBO to help the forcibly displaced families, available here: http://www.abrilbooks.com/books/children-s/tales-33/babo.html.