Oh, do I have a treat for you all today! Allow me to introduce the amazing Lisa Varchol Perron and her fantastic just-released non-fiction rhyming board book, TELL ME ABOUT SPACE, illustrated beautifully by Jennifer Falkner and published by Little Simon.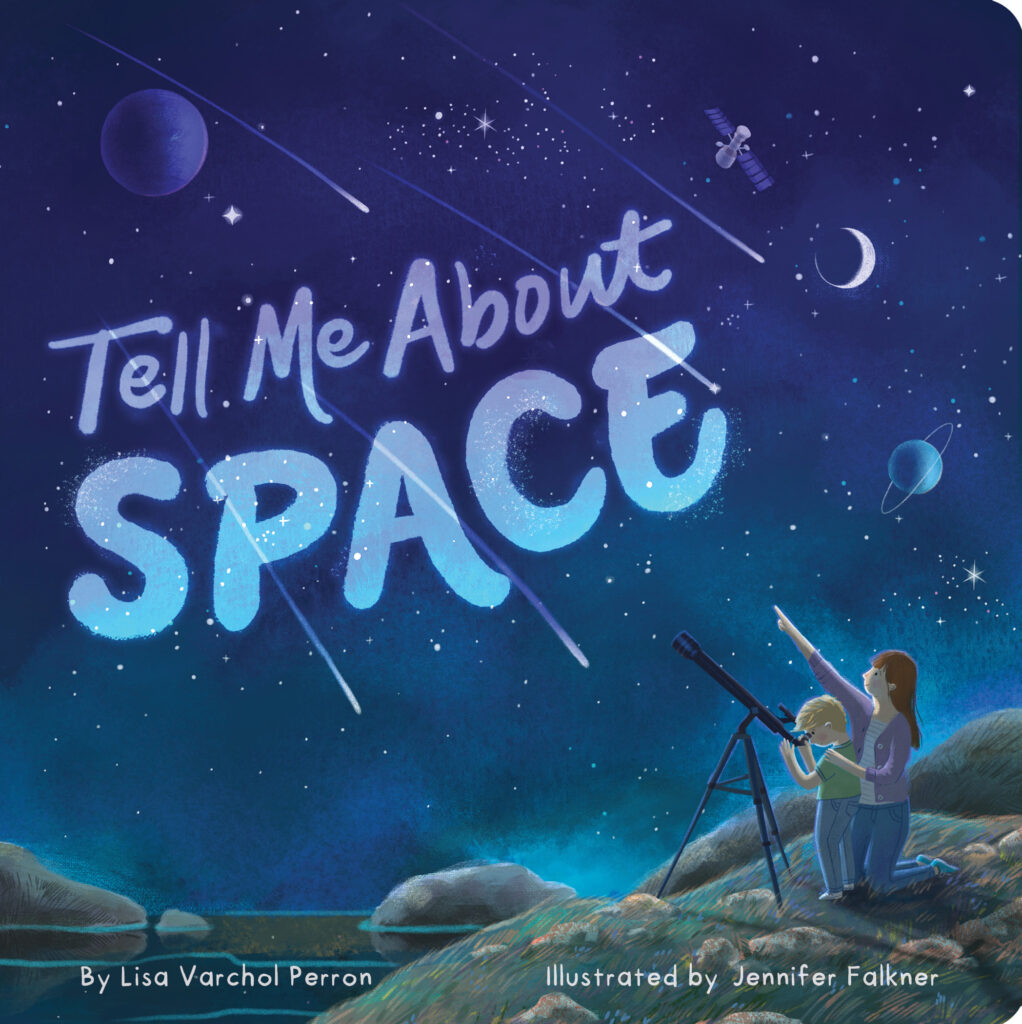 Full disclosure: The reason I know that Lisa is amazing and that this book is fantastic is that she is one of my critique partners and I've had the honor and pleasure of seeing all the behind-the-scenes work that went into this deceptively "simple" board book. Not only is this book chock-full of well-researched space facts (I seriously learned SO much!), but it is told in absolute perfect rhyme and meter, as are all of Lisa's books.
(Lisa is extremely gifted at creating lyrical rhyming non-fiction books that truly sing! As another example, check out her book, PATTERNS EVERYWHERE, released earlier this year!).
Lisa has several more nonfiction rhymers up her sleeve as well… maybe she'll "tell us" more about them, let's see!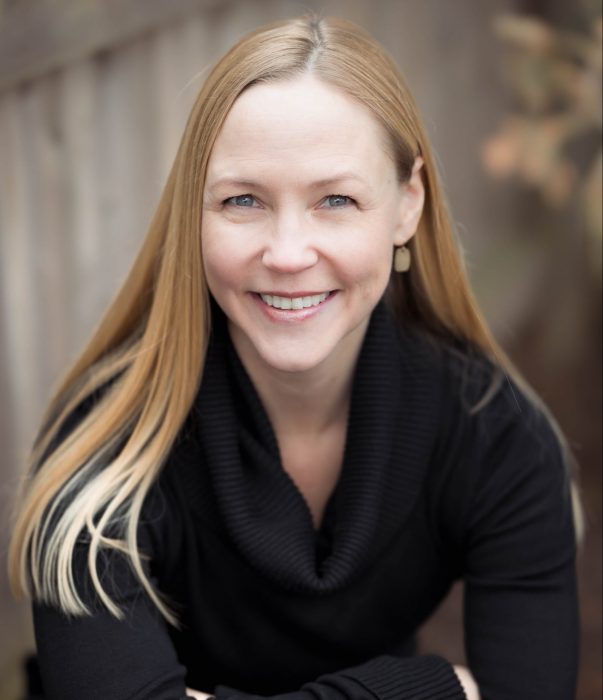 RGL: Hey Lisa! Thank you so much for joining me on Picture Book Builders! As you know, I'm a huge fan of you and your work!
So, first things first: Why space? What made you "gravitate" to this topic?
LVP: In this case, that gravitational pull came from an editor. She was looking for a board book about space, and I was excited to write about the topic! My dad was a big astrophile when I was growing up, and I have fond memories of taking turns peering through the telescope on starry nights. He helped pique my curiosity about our solar system, so it's fitting that the publication date of TELL ME ABOUT SPACE is my dad's birthday.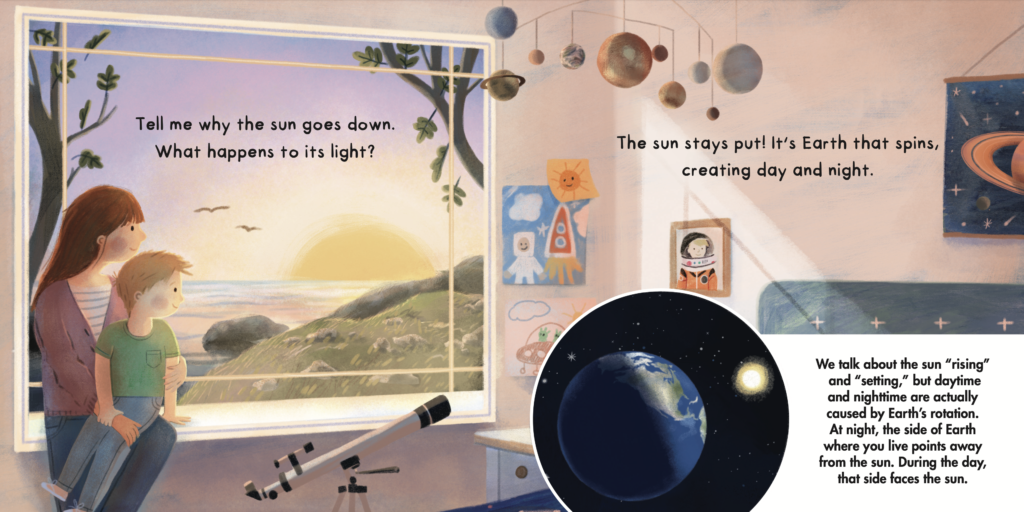 RGL: My favorite thing about TELL ME ABOUT SPACE are all the layers you have weaved together. First, you have simple rhythmic couplets (although I know that writing them wasn't at all simple!) that succinctly pose the child's question and the parents' answer. These, combined with Jennifer's colorful and sweet illustrations, make this book ideal for babies and toddlers. But THEN, you add sidebars, which are perfect for pre-schoolers who may crave a little more information. And on top of all THAT, you add a subtle getting-ready-for-bed arc (complete with a perfect "aww" ending!), so it is also a fabulous bedtime book for families with multiple-aged kids. Tell us, Lisa… How'd you do it?! What's your secret for adding so many layers to your books?
LVP: Thanks, Rebecca! I experiment with a book's structure when I start writing, and the layers evolve from there. I decided in the first draft that this would be a question-and-answer exchange between the child and parent, and that conversation felt most engaging to me in rhyme. When writing nonfiction, I also like to give kids (or the caregiver who is reading) the option to dig a little deeper if they choose, so several of my nonfiction books have either sidebars or back matter.
Once I decided that the child's initial question would be sparked by the setting sun, I knew this story was taking place in the evening, and I added a general art note about the child and parent getting ready for bed. The rest I left up to the illustrator. Jennifer added another wonderful layer with the details in the kid's room that make it clear how enamored he is with space!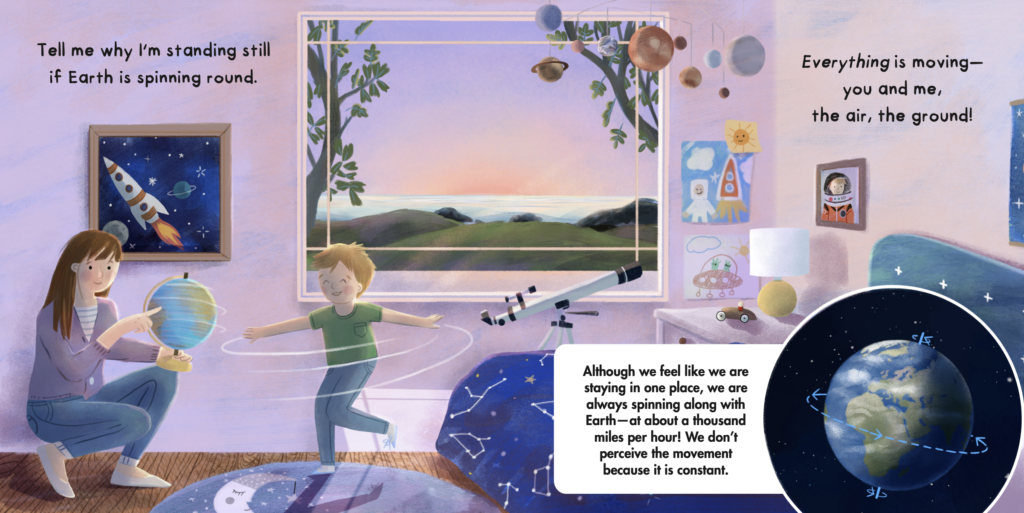 RGL: I am especially in awe of how you are able to distill huge and somewhat complex topics like "space" and "patterns in nature," into accessible poetry for kids. What advice do you have for others who are interested in trying their hand a rhyming non-fiction concept books like this?
LVP: I think there are two separate challenges: Simplifying big ideas for a very young audience without compromising accuracy and expressing those ideas in metered rhyme. When I'm writing rhyming STEM, I often keep a separate document of facts—from books, communication with scientists, and select websites—and I draw from that as I'm shaping the rhyming verse. Writing in rhyme keeps the text pared down because of the constraints of the rhyme and meter. It limits your options, but those limitations can actually feel freeing. It can sometimes make the editing process more challenging, but that's part of the fun!
Of course, you'll hear that some editors shy away from rhyme. There are various reasons for this (including the anti-rhyme ethos that emerged with American Modernism), but kids delight in the musicality of rhyming verse! Research shows that reading rhyming books with young children helps support early literacy and brain development, and it invites interaction. I will always be a fan!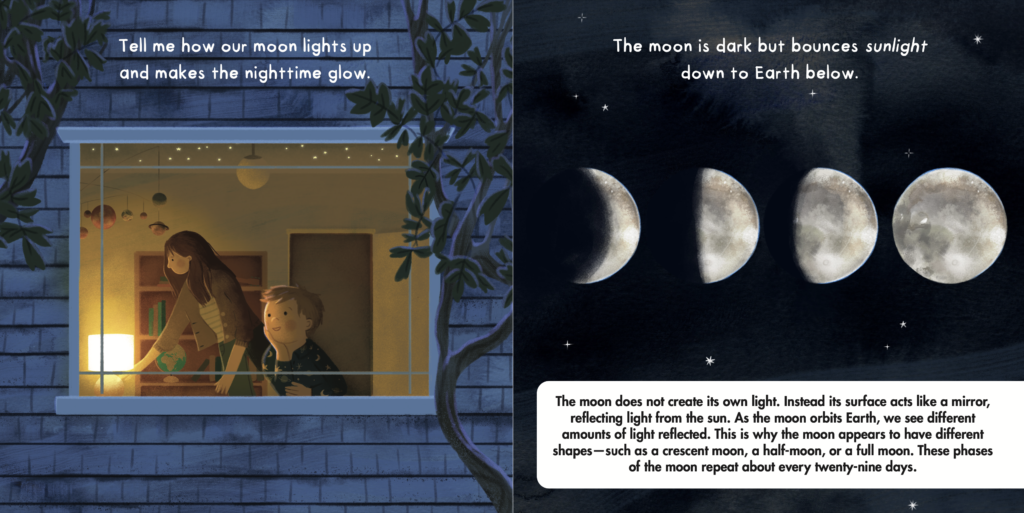 RGL: I happen to know that you also work as a psychotherapist with children and teens (on the side. Lol.) How do you think your work in that field influences your work as a children's book writer and poet?
LVP: Of the books I've written so far, the one most directly influenced by my work as a psychotherapist is MY LOVE FOR YOU. It falls in the "I love you book" category, and it's informed by attachment theory and the notion that secure early childhood attachments benefit us throughout our lives. It's also about the inevitability of change and allowing ourselves to experience all our feelings along the way.
In instances where my background as a psychotherapist doesn't shape what I'm writing, it does impact how I approach it. I want to be observant and curious, consider readers' developmental needs, and show readers that they are deeply cared for. It's crucial for young people to know that they matter and that their interests, questions, concerns, and dreams are valuable.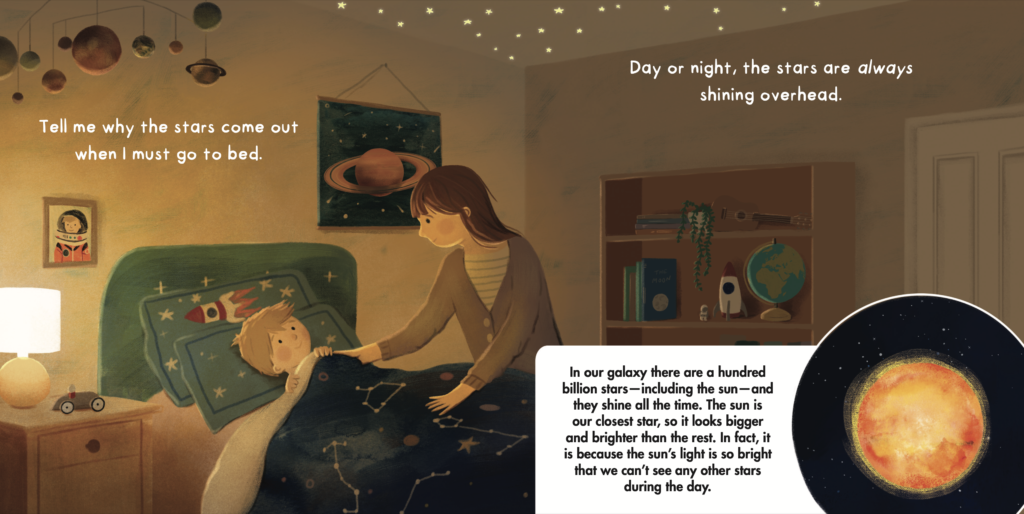 RGL: This book is the first in a series (with the next book being TELL ME ABOUT OCEANS, releasing in April 2024!) So "Tell me…" how did the "Tell me" series come to be? Did you initially pitch it as a series?
LVP: It started with the submission of an entirely different book about a different topic! That book wasn't quite right for this editor, but she mentioned the idea of a board book series, starting with space. My agent encouraged me to write a space board book and pitch some additional topics. I worked to convey the same sense of wonder that the editor liked in the initial submission but to otherwise write a completely different manuscript. We ended up with a two-book deal for TELL ME ABOUT SPACE and TELL ME ABOUT OCEANS—one of the additional ideas proposed.
(The initial book about a different topic also found a home, and it will be released in 2025.)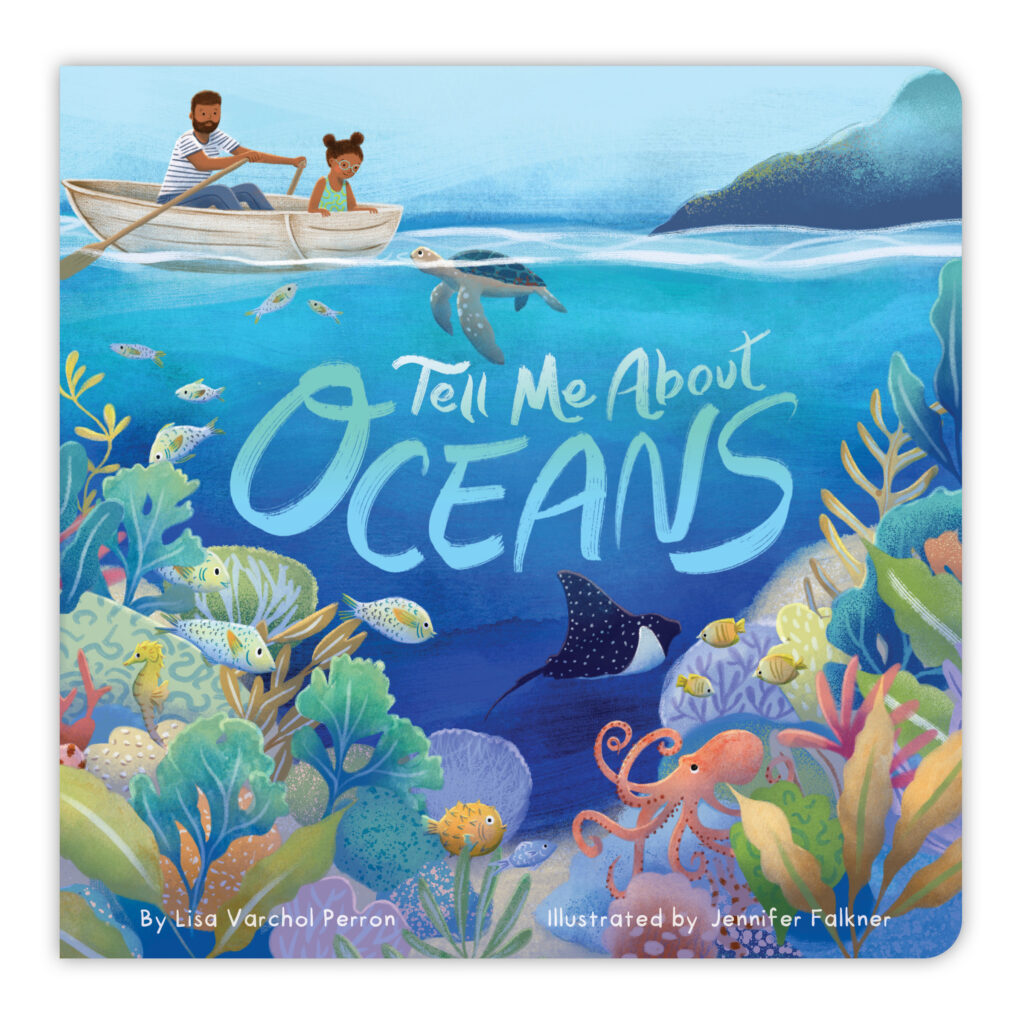 RGL: And now, my favorite question for my guests: You have probably been answering the same questions over and over again for blog interviews. SO, what is one question no one has yet to ask you about the writing or making of this book that you are DYING to answer? (And what's the answer? 🙂
LVP: No one has asked about all the different people who made TELL ME ABOUT SPACE possible!
In addition to my incredible agent, Tricia Lawrence at EMLA, and brilliant editor, Hannah Lambert, I'm thankful for everyone at Little Simon—including the art director, fact checker, copyeditors, and marketing team. It really does take a village to bring a book into the world.
I'm in awe of Jennifer Falkner's gorgeous artwork, which evokes wonder while maintaining a detailed accuracy. (Just wait until you see her beautiful illustrations for the forthcoming TELL ME ABOUT OCEANS!)
I also appreciate the scientists who shared their expertise and answered my questions. Not everything made it into the final draft, but all the information gathered along the way was useful! Special thanks to: Jack Wisdom, Professor of Planetary Science at the Massachusetts Institute of Technology; Lindy Elkins-Tanton, Professor in the School of Earth and Space Exploration at Arizona State University and Principal Investigator on NASA's Psyche mission; and Taylor Perron, Professor of Earth and Planetary Science at the Massachusetts Institute of Technology.
I'm always inspired by my daughters and their boundless curiosity, and I'm forever grateful for my father and his eagerness to tell me about space when I was a kid.
RGL: Thank you, Lisa for joining us today and sharing so much about your beautiful book!
LVP: Thank you so much for having me, Rebecca! And thanks to everyone reading this post. I hope you all enjoy TELL ME ABOUT SPACE!
RGL: BUT WAIT, THERE'S MORE!
Lisa is generously offering one lucky reader not only a signed copy of TELL ME ABOUT SPACE, but also a signed copy of I LOVE YOU MORE! Just comment on this post to enter. If you share this interview on social media, you'll get an extra entry! Please tag me (@RebeccaGardynLevington on IG and @WriterRebeccaGL on Twitter) and Lisa (@Lisavperron on both IG and Twitter) so we know you did it! Winner will be announced at the end of my next post, scheduled for November 7th!