As a picture book author, I, of course, am a big fan of well-written text. Some of my favorite picture book spreads are filled with sentence after beautiful/funny/wild/unexpected sentence. Some of my favorite picture book spreads give us one perfect line that is so good it makes me pause and wish-wish-wish I had thought of it first. Yet other favorites have only one word, but you better believe each of those spreads has the absolute right word.
Oftentimes, though, a two-page picture book spread is even better without a single word.
Extraordinary Jane, written and illustrated by Hannah Harrison, contains one of my Favorite Worldless Spreads of 2014.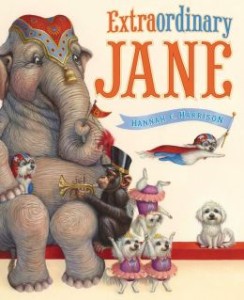 Poor Jane! Everyone else in her circus troupe can do extraordinary things…horse-riding tricks, acts of strength, death-defying stunts! But Jane just can't find her special talent. In a desperate attempt, she tries to tackle an impressive balancing ball routine only to have it end in disaster.
Behold!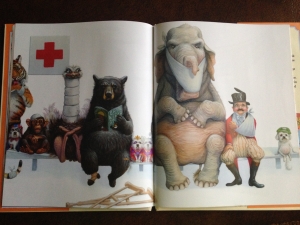 But does Hannah Harrison tell us all about the outcome of this disaster? Does she broadcast every detail of the suffering? Nooooo. She gives us this gorgeous and hilarious two-page wordless spread (aside from the words on the cover of the bear's magazine) that shows us the aftermath of Jane's latest attempt at uncovering a talent.
Extraordinary!
Another 2014 release that has a doozy of a wordless two-page spread is Pardon Me! by Daniel Miyares. This book actrually has NINE wordless two-page spreads, but my favorite one–the doozy–is the final one.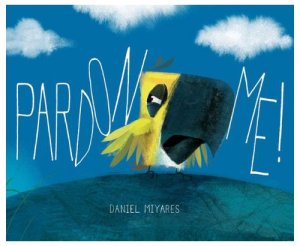 A grumpy yellow bird just wants some peace and quiet. Much to his increasing annoyance, however, one animal after another joins him. Finally, he can't take it anymore and throws a tantrum. Everyone leaves. Well, almost everyone.
I really, really, really want to share this wordless two-page spread from Pardon Me! so we can collectively ooh and ah over it, but I can't. It's for your own good. Honest. I'm doing you a favor. To see that delicious spread, you need to read the book. It will make you appreciate the spread all the more. I promise!
I will, however, share some other Pardon Me! goodies.
To view the trailer for Pardon Me! as well as to check out the "the story behind the story," click here:
Do YOU have a favorite wordless two-page spread? If so, please tell us about the book in the comments.
—Tammi  Sauer