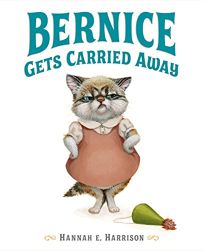 I am a huge fan of Hannah E. Harrison's Extraordinary Jane, so I had high expectations for Bernice Gets Carried Away. Well, I got just as carried away with this book! It's better than getting a frosting rose on your piece of cake! Really.
Hannah, tell us about Bernice Gets Carried Away.
Bernice is a little kitty cat at a Birthday party. She wants to have a good time, but things just aren't going her way—she doesn't get a frosting rose on her piece of cake, she's the only one who doesn't get a yummy strawberry-melon soda, and to top it all off, she doesn't even get to take a swing at the piñata! This puts Bernice in a very bad mood. So when she sees that they are about to hand out the balloons, she doesn't take any chances, and she grabs the whole bunch! There's just one little problem…she floats away!
I love behind-the-scenes skinny! Where did you get the idea for this book?
This photo that my sister-in-law posted on FB is what sparked the idea for this book!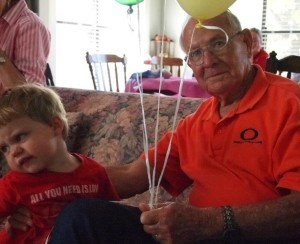 My comment was There's a story in this picture…just not sure what it is yet! And she replied, Papa Joe is a balloon thief. That much is clear. At that moment, I knew I wanted to write a story about a kid at a Birthday party who stole all of the balloons and got carried away.
Which came first, the text or the art?
This is kind of a "chicken or the egg" question for me—I don't know! Because I both write and illustrate, it's really difficult for me to differentiate which comes first. I picture what I write, and I write what I picture—does that make sense? Of course, the final art isn't finished until about a year after the text has been approved.
Do you have any early sketches or special tidbits that you'd like to share?
Sure! Here is my very first sketch of Bernice—I drew her as I was writing the first draft of the story.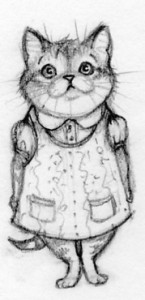 And then a little while later, a kitten showed up on our doorstep and decided to adopt us. We named her Annabelle Toodles, and I decided to paint Bernice to look like her.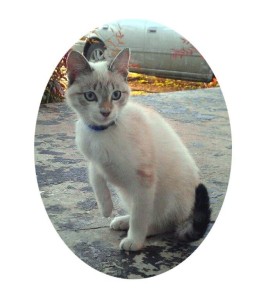 I thought my daughter would get a kick out of seeing her cat in a book.Isn't it funny how much the sketch of Bernice looks like Annabelle even though we hadn't met her yet?
Did you face any particular challenges while writing/illustrating this book?
Yes! I thought painting balloons would be fun and easy, but–oh-my-gosh—did it hurt my brain! And clouds—clouds are hard. And getting the emotions and expressions just right was hard. And so was painting with the limited palette at the beginning! Now that I think about it, the whole book was a challenge! And from a writing standpoint, it was really difficult to write a book about sharing, but still keep it fun, honest, simple, and not too didactic.
Give us a glimpse of your creative process.
In terms of my writing process, you'd have to be able to see into my brain, I think, in order to get a glimpse of that! I spend an awful lot of time staring into space. My brain is my office, after all, and it's a messy office covered in post-it notes and mountains of paper! Even I don't know what's going on in there half the time! Ha! After spending a lot of time pondering whatever germ of an idea I have—days, weeks, sometimes months –I kind of just sit down with a paper and pen, turn on the "faucet" and pray that something good comes out.It's nerve-wracking and exhilarating at the same time. As I mentioned before, my brain simultaneously becomes flooded with images, too, and that helps with the writing. And then, of course, there's revision, which I totally stink at, and wouldn't be able to do without a lot of help from my family, friends, agent, and editors.
As for my art process, I take those images that popped into my brain as I was writing and think about them some more. I have to shuffle through the filing cabinet of my brain-office, and figure out which images are going to be the most interesting, and do the best job of telling the other half of the story. And I don't know if all illustrators have this problem, but my mind's eye is a little fuzzy. I have a sense of what the illustrations need to be, but I don't see them clearly until I actually sit down and start to draw them.  I do little thumbnail sketches first in order to wrap my brain around pacing, layout, page turns, etc.
At some point I do character sketches, and nail that down. Then I'll sketch out the book, get feedback from the powers that be, and revise.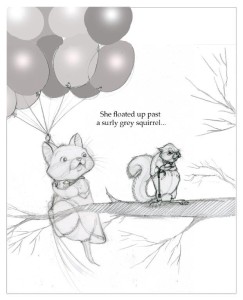 Once the sketches are approved, the publisher sends me full-sized print-outs with the text in place. I transfer the print-outs onto hot pressed Bristol board with transfer paper. And then I get out the acrylic paints, and paint away for the next 9 months to a year. You get to know your characters pretty well when you spend that much time with them. They end up feeling like part of the family. Is that weird? That's probably weird. I was an only child…
Please give us a tour of your studio!
My "studio" is actually a cabinet in the corner of our dining room!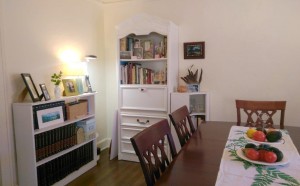 When it's time to paint, I open up the cabinet, get out my art supplies, pull up a TV tray to hold my palette, and grab a dining room chair.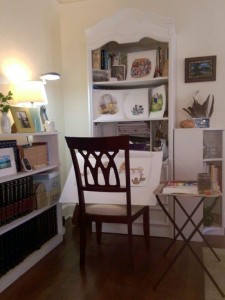 At the end of the day (or when it's time to eat at the table), it all folds back up again!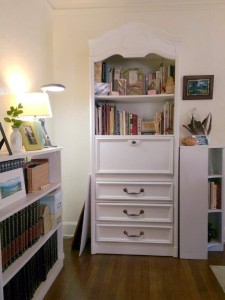 Scoop time! What's next for you?
I am soooo excited about my next book! It's called MY FRIEND MAGGIE, and I'm about to wrap up the illustrations for it. This might be my favorite book so far. Maggie is an elephant, and I love her. I hope everyone else loves her too. Here she is doing a cannonball.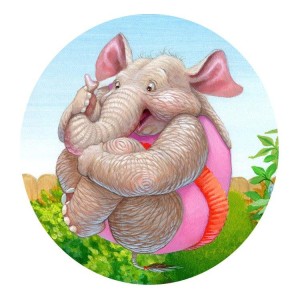 She's on Dial's Summer 2016 list.
I've also signed a contract with Dial for two more yet-to-be-determined picture books. I'm very excited about this! Now I just need to come up with two blow-your-socks-off book ideas. Hmmmmm…got any extra ideas kicking around that you could lend me, Tammi?
Ha! I wish! Coming up with ideas is the HARDEST part for me. 
Many thanks for joining us at Picture Book Builders, Hannah! You deserve an ice-cold strawberry melon soda and three swings at a piñata.
Bio: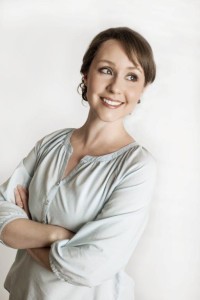 Hannah E. Harrison (www.hannaheharrison.com) is an award-winning author/illustrator whose first book, Extraordinary Jane, received three starred reviews. She's also the co-illustrator of Remy & Lulu by Kevin Hawkes, and is an internationally recognized miniature painter. Hannah was raised in New Hampshire, but now lives with her family in Oklahoma–where the wind comes sweeping down the plain and really messes up her hair.
* * * * * * * * * * * * * * * * * * * * * * * * * * * * * * * * * * * * * * * * * * * * * * * * * * * *
SPECIAL ANNOUNCEMENT:
The winner of a signed copy of Ginny Louise and the School Showdown is….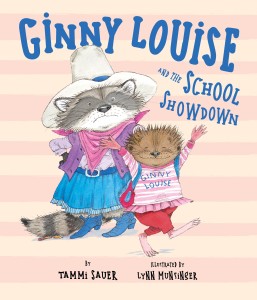 Cissy Noland!
Thanks to everyone who entered.