Karen Beaumont is a master of the rollicking read-aloud and one of my favorite picture book authors. So when Karen has a new book out—which she does now—I consider it a cause for celebration.
But I can't talk about just ONE of Karen's books. There's so much to learn from reading—and re-reading—all of her books that I thought I'd offer up a little sampling, beginning with her latest.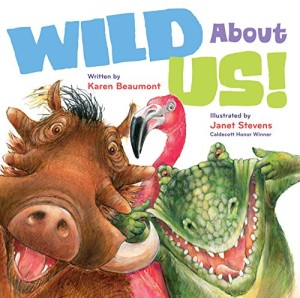 Wild About Us! (illustrated by Janet Stevens, HMH, April 2015) is an exuberant tribute to individuality and self-acceptance, and shows how to convey a positive message without being preachy about it. Read this snippet aloud and notice the nice internal rhymes.
Crocodile's proud of his big toothy grin.
Rhino feels fine in her wrinkly skin.
Elephant's confident nothing is wrong.
He knows that his nose is supposed to be long.
Want to turn an old song into a picture book? Pick up I Ain't Gonna Paint No More! (David Catrow, HMH, 2005)—a twangy (and hilarious) ode to artistic freedom with an anatomy lesson thrown in for good measure.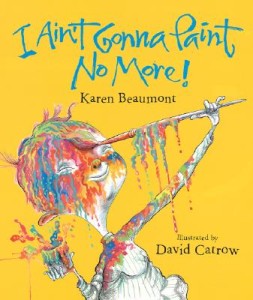 Here's an excerpt:
I ain't gonna paint no more, no more,
I ain't gonna paint no more.
That's what I say . . .
But there ain't no way
That I ain't gonna paint no more.
 
So I take some red and I paint my
HEAD!
Now I ain't gonna paint no more.
Aw, what the heck!
Gonna paint my . . .
NECK!
Now I ain't gonna paint no more.
 
Thinking of writing a cumulative story? Take a look at Move Over, Rover (Jane Dyer, HMH, 2006).
Or maybe you'd like to work some numbers into your story. For a taste of mayhem and wacky canine humor—with a counting lesson on the side—read Doggone Dogs! (David Catrow, Dial Books, 2008).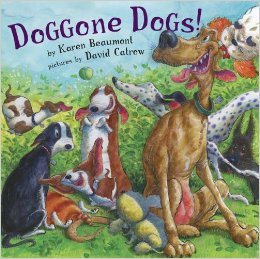 Looking to add some rhythm and repetition (and a few tongue-twisty phrases)? Check out No Sleep for the Sheep! (Jackie Urbanovic, HMH, 2011).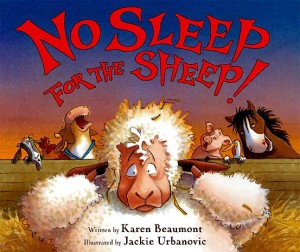 You know from the first few lines this is going to be a fun one:
In the big red barn on the farm, on the farm,
In the big red barn on the farm . . .
 
A sheep fell asleep in the big red barn,
In the big red barn on the farm.
 
Then there came a loud QUACK
At the door, at the door,
And the sheep couldn't sleep any more.
 
"Go to sleep!" said the sheep to the duck at the door.
"And please don't QUACK any more!"
Want to add some mystery to your books? See how Karen sends a kid searching for his beloved truck—and works in a little spelling lesson—in Where's My T-R-U-C-K? (David Catrow, Dial, 2011).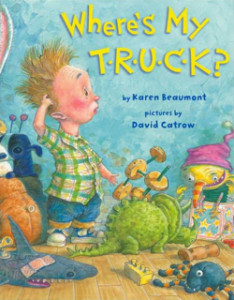 Or how she builds drama through the repetition of simple phrases in Who Ate All the Cookie Dough? (Eugene Yelchin, Henry Holt, 2008), then resolves the title's question with a "Ha" ending.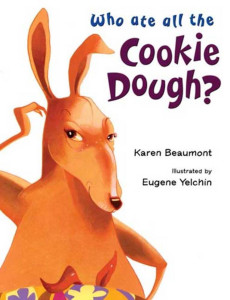 What is it that makes Karen's books such a pleasure to read aloud? I've thought about this a lot, and here are some conclusions:
Strong stories—the kind that keep listeners asking what's next?
A distinctive voice—typically funny, often folksy, and always kid-friendly.
Musical verse—natural-sounding rhyme and a tap-your-toes kind of rhythm.
Reader involvement. Each book seems to have something extra that engages the listener—e.g., questions, counting, spelling, repetition.
Humor! Lots of wackiness, silly language, and visual fun.
Lively language—catchy phrases, alliteration, internal rhyme, etc.
Satisfying endings—often with a surprising twist.
As Tammi wrote in her post about Greg Pizzoli's The Watermelon Seed, Karen's books make me want to be a better writer—more engaging, more imaginative, more clever, more musical.
Do you have a favorite Karen Beaumont book? Or a favorite read-aloud? I'd love to hear.
WINNERS!
Thanks so much for all the nice comments in response to my Twentieth Anniversary post. Here are the five winners from my random drawing:
CindyB.
Nancy Furstinger
Kathy Doherty
Dorothy Wiese
Deborah Allmand
Please send an email through my website and include your mailing address for the two books (if you'd like a particular inscription, let me know). I'll send The Nuts & Bolts Guide via email once I hear from you.