So . . . it's mid-January, the holidays are behind us, and there's a long stretch of winter ahead. Which might make some of us a little grumpy.
If you find yourself feeling a tad down in the dumps, take a look at Claire Messer's Grumpy Pants (Albert Whitman, 2016) for some coping strategies from a cranky little penguin.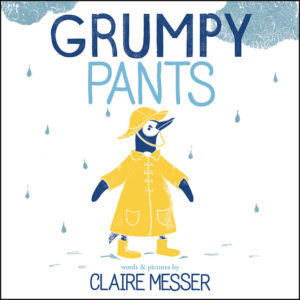 I love this book, and was so impressed when I discovered that it's Claire's first (she's both author and illustrator). It works beautifully—so, naturally, I wanted to figure out how she did it. Here's my quick assessment:
Simple, child-centered text.
The text—roughly 200 words—is straightforward, active, and rhythmic, with lots of repetition. When we meet Penguin on the first page, he's in a bad mood:
"A very bad mood.
He didn't know why and he didn't care."
I think all of us can relate to that feeling at times.
Well-paced, realistic progression.
For most of us, bad moods don't just disappear. We can't just "snap out of it" on command. So it's gratifying to watch Penguin try various strategies—removing his "grumpy socks," putting on favorite pajamas, drinking hot cocoa.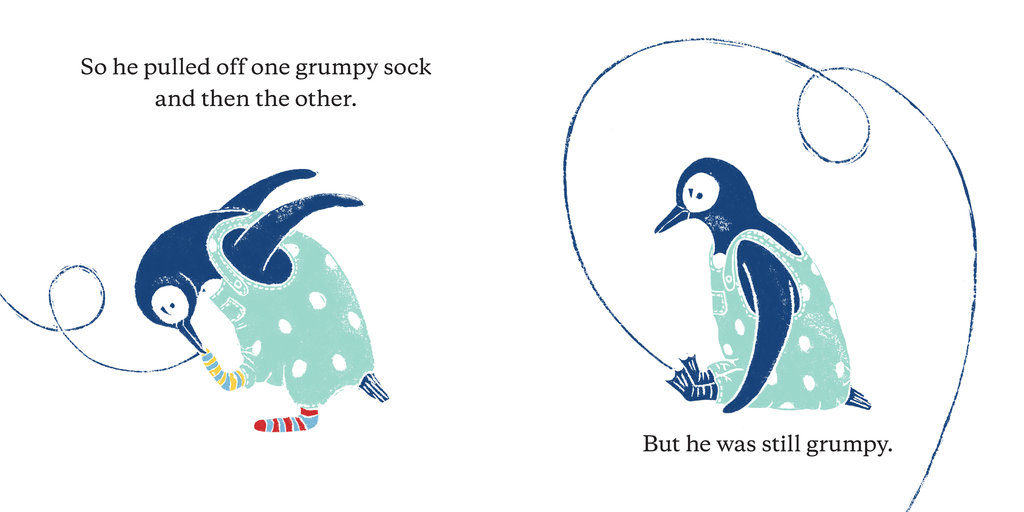 None of these actions on its own turns his mood around, but collectively they start to lift his spirits.
Plenty of humor.
In addition to pulling off his "grumpy socks," Penguin removes his "grumpy overalls" and "grumpy underpants" (a naked penguin is sure to get a laugh). I also laughed at Penguin in the bathtub making  a "bubble beard."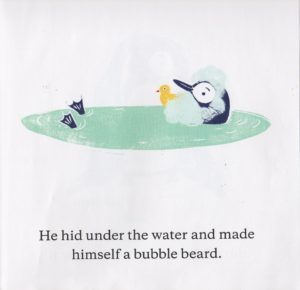 Charming illustrations.
The linoleum-print illustrations are simple, with lots of white space. The focus is on Penguin and his emotional state, which we can clearly interpret through his expressions and body language.
Just one character.
Penguin is the only character in the book. At first this struck me as a little odd. No friends or siblings to interact with? No parents to comfort him? No teachers to offer words of advice? Then I saw the beauty in Penguin figuring out on his own how to manage his miserable mood and comfort himself.
Classic.
The story is universal, the illustrations timeless, and Penguin's emotions feel authentic and relatable. Plus I can see "grumpy underpants" becoming part of the family lexicon.
Interestingly, another book about a bad-tempered penguin also was published in 2016. (Who knew penguins were so moody?) In Penguin Problems (Random House), written by Jory John and illustrated by Lane Smith, a testy penguin complains about everything—the cold, the dark, the smell of the ocean, his own unattractive waddling. Then, out of the blue, a wise walrus appears, and—in a 150-word monologue—reminds him of all the beauty and wonders around him.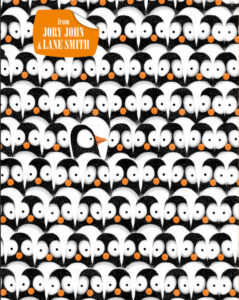 I highly recommend reading both books to see how differently their creators approached what is, in essence, the same premise—a cranky penguin sorting things out.
QUICK ANNOUNCEMENT!!!!
The Inland Northwest SCBWI is offering a 4-week Picture Book Webinar Series starting January 21st. Spend an hour each week with Tara Lazar, Jessixa Bagley, Josh Funk, and yours truly. Sign up for one session, or—better yet—all four (at a discounted rate!). For more info, and to register, hop over here.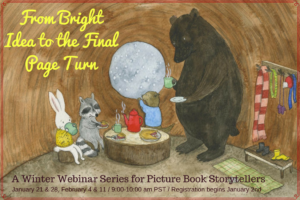 Wishing you all a very healthy, inspiring, productive and not-too-grumpy 2017. Thanks for reading!