Recently, on a family vacation—thousands of miles and a dozen years since we'd read the book he was referencing—my son said, "Look—an Oliver Tolliver dog." Now if you haven't read Mary Ann Hoberman's book One of Each, you wouldn't have known to look around for an Airedale Terrier, but my husband and I knew exactly what he was talking about and spotted the pooch right away.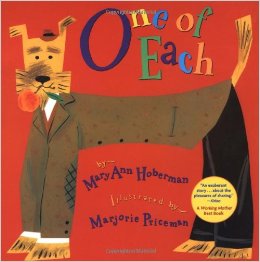 In addition to aiding us in canine identification (thanks to illustrator Marjorie Priceman's Airedale-esque hero), we've been known to ask for "just one, only one, simply one, one of each" on occasion, thanks to the story's refrain.
In my view, there's no higher tribute you can pay a book than incorporating it into your family lexicon. But how does that happen? Well, shoot. I wish I knew. As far as I can tell, there's no surefire formula. And, besides, certain books and phrases are going to resonate with some families and not with others. Still, here are a few things to consider if you'd like future readers to adopt parts of your books into their private family vocabulary:
• Write a book worth reading—over and over (and over . . .) again.
• Include fun-to-say words and phrases (quick: say "Oliver Tolliver" three times fast).
• Use rhyme, rhythm and/or repetition to make phrases easy to remember (and hard to forget—sort of like, for me, the Oscar Meyer Weiner jingle, only more literary and meaningful, of course).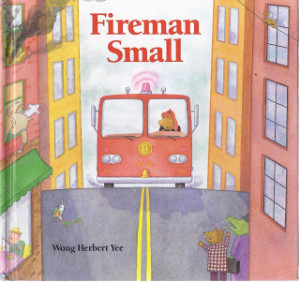 Here's another example: Fireman Small by Wong Herbert Yee. It offers all these elements—zippy rhyme, catchy phrases, and a funny yet sweet story that stands up to multiple readings. And, sure enough, many years after we last read it, under certain circumstances, one of us will say "Quickly out of bed he scoots, jumps into his pants and boots . . . ." And the other two will join in reciting the rest of the stanza.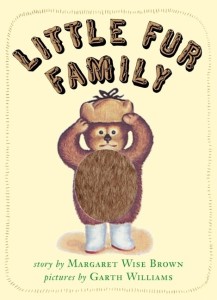 But I can't finish without talking about the book I meant to write about, the one that gave me the idea for this post in the first place: Margaret Wise Brown's Little Fur Family. It ends with the mother and father singing a song to their child:
Sleep, sleep, our little fur child,
Out of the windiness, Out of the wild.
Sleep warm in your fur
All night long, In your little fur family.
This is a song.
The book offers no guidance regarding the tune. So you could just read it, I suppose. But it's a song. It says so. So we made up our own melody. That was probably fourteen years ago. And yet we sang it just the other day and remembered every word—and every off-key note of our made-up tune.
I love how a book can do that.
In this blog, we'll be discussing the sorts of things authors and illustrators do to create picture books that are engaging, compelling, hilarious, thought-provoking, foot-tapping, heart-tugging and just plain unforgettable. We hope you'll join in the conversation and visit often (you can subscribe at right).
In the meantime, what words, phrases and characters from picture books have become part of your family lexicon? And do you have a tune for the Little Fur Family song? I'd love to hear it. If you'd like to share, post a video on my Facebook page. —Linda Ashman