Last weekend I had the privilege of meeting many talented young writers who'd created their own picture books, and other types of books, at the 43rd Annual Illinois Young Authors Conference (Yes, the 43rd!) This fantastic event celebrated exceptional writers in grades Kindergarten through 8th who'd won writing contests at their schools.
(Each school district decided the number of students invited to the conference — usually one or two winners per school.) The Illinois YA Conference was co-sponsored by the Illinois Language and Literacy Council and Illinois Reading Council, though many states across the country hold their own Young Author contests and events.
So please join me in celebrating these enthusiastic young writers, and the wonderful volunteers put on this great event. Here are a few photos/highlights of the day …
Long before the winners and their families arrived Saturday morning, the Young Author volunteers were already hard at work organizing and setting up.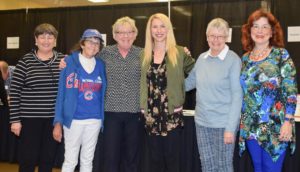 YA Team: Ruth Stevig, Doris Aimers-Voss, Sue Anderson, Christina Podraza, Meg Pyterek, Kathleen Jesukaitis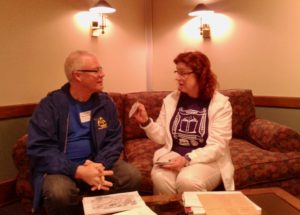 Kathleen Jesukaitis (volunteer/conference organizer from past years), discussing autograph stickers with volunteer, Richard Arnall.
First, the day kicked off with an opening ceremony. Then students broke into groups and headed out to small group sessions where they shared their stories with one another, met with authors to learn about their writing journeys and asked questions, and listened to a professional storyteller. While students were enjoying their group sessions, parents had the opportunity to attend their own parent breakout and explore campus.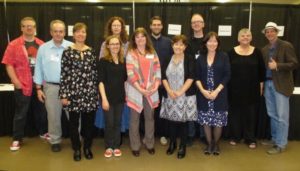 Authors who presented to small groups (from left): Mike Grosso, Michael Spradlin, Suzanne Slade, Liesl Shurtliff (front), Kathryn Atwood (back), Kathy Higgs-Coulthard, Chris Rylander, Lori Degman, Kevin Luthardt, Marianne Malone, Kim Sheahan (storyteller), and Allan Woodrow.
After their day of enriching sessions (and a great pizza lunch), students and their families came back together for the closing ceremony. There each child was welcomed onto the stage and the title of his or her winning story was announced (which now proudly wore the gold sticker it received during the day.)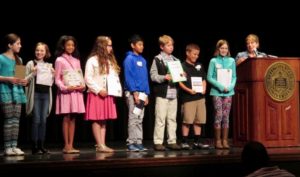 As winners exited the stage, they shook hands with the author they'd met earlier in the day, and were presented with an autographed copy of the author's book.
But the exciting day wasn't over yet! Students and their families gathered in the bookstore where children shared their stories with the authors, asked more questions, took pictures with authors, and had their books (and conference t-shirts) autographed.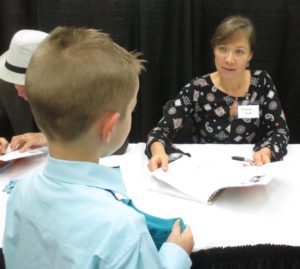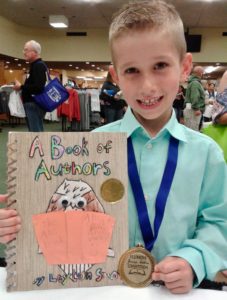 One student named Leyton shared his winning book, A BOOK OF AUTHORS, filled with fascinating facts about various authors and clever illustrations with me. (Thanks to Leyton's mom for permission to share these photos.) The highlight of my day was reading Leyton's book and the other students' fantastic books. I can't wait to read the books these young writers will publish in the future!
The Illinois Young Author Conference was thrilling for everyone involved: students, families, volunteers, and authors. Unfortunately, the state funding for this event was cut a few years ago. Organizers are working hard to find ways to finance the conference through fundraisers. If you'd like to help, you can donate to this wonderful event via GoFundMe. You can also find out more about the Illinois Young Author event on Facebook.
I'd love to hear your comments about how your state, town, or school helps encourage and inspire young writers!