Back in September, I led a workshop called "Writing the Rollicking Read-Aloud" at the Carolinas SCBWI conference. To prepare for it, I brought home stacks of recent-ish picture books, trying to figure out which ones to feature in my presentation. Although half the two-hour session focused on writing in rhyme, I wanted a non-rhyming picture book to kick things off.
Which did I choose?
Hoot Owl, Master of Disguise by Sean Taylor, illustrated by Jean Jullien. (Remember how last month I mentioned I love Sean Taylor's books? I wasn't kidding.)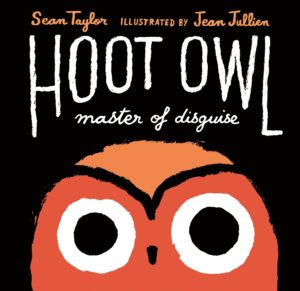 What makes this book a great read-aloud? Let me count the ways:
(1) A good story. Hoot Owl is hungry. But he doesn't just pounce on his prey. Oh, no. He disguises himself first—as a carrot to catch a rabbit, as a mother sheep to catch a lamb, and as a bird bath to catch a pigeon.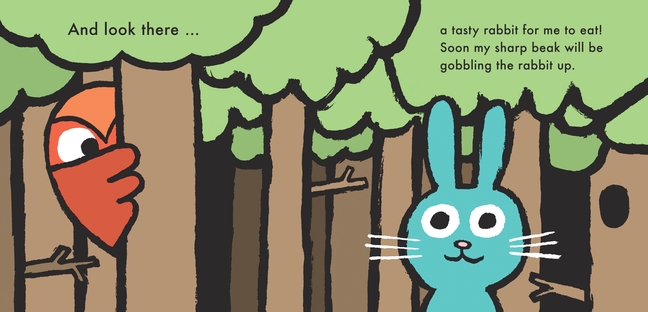 Each time, his prey escapes (fortunately—it would make for a rather grisly picture book otherwise!). Finally, he spies a pizza in a restaurant. He disguises himself as a waiter, and—at last—success!
(2) Repetition. The pattern of the book—spotting the prey, putting on a disguise, failing or succeeding—is repeated four times. This pattern is reinforced by a catchy refrain that invites kids to join in: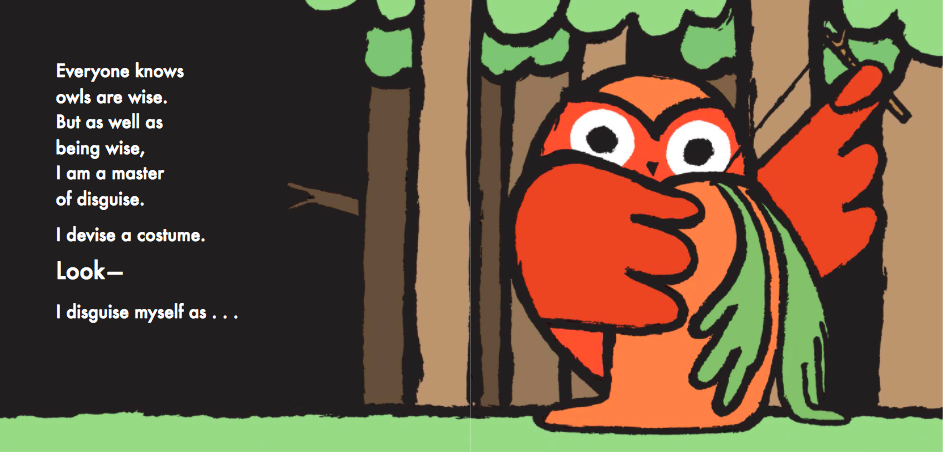 (3) Suspense. The page turns work as mini-cliffhangers, giving kids the chance to predict what will happen. What disguise will Hoot Owl use to fool his prey? (page turn) Will it work? (page turn)
(4)  Humor.  I love Hoot Owl's mock-serious voice and the silliness of his disguises. Jean Jullien's simple and boldly colored illustrations add to the quirky humor.
(5) Language. In addition to the musical refrain above, there's some great language, including vivid similes like this one: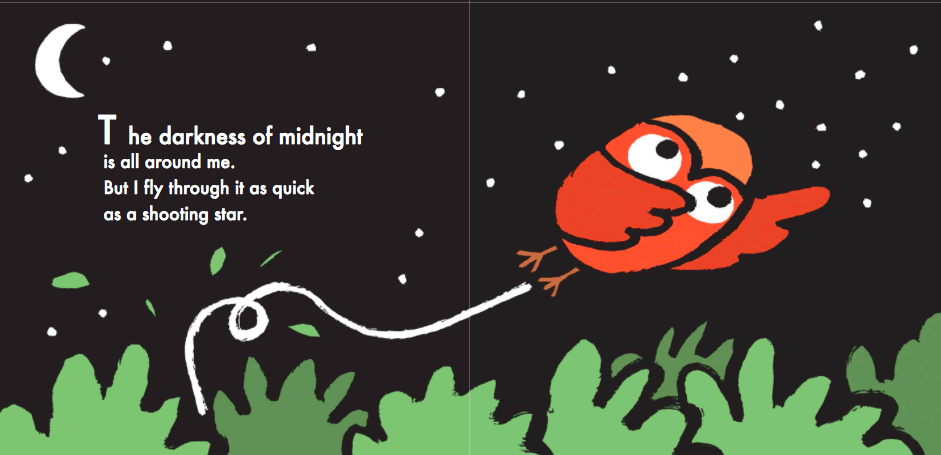 And these:
"I swoop through the bleak blackness like a wolf in the air."
"The shadowy night stretches away forever, as black as burnt toast."
"My eyes glitter like sardines."
It's not surprising that Sean is a poet—excellent training for writing picture books, as he notes in this terrific interview on Elizabeth Dulemba's blog: "Writing poetry taught me to work at language until it is, as Samuel Taylor Coleridge put it, 'the best words in the best order.'"
Which is exactly what we're all trying to do here, right?
Thanks for reading!
Linda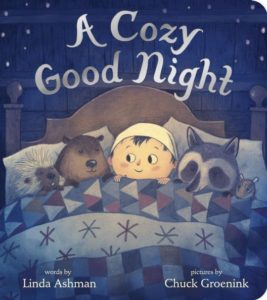 Congrats to Annette Pimentel and Mary York, the winners of last month's giveaway.  A Cozy Good Night will be on its way toward each of you this week!