November is here which means it's the perfect time to grab a blanket, sit by the fire, and cozy up with a good book. I suggest this one—Making a Friend (HarperCollins), written by yours truly and illustrated by Alison Friend.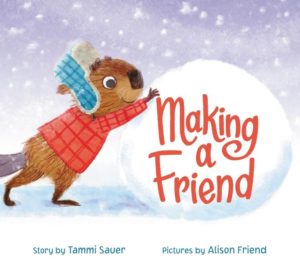 Meet Beaver. He's good at making lots of things. A lodge. A slide. Stripy socks. But there is one thing he has trouble with…making a friend. 
This is what Kirkus and School Library Journal had to say about the book:
"A sure recipe for making a friend…real or snow."—Kirkus
"This title frames a friendship in the making as it first grows undiscovered, awareness of a true friendship arrives unexpectedly, and the relationship suddenly blossoms. Clever text, dialogue, and easily identifiable emotions of its characters make it a welcome addition to materials for social emotional learning."—School Library Journal
Nice, huh?
To celebrate the release of Making a Friend (which is my 25th picture book!), I invited the illustrator to visit Picture Book Builders. How perfect is it that Alison's last name is FRIEND?!
Hi, Alison! Welcome to Picture Book Builders.
Hi, Tammi! Thank you for interviewing me.
I was thrilled to find out that you agreed to illustrate this book! What first drew you to Beaver's story? Was it his vulnerability? His inventiveness? His love of raisins?
Capturing his inventiveness was a lot of fun. That little Beaver can do anything!
I think it was definitely his vulnerability that quickly won me over, though. We've all been there and felt those feelings, trying to make friends.
One of my favourite moments in the book or sequence of spreads is when the characters realize they are friends!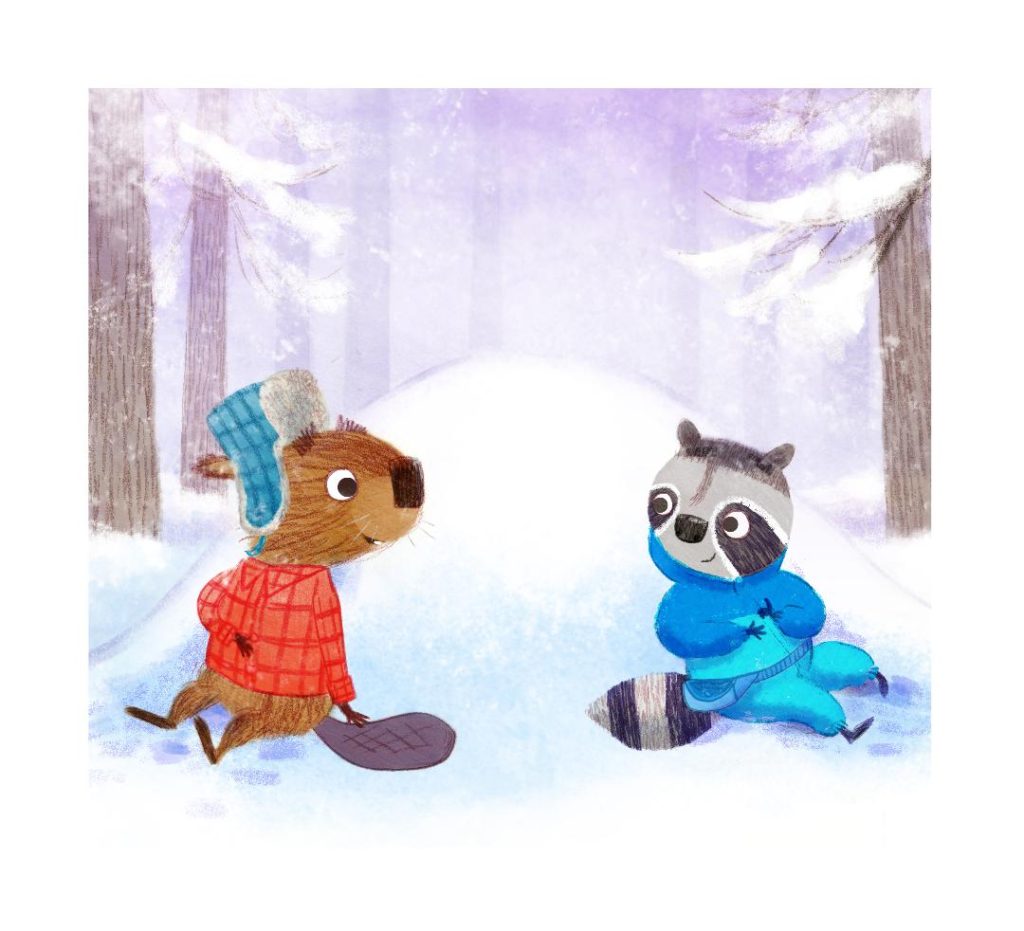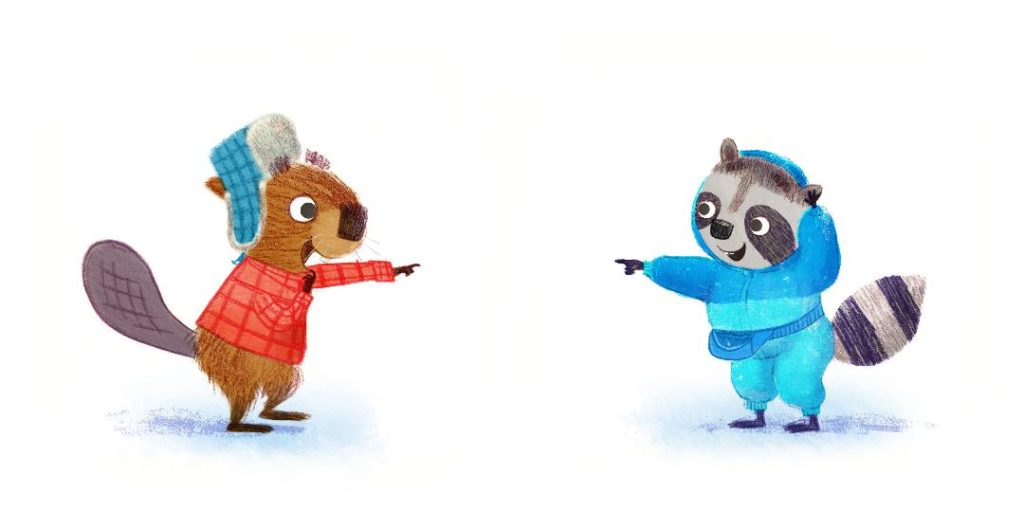 Your animals are so fresh and adorable. I am especially taken with the fun details. Beaver, for example, wears a cozy red jacket and a blue hat with ear flaps. Plus, I am a huge fan of his stripy socks. How do you land on just the right details for a character?
Thank you! Creating the character's look is my favourite part of the job. For me, the accessories are a very important part of giving the character more personality! Less is more though, in my opinion. I'm not crazy about fully dressed animals. Usually, a well chosen hat, scarf, or bow tie is enough, and that makes the character a bit more human.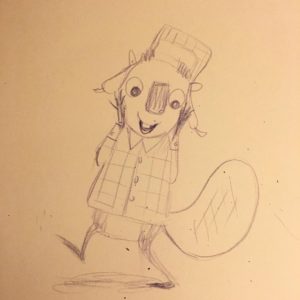 (an early sketch)
Tell us a little about your process?
I moved to digital painting a few years ago. I still draw and scan some elements and textures but the majority of the colouring is done in photoshop. I am getting the desire to work completely traditionally again. Just for a change as much as anything. But it's great to be able to open a file and make changes to art easily.
I work on the floor, on the couch, at my desk in my studio, at the kitchen table. Occasionally, in the coffee shop. I'm quite mobile when I'm working on a book. Here's a pic of my studio which I share with my husband, Mike. He works on fantasy miniatures board games. I mess the place up, and he keeps his bit nice and tidy.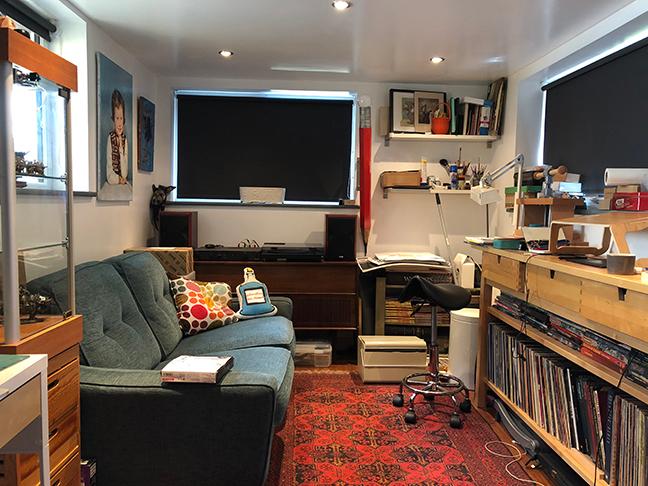 Personally, I think Alison LIVES in a picture book. Look at this view!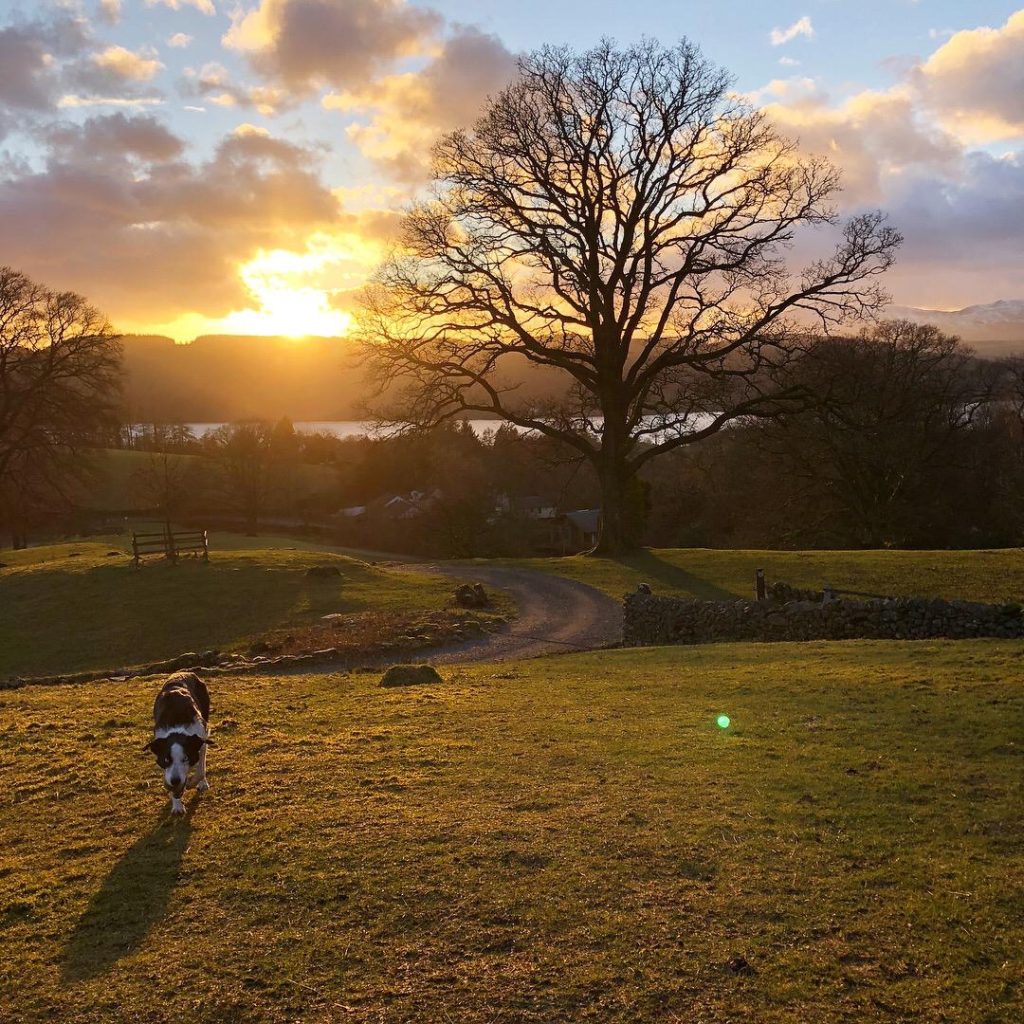 You dedicated the book to the remarkable Jill McElmurry of Little Blue Truck fame and paid tribute to this friend of yours in some special ways. Can you share a little about that?
I first chatted with Jill 8 or 9 years ago over email. I read Hound from the Pound and sent her a message just to say how much I enjoyed her work and that was it really. We hit it off! We shared the same dark sense of humour. She introduced me to Facebook as soon as we got talking – bad move for my productivity but it made it easier to socialize – virtually! Hahaha! Thanks, Jill!
We met in person a few times over the years and became good friends. The last time I saw her was in New Mexico with her husband Eric and sweet dog Harry, not long before she passed away. I am so glad I got to visit.
While I knew her, she began to paint landscapes more, and I am lucky enough to own several. They are beautiful, and I get to look at them every day. Her work is very inspiring to me.
On the final spread of Making a Friend, two of Jill's landscapes hang on the wall of Beaver's lodge. Also, Beaver ended up wearing plaid quite coincidentally, and anyone who knows Jill's picture books will know she wrote and illustrated Mad About Plaid……I think Jill was mad about plaid.
Anyway, it seemed only right that this book should be dedicated to Jill. I do miss her!
If you had one key piece of advice for illustrators, what would it be?
Can I give you two pieces of advice?
Read and study the art in new picture books.
Draw every day!
Scoop time! What's next for you?
I have two novelty books coming out that I illustrated. The first is a Christmas novelty book with Usborne UK publishing in November, and the second is a jungle-themed musical novelty book, also with Usborne.
Next year, Stripes Publishing UK is publishing Little Rabbit's Big Surprise, illustrated by me and written by Swapna Haddow.
I have three other books in various stages of completion. The one I'm about to finish art for is about a tiger for Nosy Crow.
I would like to illustrate another of your fantastic stories though…..*sigh*
Oh, I would love that. Fingers crossed!
BIO: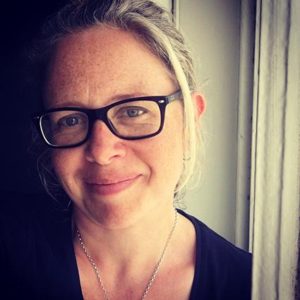 Alison has loved painting and drawing for as long as she can remember. Animals were always a favourite subject, and, as a child, she copied them obsessively from wildlife books and encyclopedias.
Alison lives in the beautiful Lake District with her husband Mike, her son Cal, and Border Collie, Blue. In her spare time she enjoys walking Blue in the fells, swimming in the lakes (when it's warm!), and falling asleep during really good films!
___________________________
GIVEAWAY: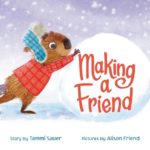 For a chance to win a copy of Making a Friend, just leave a comment on this post. For an EXTRA chance, share this post on Twitter and include my handle @SauerTammi.