Get Ready! There's a LOT in this one little post.
Whether you're a book creator, teacher, librarian, or reader, you'll find a gold mine of craft tips from authors and illustrators of inspiring 2020 nonfiction picture books who banded together to form a group called 20truePBs.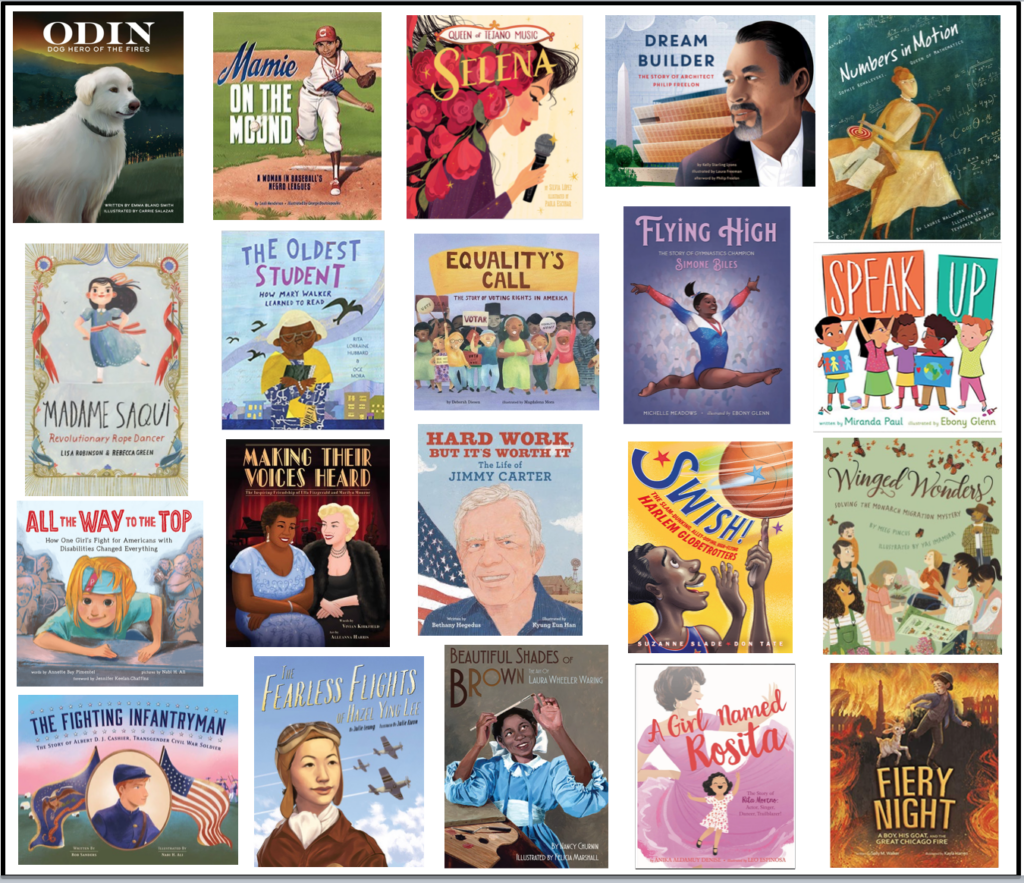 Plus, we're doing a huge giveaway of these 2020 releases. EIGHT winners will be selected from those who leave comments on this post. Each will receive two of these new, true picture books! (Not all of the 2020 books have released yet.)
Check out this video for a sneak peek of some 20truePBs –
Now let's get to those insightful nonfiction tips:
"Remember that you won't be able to put everything into your book. Choose the single golden thread." — Annette Bay Pimentel, author of All the Way to the Top
"Tell a story that is authentic to you and it will resonate authentically with readers." — Rob Sanders, author of The Fighting Infantryman: The Story of Albert D. J. Cashier, Transgender Civil War Soldier
"Check all facts for copyrighted or trademarked material, and search for and contact foundations, trusts, or legal groups related to someone or something mentioned in the story. Get permissions in writing if needed, and let agents and publishers to whom you are submitting know that you've done your due diligence." — Silvia Lopez, author of Queen of Tejano Music: Selena
"When writing narrative nonfiction, don't be afraid to address conflict in an honest way. Think about all of your research and look for the story arc. Where are the highs? Where are the lows? And then consider which elements will be the most interesting to children" — Michelle Meadows, author of Flying High: The Story of Gymnastics Champion Simone Biles
"Before beginning a new nf project, carefully consider your proposed book topic (you'll be living with it for a long time!) You might ask yourself a few questions: Do you have any personal connections, an educational background, or primary sources to bring to the project? Are there are other picture books on the topic? If so, does your book idea have a fresh angle or unique perspective?" — Suzanne Slade, author of Swish! The Slam-Dunking, Alley-Ooping, High-Flying Harlem Globetrotters
"Put together a varied, expansive back matter before you submit (author's note, more info, fun facts, timeline, etc). It might change completely, but it shows your passion for your subject and the depth of your research." — Emma Bland Smith, author of Odin: Dog Hero of the Fires
"Your story doesn't have to be linear, but it does need a compelling arc. Look for the climactic moment and build around it." — Anika Aldamuy Denise, author of A Girl Named Rosita: The Story of Rita Moreno: Actor, Singer, Dancer, Trailblazer!
"There can be long gaps in time between research, drafting, revising, submitting, and publishing a nonfiction book. It doesn't matter how you research, or what method you use to store your links and sources, but it does matter that you keep them all in one accessible place, because it's very likely you will need to reference some of them later. Whether it's a plastic box with lid, a folder, or a special "info dump" document properly filed and saved on a backup drive—save yourself time and headaches by making sure all of your research for a single book can be easily found when you need it again." — Miranda Paul, author of Speak Up
"When writing a true PB, don't be afraid to ask for information from experts – whether they are your local librarian or historical society curator…or an author of a book on the subject you are researching…or even the president of a fan club – you just might tap into a firsthand source or a detail that was missing." — Vivian Kirkfield, author of Making Their Voices Heard: The Inspiring Friendship of Ella Fitzgerald and Marilyn Monroe
"While you're researching, you'll find out so much fascinating information about your subject. Realize that most of it will never make it into your book, but knowing it will add greater depth to your books." — Laurie Wallmark, author of Numbers in Motion: Sophie Kowalevski, Queen of Mathematics
"After you've done your research, close your eyes, breathe deeply, and summon your subject. Slowly draw out what your subject wants to say. Let that voice move through you as you write. Trim away anything that isn't beating, breathing with the fierce urgency of what needs to be said. Your story ignites when you mix a bit of your soul with the soul of your subject and find words in which both of you can live." — Nancy Churnin, author of Beautiful Shades of Brown: The Art of Laura Wheeler Waring
"Don't be afraid to put emotion into your nonfiction story; in fact, try to find the emotion deep in the story and channel it as you're writing. That emotional core—whether your topic is a person, a movement, an animal—is what truly draws in readers and engages them with the amazing true facts you've uncovered in your research." — Meeg Pincus, author of Winged Wonders: Solving the Monarch Migration Mystery
"When you bump into a challenging part of your research or writing, remind yourself to approach your experience in the same way you would like readers of your book to approach their own learning experiences. Stress and insecurity interfere with learning, so re-embrace your curiosity and have confidence in your capacities." — Debbie Diesen, author of Equality's Call: The Story of Voting Rights in America
"Research not only the character, but also the time period where the book takes place and find out what was going on politically, globally, what technology was available, what was fashionable…etc. Use these details to enrich the backgrounds of each illustration to tell a more accurate story." — Kayla Harren, illustrator of Fiery Night: A Boy, His Goat, and the Great Chicago Fire
"It's so important to research the subject until all details large and small are familiar to you.   It's only then can you illustrate the story in the most authentic way." — Felicia Marshall, illustrator of Beautiful Shades of Brown: The Art of Laura Wheeler Waring
"Before starting the drafting process, it is important to research and understand in depth the history of people, culture, timeframe, and places where the story takes place. That way, the illustrations will represent the story more faithfully and lend it greater narrative strength, allowing the reader to identify more readily with the book." — Paola Escobar, illustrator of Queen of Tejano Music: Selena
I hope all you nonfiction aficionados find these ideas helpful as you craft your own fascinating, true stories!
* * * * * * * * * * * *
Giveaway Details: Eight winners will be randomly selected from those who leave a comment on this post. Lucky winners will be notified via email Oct. 13.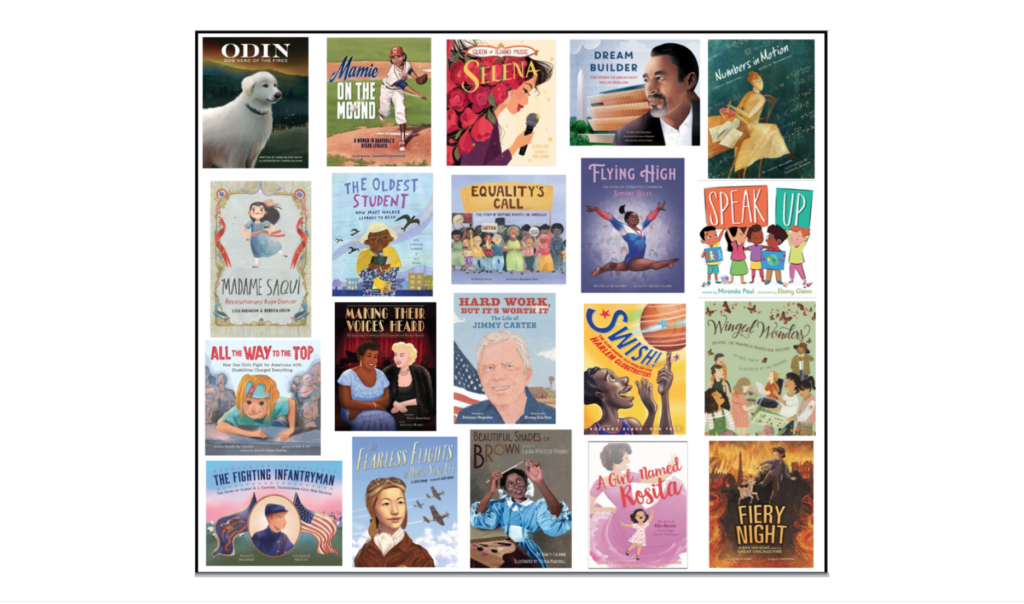 Learn more about 20truePBs: Website, Blog, Facebook, and Twitter