There's a part of my school visit presentation where I ask students for the definitions of nonfiction and fiction, and then quiz them about what genre they think each of my books fall into. It's usually quick–kids are super bright, after all–and then I move on to other topics. But at a recent visit, a group of 4th & 5th graders disagreed with how I categorized my books. The Nian Monster, they argued, is nonfiction because it's a folktale retelling and folktales are shelved in the nonfiction section of the library. Furthermore, the book gives facts about the foods eaten by Chinese people during Lunar New Year and explains certain customs. Luli and the Language of Tea also should be nonfiction, because the different words for tea in ten languages are true. I was a bit flustered, because they're not wrong. But the Nian monster doesn't really exist, I countered. Nor does Luli–she's a figment of my imagination. That makes these books fictional. The librarian added her thoughts and we all ended up having a great discussion. The students ultimately decided that my books are hybrids, and now I tend to agree. (With the exception of Magic Ramen, which is a straight-up nonfiction biography.) They all have back matter that presents additional, factual information. Even the largely autobiographical Watercress is a mixture, since it has fictionalized bits and the timeline is compressed.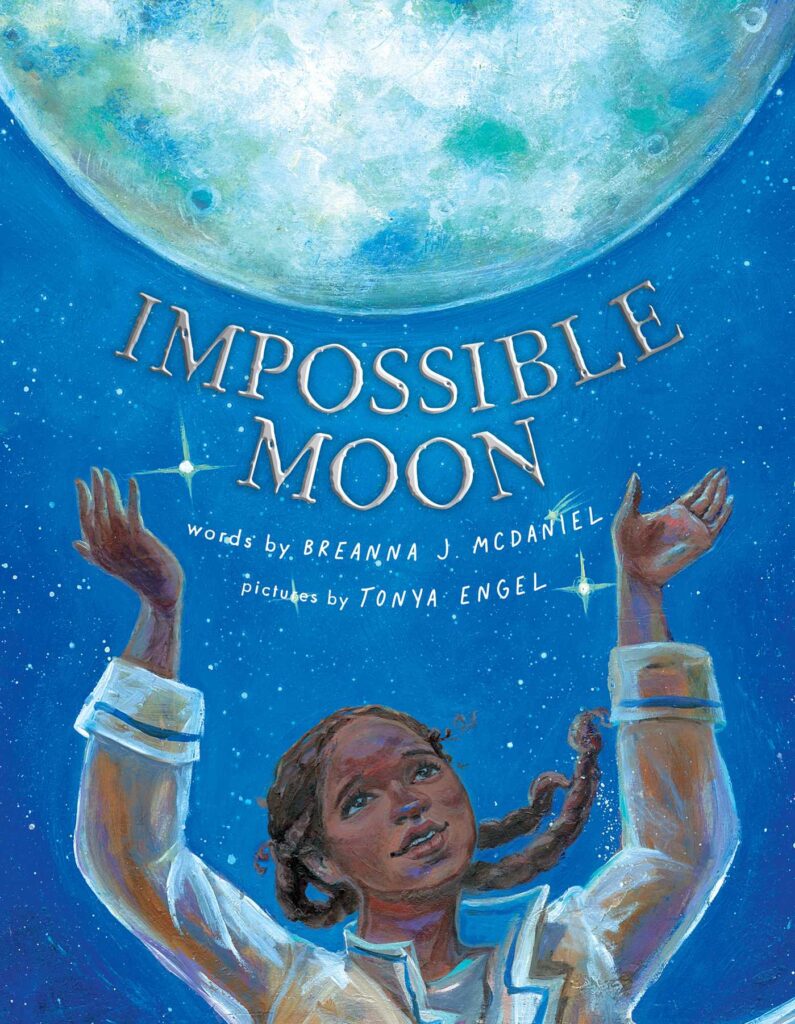 Anyway, the whole experience has made me question the simple definitions of fiction and nonfiction as either made-up stories or true stories with facts. So many books feel like hybrids to me now. Take the lush and lyrical IMPOSSIBLE MOON by Breanna J. McDaniel, illustrated by Tonya Engel.
In the book, young Mable's grandmother, Grana, used to tell "the best stories." But now, Grana is too sick to tell stories.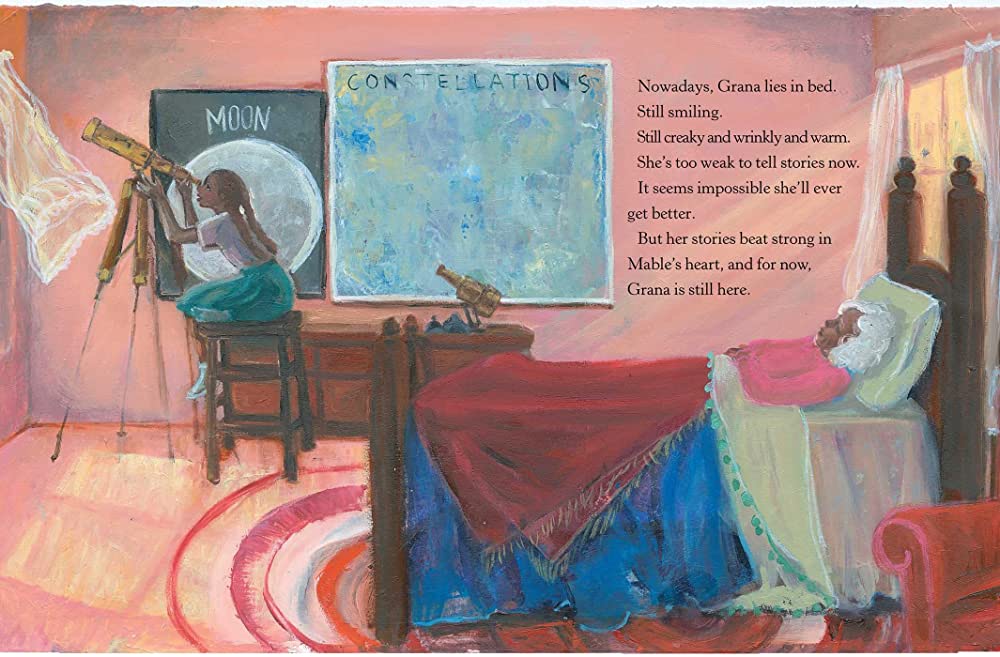 Not too sick, though, to dispense wisdom and hope. In a spread that shows Mable creating "moon maps" and charting constellations, Grana says, "If we can touch the moon, then what is impossible?"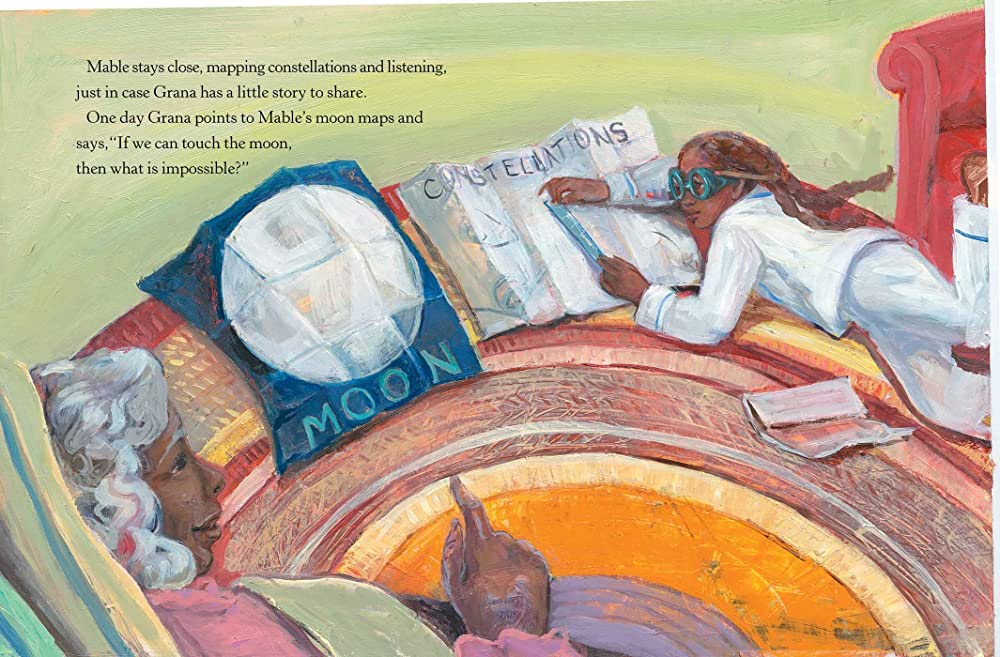 That night, Mable embarks on a journey to touch the moon, so she can do the seemingly impossible–healing her Grana. She launches into the sky and tries to reach the moon. A lion blocks her, but a shooting star, a dog, and an archer help propel her further and further toward her goal. She passes other figures, too. The gorgeous oil and acrylic paintings show the constellations that make up each character. While Mable's journey is fantastical, the story's ending is more realistic, ending with hope instead of a cure.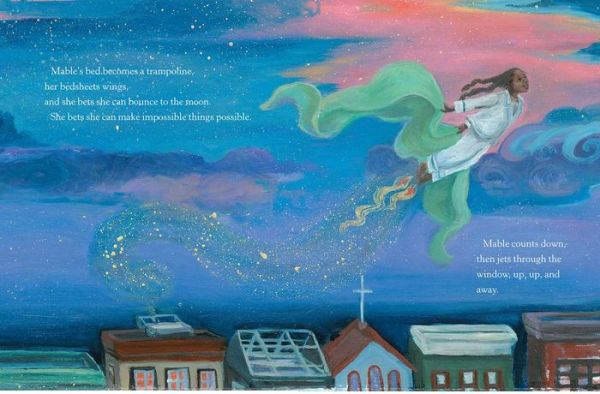 A few things I love about IMPOSSIBLE MOON: 1) The wisdom of elders; 2) the representation of African and African American characters and history (Orion has locs!); and 3) the back matter that talks about the author's inspiration for the story and descriptions of the constellations and what they mean to African and African American communities.
I heard on a podcast recently that, to paraphrase, "Nonfiction is learning through factual information. Fiction is learning through imagination." I love those definitions, because it doesn't restrict learning to nonfiction. All books teach us something. I know that technically, the main text of IMPOSSIBLE MOON is fiction. But it's also more than that–it's science wrapped in a dream informed by culture and mythology.