Once a day I experience forty minutes of absolute chaos and those forty minutes are called "cafeteria duty." There are illegal snack trades to crack down on and treacherous linoleum to navigate. Cartoonists, take note: banana peels aren't that slippery, but boiled green beans are the black ice of the cafeteria floor. I do cafeteria duty for one reason and one reason only (you know, other than contractual obligation). I'm nosy about what everyone's eating. And I'm always jealous. I'm jealous of the cafeteria French bread pizza, the thermos of matzah ball soup, the plastic container packed with pork dumplings, and every clementine I've ever peeled that I could still smell on my hands two periods later. I love lunchtime, and so do most of the 323 kids I spend it with.
When I came across the title Everyone Loves Lunchtime But Zia, written by Jenny Liao and illustrated by Dream Chen, I was immediately intrigued. Who is Zia? And why doesn't she love lunchtime?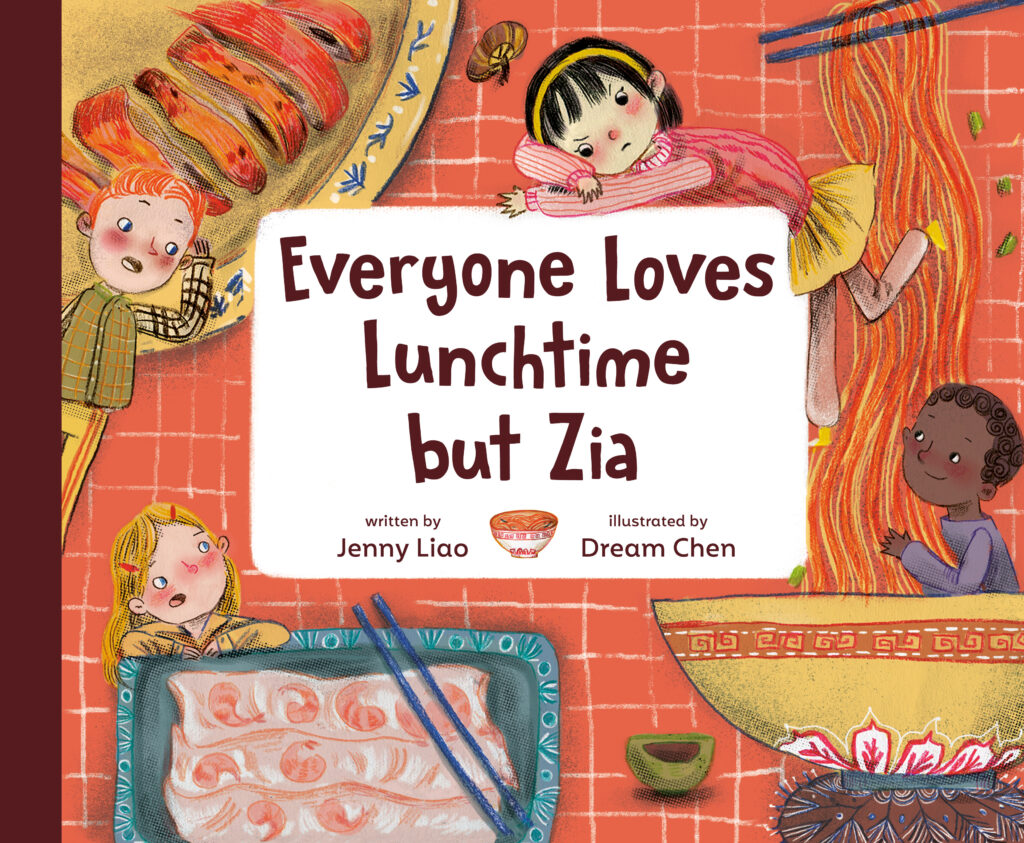 Zia adores the homemade Cantonese food she brings to school, but her classmates don't share her appreciation. Zia wants her parents to pack her food that looks like everyone else's. Instead they lovingly prepare her a different Cantonese dish every day, each with a special purpose, such as see yao gai for success and yi mein for a long life. As Zia's love for her lunches is restored, a new friendship blossoms and a shared birthday treat give her classmates a fresh perspective on Cantonese cuisine. Dream Chen's colorful, mouthwatering illustrations will leave readers' stomachs grumbling. The back matter includes a glossary, author's note, and recipe for Zia's Lucky Yi Mein.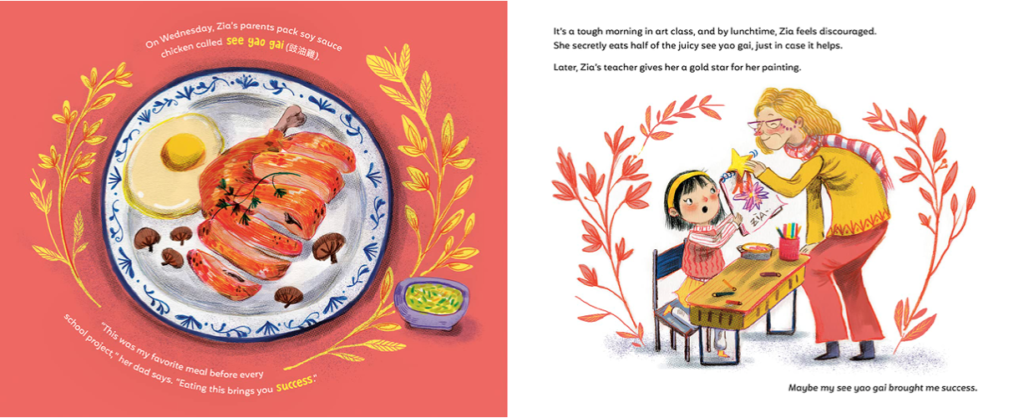 Speaking of luck, we have the good fortune of having picture book author Jenny Liao here today to talk about Everyone Loves Lunchtime But Zia. Welcome, Jenny, and congratulations on your debut! What sparked the idea for this book?
Everyone Loves Lunchtime But Zia is a story inspired by my love for Cantonese food, and the role it played in helping me embrace my Chinese heritage.
Growing up, as one of the few Asians in my school, I often rejected my Chinese culture because I thought it would help me be accepted by other students. Eating Cantonese food, the same foods found in this story, helped me find my way back to my heritage. It reminded me just how rich my own culture is, and how proud I am to be Chinese American.

Food is such a powerful way to connect to heritage and identity. As a teacher I've found that kids love food stories. What do you hope readers will take away from your book?
I hope readers of Everyone Loves Lunchtime But Zia will seek out and celebrate the cultural significance of the foods they eat, both in and out of their homes. I hope that Zia's journey to appreciating her heritage through food inspires readers everywhere to be proud of their own cultural roots while embracing others.

This book provides such a rich opportunity to have those conversations about food and culture. I think Zia's story will also encourage children to consider how they could have a kinder approach to unfamiliar foods than how we saw Zia's classmates treat her initially.
Given that you've written a book in which lunchtime features so prominently, I have to know, what would your dream lunchbox contain?
My dream lunchbox would be a giant one containing all of Zia's favorite foods in the book—cha siu bao, see yao gai, cheung fun, yi mein, and tong yun! It would also have ebi omusubi (Japanese riceball with shrimp), gamja salad (Korean potato salad), cha gio (Vietnamese fried spring rolls), pizza rolls, and of course, french fries.
I know I've mentioned my habit of lunch jealousy, but I am ESPECIALLY jealous of this enormous, delicious, mythical meal! I hope you got to celebrate your book launch with all of your (and Zia's) favorites. What's next for you as a writer?
Zia is returning for a second picture book, out in 2024! I have also been working on two additional picture books, one about travel and one about family, that I can't wait to share with readers. In the meantime, for my adult readers, I have upcoming pieces in Bon Appetit and The New Yorker that I'm very excited about. Stay tuned!
I look forward to seeing Zia again next year and I will be on the lookout for your byline in my favorite magazines. Thank you for joining us at Picture Book Builders, Jenny!
Congratulations to Sarah Meade for winning a signed copy of Ice Cream Man: How Augustus Jackson Made a Sweet Treat Better in last month's giveaway! Thank you again to Kim Freeman and Glenda Armand for this generous offer.