Under the Blanket Sky is the debut picture book of Tim Fischer, a self-taught portrait and landscape artist. It is a quiet and simple book. It is filled with huge, fully-executed illustrations (which made me pick it up initially.)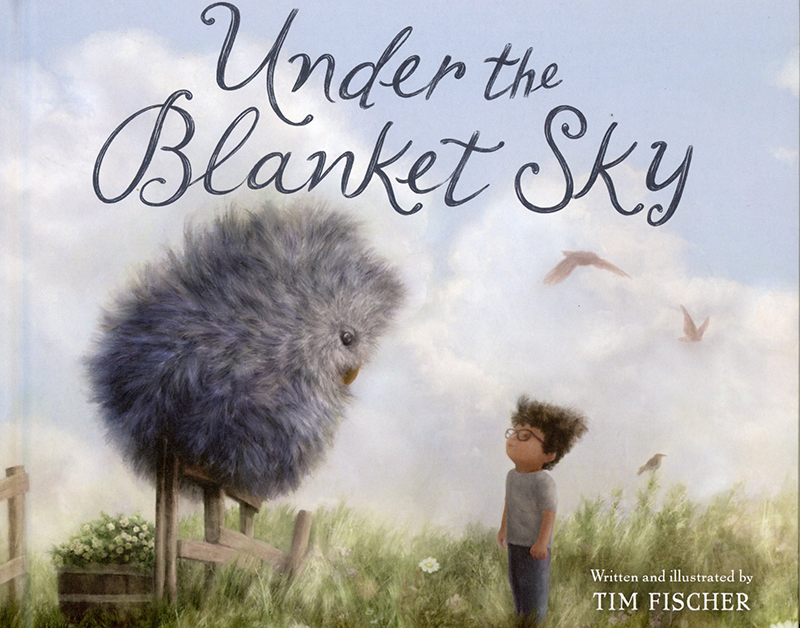 The text is spare. The story is simple. A boy makes an unusual friend that he spends the summer with. They have a wonderful time but when summer is over, the friend has to go. The depth and details of the story are told in the images.
It takes pace in an idyllic small town or perhaps a farmhouse in the countryside in the summer of a child. It is carefree, happy, and full of possibilities.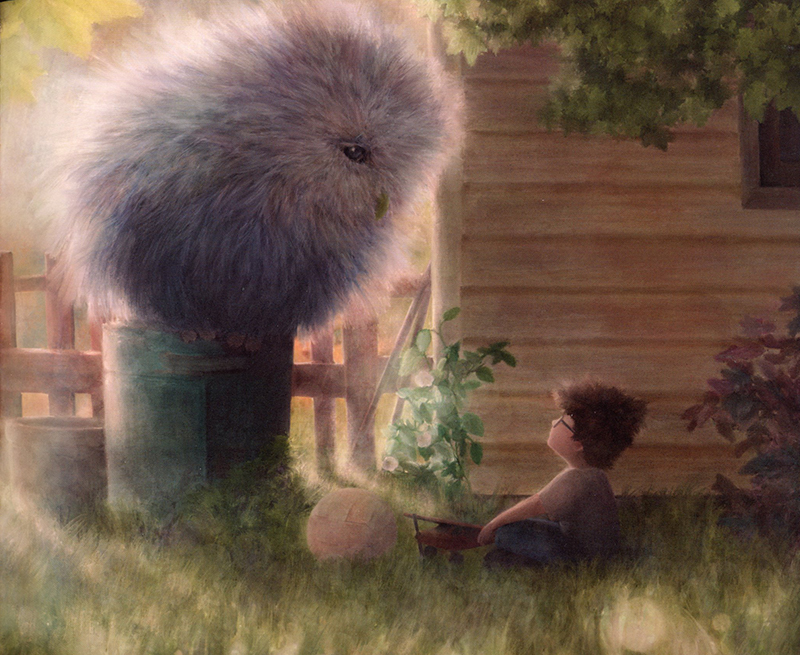 When a very large owl appears to a boy it is almost like an enchantment.
"His feathers shivered like soft grass,
he smelled of the sky…"
The owl is much bigger than the boy, though not an imposing creature. It's kind eyes engage the boy and a friendship is established. The boy showing the owl all the fun things he likes to do and places he likes to go. We experience those places and things in a series of gorgeous, wordless spreads. The owl has a deep curiosity for everything the boy shows him. It is easy to see the friendship develop.
I'm not sure what media Fischer works in. My first guess is oils. The illustrations—most of them double spreads in a horizontal format—are truly beautiful.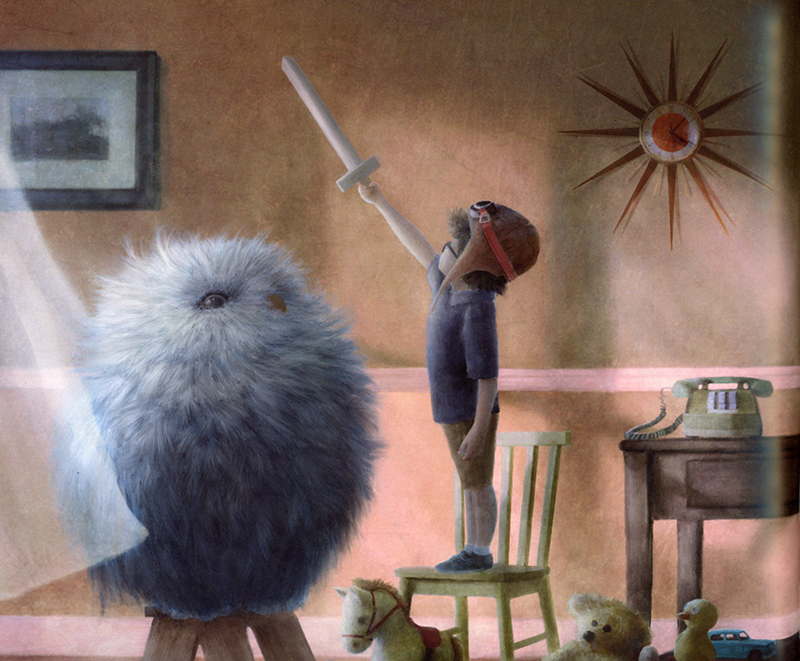 They are sometimes pastoral, sometimes haunting, always moody. Capturing full spreads is difficult on my scanner so most images here are only half of a full image. I've taken a couple shots with my camera of full spreads, which are of marginal quality, but hopefully you can get an idea of their beauty.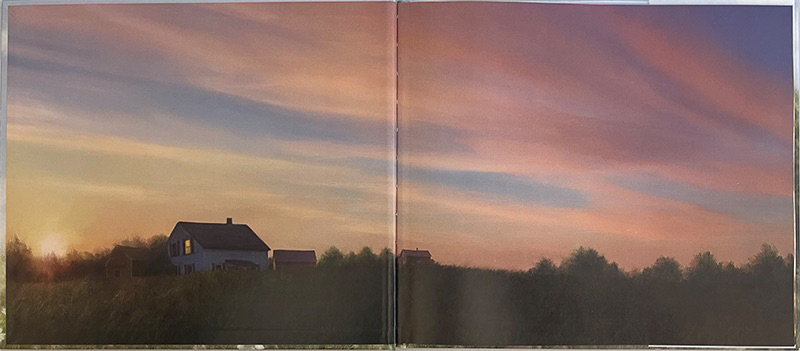 His skills with color and lighting are enviable. He uses a pretty full palette, though the colors are all desaturated. The images are evocative and nostalgic of summer days and summer evenings I experienced growing up.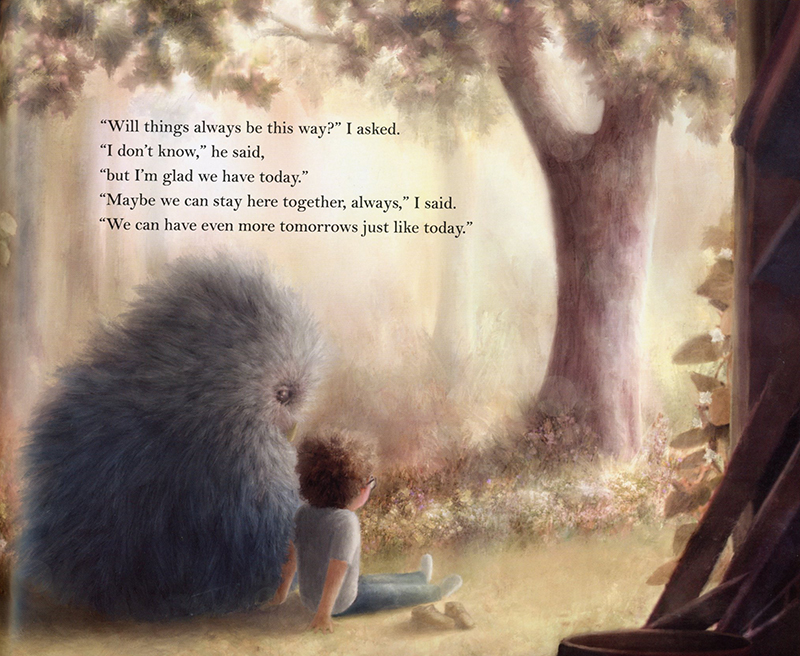 The story is ultimately about friendship. It is about the natural progression of when friendships move on.
I'm not sure exactly what Fischer was thinking when he wrote this, but it is appropriate for separations of all kinds. Or even loss.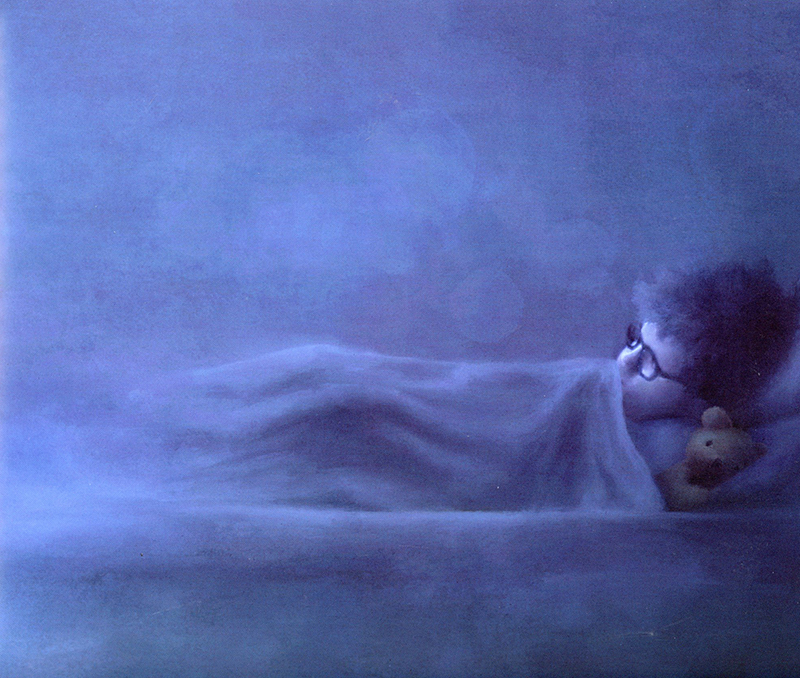 A beautiful book.
~kevan atteberry