Well, hello again, PBB readers! And thank you, Jill, for the opportunity to share a new book and visit with Aparna Varma, the terrifically talented illustrator of Champion Chompers, Super Stinkers and Other Poems by Extraordinary Creatures, published this month by Kids Can Press.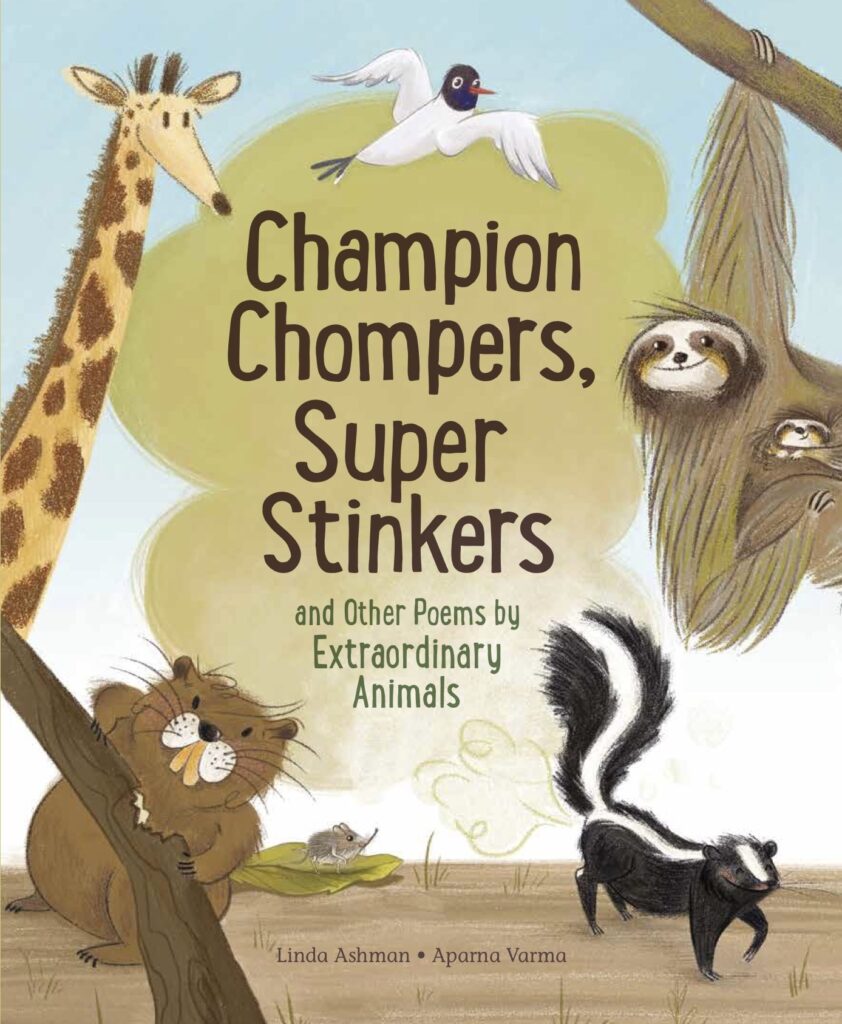 First, a quick summary: Designed as a guessing game, the book is a collection of 19 mask poems "written by" animal champions who are the best, the most, the tops in various ways. Some superlatives are conventional (e.g., the biggest, tiniest, fastest) and others less so (best engineer, most artistic, strongest bite). After each poem, there's a page flip revealing the "winner" and a brief profile of the champ.
The first spread introduces the concept: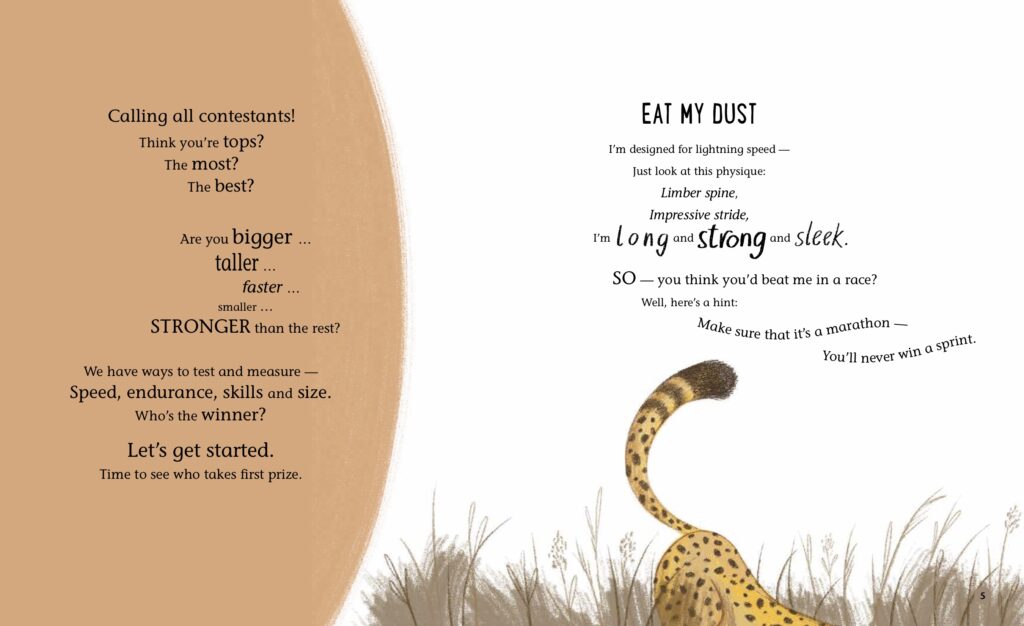 This is the probably the easiest "guess" in the book, designed to give kids a sense of the format and lead them into the more challenging clues.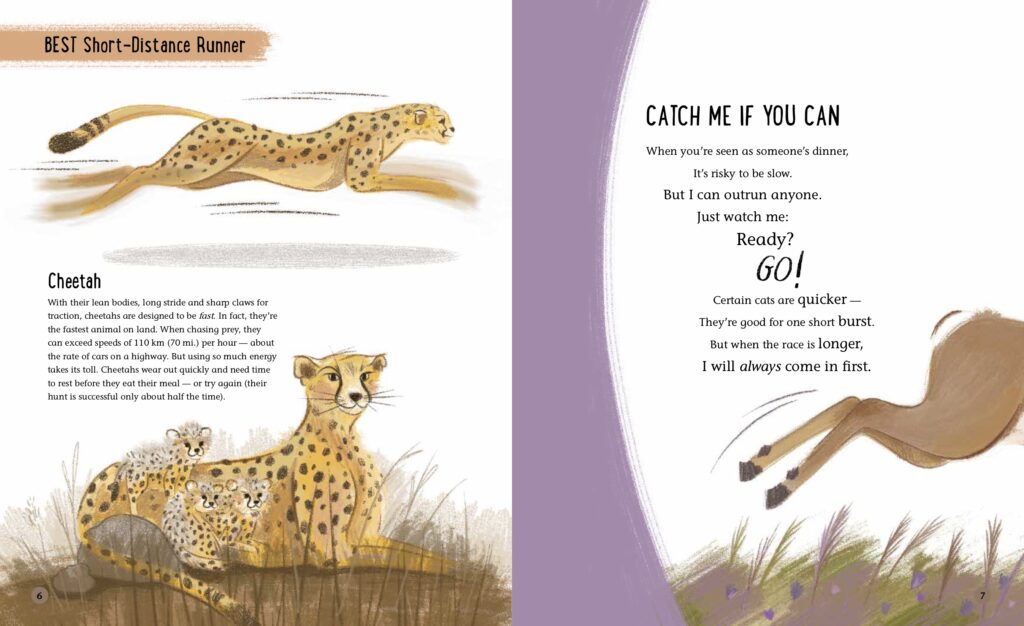 This one is a bit tougher: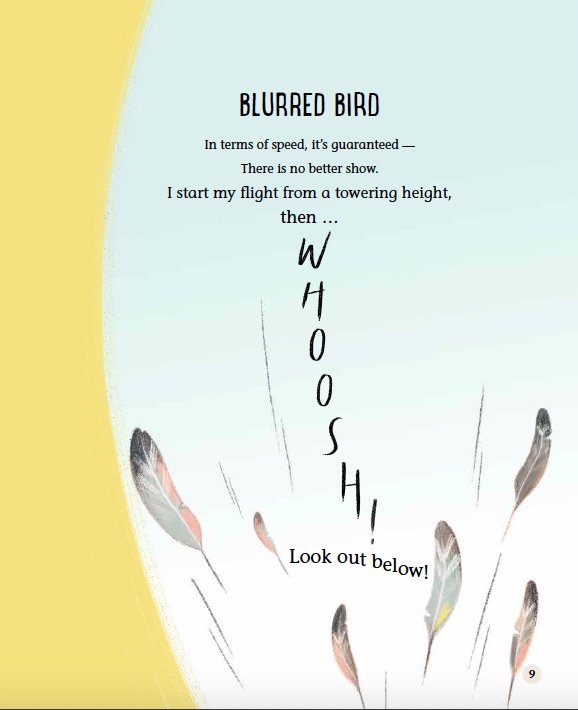 Which I'm sharing mostly because I love Aparna's art so much when the "winner" is revealed on the next page: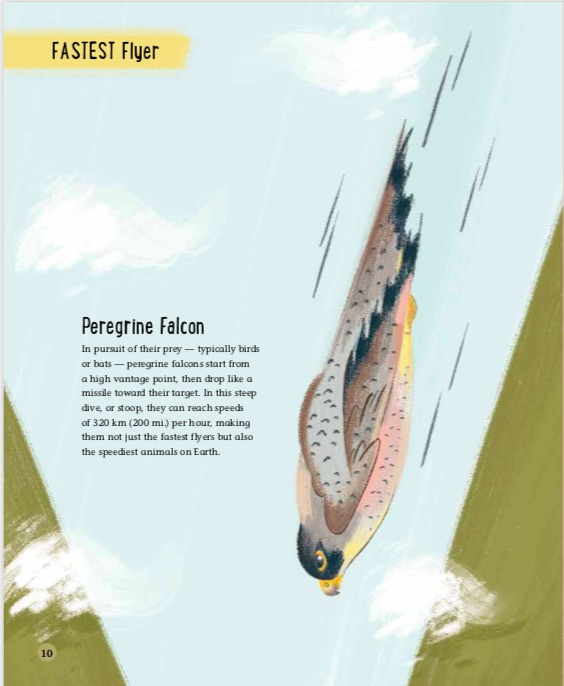 Here's what reviewers have said:
★ "A brimming compendium that inventively mixes facts, poetry, and humor." Kirkus (starred review)
★ "Put this multifaceted package on the science shelves, and use it often and variously." School Library Journal (starred review)
Okay, so that's the preview. And now, on to our chat! Aparna is a relative newcomer to children's publishing, but she is busy! After getting a glimpse of her art, I'm sure you can see why. So here she is, all the way from Toronto.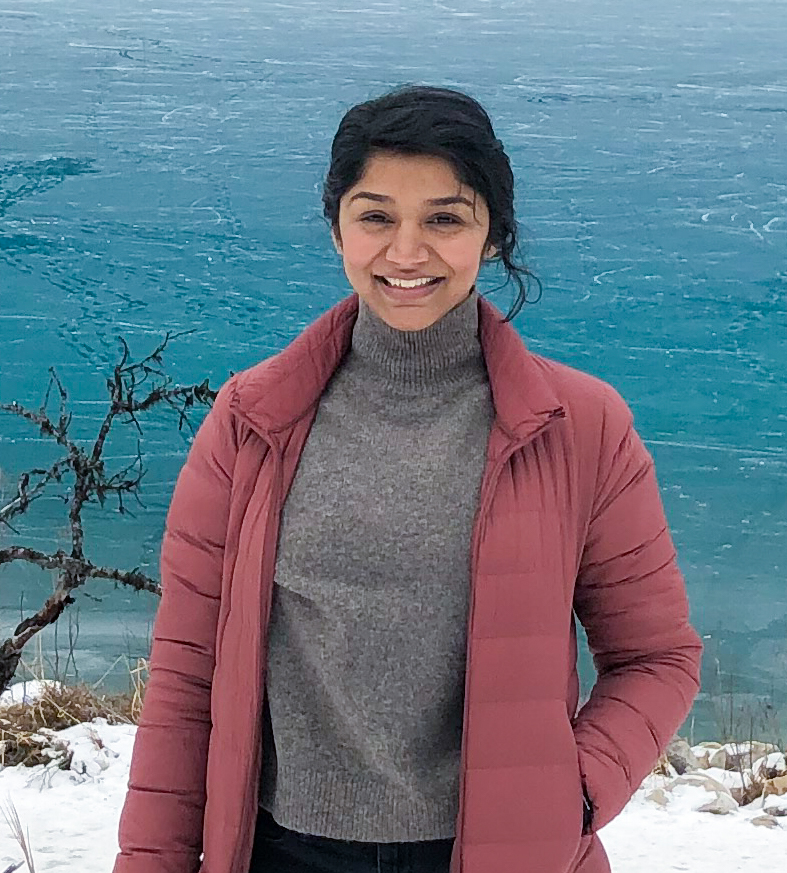 LA: Hello, Aparna! You studied film and animation and started your own stationery design business, Green Bean Studio. How did you wind up illustrating picture books—and, more specifically, this picture book?
AV: I have long admired picture books and have always wanted to tell stories. Even as a kid I remember drawing series of images with short stories that went alongside. Pursuing animation and film seemed like a natural choice. While at university (National Institute of Design, Ahmedabad) I took an illustration elective course. I met a few exchange students who had illustrated books. I remember being fascinated with their process and knew that if, there was ever an opportunity to illustrate books – I would leap at it. I moved to Canada shortly after University and gradually built an illustration portfolio. Green Bean Studio is a business but in its early days, served as a medium to try out different designs, treatments and drawing styles.
Vanessa Esteves, a colleague of mine, kindly introduced me to the editorial director at KCP (Thank you Vanessa!) This book landed in my inbox a few months later. I love drawing animals with fun personalities. It couldn't have been a more perfect book to say yes to!
LA: This was my first book with Kids Can Press, and I was so impressed with Kathleen Keenan, the book's editor, and Barb Kelly, its designer. Both are so smart and creative! When Kathleen suggested the guessing game idea, I wasn't sure it would work for all the animals, but you did such a fantastic job. Was this format challenging as an illustrator? Do you have a favorite animal or spread?
AV: I love the format! It was challenging to harmonize the look of so many different animals and the various habitats into one cohesive look. Kathleen is an amazing editor and Barb is a fabulous designer. The entire book was all a big team effort.
The poems have a wonderful rhythm and the page turns needed to echo that pattern. I wanted each clue to serve as anticipation foreshadowing what lay ahead. I enjoyed completing the Spotted Puffer Fish and the Sloth spread. It's hard to pick a favorite! Each spread was special in its own unique way, although I must say the Skunk was a challenge – black eyes on black fur. It took much longer than any other animal in the book.
LA: That skunk was tricky all around. Early on in the editorial process, Kathleen suggested adding a "stinkiest" poem. But measuring stinky-ness is complicated! I wound up declaring a tie, with the skunk and Eurasian hoopoe battling it out for the crown (Jill's hoatzin was another contender).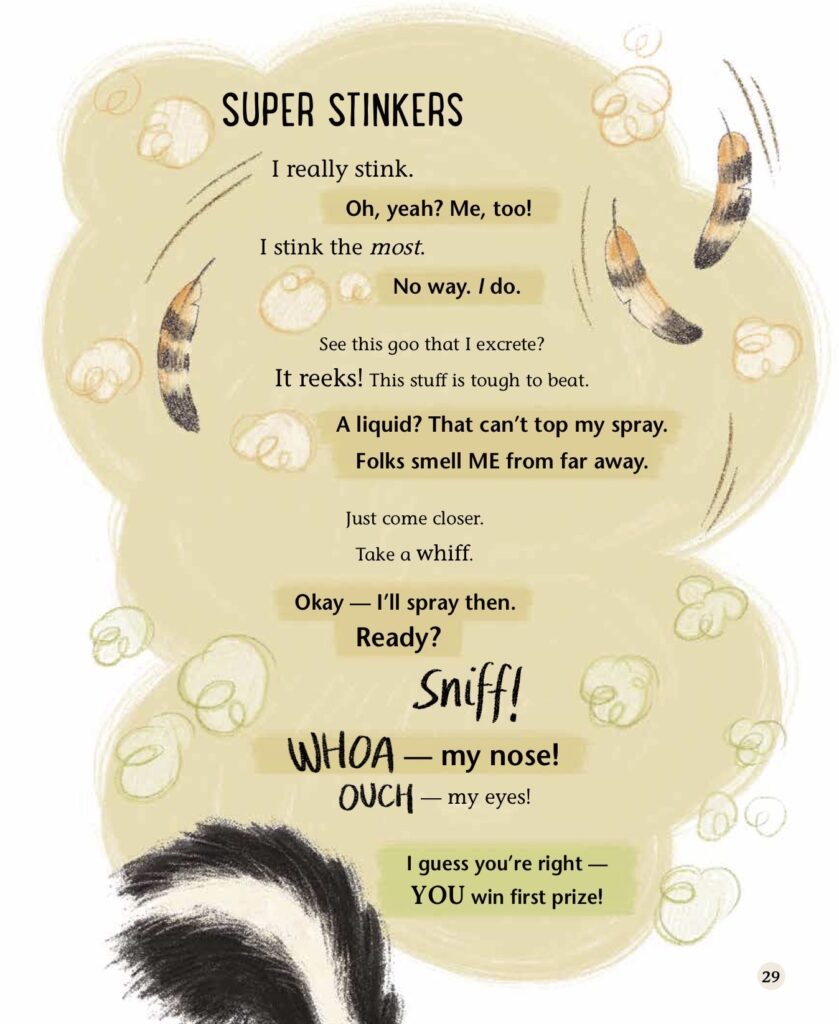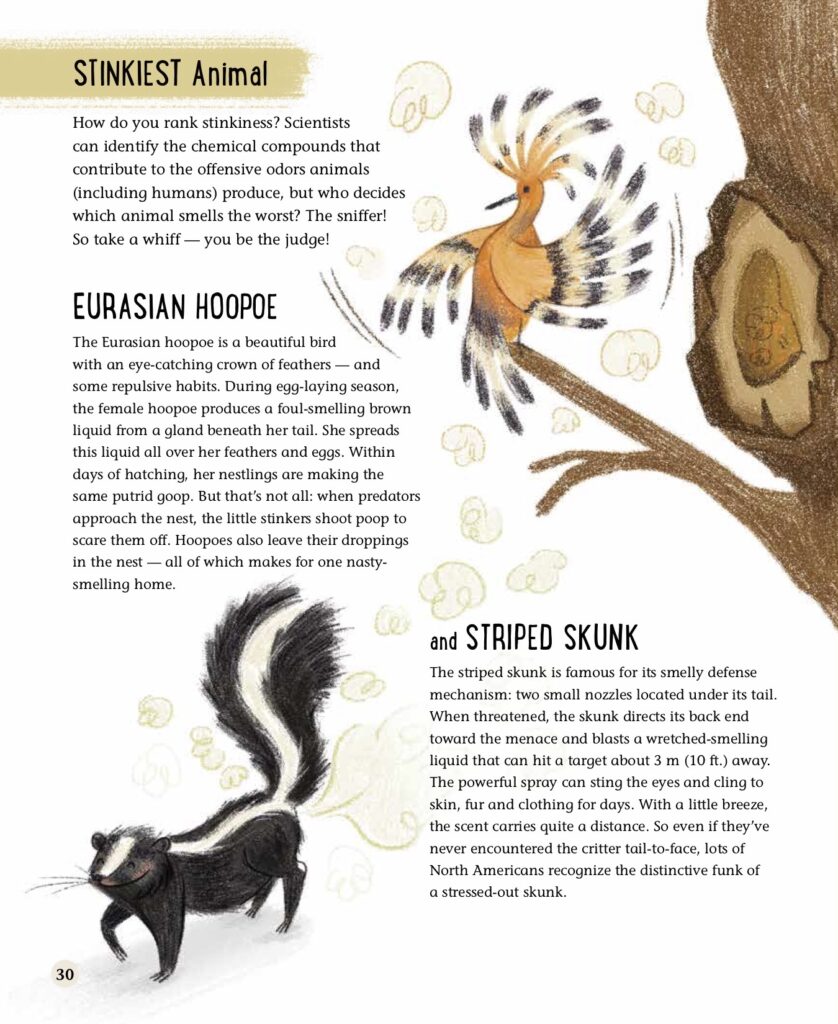 LA: Tell us about your illustration process. Did you do a lot of research? What media did you use?
AV: Research is my favorite of the process and also the longest. Once I receive the manuscript I begin collecting books/documentaries/create mood boards and anything, really that I can get my hands on to inspire the treatment and look. For this book, I had 19 separate folders (one for each animal) which I continued to update weekly until the book was complete.
Once I have a robust directory to draw from I switch over to dedicated creative time chunks. My husband jokes about my creative hibernation – I head to my desk with a deadline and re-appear a few weeks later! My process looks like:
Manuscript —> Research —> Thumbnails —> Roughs, hand lettering —> Color Keys —>Final Color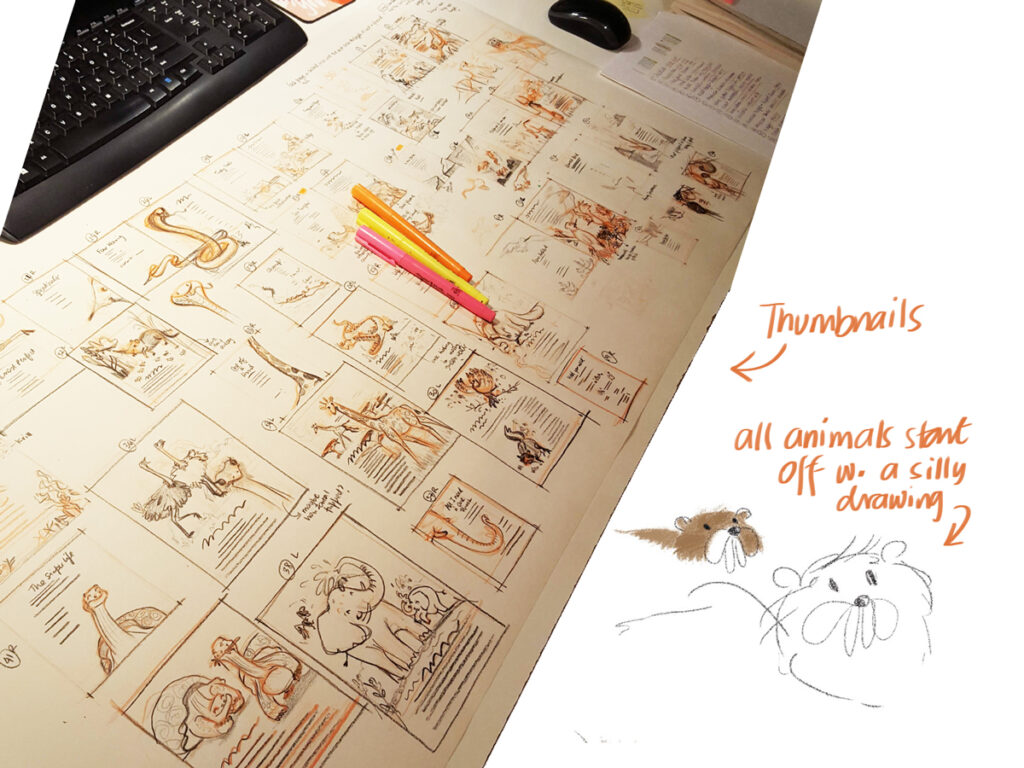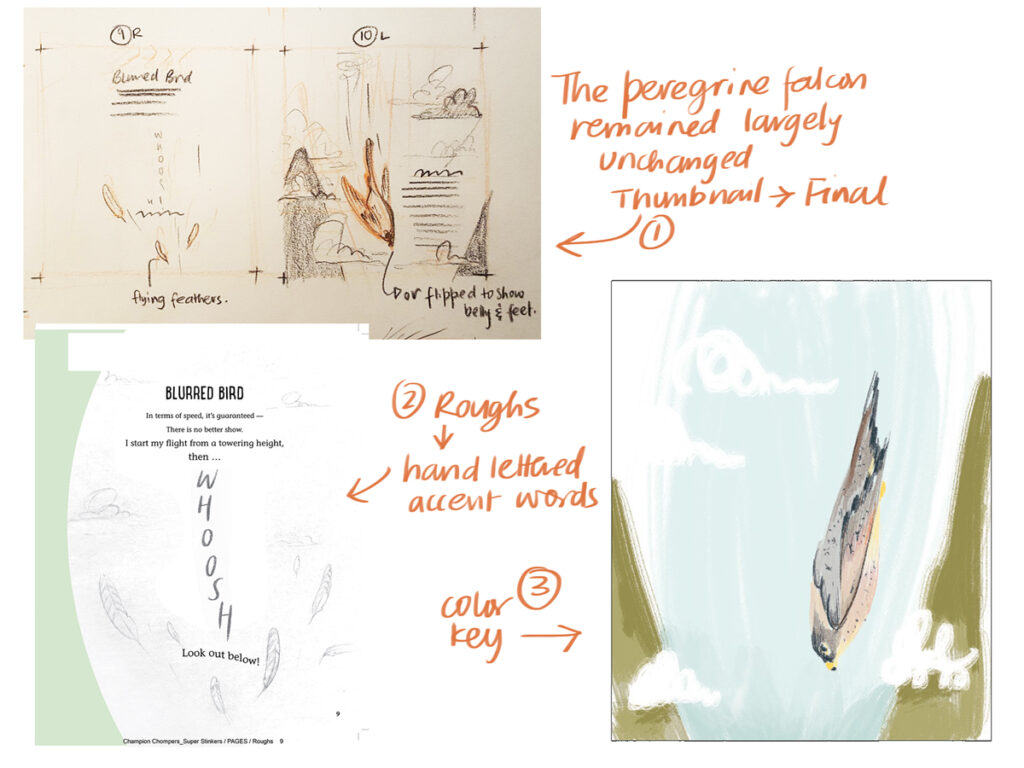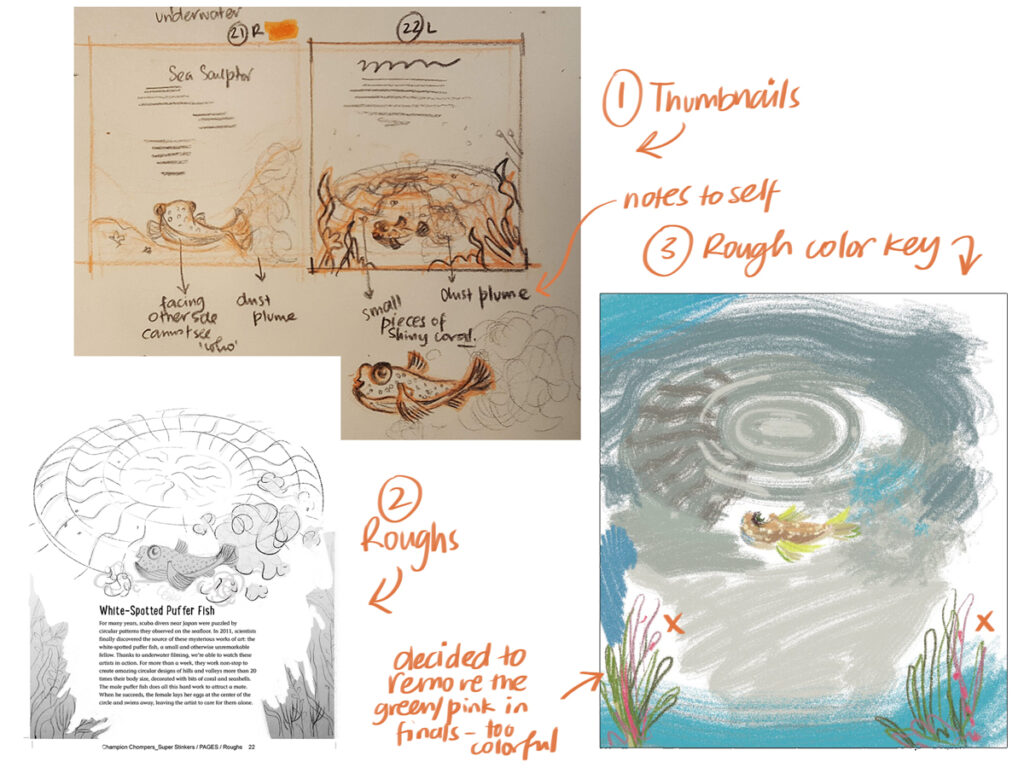 For color I use a mix of acrylics, pencils and digital media. I like to use a different approach for each book – this book was colored digitally. I created brushes in Photoshop that mimicked pencil textures and used a lot of layering.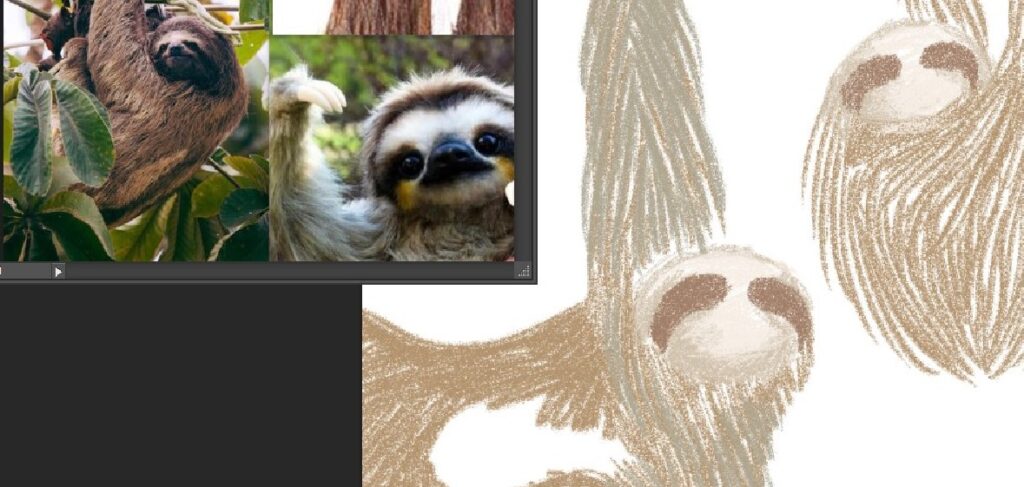 LA: I love hearing about how artists work. I also like peeking into their workspaces. Can you share a photo or two?
AV: I share a home studio with my husband in Toronto. This is my side of our creative den. I am so grateful to this space – it has helped me complete 6 books so far!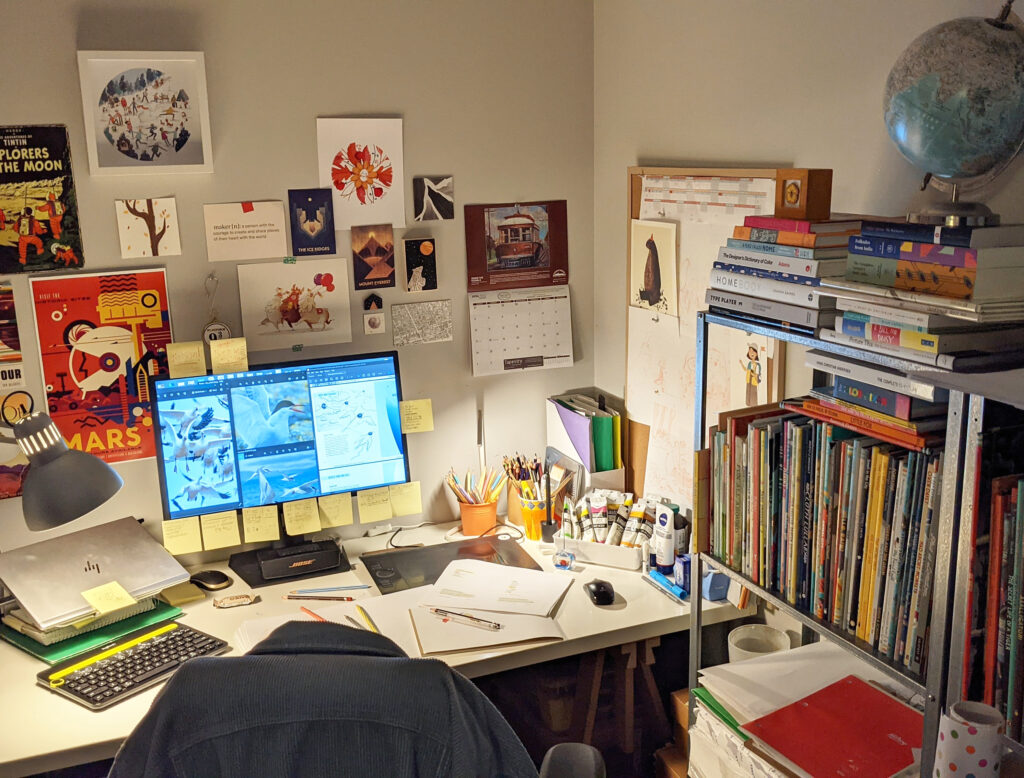 LA: It's so colorful (and tidy!). So what's up next for you?
AV: I'm working on completing the finals for my upcoming book Katrina Hyena – written by Sophie Kohn, Fall 2024 (Owlkids) and am mid-way through production on an animated TV Show.
LA: That sounds wonderful–congratulations! One final question, Aparna. Your dedication reads 'for the furriest fluffy, Comet.' Would you like to share more?
AV: My furry best friend, Comet left us last year at the age of 18 (!). The energy in this book is representative of his energy – emotive, innocent and full of life. He was an immense inspiration to me in my life. Comet was truly the furriest fluffy. The book is even more special to me for this reason.
LA: It's so hard to say goodbye to a beloved companion. Thanks, Comet, for your energy and inspiration. And thanks so much for the visit, Aparna!
For more about Aparna, you can visit her website and follow her @animatedaparna.
As always, thanks for reading!
Linda
* * * * * G I V E A W A Y ! ! ! * * * * *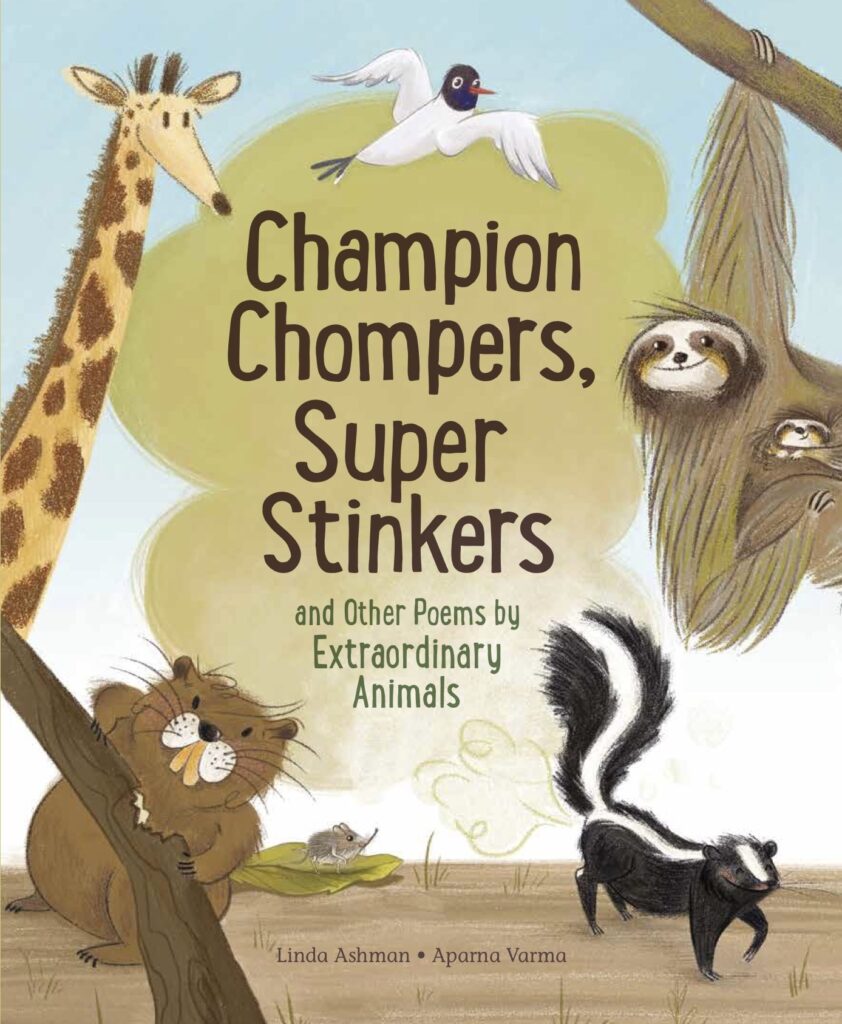 To win a copy of the book, leave a comment below by July 10th. I'll notify the randomly selected winner by email. Thanks!