I'm a collector of ideas. Though not a very good one. I have a tendency to let brilliant, world-changing picture book ideas escape by not writing them down. Great ideas slip into my head at inopportune times. Almost never when I am at my keyboard or sitting with pen and paper in hand. They usually manifest themselves while I am driving. Or in the shower. Or toting that bale. If the idea is good enough, and it almost always is, I don't worry because I am certain I'll remember it and can write it down later. Which is almost never the case. I inevitably forget  what was so damn good.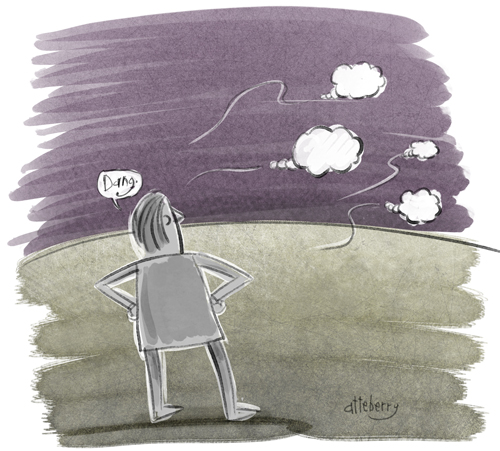 Another time and place I get terrific ideas is in-between the sounding of the snooze alarm. That semi-lucid state where every idea is magnificent and perfect for the book I want to write. The kind of book that everyone will embrace. The kind of book that will sell millions. But I don't believe I've EVER recovered a snooze alarm idea. Friends in the writing world have suggested more than once that I keep a pen and a tablet by my bedside to scratch out those ideas when they come. I've tried. Lord knows I've tried. If I can struggle to open my eyes and write an idea down, chances are it will be unintelligible when I eventually get up. But more than likely, the idea will fall into that "so-freakin'-brilliant-there-is-no-way-I'll-forget-this!" category and hitting the snooze button I'll plummet back to sleep, congratulating myself on my brilliance, never to recall even glimpse of that idea again.
For the past few years, I've participated in Picture Book Idea Month (PiBoIdMo.) The idea is to come up with one picture book idea a day for the month of November. (The same month I grow my pathetic mustache and beard.) It  seems an easy task, right? One idea a day for thirty days. Not even a fleshed out story—just the idea. Over the past 3 years, I have created a list of nearly 90 story ideas gathered during PiBoIdMo. I've structured a handful of them into viable stories. In December 2012, I was going over some of the ideas I had written down the previous month, had an Ah Ha! moment with one of them, and wrote  BUNNIES!!! the same day. And in January, 2013, BUNNIES!!! got me a new agent, sold immediately, and comes out this January. So. Writing ideas down, no matter how obvious or memorable or spectacular you think they are, works. I just need to do it more consistently. Even in the non-facial hair months.
Writing (picture books) is hard. Writing down ideas for picture books shouldn't be.
-kevan