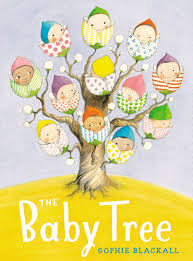 When I was a freshman in high school, I took a journalism class. In it, Ron Harrell taught me how to write a feature article.
"Your ending has to tie back to your beginning," I remember him saying. "It's like having a big, fancy bow on the top of a present that brings everything together."
The same is true in picture books. The very best ones have endings that tie up all the little hints the author has dropped along the way and turn them into one lovely, perfect, unexpected package that still makes the reader say, "Well, of course! It couldn't have ended any other way."
Hint: This is not easy to do.
One book that does this just about as well as I've seen is THE BABY TREE by Sophie Blackall.
The premise is simple. A little boy finds out his mom is going to have a baby and asks the age-old question, "Where do babies come from?"
He asks a lot of people — his babysitter, his teacher, the mail carrier, his grandfather. And they all give him different answers. "From a baby tree." "From the hospital." "From eggs." "From the stork."
These conflicting answers just make him more confused. (And the illustration showing that confusion is a winner. Because — get this — Sophie Blackall illustrated this awesomely written story too.)
Finally, the boy asks his parents. And their answer takes elements of almost all the answers he's heard so far to give him the correct information at a level he can understand. It's genius. It works perfectly, and my guess is most readers never see it coming.
Pictures books are such self-contained creatures that every bit of information in them needs to serve a purpose. There's no room for extraneous items. If you include a seemingly random detail early on, it needs to make an appearance later to show that it's not so random after all. It has to find its loose end and tie it up in a bow.
Sophie Blackall does this so well in the parents' answer to their son's question. But then, she takes one more step. You see, one of the answers the boy received was so off the mark, that no part of it resembled the truth.
Blackall takes that loose end and turns it into a joke that provides the perfect little denouement, which is defined as, "The final part of a play, movie or narrative in which the strands of the plot are drawn together and matters are explained or resolved."
And just to bring this blog post back to where it started, it's worth noting that Mr. Harrell taught me about denouements, too.