As a reader, the story-within-a-story format has always appealed to me. As a writer, I know this format is difficult to pull off.
Because I'm working on one of my own, I pulled three from my bookshelves to take a closer look. How did their authors handle voice, pacing, tension building, POV, etc.? How are they the same? How are they different? Are they stories I want to read again and again, and if so, why?
Interrupting Chicken, David Ezra Stein (2010, Candlewick)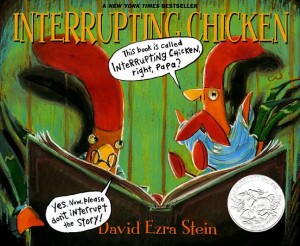 Title page synopsis:  Little Red Chicken wants Papa to read her a bedtime story, but interrupts him almost as soon as he begins each tale.
The cover of this book alerts even the youngest reader (listener) to what's coming. Ordinarily, we'd think that might spoil the plot. Instead, it heightens anticipation. This roller coaster of a story has kids on pins and needles, tension building, as they wait for what they know is coming. Each time Little Red jumps in, that tension is released in giggles. Kids know interrupting an adult isn't supposed to be funny. So there's the added appeal of getting to laugh at something that feels a little naughty – safely naughty.
Kids understand something else: Little Red's not wanting to hear the scary parts of Papa's stories. She could simply cover her ears, but what fun would that be? Interrupting the stories with her own safer endings? Perfectly understandable. (Heck, my daughter's 27 and still won't watch The Little Mermaid's Ursula scenes.)
How does David Ezra Stein manage to make every page fresh when the same scenario repeats itself again and again? 1) Little Red's interruptions feel absolutely childlike, 2) what she says is honestly funny, and 3) Papa's understated reactions are exactly right. His mellow, "Try not to get so involved." is perfection.
Chloe and the Lion, Mac Barnett & Adam Rex (2012, Disney-Hyperion)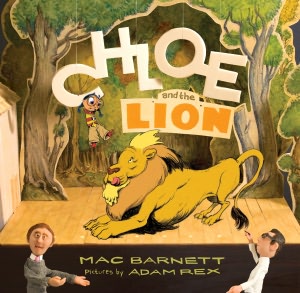 Title page synopsis:  Mac, the author, fires Adam, the illustrator, over their artistic differences about Chloe, the main character of their book, until Mac realizes both of their talents are needed and they must work together or their story about Chloe will never be finished.
This story is basically an illustrated spat between an author and illustrator. Its point? That each adds something unique to a book collaboration. In this case, that couldn't be more true. The text and illustrations play off one another seamlessly. I read in an interview once that Mac B did NOT give Adam illustration suggestions in the submitted manuscript. Writers, try typing this one out for yourself and see how tough that must've been!
I really like that the story-within-the-story's main character, Chloe, is largely ignored until about midway through the book. When she sees that author Mac has given up, she pipes up with a pep talk (of sorts) and urges him to continue. Then she tricks the lion into coughing up illustrator Adam. So Chloe, this nearly-forgotten cardboard character, takes control and shoves her own story train back onto its tracks. Clever. Once the point has been made, off-the-wall goofiness comes out of nowhere as the lion coughs up enough spare change for them all to ride a merry-go-round. Odd. And, as Kevan would say, Odd is good.
Mouse & Frog, Deborah Freedman (Viking, 2015)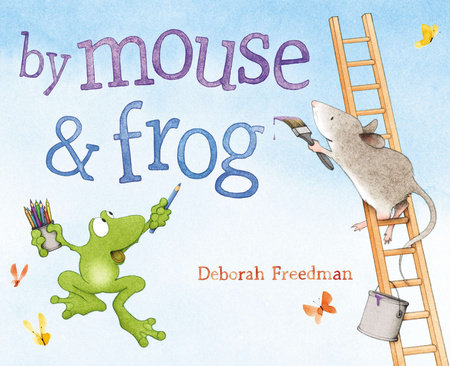 Title page synopsis:  
Mouse has one idea about what a book should be and how to tell a story. Frog has another. What happens when these two very different friends try to create a book together?
I have a soft spot for Freedman's illustrations, and this little (pretty much life sized, come to think of it) mousie is about the cutest thing ever. Yeah, yeah, the frog's cute, too. But there's something about the mouse….
Anyway, Mouse begins to write a story. Frog keeps adding his two cents. When Frog gets (really) carried away and Mouse flips his lid, Frog backs off. When Mouse sees how bummed Frog is – perfectly captured in his deflated body language – he tosses out a story prompt and, in time, they fully collaborate on a story that has just enough of each of them to make it better than anything either could have thought up alone. So, in an entirely different way, this is another story that illustrates the joys – and trials – of collaboration.
Why would kids like this? Because every one of them has likely thought up something fun to do that somebody else – a sibling, a friend, a classmate – has decided to help with and ended up taking over, adding his/her own ideas until it's no longer what the original kid had in mind at all. That's likely to lead to discord. At least at first. Every one of us, then, can relate to Mouse and Frog. Clever.
Back to my own wip. 🙂
Personal note: Two fabulous occurrences last month, one a surprise and one not.
-My picture book, I Am Cow, Hear Me Moo!, won the SCBWI Crystal Kite-Midwest Region. Here's an interview, if you're so inclined.
-Last Friday, I became a grandma for the first time when our daughter and her husband blessed our family with little Bria Lauren. Bliss!