For this Picture Book Builders post, I thought it would be fun to take a look at how picture books are actually "built," or printed and bound. I've wondered about this process for years (and have been asked about it many times during school visits) so I was excited when I had the opportunity to get a glimpse at book production with one of my recent picture books.
To my knowledge, all my picture books have been printed outside the U.S. except one — The Soda Bottle School. When my publisher shared that this title was slated to be printed in Wisconsin, I was elated. I have an author friend, Lori Degman, whose latest picture book, Cock-a-Doodle-Oops! had just come off the presses from the same printer and it was beautiful.
Lori had received a few photos of her book-in-process, so I asked the printer if they'd take photos of my book being printed and they kindly agreed. As it turned out, the pages of my book were printed during the night shift and my contact person there worked days, so she wasn't able to get any photos. But the book cover printing, laminating, and the book assembly was done during the day, so she sent pictures of those processes. As luck would have it, Lori had received photos of her interior pages being printed, but not the covers or assembly. After combining photos from both books, I had the basics of the entire printing process (at this printer anyway.) I hope you find it interesting!
Step 1 – Twenty interior pages (ten spreads) are printed on one large piece of paper.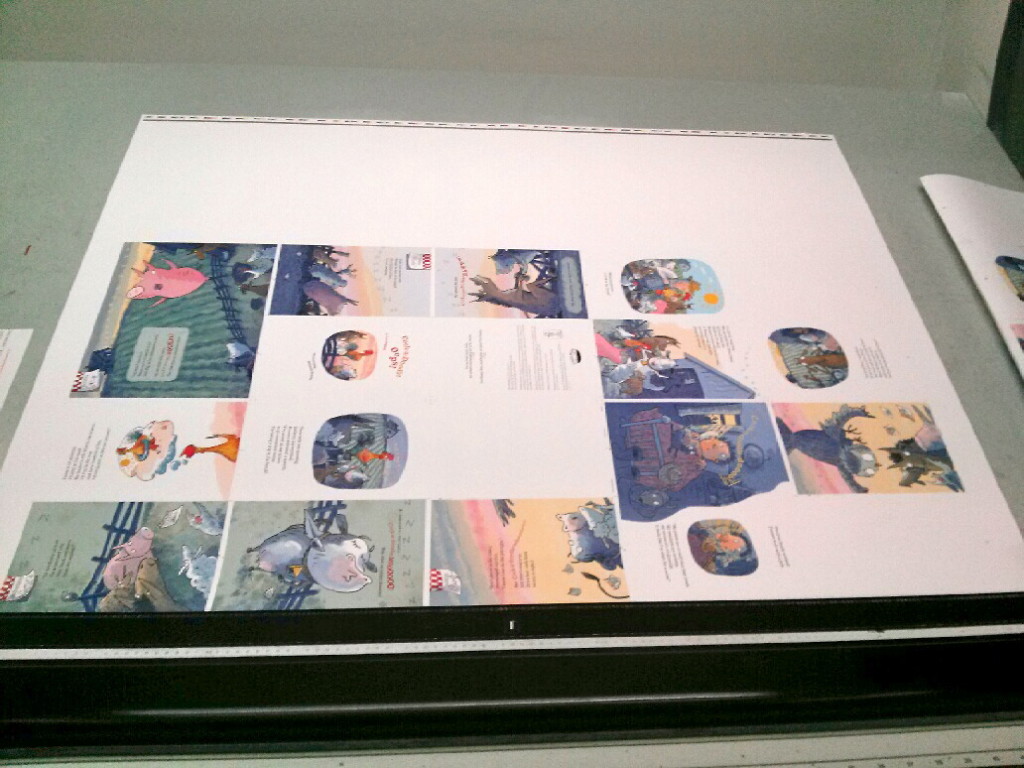 Step 2 – The colors are carefully inspected to determine if any adjustments are needed.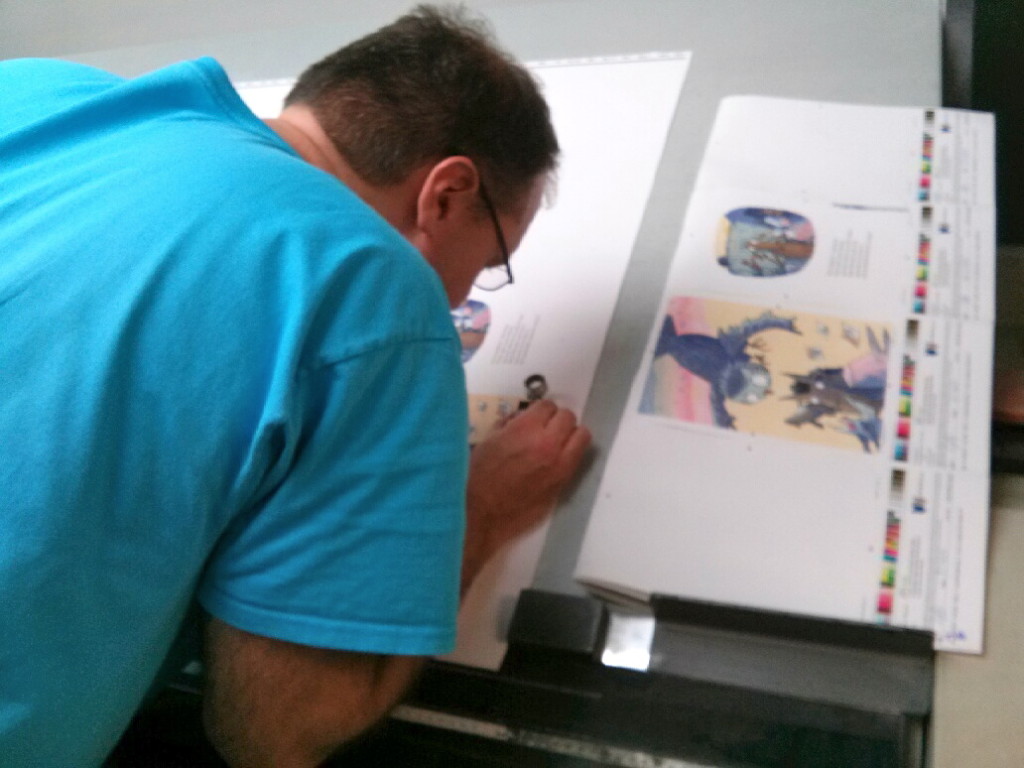 Step 3 – The large pages are cut into 10 spreads, collated, and sewn together into "book blocks." Each book block has white fabric tape on the sewn end. (In the photo below, book blocks with yellow end sheets are moving down an assembly line.)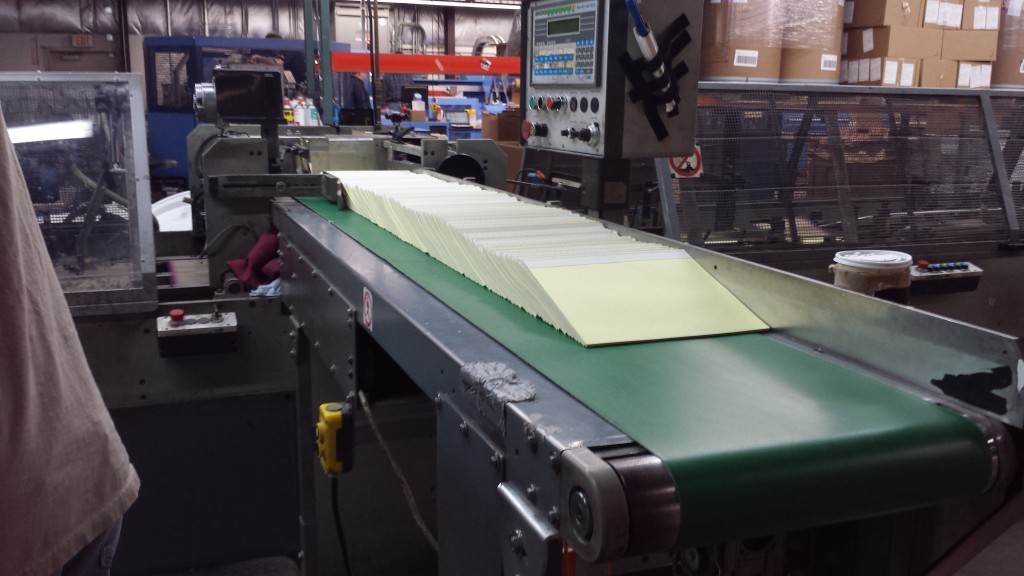 Step 4 – Book covers are printed on a large machine. There are actually two kinds of covers: book jackets with flaps, and covers without flaps that will be glued on the cardboard exterior. (Disclaimer – this step may come earlier in the process)
Step 5 – The book cover colors are carefully inspected.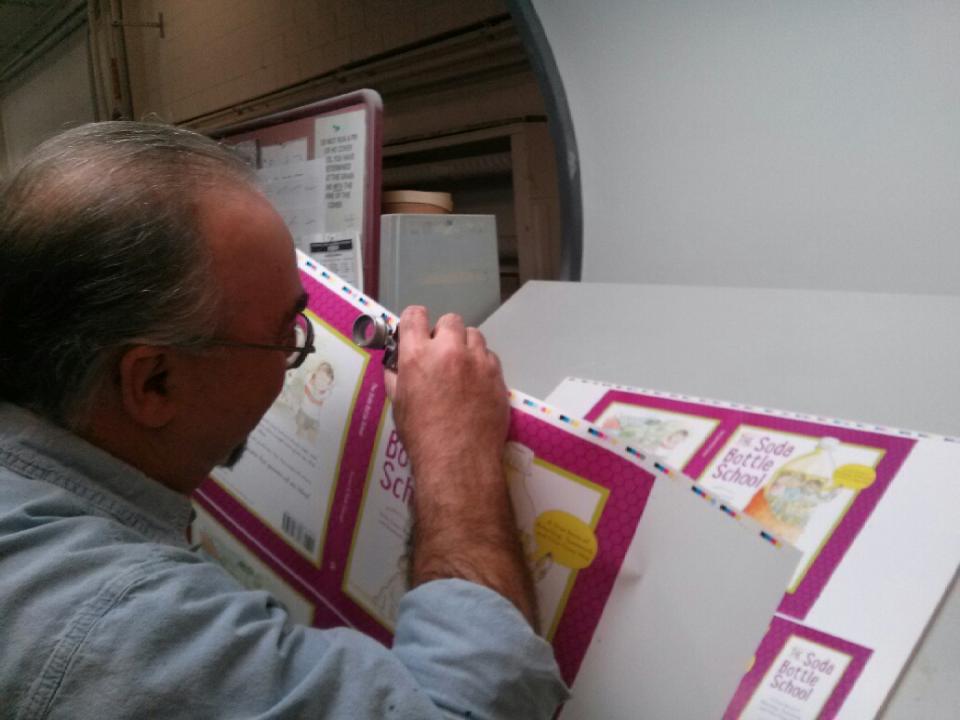 Step 6 – A clear, laminate sheet is put over cover pages to make them durable and waterproof.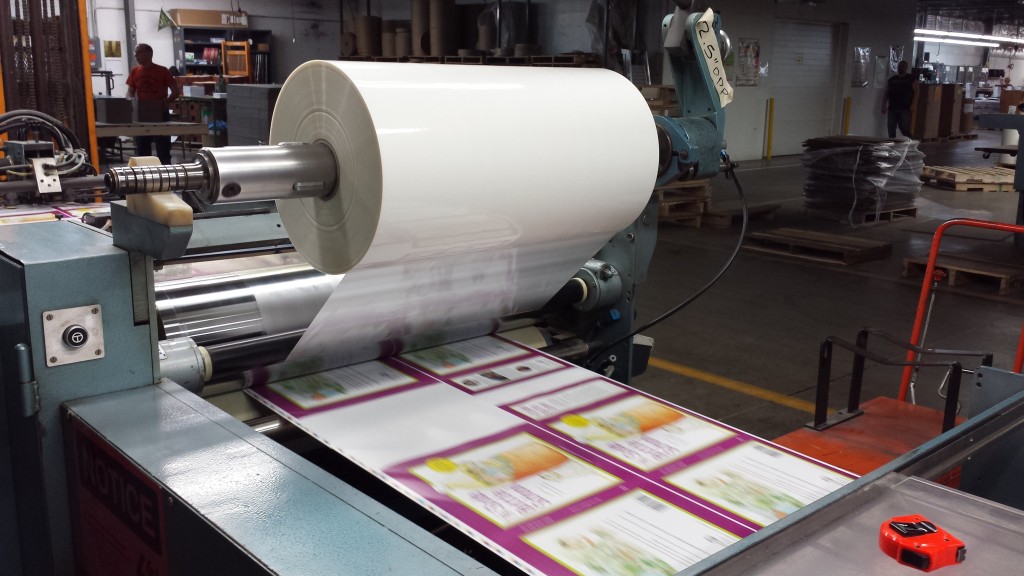 Step 7 – Covers without flaps are glued onto cardboard pieces (In photo below, inside of cardboard covers are facing out.)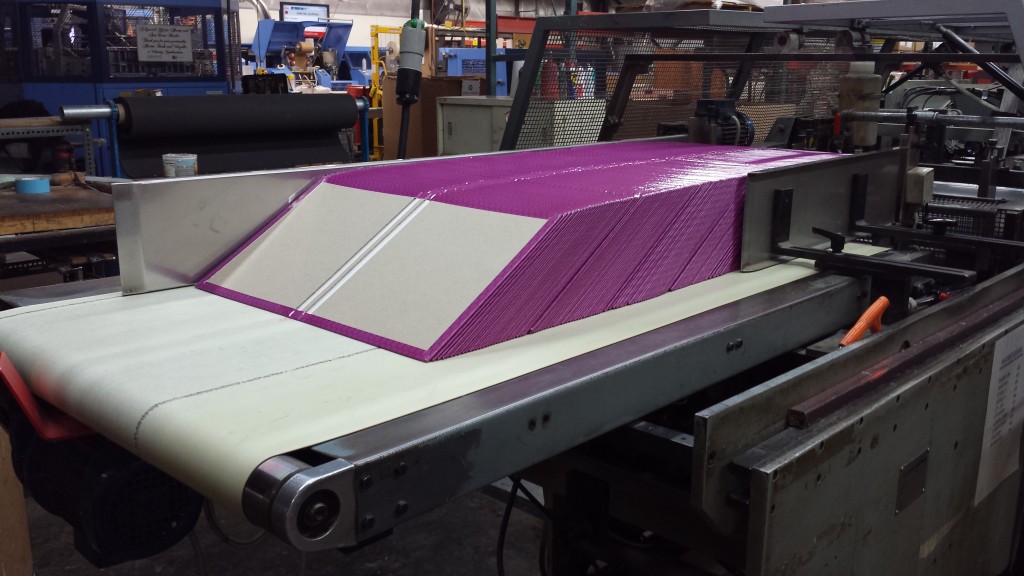 Step 8 – In a process is called "casing" or "casing in," the "book blocks" (interior pages with yellow ends sheets on the outside) are glued inside cardboard covers. Rollers push down on the book spine so book blocks and covers stick together well.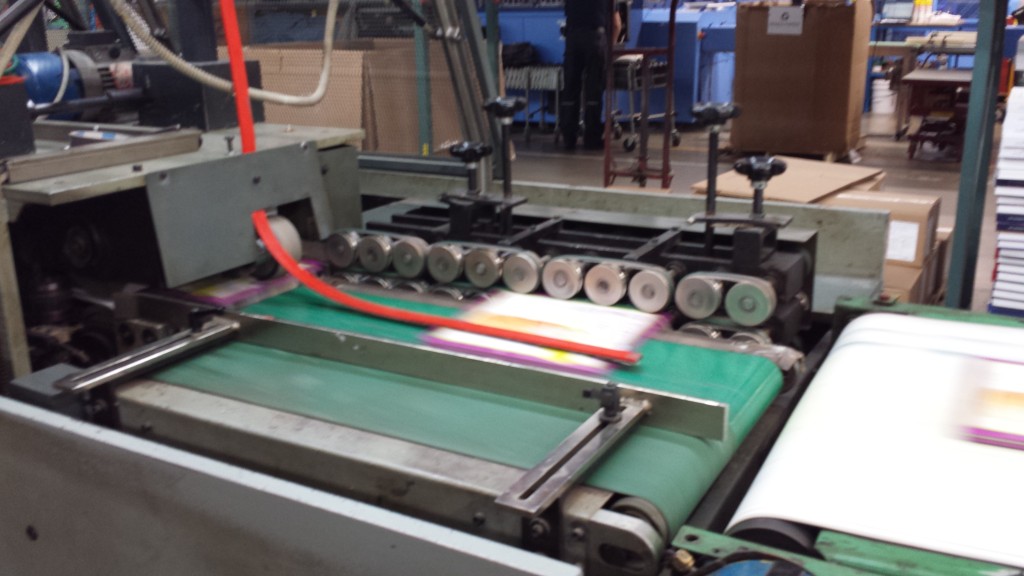 Step 9 – The outside jackets are stacked, ready to be fed into the jacketing machine.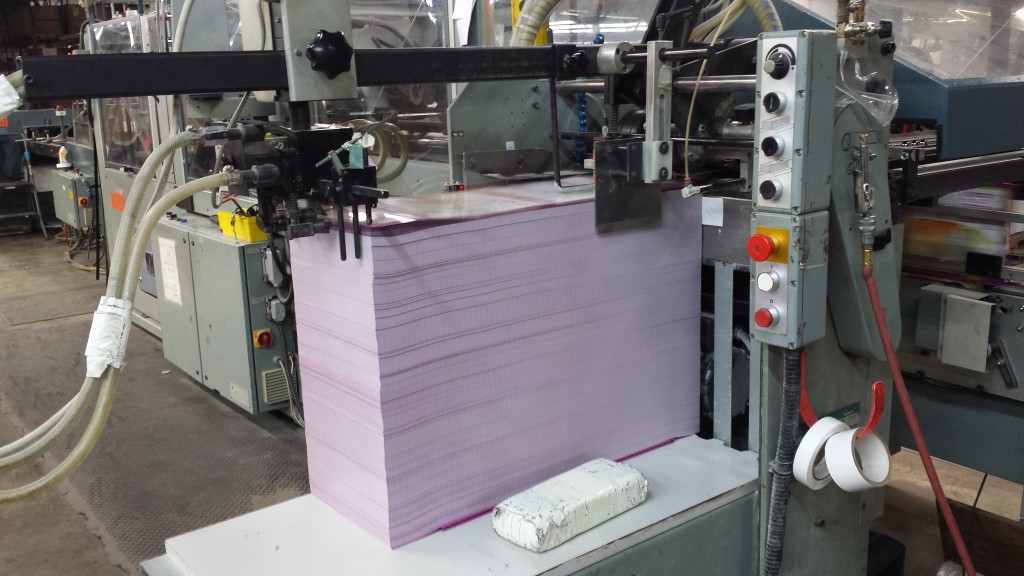 Step 10 – Books move down a small conveyor belt into the jacketing machine.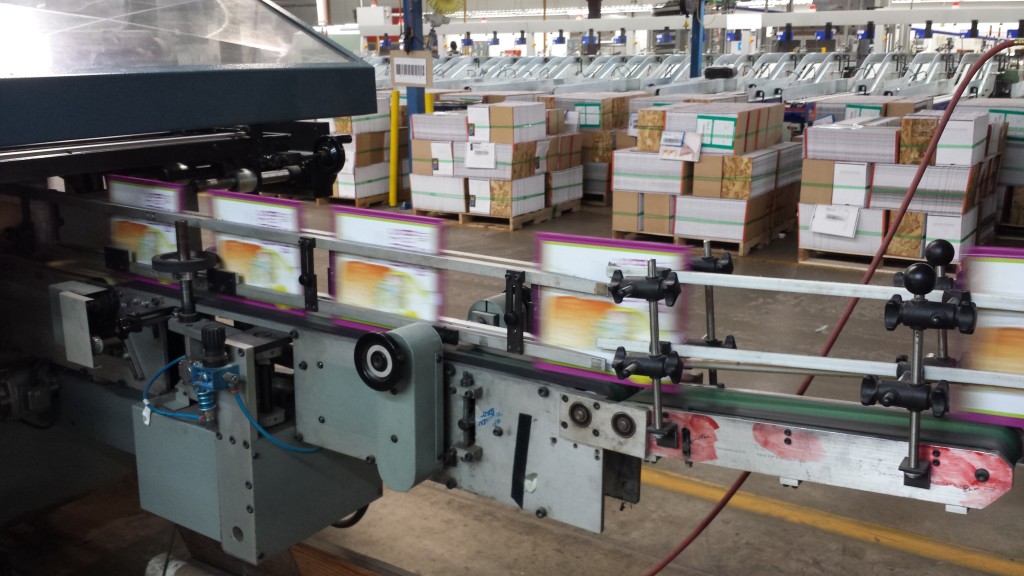 Step 11 – Books zoom through the jacketing machine at a high rate of speed where jackets are folded around each book.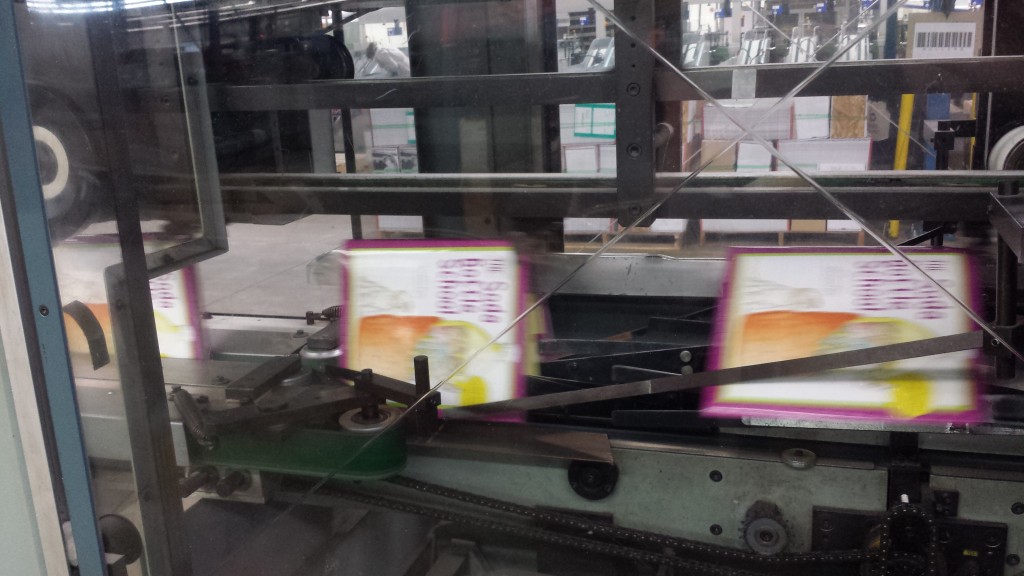 Step 12 – The books are finally finished and ready to read!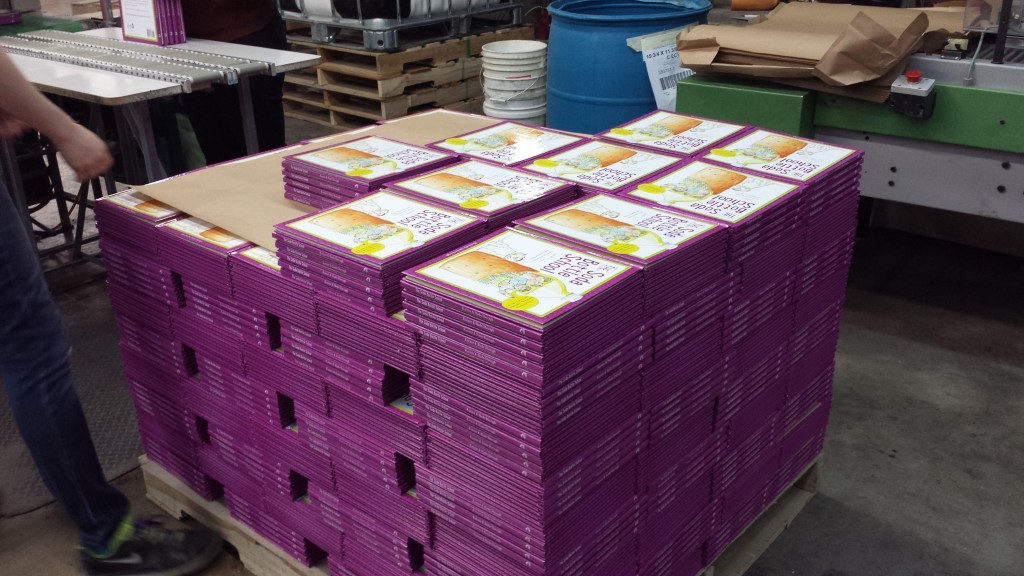 While this synopsis doesn't include every step of book production, I hope you found it helpful!
I'd love to hear what others know about how/where books are printed. Please share!
PS One of my favorite parts of finishing a new book is writing the dedication, but sometimes that decision is difficult and I spend a lot of time choosing just the right person. But the dedication for The Soda Bottle School didn't take long at all. A few months earlier I'd lost a dear friend, a fellow children's author, and a much beloved teacher to cancer. Her name was Laura Crawford. Like me, Laura wrote nonfiction, so we often chatted about new book ideas and critiqued each other's stories. We also served on a writer's committee together, shared many meals, and did school visits and book events together. Since The Soda Bottle School shares the true story of a group of students and their incredibly inspiring teacher named Laura who built their school out of trash, I knew the dedication was meant for Laura Crawford — a wonderfully inspiring teacher, author, and friend!
Here are a few of Laura's great children's books:
PSS I just found out The Soda Bottle School was selected for the Reading is Fundamental (RIF) 2015 Multicultural Booklist, so it will be given (for free) to students in low-income schools. I think Laura would have liked that! (RIF also created a wonderful free Activity Guide for the book!)