First things first. My last post included a giveaway, so I'm happy to announce that the WINNERS of the newest Explore My World books from National Geographic Kids are:
Baby Animals – Katy Duffield
Nighttime – Kathy Doherty
Congrats, you two, and a big THANK YOU to all who entered. Katy and Kathy, please e-mail me privately (through my website) so I can get your books into the mail.
The next order of business is, um, ANOTHER giveaway. I'm feeling a little weird about being such a book-release hog this summer, but it's only happening because I spent last summer typing my phalanges to nubs. Today, another in the Angry Birds Playground series debuts. That is the Question & Answer Book:  A Who, What, Where, When, Why and How Adventure. And it's a blast. The Nat Geo Kids book team is phenomenal…which isn't any kind of revelation to the world. Just saying. But that's not the book I'm giving away today (sorry), because my first official nonfiction picture book comes out August 4th, so that's the one I want to share. Take a gander: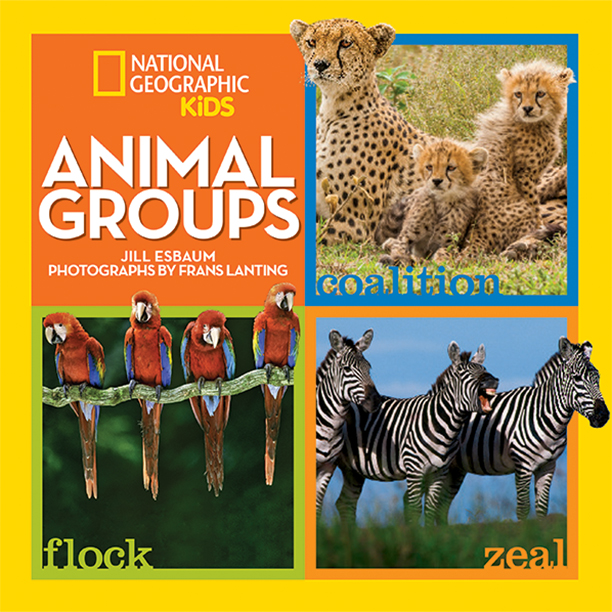 Pretty cover, no? And the inside is an absolute feast for the eyes, featuring the dazzling photos of legendary wildlife photographer Frans Lanting (read about his awesomeness here)
Frans has written a lovely forward that tells about his career photographing wildlife around the world. Each gorgeous spread shows one particular group of animals in their natural habitat, a paragraph about that animal, and a small corner box containing a couple of fun facts. Did you know, for instance, that the Atlantic puffin can swim underwater for up to one minute? That a sea otter's hair grows so densely that its skin stays dry? That the heart of a giraffe weighs as much as a car tire?
Featured animals include cheetahs, polar bears, Atlantic puffins, sea otters, zebras, monarch butterflies, hyenas, monkeys, macaws, and giraffes. Back matter contains more facts about each animal, a list of other animals and their group names, and a world map showing where Frans's photos were taken. Oh, and there's even a short, fun quiz.
Does this sound educational, as well as lovely? Well, guess what? One of the Common Core's language standards for 2nd graders is this:  Use collective nouns (L.2.1a). This book makes that concept easy-peasy for kiddos.
Sound like a book that might trip your trigger? Leave a comment by THIS SATURDAY, and I'll draw a name at random and have Jennifer announce the winner in her post next Tuesday (August 4th).
Good luck!
Jill
P.S.  Did you read Kevan's fantastic and heartwarming post of last week? Pat Zietlow Miller and I were there, too, and we caught a quick pic for Picture Book Builders. (Kevan's the one in the middle.)