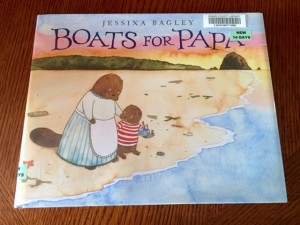 One thing aspiring picture book writers often are advised to do is take a favorite, modern-day picture book and type out the text.
Why?
Because doing so shows writers how spare and essential words in a picture book really are. Once they see  how the text looks on a page, they're less likely to write word-heavy stories with tons of description and too many  modifiers.
As I was reading BOATS FOR PAPA, the debut picture book by author/illustrator Jessixa Bagley, I thought it was not only a wonderful book, but also a great candidate for this technique.
First page
Buckley and his mama lived in a small wooden house by the sea. They didn't have much, but they always had each other.
Those two sentences tell a lot. Who the main characters are (Buckley and Mama). Their life circumstances (not a lot of money) and their relationship (loving). As an aside, is Buckley not a great example of the Perfect Picture Book Name? I really should do another post just on this topic. It's not necessarily a real first name. But, it sounds like it could be and it's perfect for the small beaver portrayed in this book.
Second and third pages
Buckley loved the beach and the things he found there.
Beginning picture book writers might be surprised to see that only 10 words are on two pages. The rest of the spread is taken up by a beach scene  showing all the wonderful things that wash up on beaches — driftwood, starfish, kelp, crabs, boats and shells. But the information those 10 words share is vital to the rest of the story because on the next two pages we learn more information about Buckley.
Fourth and fifth pages
And he loved to make things with his hands. Making boats out of driftwood was his favorite thing of all.
This two-page spread has 20 words. And, it sets the tone for the rest of the tale, because it turns out that making driftwood boats is very important. Buckley makes the boats and sends them off to sea with notes saying: "For Papa. Love Buckley."
The book doesn't say where Buckley's papa is, but Buckley's sadness is evident with a sentence on a later page when Buckley is holding a boat.
I wish I could show it to him, said Buckley. He missed his papa.
Again, note the economy of words. The sentiment is all the more heartfelt  for being so simply stated. And that simplicity is underscored when the text is typed out without the illustrations.
This book does lots of other things right, as well. It has nice repeating elements that give the story closure. It has more heart than any other picture book I've read so far this year, and a bit of a tear-jerker of an ending.
Even my 13-year-old — who still loves picture books but is going through a cynical streak — liked this and admitted it was effective. Although, as she was quick to point out: "I didn't cry."
New writers are also often told that the end of their story should be contained, somehow, in their story's first paragraph. That is eminently the case here and it's done so artfully, you may not see it coming.
I won't give the conclusion away, but go back and read the text from the first page and remember it when you've procured and finished the entire book yourself.
If you're a writer and type a picture book text out with what's on each page being a separate paragraph, you can take a manuscript you're working on and try to divide it into similar sections. It's a great way to check the pacing of your story and see where you might have too many unnecessary words.
If I were doing this with BOATS FOR PAPA, I might also print a copy and take different colors of highlighters and mark repeating elements. What phrases and topics come up more  than once? How often? What themes return? Then, do the same with your manuscript  and see where you might need to amp things  up.
But, whether you're a writer or a reader, also make sure to stop and enjoy BOATS FOR PAPA for what it primarily is — an enchanting, wonderful picture book about love.
Happy reading.