I'm choosing to talk about John, Paul, George & Ben today – what I suppose has to be classified as an oldie, but goodie, since it was published in 2006 – only because I keep running into newish writers who aren't familiar with it. In my opinion, every writer (and teacher and parent) should know this book, whether they favor fiction or nonfiction.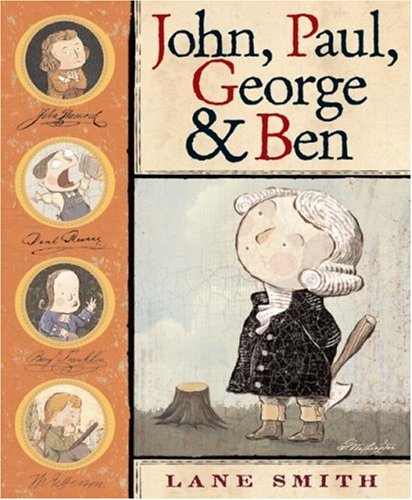 When this one exploded onto the scene, it helped me realize that nonfiction could be fun. Maybe what I mean to say is that it showed me that we writers are allowed to have fun with it. That we can exaggerate, innovate, and manipulate to serve our vision (and sense of humor). As you may know by now, I have a reverence for irreverence.
If you aren't familiar with the book, here's the description:
"Once there were four lads…
John [Hancock],
Paul [Revere],
George [Washington],
and Ben [Franklin].
"Oh yes, there was also Tom [Jefferson], but he was annoyingly independent and hardly ever around.
"These lads were always getting into trouble for one reason or another. In other words, they took a few…liberties. And to be honest, they were not always appreciated.
"This is the story of five little lads before they became five really big Founding Fathers."
Smith highlights each lad's driving characteristic. For instance:
"John was a bold lad."
Then he tells us, in wildly exaggerated (okay, made-up) detail, how that characteristic affected the person's life and ultimately played a part in America's fight for freedom.
My personal favorite is Paul, who, we're told, "was a noisy lad." Poor Paul has damaged his hearing participating in a bell-ringing club. How could he not, spending so many hours "practicing in the belfry tower" of Boston's Old North Church? Because of that, Paul "had to practically scream just to hear himself talk." Not surprisingly, that was a problem at work. (Please forgive the I-took-these-on-my-living-room-floor photo quality.)
Know how much fun this is to read aloud? Oh, man. Actually, I should also have mentioned that elusive quality, VOICE. It's so strong throughout the book that I can't read it in my normal voice. Cannot. I won't even talk about the illustrations, because you can see for yourself that they are filled with the humor and detail we've come to expect from Lane Smith.
Here's how Paul's shout-everything voice turns out to be a positive quality: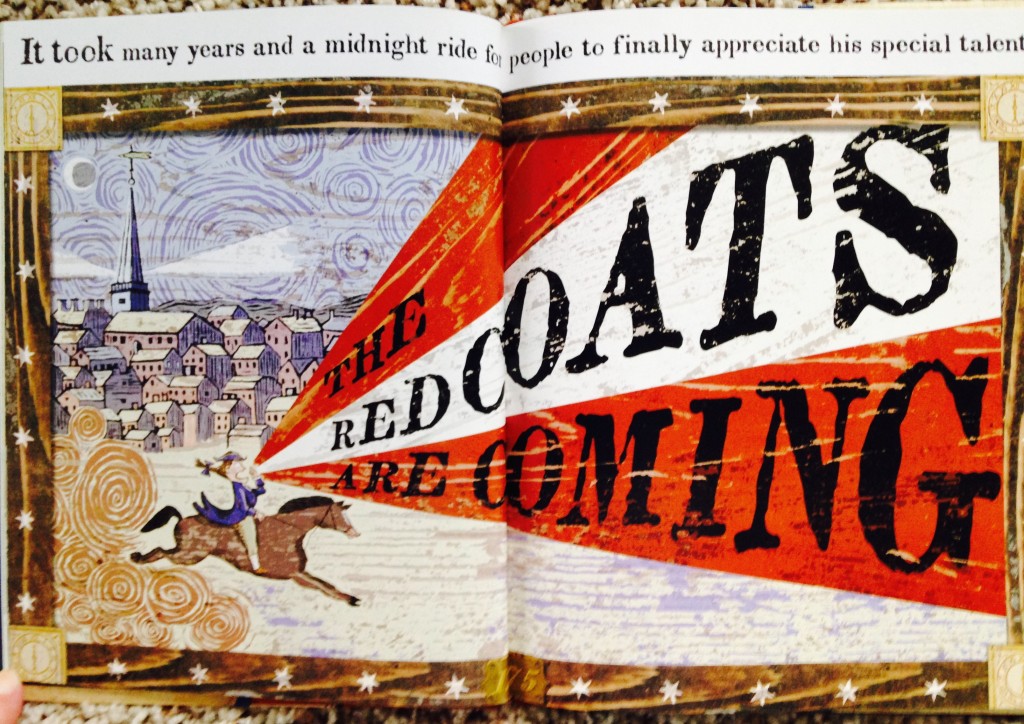 Smith comes clean with snappy and truthful back matter, of course:
"Wherein we set the record straight with ye olde True or False section."
So if you already know this book, you either love it or you don't. But if you aren't familiar with it, please, PLEASE check it out.  It's a favorite on my own shelves and truly not to be missed.
Jill Esbaum