Two things have been on my mind in recent days:
Winter. 
I'm about to head to Wisconsin to be with family for the holidays and get all snowed in and cozy for a spell.
Elephants.
I just got the F&G's in for a picture book that I illustrated earlier this year, called This Is Our Baby, Born Today, written by Varsha Bajaj, about the first day that a jungle community welcomes its newest member, a baby elephant.
One might think that these two subjects wouldn't coexist well, until that great 1979 picture book comes to mind:
BUT NO ELEPHANTS, by Jerry Smath. This was one of my childhood favorites. On revisiting it, I was reminded of why it was so great.
To set the scene: Grandma Tildy lives alone with the job of maintaining her little home in a very weather-y part of picture book land, which creates a lot of work for Grandma Tildy. A traveling pet salesman visits Grandma Tildy, and with each pet that she buys, each seems to find a perfect way of assisting her. With each purchase, she declares, "Very well. But no elephants!"
The story builds up to wintertime, where the scenes get increasingly cozy and perfect, yet we know what has to come eventually . . .
Skip to the saddest thing ever: an abandoned, snow covered elephant crying alone outside the house.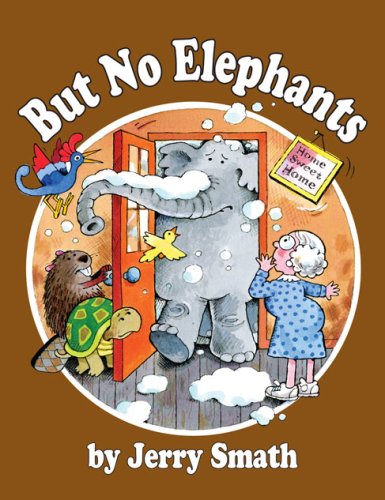 It becomes inevitable . . . Grandma Tildy MUST take this poor big guy in. And then things go horribly wrong, as she knew they would. But, this problem she's been avoiding doesn't turn out all bad, and problems give rise to wonderfully sunny solutions.
This book has that similar "everything goes wrong" cringe-worthy element as HENRY'S AWFUL MISTAKE (which I discuss here), but is different in that it slowly builds cozy, happy scenes before dashing them all to pieces. One thing picture book writers have to decide is when to bring in the problem: do you create a domino effect of things going wrong right from the start, or do you set up a perfect world that a problem comes in and messes up? In the case of this story, it's nice that things are working well first, and Grandma Tildy's problems are seemingly being solved before the real problem hits.
As the way things always seem to go, if we set up our lives up on a delicate balance where everything is perfect, as long as that one thing doesn't happen, it seems that one thing will always eventually happen. What's demonstrated in BUT NO ELEPHANTS, is that sometimes the problem we resist the most can give rise to solutions to many problems all at once. The problem  becomes a vehicle to a new and wonderful place, where everything has expanded, everything can be included, and there's harmony and enjoyment for all. In this case, the vehicle is in the form of an old house traveling on the legs of a pet elephant.
If you'd like a book that features cozy, wintery scenes, but isn't holiday specific, or want to see about how to set up a great picture book story, or need a good reminder of how to make the best of looming problems you may be resisting in your life, I recommend this one.