Hello, all—
I'm very excited to share two things today:
(1) I have a new book out (stay tuned for the giveaway at the bottom!), and
(2) the illustrator of that book, Simona Mulazzani, is visiting us here at PBB—all the way from Pesaro, Italy. Here's Simona in her studio, and at a local bookstore with her artwork in the background.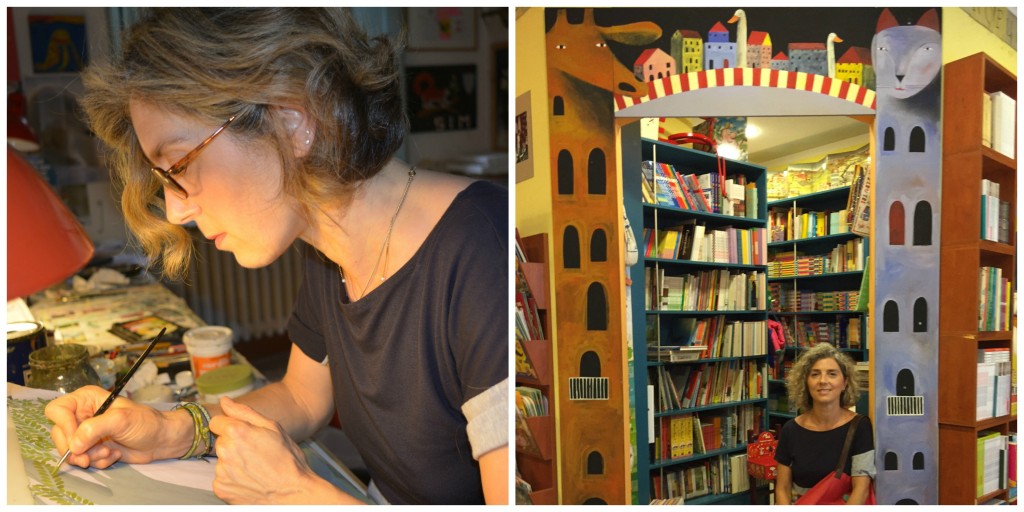 Simona is an internationally acclaimed artist with more than 90 books to her credit, but she's only recently begun illustrating books for U.S. publishers. Rock-a-Bye Romp (Nancy Paulsen Books) is one of the first.
As you may have guessed, the book is a rewrite of the old lullaby. I always thought it was a strange one—what with Baby tumbling from that tree and all. Not exactly comforting! So, in the book, Baby has an even wilder adventure, but winds up safe in Mama's arms in the end. Before we chat with Simona, here's a preview of her artwork (click to enlarge images).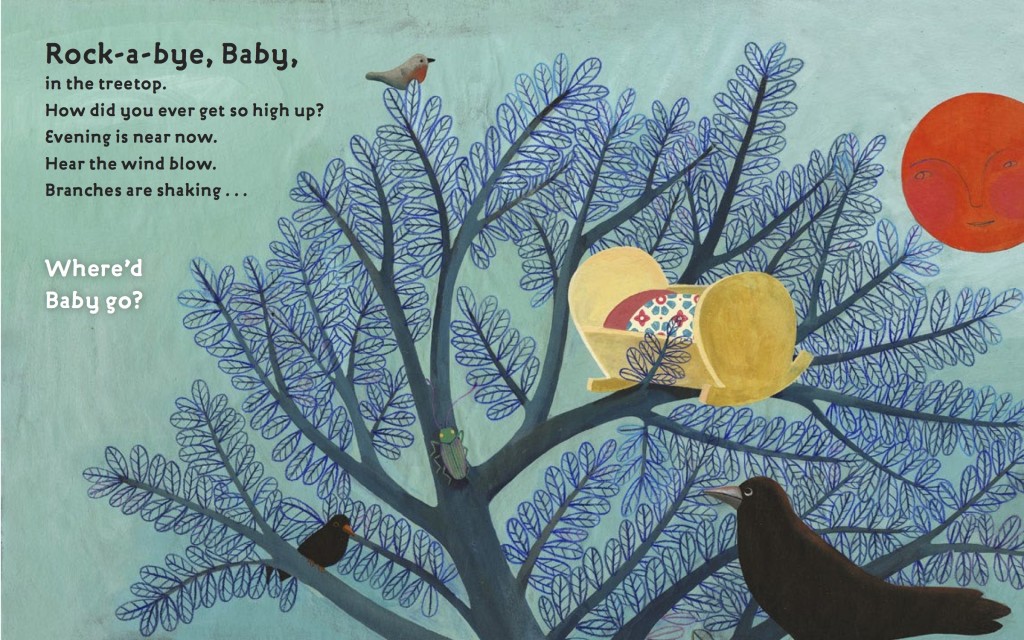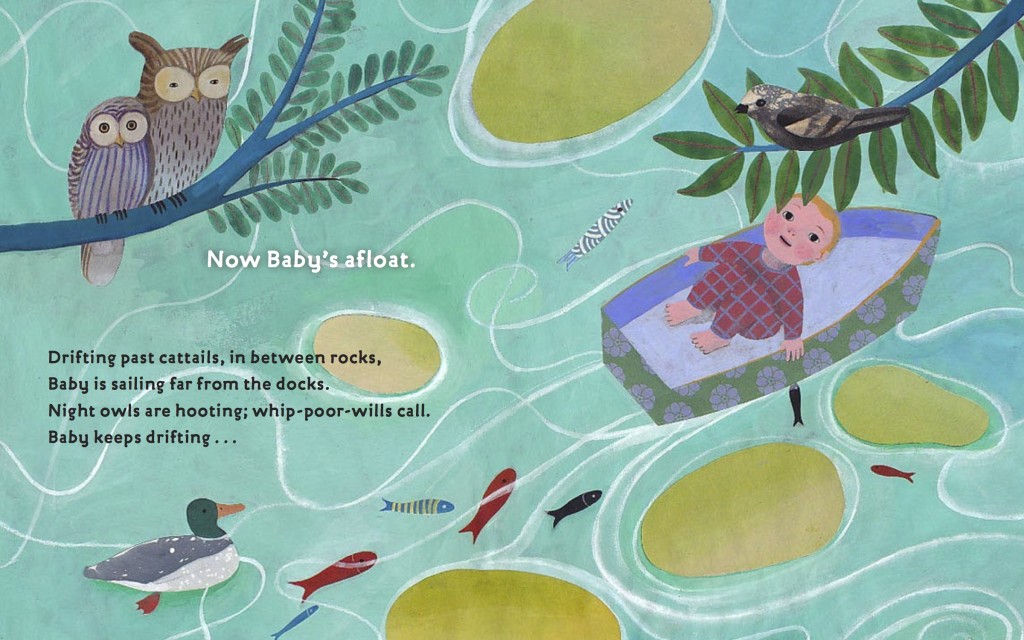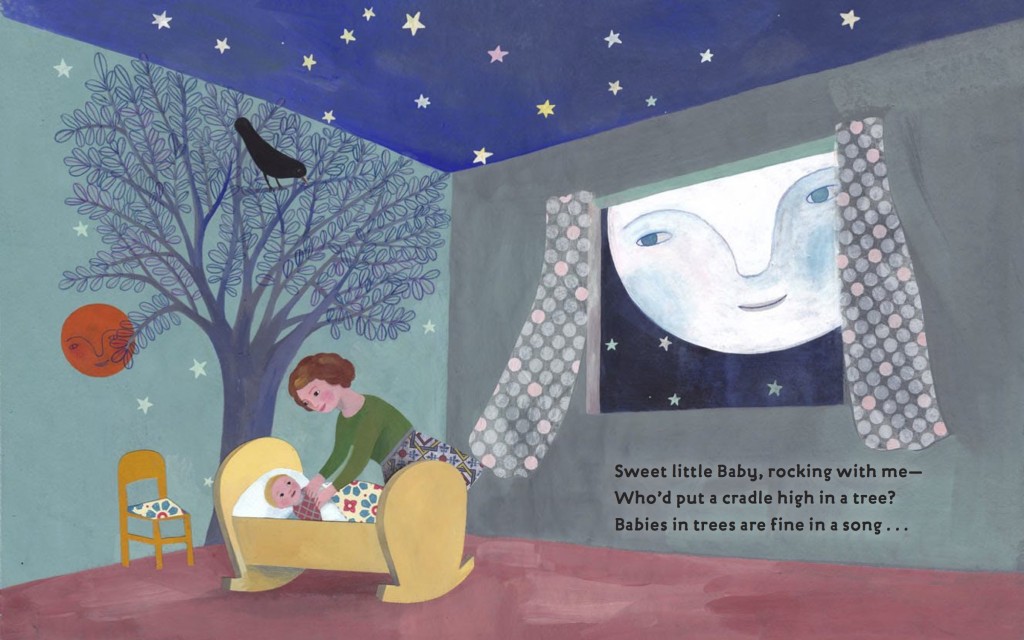 Gorgeous, isn't it? And, now, here's Simona (my questions in bold):
Several years ago, Nancy Paulsen sent me an email saying she'd just met with this wonderful artist—you!—and shared some links to your work. (I was so thrilled when you said yes!) How did that meeting come about?
In 2013 the Society of Illustrators awarded me with the Silver Medal for Original Art  [for I Wish I Had]. So I had a very good reason to go to New York for the first time. It was a good occasion to meet some publishers, and my agent (Gail Gaynin) arranged for me a few meetings. One was with Penguin and in the end I was offered to illustrate Rock-a-Bye Romp. I was so thrilled! First time in New York, first time sitting with great US publishers…and going back home with a great assignment!
Can you tell us something about your process?
I think my process is quite traditional: I start with sketches, and when they get approved I go on to painting. At least this is the norm. As for the medium is easy: mostly acrylics on paper, colored pencil, pens and cutout papers, collage.
Where do you do your work?
I work in a studio in my home, in a small town by the Adriatic Sea, in the Marche region. I used to live and work (and still partially do) in another studio, in another home, in another, smaller, village only a few kilometers in the interior, in the middle of the hills.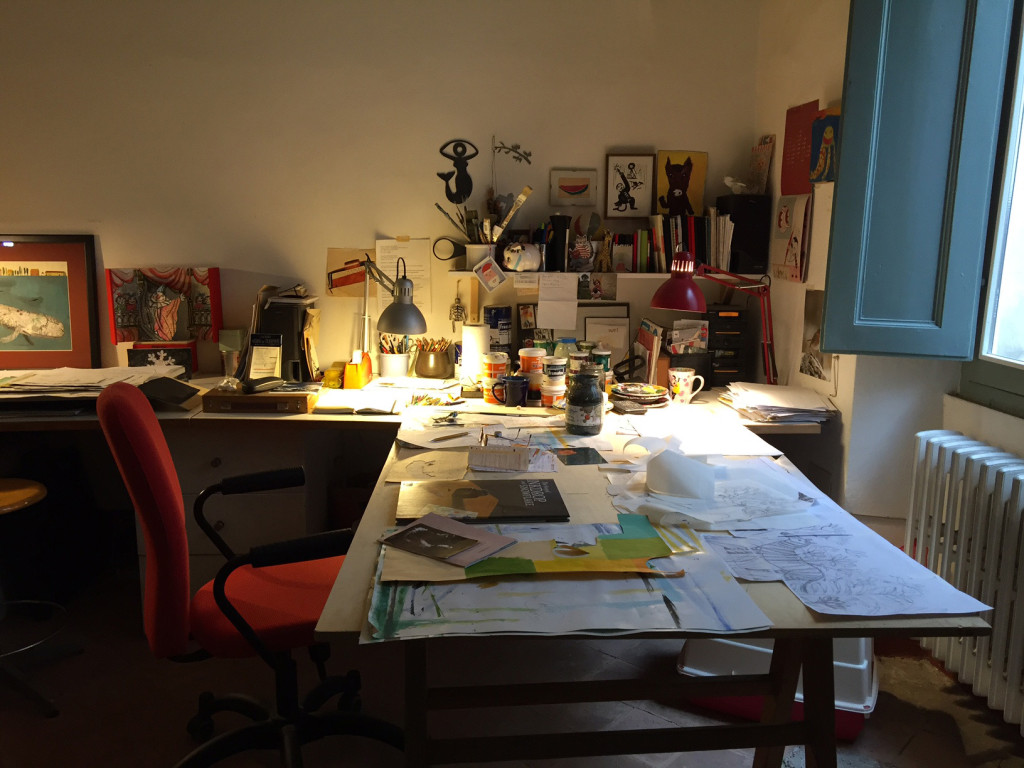 What inspires you and your work—in general and/or for this book in particular?
Somehow it's difficult to answer… I mostly like to illustrate animals and nature, in particular plants; less, maybe humans. This particular story fits perfectly in my "world", so I really enjoyed illustrating it.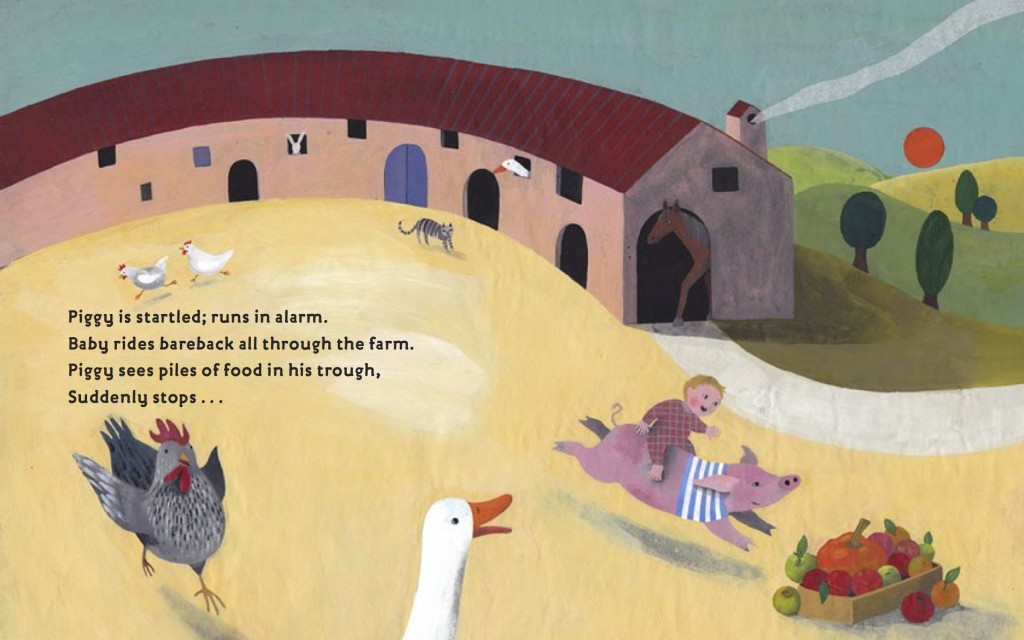 The farmhouse and surrounding landscape remind me of the Italian countryside where we spent our honeymoon years ago. Are they based on a particular place?
Maybe not a particular place, but as I answered earlier, I live surrounded by the Marche's landscape. Here is where my dad (Giovanni Mulazzani), who was also an illustrator was born, and where his family lived.  Even though we lived in Milano, we'd come here to spend almost every holiday and summer vacations. You could say that this is my "natural" environment. There's no doubt it influences a lot of my work. I'm sending you one of his paintings to show you the landscape: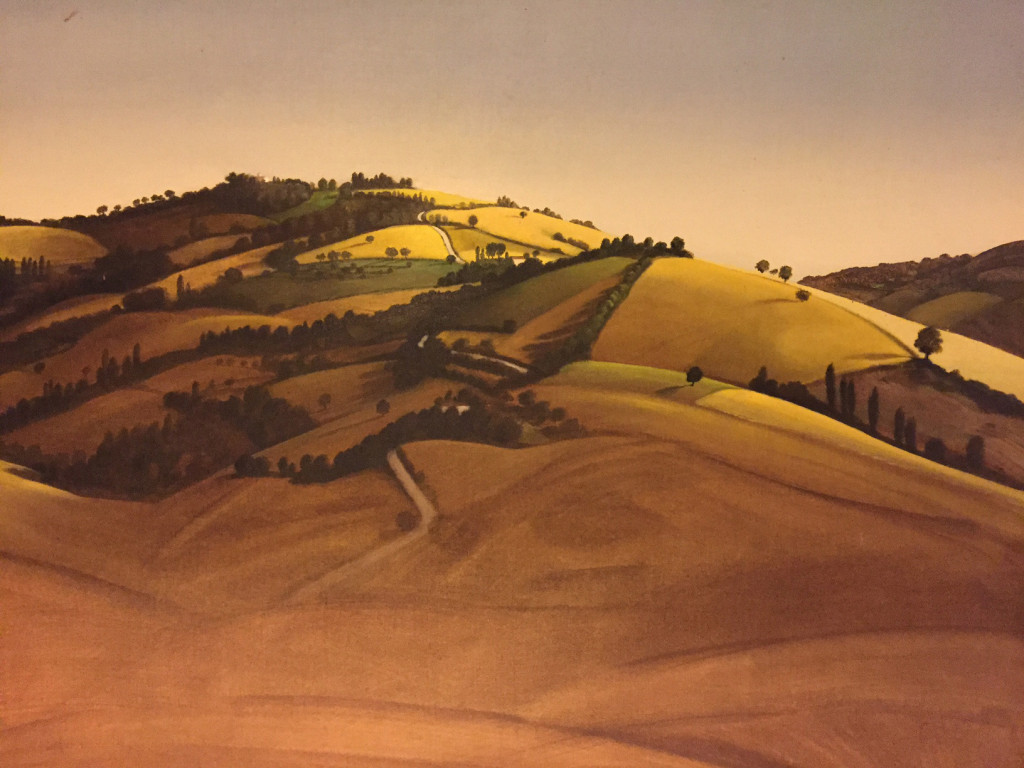 So beautiful! I also love the endpapers and all the whimsical touches—the sweaters on the pig and sheep, the faces on the trees. Can you tell us something about them?
For the endpapers, I used the baby's blanket's decorations. I like to fill up forms (whales for example) with lots of drawings, letting them come freely as they want. We should ask these drawings what story they have to tell….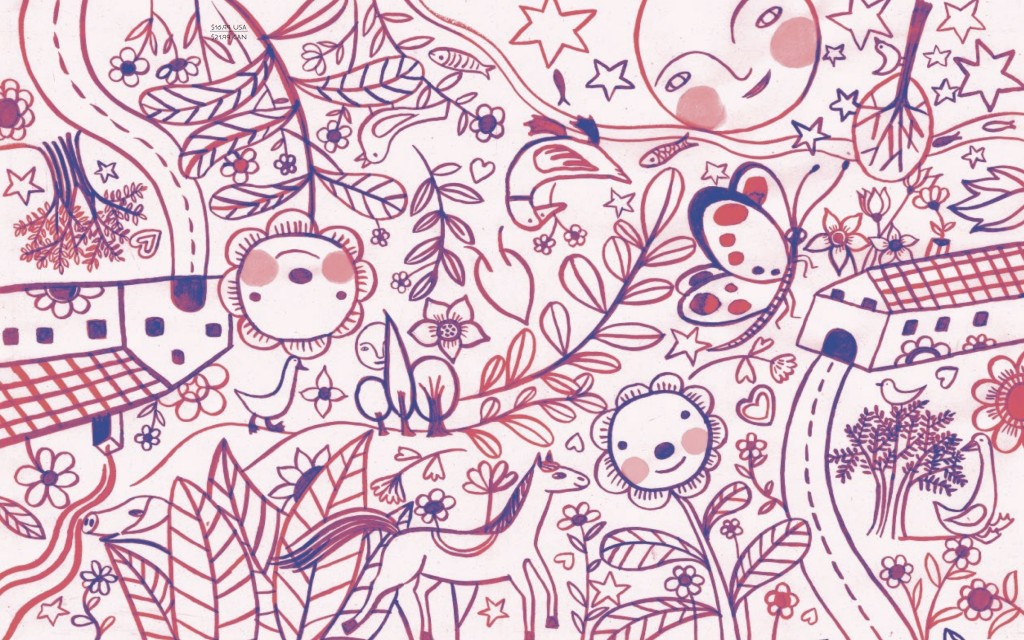 And, finally, I also love that sweet little bird next to baby's pillow on the last spread. Is there a story behind it?
That's again something I've been doing for many years. I put little birds in illustrations, often in unexpected places. Now there's an overabundance of birds in illustrations… For me, really, there's no reason other than that I like them…they "finish" the illustration.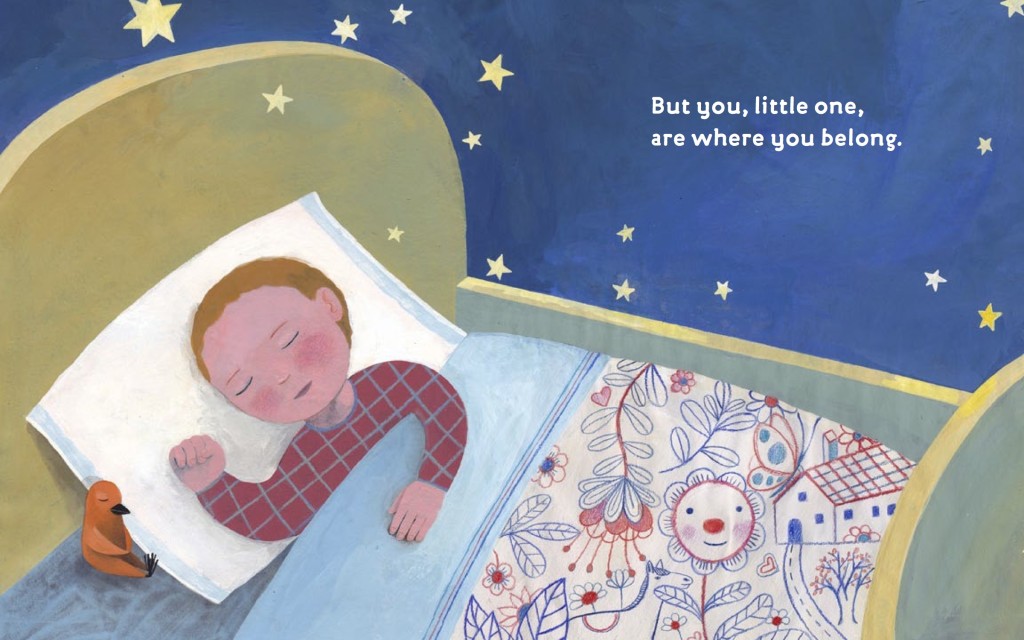 Thank you so much, Simona! You'll find more of Simona's wonderful art at the Morgan Gaynin website.
* * * * * * * AND NOW FOR THE GIVEAWAY!!! * * * * * * * 
As usual, just leave a comment below to be entered to win a signed (by me) copy of the book. I'll randomly pick a winner on February 15th, to be announced in my next post. (If you're a Goodreads member, you can enter another giveaway here and here.)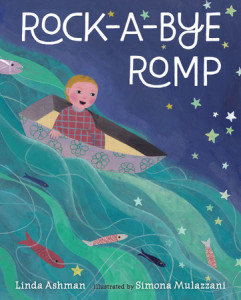 Rock-a-Bye Romp
Nancy Paulsen Books, January 2016
"Gently funny and eminently reassuring." — ★ Starred review, Publishers Weekly
"A fine addition to the nursery bookshelf for baby and all." — Kirkus
Read Julie Danielson's review and see more illustrations at Seven Impossible Things Before Breakfast