As you may have figured out from my earlier posts, I'm a huge fan of picture book biographies (which is probably why I write them.) This month I'd like to share a picture book biography gem, Muhammad Ali, Champion of the World (2007) by Jonah Winter (illustrated by Francois Roca.) If I had to describe this book's greatness with one word, it would be "voice."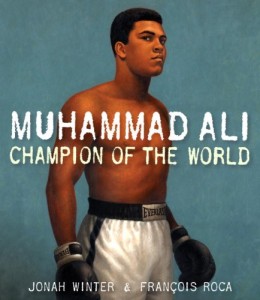 And what a powerful voice Jonah evokes in this masterful text.  Just take a peek at the opening spread —
"IN THE BEGINNING was Jack Johnson

and Jack Johnson was THE MAN –

the first black king in the Kingdom of Boxing.

But after defeating the Great White Hope …

Jack Johnson was hated and booed

all over America

just for the color of his skin

and for acting proud–

and so he wandered off to a distant land.

---
Voice is an elusive, undefinable entity, but when you happen upon a story with great voice you immediately know it. It grabs hold of your emotions and won't let you put the book down. Identifying exactly what makes for great voice can be tricky. So instead, I'd like to share a few observations about this wonderful, engaging text.
First off, the line breaks provided powerful pacing and a sense of urgency. The occasional all-capped words helped emphasize certain words, which gave the text a unique rhythm and flow. Strong verb choices punched up the story tension, especially the fights scenes such as this spread where Muhammad won an Olympic gold medal, "Then he TALKED and JIVED and PRACTICED and PUNCHED his way to victory…" Wonderful alliteration and clever descriptive phrases added to the great overall "feel" of the story.
Also, the author seamlessly wove actual quotes from Muhammad Ali into the text which were very moving.  Hearing the main character's own words in a story can have great impact on the reader, and the quote choices and placements in this text were extremely successful.
Obviously, Jonah did a boatload of research for this title, which resulted in incredible quotes and many fascinating details that added to the book's authentic, compelling voice.
It was a thrill to discover this inspiring pb biography (although belatedly), and I enjoyed learning many new things about "Float like a butterfly, sting like a bee" Muhammad Ali.
If you'd like to read more of Jonah Winter's great pb biographies, here are a few of his other titles — Barack, Sonia Sotomayor, Roberto Clemente, Dizzy, Lillian's Right to Vote, and more!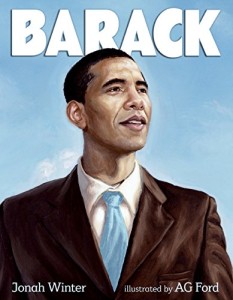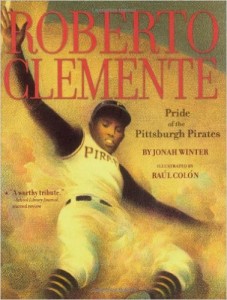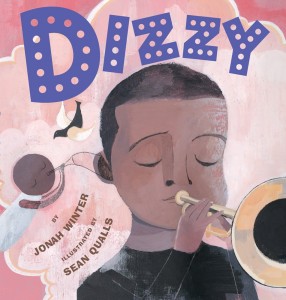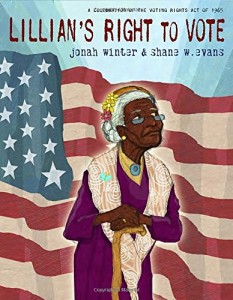 Book Giveaway – I will select one winner to receive a copy of Muhammad Ali, Champion of the World from those who comment on this post by Feb. 21. I'd love to hear about your favorite pb bios!