Oh, people. Are you loving that book cover as much as I'm loving that book cover? Are you craving a chance to know a little bit more about There's a Giraffe in my Soup? Well, it's your lucky day.

I'm soup-er happy to welcome Ross Burach to Picture Book Builders.
Ross, congratulations on your debut picture book! Please tell us about There's a Giraffe in my Soup.
Thanks, Tammi! There's a Giraffe in my Soup is a story of a boy who sends back bowl after bowl of soup in a restaurant, after finding a different, silly animal in each one. And then there's the disbelieving, flustered waiter, who just can't seem to get his order right.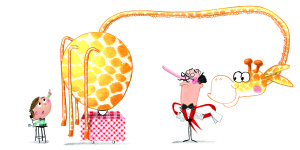 What sparked the idea for this book? A giraffe in your soup perhaps?
Yes! It's based on a true story! You know, I don't have a specific recollection of exactly what sparked the idea, or really any of my ideas. It's a very funny place inside my head. Full of very strange ideas. I love giraffes, and I love food, so at some point the two concepts must have collided. I let myself indulge my strange ideas in my sketchbook. In a section I call the 'no judgement page,' I write down any idea that comes to mind, no matter how weird or dumb I think it might be – no filter. Because, it's sad to admit, but we negate a lot of our ideas before the pencil even hits the paper. Somehow, even in the privacy of my own sketchbook, I found that I was judging myself, and I didn't like that. So this space has given me the freedom to put down ideas, many of which have blossomed into my upcoming books.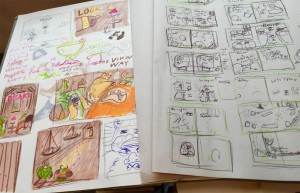 Did you face any particular challenges while working on this book?
Yes, I definitely faced challenges. I had this book loosely written and illustrated for almost five years before I pitched it. When I started working with my editor, Dave Linker.  From the writing aspect, it was hard at first for me to let go of story elements. I knew the story one way. There were full spreads Dave wanted to remove, and I couldn't imagine the book without them. When I did let go, which was difficult, I learned how much more a story could be with less.
My favorite animal to appear in the soup was the elephant. Do you have a favorite as well?
It's too easy for me to say the giraffe, so I'm going to say the whale. I love how the whale is just chill. Like, yup, I'm in a bowl of soup, no questions asked, and he's still just smiling.
Please give us a tour of your studio.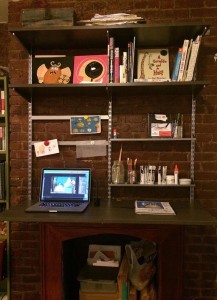 Ah, my studio. My wife and I recently moved from the East Village of Manhattan to Brooklyn, after our first baby was born. We lived in a studio apartment – basically an oversized closet. Two people, one room, and no walls for almost five years. So I had to create a studio inside a studio. It was basically a standing wall with a shelf for a desk, and I stored my supplies in the non-working fireplace under the "desk". I also worked a lot in coffee shops, riding the subway, or sitting in the park. In our new apartment I've commandeered the kitchen table, and do most of my drawing there between meals.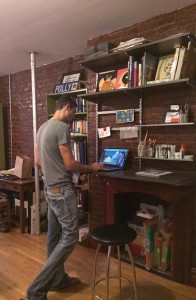 If you had one key piece of advice for writers and/or illustrators, what would it be?
This is a great question. There is so much advice I would give, but the most important for me – and it's not going to sound glamorous, and won't ever end up on one of those motivational posters with a mountain – is to get organized. And that is my weakness, and probably the weakness of most creative types. So I have my book idea, but…ugh, I have to now figure out who to send it to, and then there's a query letter, and then it might take 2-6 months before someone even responds?? I would kind of get the process started, attempt to write a query letter, then get frustrated and just tell myself the world didn't really need another picture book (which is never true). Two to six months later, I'd be at the same point. At some point I picked up a book called Getting Things Done, by David Allen. I used it as a loose template, and forced myself to get organized. I created a chart on Google Docs with all of my researched information about publishing houses, agents, conferences, submission information, etc. And it just made the whole daunting process seem manageable. Within a couple of months, I'd registered for one of the conferences listed on my spreadsheet, shared my GIRAFFE manuscript in a critique group at the conference, and was signed by my agent, who happened to be running the critique group.
Scoop time! What's next for you?
I know it's early, but I'm so excited for 2017. I have a second book coming out in the winter for HarperCollins – I Am Not a Chair – the story of a little giraffe (told you I like giraffes) who, on his first day on his own, keeps getting mistaken for a chair by the other animals in the jungle. Next up is a book I illustrated for the super brilliant Jen Hamburg, called Billy Boo is Stuck In Goo (Summer 2017 Scholastic). It's a super fast-paced, hilarious story of a boy who finds himself in a strange predicament, and the crazy cast of characters who attempt to help him out. The characters were so much fun to develop, and I was given a lot of freedom to push the humor with the illustration. Then in the fall, I have the first of two books for my series Pine and Boof (HarperCollins), about two wilderness buddies, Pine the porcupine and Boof the bear. While the series has the quirkiness of my other books, it's also a bit more sentimental, and I've really fallen in love with the characters. The second book in the series comes out in Fall 2018.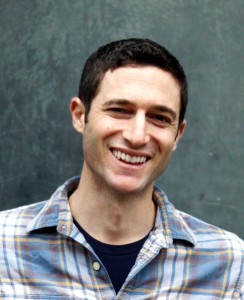 Many thanks to Ross for visiting Picture Book Builders! 
GIVEAWAY: 
Ross is serving up a signed copy of There's a Giraffe in my Soup to one lucky duck commenter. I'll share the winner on May 6.
*No animals were harmed in the making of the soup, the book, or this blog post.*