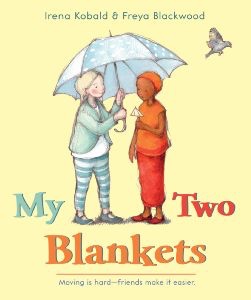 "My Two Blankets", written by Irena Kobald and illustrated by Freya Blackwood is a rewarding blend of a lovely story and brilliant illustrations.
I picked this book to chat about because I wanted to point out Freya Blackwood's super smart illustration decisions. In this book, published in this country by Houghton Mifflin Harcourt, Irene Kobold tells the story of  a young girl named Cartwheel who moves with her Aunt to "this country" to "be safe" from the war.
But in this new land,
"Everything was strange. The people were strange. The food was strange…"
And so we are introduced to Cartwheel's isolation. She can't communicate, or understand the words that people are saying. So she retreats to a world she does know and love and refers to this world as "her blanket".
"When I was at home I wrapped myself in a blanket of my own words and sounds. I called it my old blanket".
Eventually, Cartwheel is befriended by a little girl who patiently teaches her words and after a while, and a blooming friendship, Cartwheel makes a new blanket that grows and grows until it is as warm and comfortable as her old one.
This 'blanket' is a metaphor. And how does an illustrator draw a metaphor? Freya Blackwood uses symbols from African culture and lays Cartwheel within the design of this blanket, almost making it more of a 'place' of which Cartwheel is a very integral and colorful part. Cartwheel and her aunt are painted with vivid orange hues and this color palette is big and bold when Cartwheel is comfortably in her world.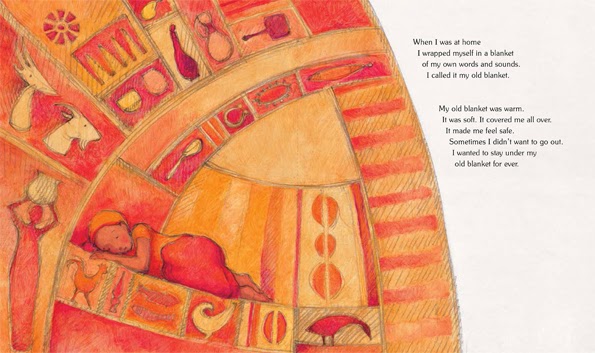 Just as cleverly, Freya Blackwood contrasts Cartwheel's vibrant home world palette against her new scary world with a cool, washy palette of light blues and grays. The trees appear as somber shapes and reinforce Cartwheels feelings of being lost and alone. When people speak their words are portrayed as unintelligible shapes, pointy and sharp.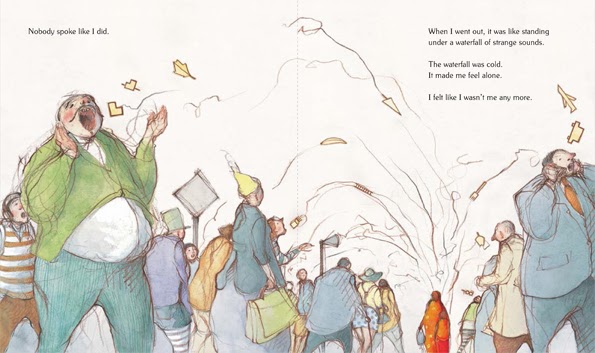 Then as Cartwheel's new friend begins to teach her the meanings of these words these shapes take on rounder edges and are identifiable birds and beetles. And the two palettes subtlety merge into one.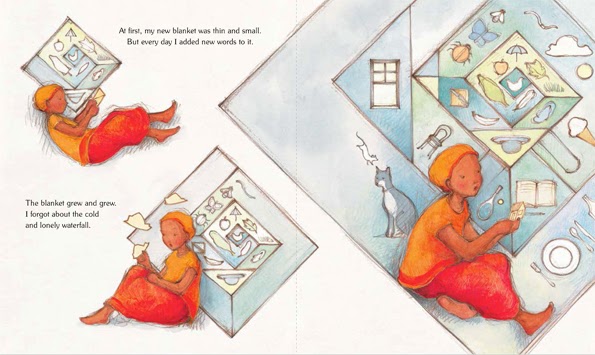 This is a wonderful story about friendship. A child could relate to either Cartwheel or her friend. Is there a child who has moved here from far away that maybe they could help to feel more at home? Or have they themselves come here from another country and felt isolated and scared like Cartwheel?
The words and the story are lovely and beautifully written. But I really did want to give props to Freya Blackwood's brilliant interpretation of some very unusual illustrative challenges! Well done!
Irene took the time to comment on this post. I wanted to add her comment here for all to see. Thank you, Irena!
Hi Jennifer –
I discovered your website accidentally and am so touched by the many wonderful comments about MY TWO BLANKETS.
You might like to know that there was absolutely no collaboration between Freya and myself with regards to her interpretation of the story. How she was able to 'hear' Cartwheel's story and reproduce it in her distinct style, will always be a miracle for me – and for the many readers of this book.
I too have had the privilege to see a stage production of the story in Germany last year and cried many tears (of joy).
I hope the book and its story will continue to inspire people around the world.
So far it has been translated into 15 languages.
With my very best regards.,
Irena