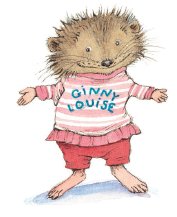 Last June, Ginny Louise made her debut in Ginny Louise and the School Showdown which introduces readers to one irrepressibly cheerful hedgehog who happens to be the new kid at Truman Elementary. Now Truman Elementary is not a typical school. Nope. Its student body includes the likes of the Truman Elementary Troublemakers—Cap'n Catastrophe, Destructo Dude, and Make-My-Day May.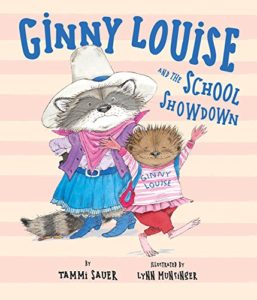 I wrote all about it here.
This June, Ginny Louise and company are back in Ginny Louise and the School Field Day, written by yours truly and illustrated by the amazing Lynn Munsinger.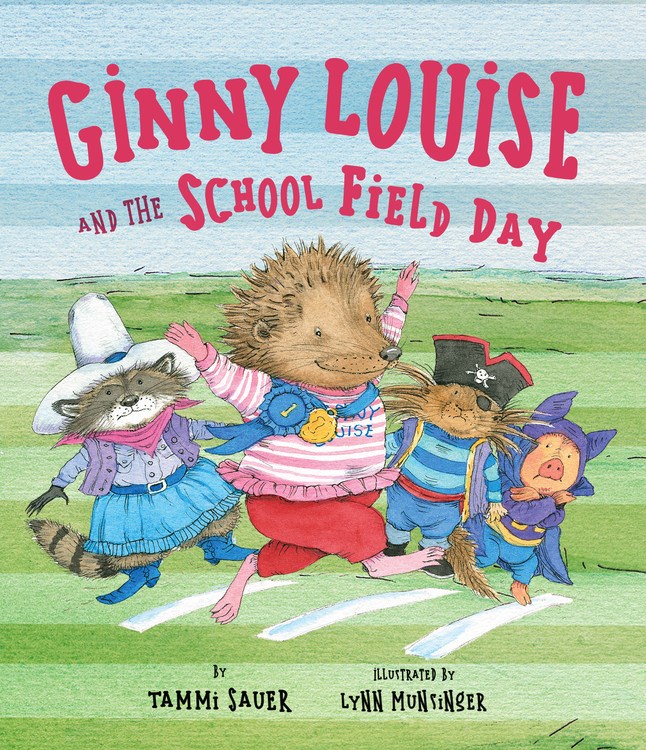 When my editor, Steph Lurie at Disney*Hyperion, asked for a sequel, I was equally thrilled and nervous. I loved where I had left the characters in Ginny Louise and the School Showdown. Cap'n Catastrophe, Destructo Dude, and Make-My-Day May found out just how good being good actually can be and Ginny Louise discovered that it's okay not to be 100% goody-goody.
Could I possibly write another book that would show further character growth for all of them?
So I stressed.
I called one of the girls in my critique group for the Janee Trasler Pep Talk.
Then I stared at my blank screen for a long, long time.
Luckily, I knew two things. First, my editor wanted the same characters in the second book. Second, she wanted the book to take place at school.
I decided to play with that information and see where it led me.
I brainstormed various events that occur in a typical school year:  first day of school, holiday parties, school carnival, concert, school play, school field day, last day of school….
I decided to go with school play. I soon discovered, however, that my publishing house already had a book that used a similar event.
So…scratch the school play.
I decided to go with school carnival. But, while my editor and her team liked the manuscript, they wondered if this was an event that occurred in every school.
So…scratch the school carnival.
My editor suggested I give the school field day a try.
So…I did.
It was actually the perfect fit for my cast because it turns out that Cap'n Catastrophe, Descructo Dude, and Make-My-Day May are not too great at playing fair. This gave me a lot of material to work with as I developed this story.
For example, Destructo Dude plots to win the long jump by using his super gear.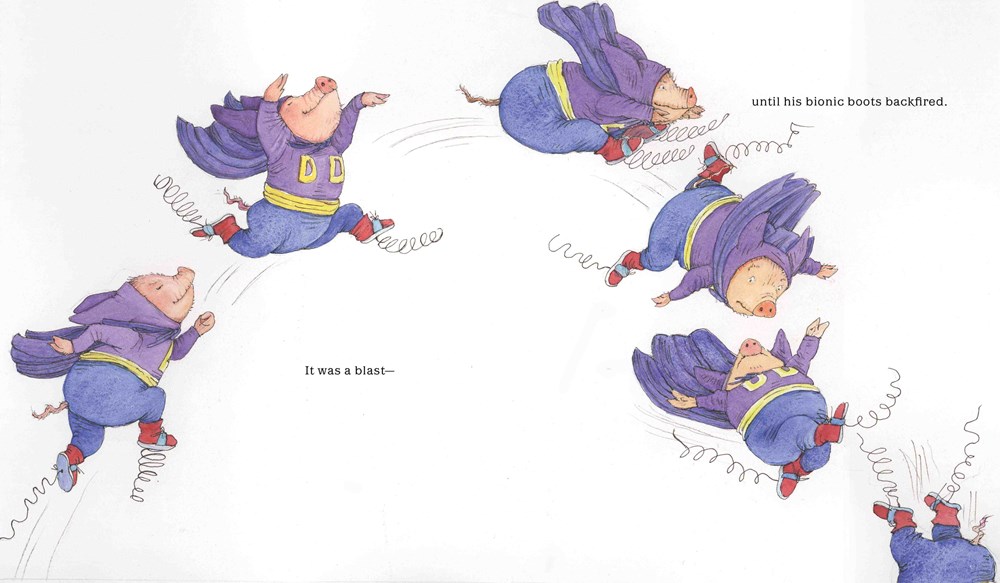 Another fun scene was the sack race.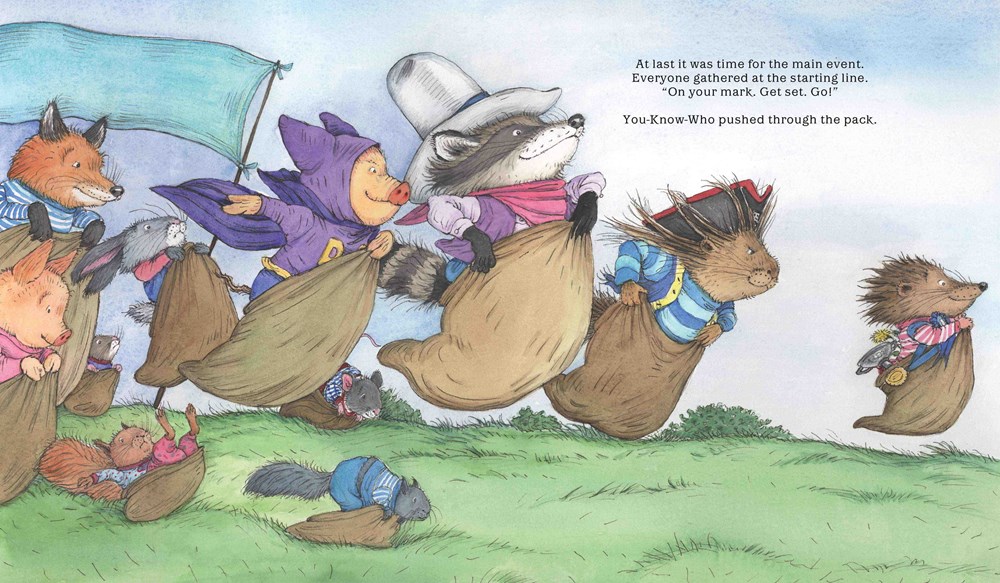 As you can see by that spread, the trio looks bound and determined to win.
But do they win? And what happens if they don't???
Find out on June 14 when Ginny Louise and the School Field Day races onto the scene.
THE GIVEAWAY:
To celebrate the soon-to-be-released Ginny Louise and The School Field Day, I'm giving away a signed copy of the book to one lucky duck commenter.
________________________________________________________________________
LAST MONTH'S GIVEAWAY WINNER:
The winner of a copy of I LOVE CAKE!: Starring Rabbit, Porcupine, and Moose is Bridget Magee.