A few months ago, two fiction picture books with same title, Are We There Yet?, released in the spring. Since we're in the middle of the summer vacation season, I thought it would be interesting to take a look at these two books about a long car ride. And to get into the spirit of the books' themes, I read both while on a road trip home to Indiana!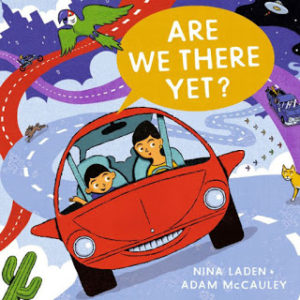 The first book, written by Nina Laden and illustrated by Adam McCauley (Chronicle Books, March 1, 2016), shares the journey of a young boy on a long car ride to Grandma's house. The sparse text (ten of the spreads have only five words, "Are we there yet?" and "No.") is a clever tool which allows the colorful, detailed illustrations to really shine. Animals, plants, and objects from early spreads make later appearances in other spreads, while some tell their own short stories over a few pages. Eventually, the boy's imagination steers the trip through several far-out places on the way to Grandma's house. The creative illustrations will definitely keep young readers busy on a long car ride!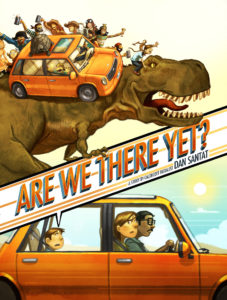 The second title, written and illustrated by Caldecott medal winner, Dan Santat (published by Little, Brown and Co., April 12, 2016) chronicles the road trip of a boy on his way to Grandma's house for a birthday party. In this delightful drive, the young boy's imagination creates a very unexpected and interesting trip which (literally) turns the book upside down! The illustrations are rich and detailed — sure to keep restless riders busy as they explore trains in the old west, pirate ships, ancient pyramids, knights in shining armor, fearsome dinosaurs, and more. The illustrations tell a magnificent story, but perhaps what I adore most about this book is its subtle message about being present and enjoying the moment you're in right now. What a great message for us all!
Oh, one more thing — I LOVE, love, love, endpapers for some reason, and both of these titles have lovely (and very different) endsheets that make me very happy!