Yesterday (August 1) an inspiring picture book released into the world — SEVEN AND A HALF TONS OF STEEL (published by Peachtree Publishers.) This gorgeous book shares the true story of a powerful event in recent history that is filled with hope.  To celebrate this release author, Janet Nolan, kindly agreed to answer a few questions about her new book.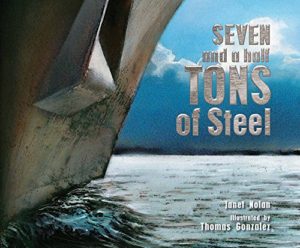 Janet, so thrilled you could join us at Picture Book Builders! Your new title, SEVEN AND A HALF TONS OF STEEL, shares an incredible story. Can you tell us what the story is about and how you originally got the idea for this book?
I was driving my car, listening to the radio, when I first heard a beam from the World Trade Towers had been used in the bow of a navy ship. What struck me then, and has stayed with me ever since, was the feeling that something powerful had emerged from a tragic event. The book begins:
"There is a ship, a navy ship. It is called the USS New York. It is big like other navy ships, and it sails like other navy ships, but there is something different, something special about the USS New York."
I believe the USS New York is special – not only because of the seven and a half tons of steel in its bow – but because of the men and women who built and serve on it. The ship's motto is "Strength forged through sacrifice. Never forget." I believe the USS New York is more than a navy ship. It is a testament to hope, rebuilding, and redemption.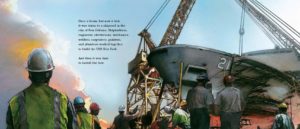 Can you share a bit about your research for this nonfiction picture book?
I knew almost nothing about forging steel or shipbuilding when I began researching this book. I conducted phone interviews, read every news article I could get my hands on. I watched countless news clips and videos, and was a frequent visitor to the ship's website. I have to say I was touched by the generosity of the many librarians and retired military who were willing to guide me in the right direction and answer my many questions, big and small.
Did you know right away how you wanted to tell this remarkable story, or did you write up several different versions before you found the way you wanted to share it?
I think I always knew the core of the story was the seven and a half tons of steel. The book begins with the events of September 11th and the outpouring of emotion at ground zero, but when the beam leaves New York the story follows. I didn't want to write a book about the tragedy of September 11th. I wanted to write a book that told a different story, one of hope and rebuilding.
I also had to be sensitive to the passage of time. For my readers, this is a history book. September 11, 2001 and Hurricane Katrina, which is also mentioned in the book, are historical events that occurred long before my readers were born. Thomas Gonzalez created such wonderful, realistic illustrations for this book.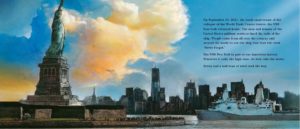 The illustrations are gorgeous. Can you share a few thoughts on those?
Thomas Gonzalez is amazing. The first time I held the book in my hands I cried. The illustrations exceeded my imagination. They're captivating, emotional, and honest. Every aspect of the book, from the cover to the end pages, is beautiful. I feel incredibly fortunate to have had such a talented and compassionate artist illustrate the book.
Thanks so much for the interview, Janet.
I love your new book, and it seems reviewers do too!
"This beautiful, sober, and hopeful recounting of a difficult chapter in American history is a stellar addition to history collections." —School Library Journal
"Gonzalez's breathtaking spreads dazzle… The emphasis is not on damage and destruction, but on America's power to recover. Teachers and parents looking for picture books that celebrate the nation and its military will welcome Nolan and Gonzalez's work." —Publishers Weekly
"A deeply felt but not overwrought telling of a story that will be new to most young readers." —Kirkus Reviews