I've admired David LaRochelle's books for many years, ever since reading The Best Pet of All, a clever twist on the kid-wants-dog tale. Then there's It's a Tiger!, which has to be one of the best read-alouds of all time. (Really. Check it out.)  So I'm thrilled that David agreed to visit us here at PBB to chat about his latest book (giveaway details below)—and lots of other good stuff.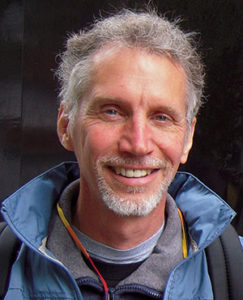 First, about that new book:
In This is NOT a Cat! (Sterling, 2016, illustrated by Mike Wohnoutka), a teacher instructs her students (all mice) on a very important lesson: how to recognize danger.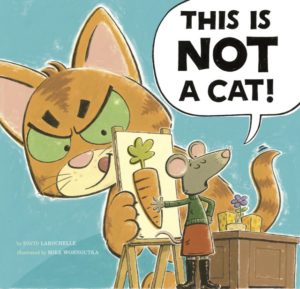 But as she introduces various images, repeating "This is not a cat," guess what sneaks in through the classroom window? Yep, a CAT!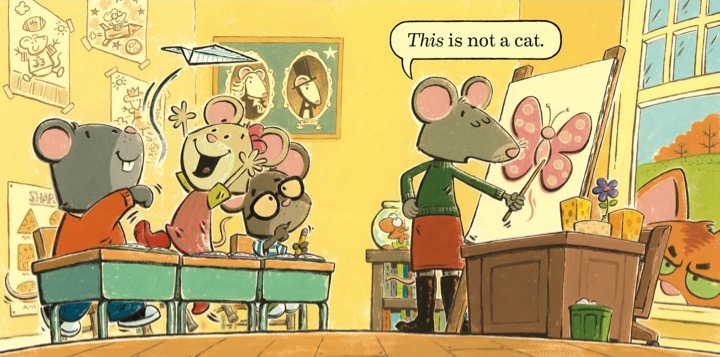 Or is it?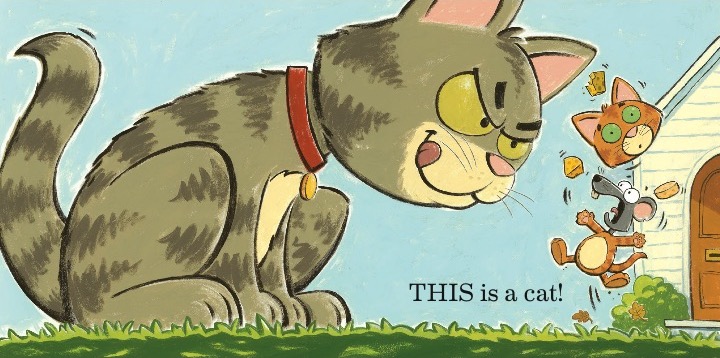 By the way, the entire story is told using only the words in the title. That's right, just those five words. Plus plenty of action and a few surprises at the end.
And, now, here's David:
Tell us about your inspiration for this story.
I love puzzles. For my book The End, I tried to tell a story backwards, and for 1 + 1 = 5, I wanted to make a book using seemingly impossible equations. For this book I gave myself the puzzle of writing a story that uses only the words in the title to tell the entire tale. I wanted those words to be very simple, so that any beginning reader who could read the title, could read the whole book.
Like Cat, your book Moo!—the story of a cow's joy ride gone bad—also uses few words. The entire text consists of variations on a single word—Moo—until the final page when the cow blames the wreckage from his misadventure on an innocent sheep (Baaaaa!). Based on a true story?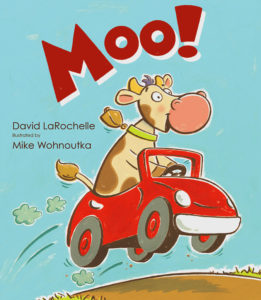 More so than you might think!
Many years ago my friend Gary gave me a cylindrical cow noisemaker for Christmas, which I named Bossy. It wasn't long before I began making up adventures for this cow (along with her best friend Daisy). These adventures frequently involved unwise decisions on the part of Bossy (trying to make popcorn balls, staying out all night at the mall, testing a hang glider, etc.).
When I decided to write a book using only one word, Moo seemed like a good choice, and I already had lots of experience inventing exploits for a mischievous cow. If you check the front of the book, you will see that it is dedicated to Bossy and Daisy. I knew they would never let me hear the end of it if they didn't get significant recognition!
Given that both books use so few words and are told largely through the illustrations, what did your manuscripts look like when you submitted them?
In both cases I had originally intended to be the illustrator as well as the author. I created complete black and white dummies for each book. However, by the time I submitted the stories to editors, I was thinking that my friend Mike Wohnoutka might be a better illustrator for the books than myself, and in the case of Moo!, I sent a sample of Mike's artwork along with my dummy. Even though editors usually frown on authors suggesting their friends as illustrators, in both cases the editors agreed that Mike was the right choice…and I'm so glad they did! I know Mike did a better job illustrating these books than I could have done.
For Moo!, Mike was already familiar with my dummy of the book, so he knew what action had to take place on each spread. For This is Not a Cat!, I provided simple illustration notes for each scene and he took it from there.
Typically, editors try to keep some distance between authors and illustrators. Was that the case here?
Mike and I are good friends and belong to the same critique group. Even so, editors for both books cautioned us not to talk to each other during Mike's process of creating the artwork. This was tricky (as well as a little nerve-wracking) especially since we saw each other every other week in our writers' group! For the most part, we stuck to their request: Mike sent his sketches to the editors and art directors in New York, they forwarded them back to me, I sent my comments on the sketches back to New York, and the editors decided which of those comments to pass along to Mike back here in Minnesota. Occasionally Mike and I would confer secretly about an aspect of the book's design…and when we did, we were always in agreement. [For a fascinating glimpse of this process, don't miss this video.—L.]
Once the books were finalized, Mike and I spent a lot of time working together on how to promote them. Together we designed teaching guides, craft activities, games, and bookmarks. I've never had the luxury of working with the illustrator of one of my books so closely before. We've given lots of presentations together, including a puppet show tour of our book Moo! to 59 libraries throughout the state of Minnesota. It is wonderful sharing the experience of creating and promoting a book with such a good friend. It's exciting to celebrate the successes together…and comforting to commiserate with an understanding soul during the frustrating and challenging times. Creating two books with Mike has been one of the highlights of my writing career.
Your book Monster & Son also came out this year—your first written in rhyme (yes?). How did that process compare to writing in prose?
The very first book I ever had published, A Christmas Guest (Carolrhoda Books 1988), was written in rhyme. One of the reviewers mentioned that the meter was a bit clunky, and for over twenty years I was afraid to write in rhyme again! When I did (Minnesota's Hidden Alphabet, 2010), I was very careful to make sure the rhythm and rhyme were natural and smooth. This meant reading the text out loud over and over and over again, even more times than I do for the text of a picture book in prose. It also helped to have another member of my writing group read it aloud so that I could be certain it flowed naturally for other people, too.
Your books show an impressive range of talents—in addition to the many picture books you've written and/or illustrated, you wrote Absolutely, Positively Not!, a highly acclaimed YA novel. What feeds your creativity? What depletes it? 
Reading great books by other authors inspires me to write good books myself. Being around creative people energizes me. My librarian friend Kim Faurot, to whom This is NOT a Cat! is dedicated, is one of the most clever and creative people that I know; whenever I attend one of her parties or puppet shows, I want to create something clever myself. Also, whenever I visit schools and kids tell me they like my books, that motivates me to go home and keep writing.
I find that being on the computer drains my creativity. There's a lot of great information on the Internet (including on your blogsite!), and I'm often sucked into the allure of Facebook, but staring at the screen too long numbs my brain in a way that is not good for my imagination. That's why I have to do my creative work (such as writing) early in the day before I get on the computer and start checking my email.
I couldn't agree more about the draining power of too much screen-time—and the energy boost that comes from being around creative spirits (like you!). Thanks so much for the inspiration, David.
And thanks, all, for reading!
* * * * * B O O K    G I V E A W A Y !!! * * * * *
To win a copy of This is NOT a Cat!, leave a comment below by November 20th. I'll announce the randomly-selected winner in my November 29th post.
This is NOT a Cat!, Sterling, 2016
Written by David LaRochelle. Illustrated by Mike Wohnoutka.