A few weeks back, while giving a talk at Austin's Writing Barn, Chronicle's Ariel Richardson held up this little charmer by author/illustrator Claudia Rueda: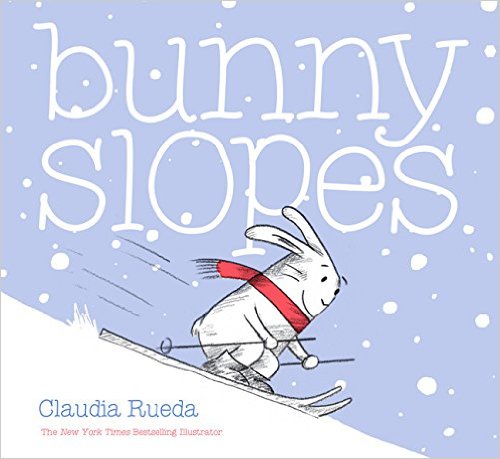 Ariel didn't have to show many pages before I was hooked. By the time I got my hands on the book an hour later, my expectations were awfully high. Happily, Bunny Slopes was just as delightful as I had hoped. (Love it when that happens!)
If you want to craft a meta story, writers, put this one on your list of mentor texts. Here's the publisher's description:
Time to tackle the bunny slope! Shake to help Bunny make it snow, tilt to help Bunny ski down the slope, and turn to help Bunny escape a cliff in his path. Is there any obstacle Bunny can't conquer? Bringing grins and guffaws with each turn of the page, readers will find Claudia Rueda's innovative bookmaking as entertaining as the twists and turns of a ski slope—and as satisfying as a cozy cup of hot cocoa.
Rather than share interior spreads, I decided you'd be better off getting a look at this one "in motion" – via its short-yet-effective book trailer. So please just:
Why do I love Bunny Slopes, besides the fact that it's just plain FUN?
 Simplicity. The no-clutter background and limited palette focus every bit of attention on the ONE character with whom kids get to interact.
That hole. Oh, the CLEVERNESS of that hole (in the book's later pages.  Trust me, it's genius.)
And, looky! There's even a doll. How fun would it be to pair this guy with the book for holiday gifting?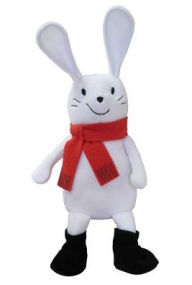 Bunny Slopes has been named one of the NYPL's 2016 Best Books for Kids. (PBB note:  Also on the list is Linda Sue Park's Yaks Yak, illus by our own Jennifer Black Reinhardt! You can see Jennifer's post about their book here.)
Claudia Rueda has written and/or illustrated MANY other books, including Deborah Underwood's popular Cat series. Visit Claudia's website here.
Happy holidays, everybody!
Jill