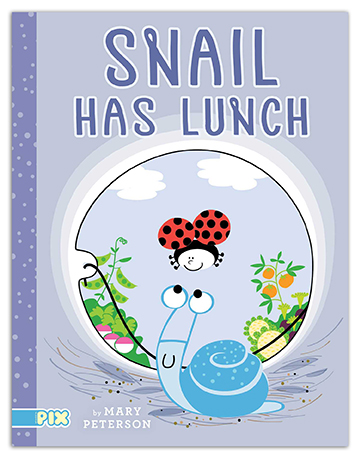 Author-Illustrator Mary Peterson, a critique group pal of mine, has a new book out to get us excited about our gardens and new tasty growing things!
The book is called SNAIL HAS LUNCH, and is in a unique format that I hope to see a lot more of in children's books these days, which is the highly illustrated chapter book. I SO wish this book came out when I was a kid, because I wasn't at all interested in reading without pictures. This book has fun illustrations mixed with text across all 64 pages!
I've asked Mary to join us on Picture Book Builders to share more about the making of her book. But first, meet Snail:
Snail is a merry little mollusk in his rusty bucket. Day after day, rain or shine, Snail doesn't move—and that suits him just fine. But when his bucket is turned over, his life takes a topsy-turvy turn. A journey through the vegetable garden with his adventurous friend Ladybug proves delicious—red, juicy strawberries…YUM!—and dangerous when he comes face to face with a gopher, then a rabbit, and an unfortunate nibble on a hot red pepper…
Can Snail find happiness in this big, new world—or will he wish he never left his bucket?
Q: Hi Mary! Thanks for joining us to talk about SNAIL HAS LUNCH. When I first saw a draft of this story during a critique group meeting a couple years ago, it was a traditionally formatted picture book. How did the idea come about for this to be an early chapter book?
Mary: The idea came as a surprise request from Simon & Schuster editor Karen Nagel to my agent, Jen Rofé. SNAIL, the picture book manuscript, was ready for submission when Karen asked Jen if she had any funny stories that might fit into the new Aladdin/PIX imprint. PIX publishes humorous easy-to-read chapter books. SNAIL seemed like just the ticket and I was excited to give it a go.
Q: As both an illustrator and author, what did you find that you liked the most about this new format? And what did you find most challenging?
Mary: Right away I was excited about writing a longer story—an idea I've been dabbling with for some time. As a picture book illustrator, I mostly write picture book texts—texts that start out WAY too long, way too complicated and way too impossible in every way. Followed by the hard work of paring it down to the heart of the story. Now I had the chance to grow that picture book size idea into a longer piece. This was an exciting opportunity….
….and daunting. Make the story longer—again—but not in the messy clumsy way of my first drafts. I was accustomed to whittling, now the challenge was to enlarge Snail and Ladybug's world and make it coherent and fun and adventurous. But I wasn't alone! Karen Nagel guided me through the process and I loved every minute of it. Thanks to Karen, I learned a lot (tons in fact) about writing for this special group of young readers.
Q: Do you think you'll do more stories in this format in the future?
Mary: For sure. I enjoy the mixed bag of story telling and page design styles that can be drawn upon. It's a wonderfully playful format in that way. Comic book sequences, charts and graphs, dialog, exposition, gags, whatever it takes to keep the reader entertained.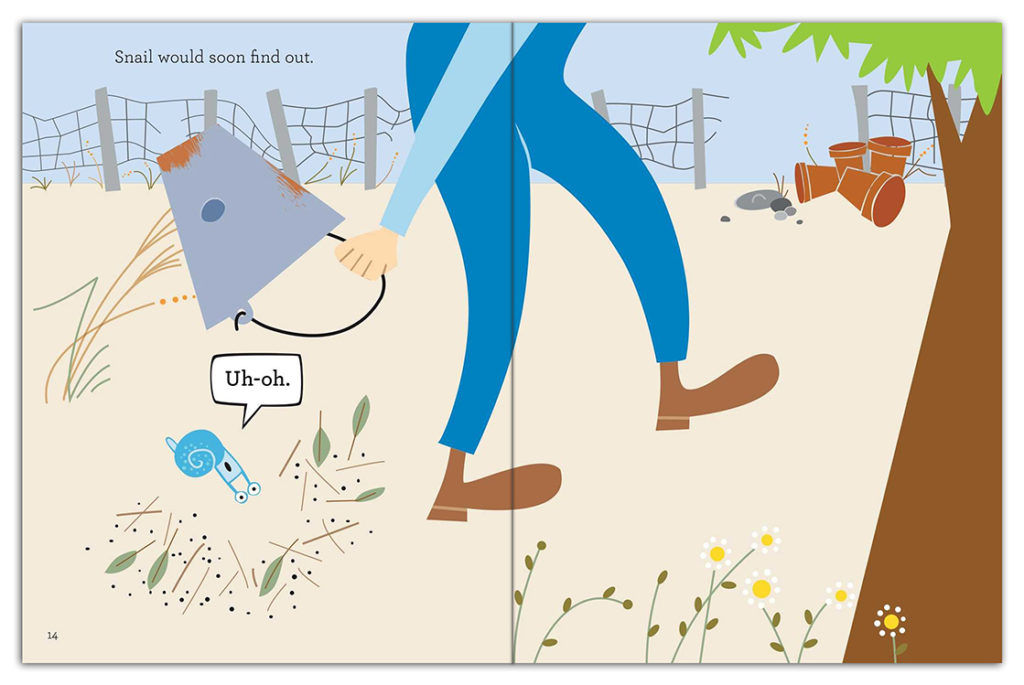 Q: What is your favorite food item in your book garden?
Mary: Easy question Eliza, STRAWBERRIES!
Of course they are! Thanks so much, Mary, for sharing about your sweet new book with Picture Book Builders. To see more of Mary's work visit her site, marypeterson.com, and if you missed my post last year about her work for the book DIG IN, by Cindy Jenson-Elliott, check that out here.