I have known Anne Marie Pace since the glory days of LiveJournal, and I have valued her friendship for more than a decade. Anne Marie is the author of a number of pictures books including her popular Vampirina Ballerina series, illustrated by the spooktacular LeUyen Pham.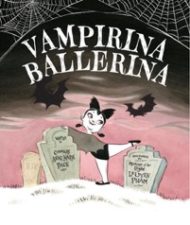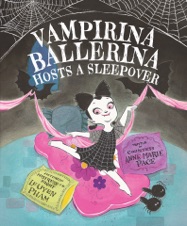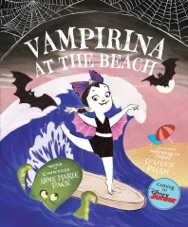 Anne Marie was kind enough to stop by Picture Book Builders to share a little about her soon-to-be-released Vampirina at the Beach (Disney*Hyperion) annnnd to give us some skinny on the upcoming Disney Junior animated series that is based on Vampirina Ballerina. Yes, people, she is living the dream.
Anne Marie, congratulations on your latest picture book! Please introduce us to your fang-tastic character Vampirina.
Vampirina is a ballet-dancing vampire who lives with her family in a haunted castle complete with a mummy, a dragon and a ghost or two.  She studies dance at Madame Sang's studio (did you know "sang" is the French word for "blood"?) and made her debut in Swan Lake. She often turns into a bat when she is embarrassed or nervous, which can be problematic, but in the new books, she learns to use this ability to her advantage.
What will her adventures entail in Vampirina at the Beach?
I usually describe it as "Monster Mash meets Beach Blanket Bingo."  Vampirina and her family head out for a night at the beach at a festival called Moon Monster Madness. It's a bewitching night full of contests and crazy fun. She surfs, snorkels, and makes a new friend, who surprises her and the reader with a moonlight revelation. As always, LeUyen Pham's illustrations require repeated viewings to notice all the incredible details.  One of my favorite bits is the moon-bathing Invisible Man.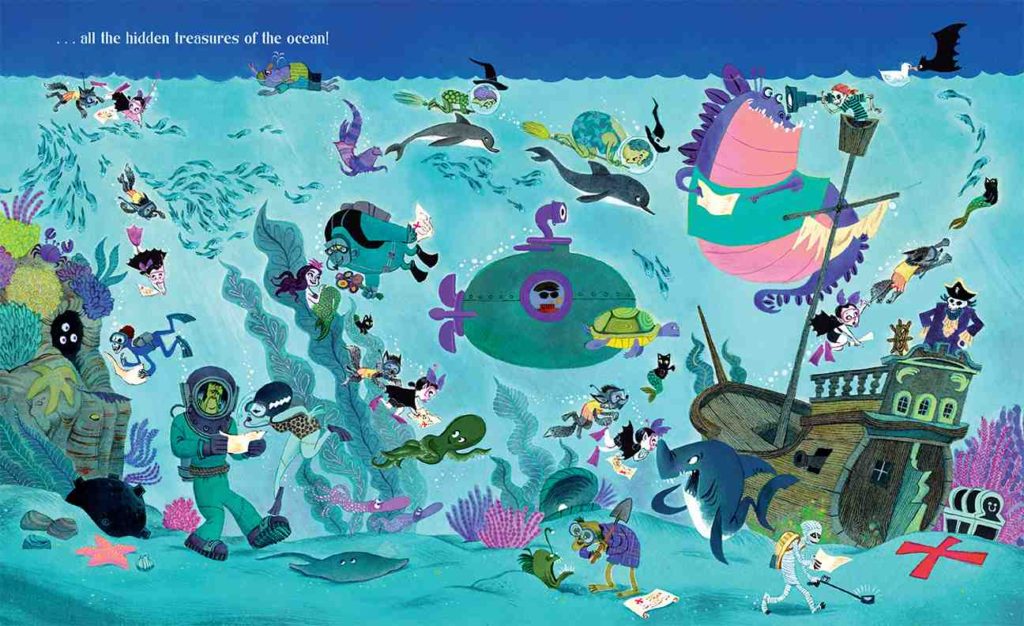 What sparked the idea for this book?
Various scenarios were tossed around, and the idea of Vampirina and her family at the beach just kicked up all sorts of great possibilities.  I have so many wonderful memories of beach trips with my family that it felt very natural to write it—even if I've never met a sea monster or surfed on a tombstone.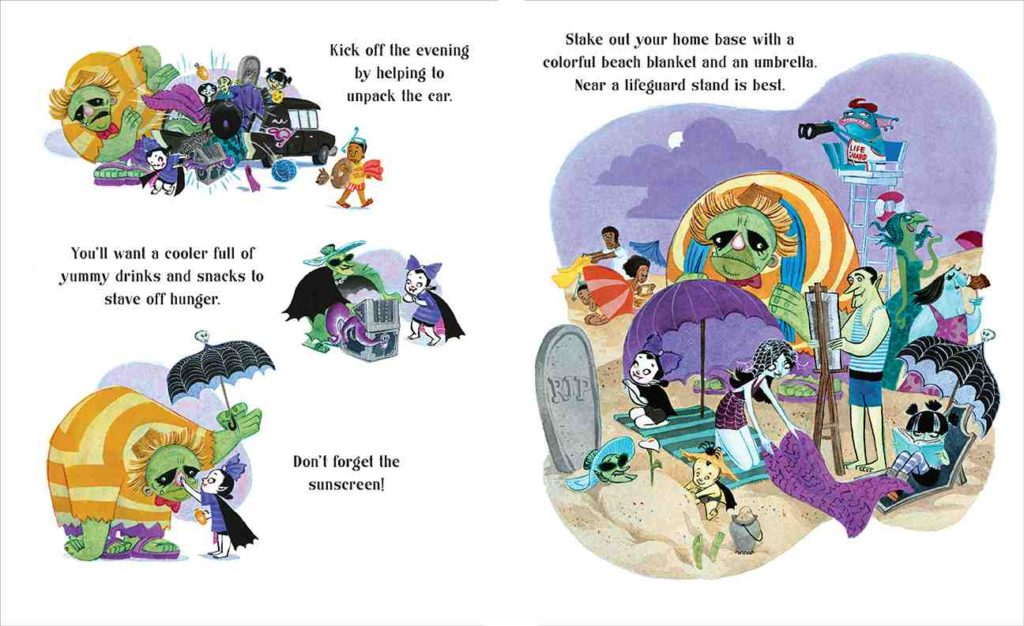 This book is part of a series. What sort of writing challenges have you faced because of this?
When Uyen and I started working on the second book, she suggested that Vampirina undergo personal growth not only within each book, but also over the course of the series. So in the first book, she's very much a loner, but she learns to make friends.  In the second book, her new friends are invited to her home for a sleepover, which presents new friendship issues for her: Do they really like me? Do they accept me for who I am? In the third book, she makes a new friend, a boy, and she uses the lessons she's learned about acceptance and friendship in building her relationship with him. Each book stands on its own thematically, but it enriches the experience to read them in order.  A specific writing challenge for me is the language.  The books are heavy on vampire-inspired humor, but must stay appropriate for preschoolers, so a fairly large percentage of vampire lore has to be left out of the books, which honestly is fine with me because, believe it or not, I'm not really a big fan of spooky stuff.  And I can't use the same play on words twice. There's some word play in the third book that I hope will make adults chuckle.
Tell us Every Single Detail about the Disney Junior animated series. Okay, okay. If that's too taxing, how about sharing five really cool bullet points?
Pretty much everything I know, I know from following executive producer Chris Nee on Twitter. Chris is the brains behind the amazing Disney Junior show Doc McStuffins. Quite a few of the Doc folks are working on Vampirina, including the Oscar-winning animation team at Brown Bag Films, so I am super-excited to see what these very talented folks are doing with our vampire girl.
The show and our books have different trajectories–call them alternative timelines, if you will.  There may be some aspects of the book universe an the TV universe in common, but basically the show people will do their show thing, and Uyen and I will do our book thing.  I hope kids will like both.
Chris Nee says there's a "dream cast" and I've seen some rumors online, but I don't know anything official in regards to casting.  I do know that the characters have names, which makes sense to me, even though they don't have names in the Vampirina books, except for Vampirina. Vampirina's nickname in the series is Vee.
Vee and her family have just moved from Transylvania to Pennsylvania, so there's sort of an immigration/outsider theme playing out in the first season.
It often surprises people to know that I am not involved in the TV tie-in merchandise, like the toys and the books.  (Yes, there will be TV-based books that I don't write and Uyen doesn't illustrate.  I am looking forward to the sticker book. I am going to stick all the stickers.)
If you had one key piece of advice for writers, what would it be?
Do the work. Do the work. Do the work.  (Does saying it three times for emphasis still count as one piece of advice?)
Scoop time! What's next for you?
I'm always working on various stages of picture book manuscripts, and I'm revisiting a novel I've been working on, on and off, for about fifteen years. I can't shake it, which tells me I'm supposed to be working on it. Vampirina at the Beach comes out April 4, so I'll be sharing it with people over the next few months in various forums—school visits, bookstores, etc.  And then Groundhug Day, illustrated by Christopher Denise, comes out in December.
Anne Marie, thank you so much for stopping by Picture Book Builders and giving us some advice we can really sink our teeth into! Mwah-ha-ha-ha-ha.
****************************************
Bio: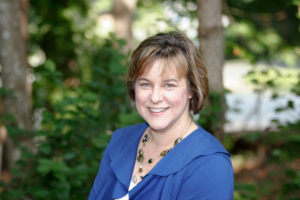 Anne Marie Pace is a picture book author whose books include Pigloo (Henry Holt, 2016, illustrated by Lorna Hussey); two original paperbacks for the Scholastic Book Club; and the three published and upcoming books of the Vampirina Ballerina series for Disney-Hyperion (illustrated by LeUyen Pham), which is in development as a television series (premiering on Disney Junior in 2017).  Books coming in 2017 and 2018 include Vampirina at the Beach (Disney-Hyperion, April 4, 2017), Groundhug Day (Disney-Hyperion, illustrated by Christopher Denise) and Busy-Eyed Day (Beach Lane Books, illustrated by Lorna Hussey). She's an active member of SCBWI and spends too much time on Facebook and Twitter.  Find her at http://www.annemariepace.com, https://www.facebook.com/VampirinaBallerina/ and @annemariepace.
****************************************
GIVEAWAY: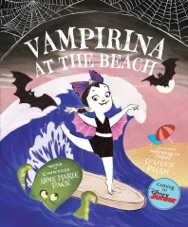 One lucky duck commenter will received a signed copy of Anne Marie's Vampirina at the Beach.
****************************************
WINNER: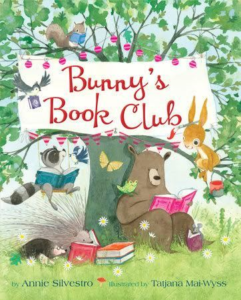 The winner of Annie Silvestro's Bunny's Book Club is Penny Parker Klostermann. Congratulations!