Read any Jon Agee books lately?
He's got a lot of them, including three in the past three years—It's Only Stanley (2015), Lion Lessons (2016), and Life on Mars (2017; all from Dial).
As a Jon Agee fan, I knew I wanted to feature one here—but which one? I decided on Lion Lessons because it's such an excellent model for how one might structure a 32-page picture book—in this case, with a bookended beginning and ending and seven (very funny) steps in between.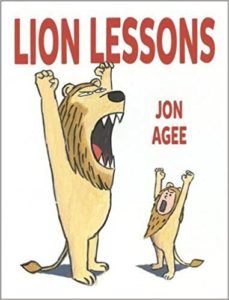 When we open the book, we see a boy strolling down a city street with signs for all sorts of classes–knitting, violin, yoga, etc. In the next spread—which serves as the title page—he turns into a doorway offering LION LESSONS in 7 EASY STEPS.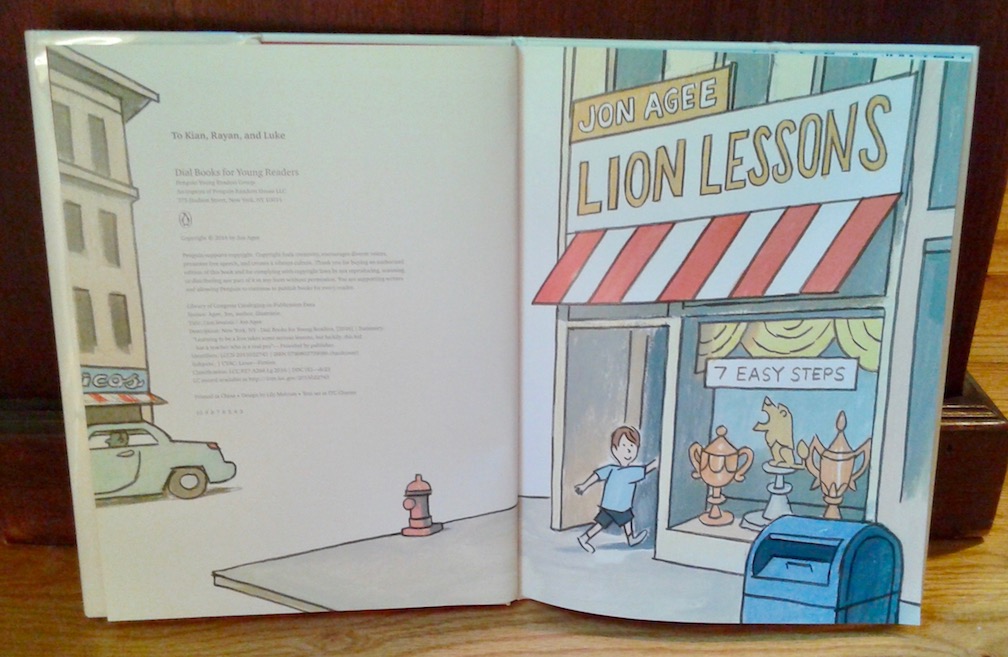 On the next spread we read these fabulous first lines:
It's not easy getting your Lion Diploma.
I know. I took lessons.
It's a great opener, and a perfect set-up for the rest of the story. Right off the bat, the reader starts wondering: What are the seven steps? Why are they so challenging? And will the kid succeed in getting his Lion Diploma?
I've long admired John Agee's dry, quirky humor, and there's plenty of that here. Check out the body language and facial expressions for Step One: Looking Fierce: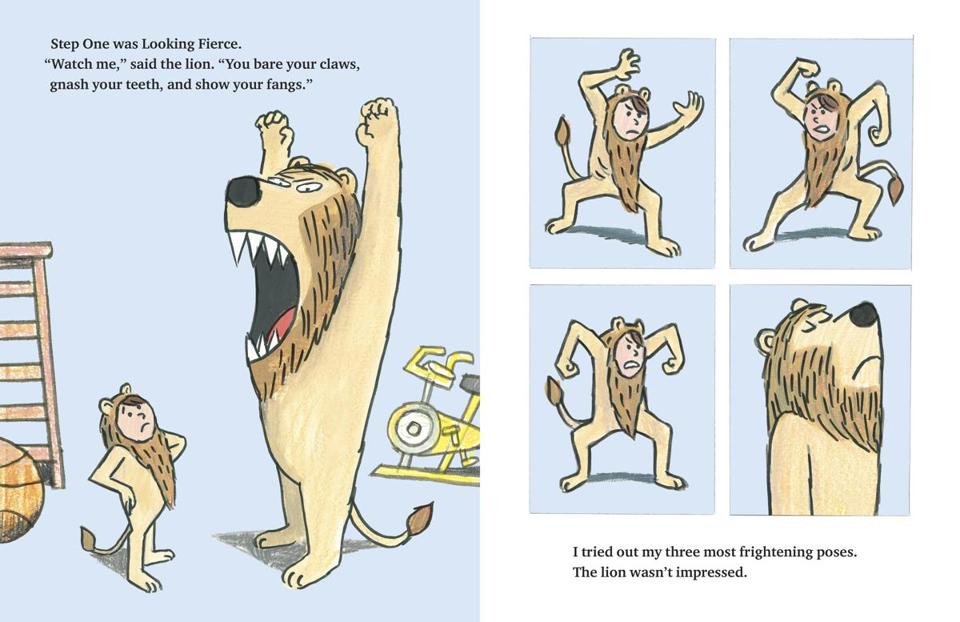 Then there's the clever way Agee conveys loudness (or the lack thereof) for Step Two: Roaring: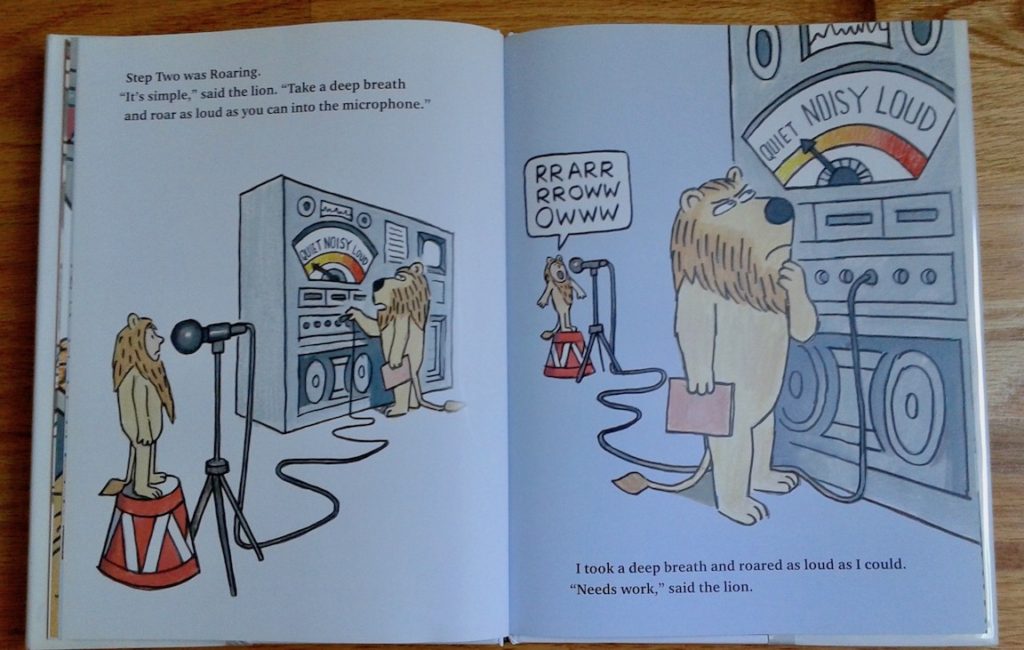 But the one that made me laugh out loud was Step Six: Pouncing. When the lion instructs him to pounce on an unsuspecting woman (talking on her cell phone, naturally), the boy is reluctant.
"But I'll scare her to death!"
"Uh, that's the idea," said the lion.
The boy dutifully charges toward the woman, and we turn the page to see what happens.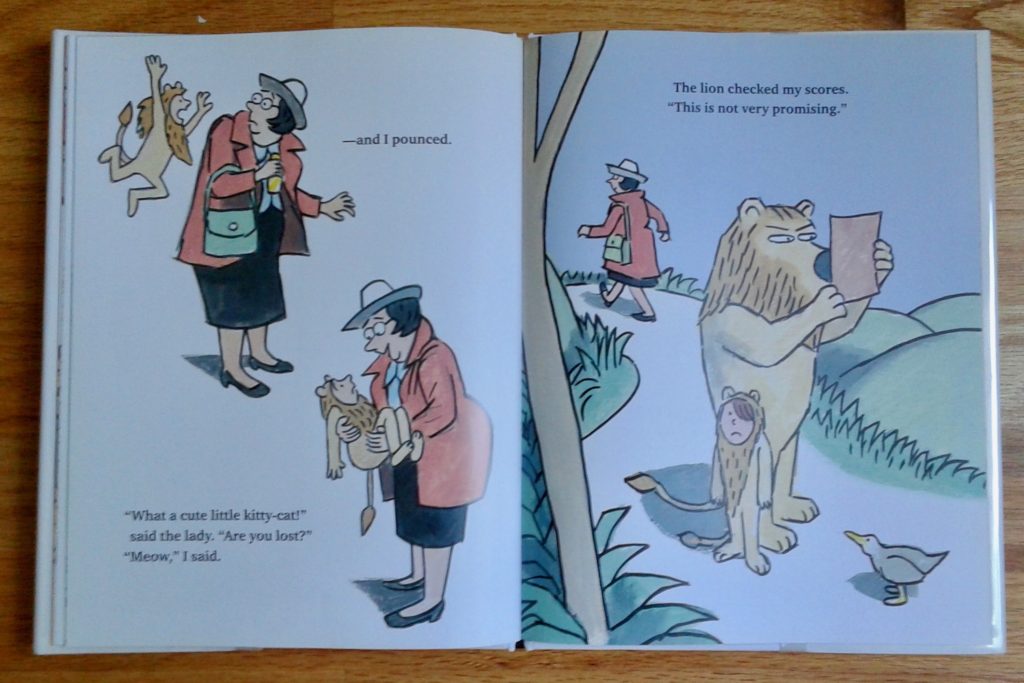 Alas, like his other attempts to be lion-like, this one is not exactly successful.
Although the child's performance is suboptimal for Steps 1-6, he redeems himself in Step 7 and (SPOILER ALERT!) earns his diploma—a satisfying resolution to an eccentric Hero's Journey.
Check it out—and the other terrific Jon Agee books as well. And for some entertaining insights into Jon and his work, be sure to stop by the 20 Questions page of his website.
Thanks for reading–
Linda