Hello everyone! I'm super excited to have the privilege to join the PictureBookBuilders blog and am looking forward to participating with the rest of this great crew. For those who don't know me, my name is Mike Boldt, and I've been illustrating almost exclusively for children for the past 18 years. About 10 years ago I left my job in pursuit of writing and illustrating books with traditional publishers and I've been learning about building books ever since then. I hope that with this blog I'm able to share a bit of what I study in books that inspire me, and that what I've discovered may also be of use to you.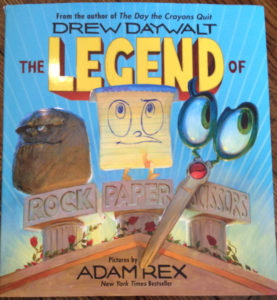 The book I'd like to start off with is one that grabbed my attention from the moment I read about it in the Publishers Weekly Children's Bookshelf announcement. Now, I'm a big fan of Drew Daywalt and in constant awe of Adam Rex, but I had this gut feeling that THE LEGEND OF ROCK PAPER SCISSORS was going to be brilliant (and I was not disappointed).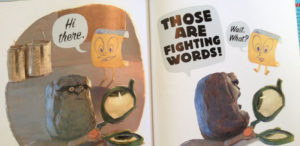 What I feel was executed so well with this book was the idea of taking something like the game of ROCK PAPER SISSORS, something so ordinary, and a simple part of our every day, and creating a story out of it. Drew seems to have a gift for noticing these things as THE DAY THE CRAYONS QUIT has shown me, and nearly every child/parent/librarian/teacher in North America. We read the title and think "Of Course! Why didn't I think of that?"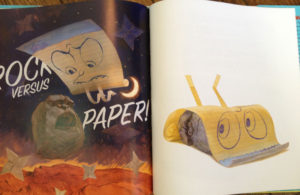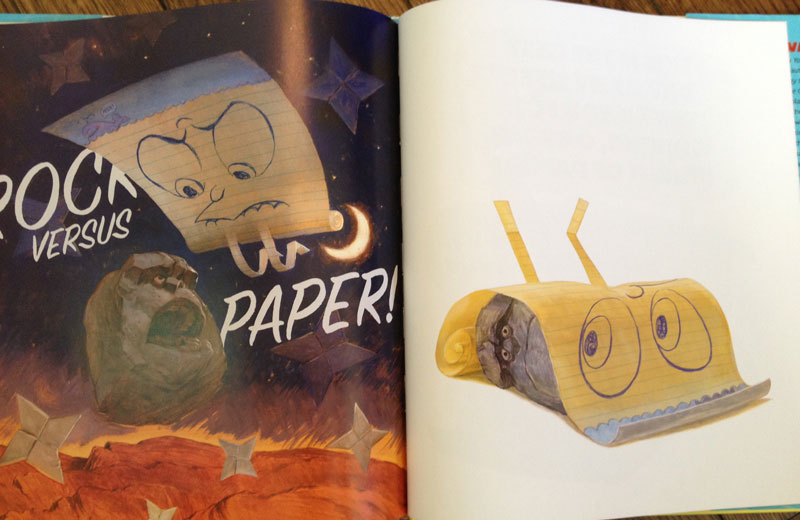 But as many of us know, coming up with great ideas is not always the problem – it's transforming those ideas into great stories. That's the secret way so hard to find.
Drew finds it though. In THE LEGEND OF ROCK PAPER SCISSORS, he seems to have asked himself, "What is this game's origin story?". Then he answers it by taking the basic elements of the game, a Rock, Paper, and Scissors, and then mashing them with the incredible idea of that in his they are all Legendary Warriors seeking fulfillment in finding their match in epic (and I mean EPIC) battles. This results the three greatest warriors traveling from places like the village of Junk Drawer, to do battle with a tart and tangy apricot, a computer printer monster, and breaded dinosaur shaped chicken nuggets. The dialog reads like lines you've heard in the movies (and the typography almost makes you read it with different voices), which really helps this as a read out loud winner. By the time I'm done reading this, I feel like I've put on a performance for my children.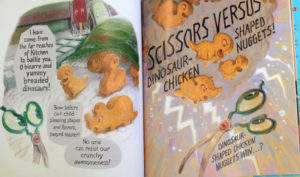 Adam Rex somehow manages to elevate this MS even further. One of those, books where you can't think of how anyone else would have been an improvement over what Adam has created. He takes the Rock, Paper, and Scissors as well as everything else that's "ordinary" and transforms it beyond what we could have hoped for. I love that the battles have the ground ripping apart, explosions, lightning, explosions, tigers, and explosions.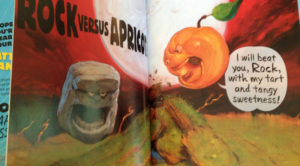 I have really REALLY enjoyed this legendary book and I appreciate what Drew and Adam have created here. I'll take these notes I shared today with me as I continue to to ask of my own stores: How easily will people relate to this? Is this something so familiar to me that has questions about it that have not been asked that others may wonder too? How does Adam paint like that?"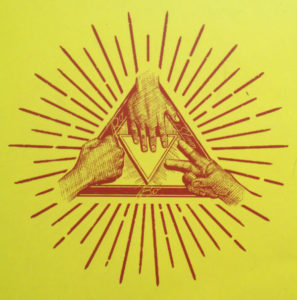 (cool bonus graphic Adam created on the back cover)
Until next time!