Big treat on Picture Book Builders today! The fabulous, non-fiction queen, April Pulley Sayre, is joining us to share a few details about her upcoming book, FULL OF FALL, releasing from Beach Lane Books next month. The book also includes gorgeous photographs taken by the multi-talented April. I've been a fan of April's books for years, so I'm especially excited to hear about her newest book. (I also had a great time chatting with her when our paths recently crossed at ALA in Chicago and we attempted this selfie.)
Anyway, on to my questions for April about FULL OF FALL!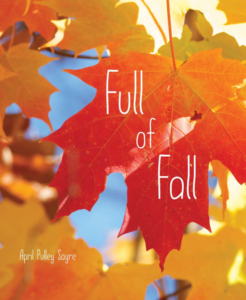 1. First off, congratulations on such a stunning book. The "touchable" cover is amazing. Can you share how it came to be?
Thank you. The Beach Lane/Simon & Schuster team has gone all in to produce special cover textures on these books. I'm glad you noticed! Raindrops Roll had that sparkle at just the right points, and Best In Snow had a granular snow texture on the snow. And now the leaf on the front cover of Full of Fall just looks, well, real. Art Director Lauren Rille works with production manager Elizabeth Blake-Linn, who is always on the hunt for new and exciting production elements. Elizabeth finds a way to make book dreams happen. I do not know the exact mechanics, except that the design has a second layer where all the points that will require gloss or texture must be designated.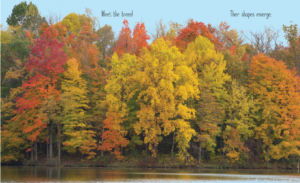 2. What was your inspiration to write this book?
Well, I love trees and I love autumn. I've actually wanted to write such a book for years. So when my editor Andrea and I were brainstorming and she mentioned Fall, well . . . I planted that seed in my mind. I cannot always actually write something that is suggested. But a year later, the idea grew and the language began to pour out. (That sounds like it was easy. It was not. Ask my husband who had to put up with me stomping around for weeks, obsessing over slight changes as I drafted it over and over and cut, cut, cut this word and that.) One of the hardest parts for me was that I had to discard a lot of autumn ideas that would have overstuffed the book. Fall is such a huge transformative time in nature! Alas, if I'd put in pumpkins or squash or a hundred other beautiful fall elements, I wouldn't have fully covered the profound changes and activities related to leaves.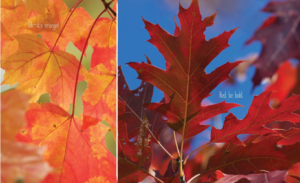 3. How does being both the photographer and author of a book affect your process? Do you start with words and then set off to take a photo to match them? Is your story driven by photos you've taken?
Each book has its own journey. Never quite the same. Many of my ideas come from photographing things and becoming obsessed with them in that process. Oddly enough, though, a book sometimes re-develops from thoughts I've had, concepts I've tried and failed to write, years ago. The photography gives new breath to the concepts.
I had photographed Fall for years. But it still feels like that manuscript came first. When I had the language and concept right, that gave me the freedom to wander Fall and study it more through photography. Of course the manuscript changes as the pacing of the book develops, sometimes!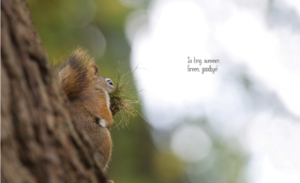 4. The photos in the book are amazing! Would you like to share a story or two behind some of them?
Thank you. Photographing for this book was one of the great joys of my life. The very day that Beach Lane accepted it, I drove out, awash with excitement that I had an excuse to spend even more time than usual out soaking up autumn's beauty. I already had photos from previous years, many from autumn when I would spend time with my mom in Virginia. (The gray squirrel on the back was from her yard.) But the book fueled a great wandering in Indiana and Michigan. When I found that butterfly camouflaged just like a leaf, on a fall leaf —wow! I knew that had to be in the book. And, thanks to the Book Vine for Children inviting me to go to Connecticut to speak at a preschool event, I also was able to include some of CT in the book.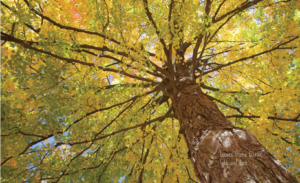 Thanks April. Can't wait for this incredible book to release!
If you'd like to learn more about April or her books, stop by her website!