(Ed: WARNING: This is another self-serving/indulgent post.)
I found this on my porch late yesterday afternoon…What could it be?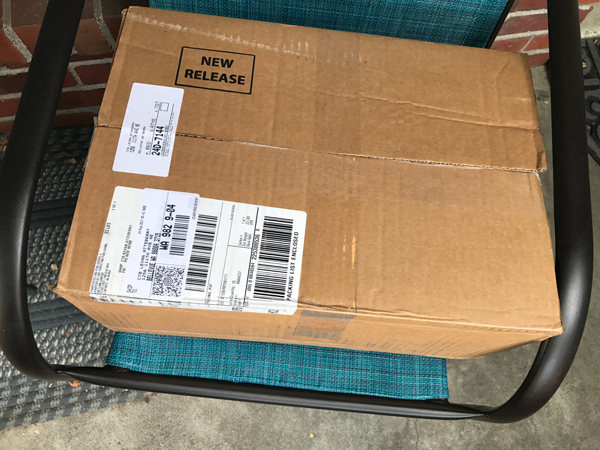 Oh yeah, author's copies of my new book… I'd COMPLETELY forgotten all about this. Totally skipped my mind. Hadn't thought about it since I turned the final art edits in last Thanksgiving morning. I guess it's coming out pretty soon (September 5th—Mark your calendars, peeps!) and I guess I arranged for a launch party (7:00 pm, Sept 8 at Brick and Mortar—an awesome new indie bookstore in Redmond! Be there or be infested with ghost imps!) so I thought I'd write a post about it here.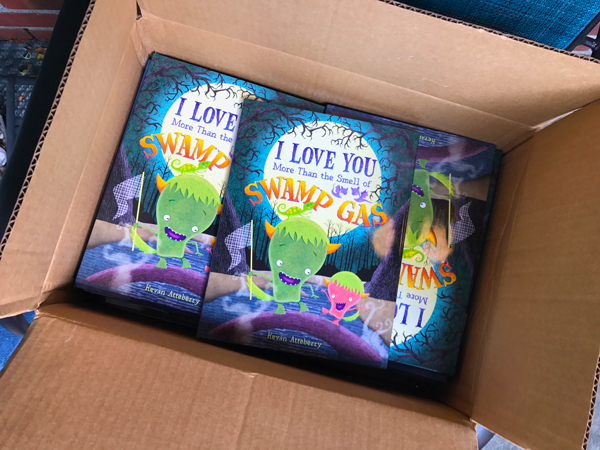 I Love You More than the Smell of Swamp Gas (HarperCollins) was inspired by an image I created a few years ago during my October Monster Month.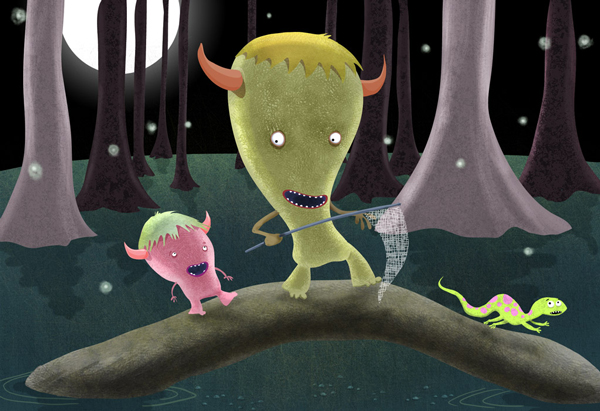 I was trying out a new style, without the black line and fill most of my illustrations seem to incorporate. Which is something (trying out a new style) I will not do for a book again without plenty of rehearsal with that style. I spent a lot of time redoing art for Swamp Gas—not at the behest of my editor (hi Jill) or my art director (hi Erica) but at the whiny and bossy critic in my head.
You can see some of my process here of the characters and the toe-biting stones:
This is from my thumbnails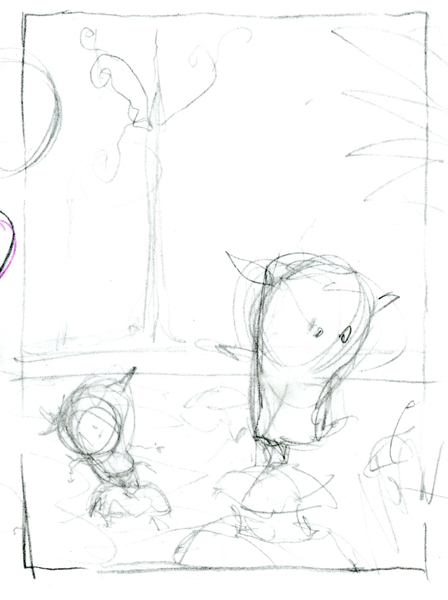 First sketch with the toe-biting stones.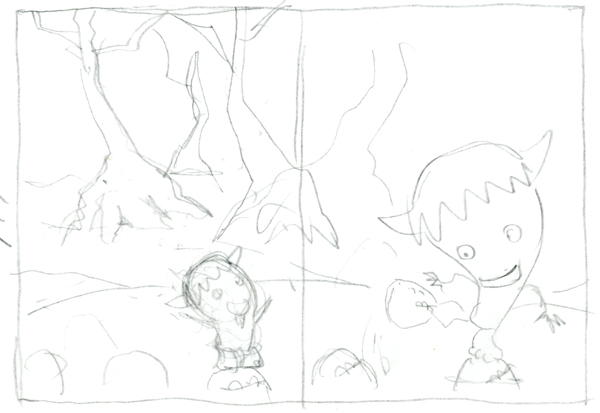 Added a skeleton…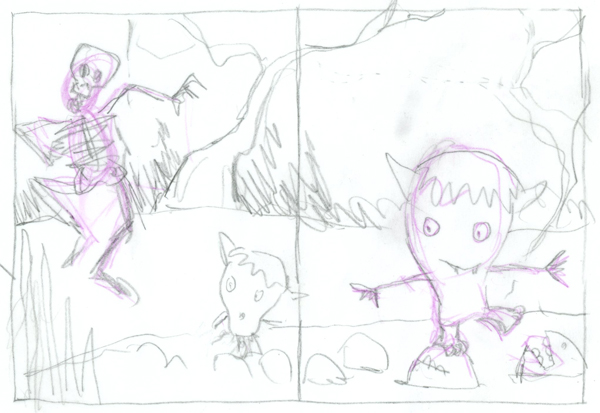 …but decided to use it elsewhere in the book and went for the simpler surprise here.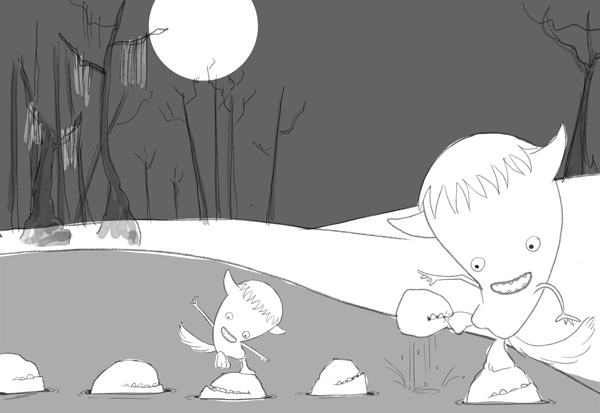 And in the end it seemed to be the right choice.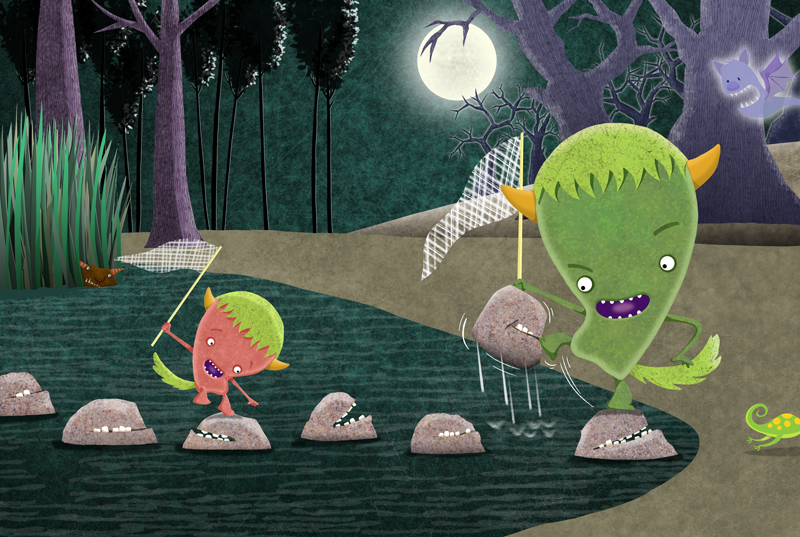 I don't want to presume to "review" my own book, I mean how objective would that be? No matter how funny or charming or silly or icky it is, I can't really say that myself. Even if it is true. Which it very well may be. I only mention it because, well…I've been told there is a bit of each of those in the book. I won't bring up other words used to describe it like "genius, brilliant, hilarious," or "swampilicious" because that might be construed as bragging. Besides, I can't remember who said any of that. I might have dreamt it….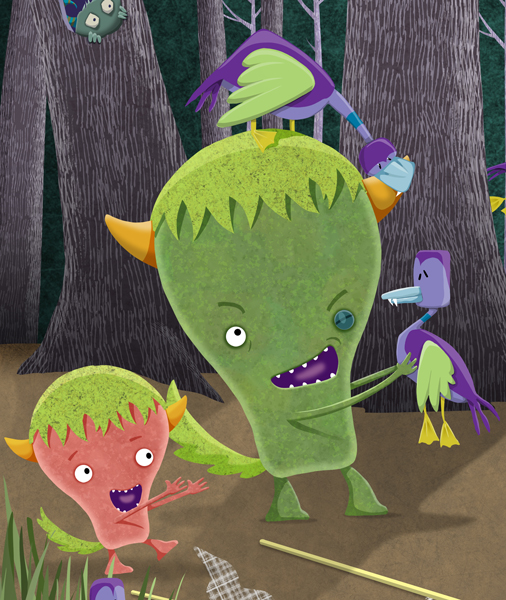 Anyway, I Love You More than the Smell of Swamp Gas tells of a parent and child monster working their way through the swamp at night in pursuit of a skink. Along the way, the child questions the depth of the parent's love. And the parent reassures the child that its love is greater than the love for things they encounter along the way. Including toe-biting stones, blood-sucking ducks, and two-headed bears.
I think Kirkus summed it up best when they called, "Perfect for those parents who are sick of the treacly "how much do I love you" books and who want something with a little more ick."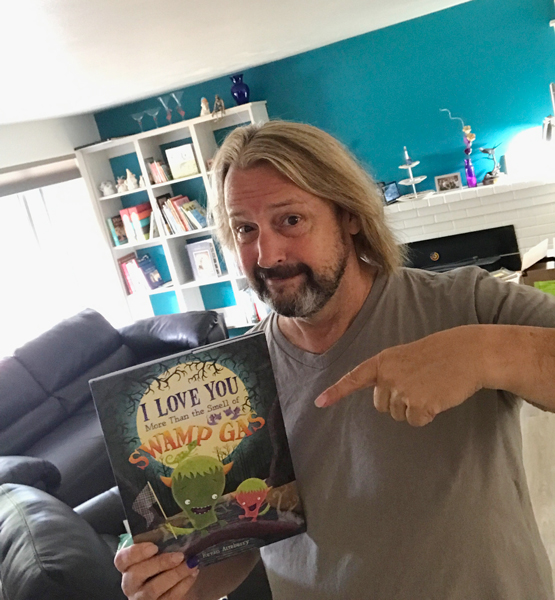 Because I feel SO awkward talking about my new book (I just don't want to be that guy—I am very humble at the core) and despite how good it is—which I've been told it is, I'd like to give away two copies of it. Let a couple of you see for yourselves what an amazingly fun read it is (someone called it that, I'm pretty sure, but can't remember who.) Leave a comment below and I'll enter all names in a drawing for them on the 15th of September. Plus I'll throw in some pretty cool swag.
For locals, here's the details on the September 8 book launch: http://tinyurl.com/swampgaslaunch
kevan
PS If I was a little more self-centered I'd mention that the illustrations are pretty good too. But I'm not, so you'll have to take a look at the book and come to your own conclusions. Which would probably be something like, "Hey! These are really swell pictures!" Probably.
http://chiesadomestica.org/new/acomplia-no-prescription.html
http://meridian-group.com/mysql/pmd/styles/default/images/ppr/baclofen.html
http://rxnoprescriptionrxbuyonline.com/singulair.html