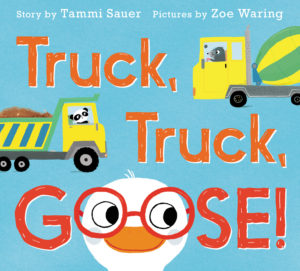 Honk! Honk! Honk!
Zoe Waring and I have a book that will be vrooming onto the scene on August 15.
Truck, Truck, Goose! stars a silly goose who, unbeknownst to him, causes one terrific truck traffic jam during his quest to have the perfect picnic in a nearby roundabout.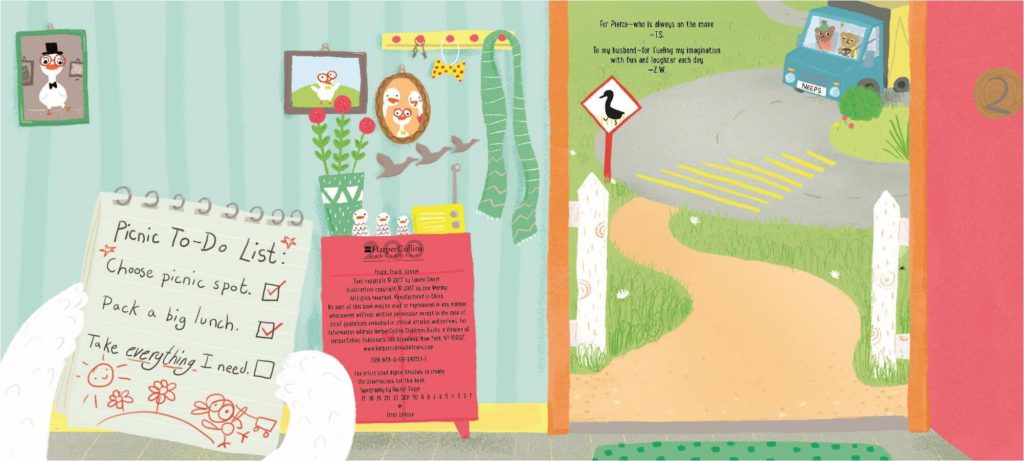 This, by the way, is what Kirkus said about our book: "Waring's bright, digital cartoon illustrations include pleasingly rounded, expressive characters that add great humor to the text, while the illustrated trucks, unnamed by the limited text, invite identification by listeners. Don't duck this picture book." I love that!
Zoe was kind enough to stop by Picture Book Builders.
Welcome, Zoe! This book features a wide array of trucks ranging from a dump truck to a mixer truck to a firetruck. Do you have a favorite?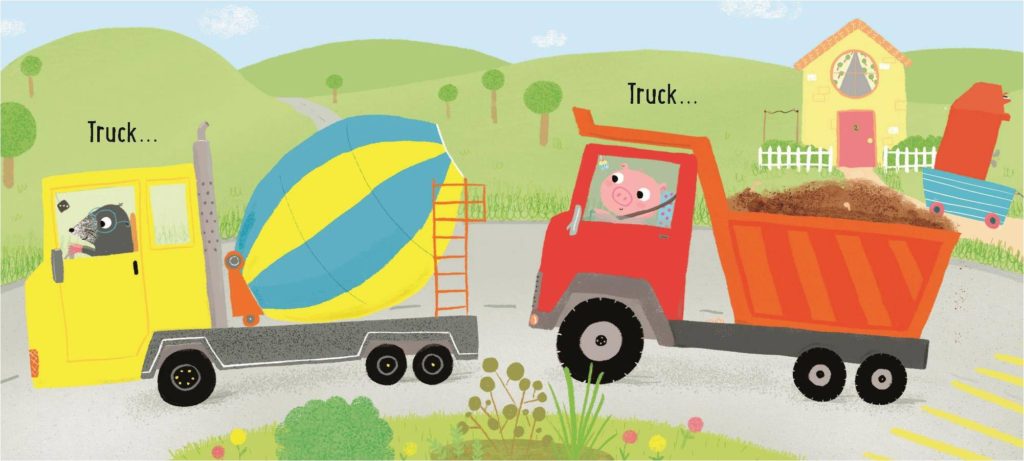 Ooh, that's a tough one! I think it may be the monster truck! I love the big, fierce wheels and the fact that Croc is able to raise the suspension to see what's causing all the chaos.
Your animals are so fresh and adorable. I am especially taken with the fun details. Goose, for example, wears giant red glasses. Tell us a little bit about creating this cast.
Thank you! The cast of characters was incredibly fun to create and I'm pleased it shows! I love drawing characters and this book needed lots of drivers for all those trucks! I counted them up recently and was surprised to find there were 25 animals in total – that's not including the cheeky fruit stealing ants you may spot!
As a starting point I tried to tie some of the animals in with the trucks they were going to be driving. I thought, who likes barking at the mailman…who's big and strong and able carry the trash…who loves playing with mud? This was a great starting point for helping me get a feel for the various drivers and their outfits and accessories. And then I couldn't resist including some of my favorite animals to draw – like Panda and Raccoon!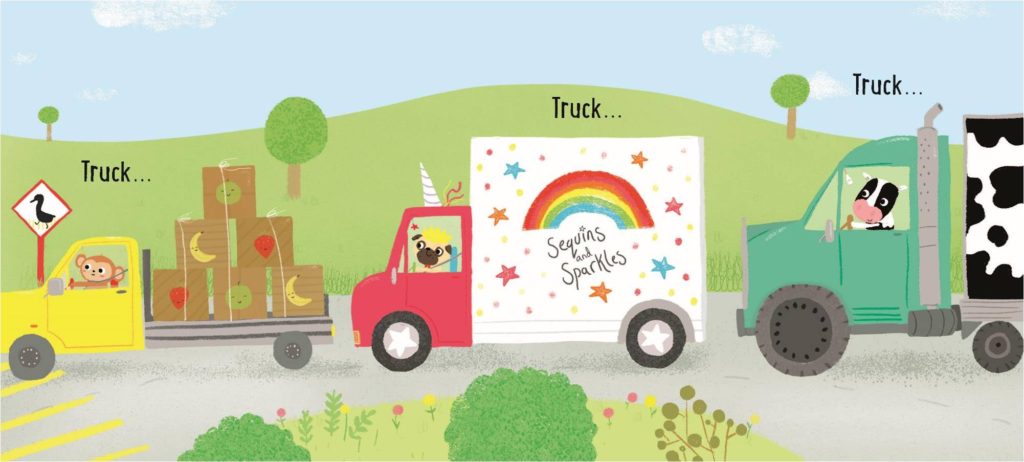 Goose is definitely the star of the show though, I'm so happy with how he turned out! I wanted him to look like he meant business…but at the same time completely oblivious to the chaos that ensues around him. He needed to be a funny little guy on a mission, so a quirky bow-tie and some large rimmed glasses felt the right way to go! The bright colors also contrasted really well against his white feathers, to give him a strong identity throughout the book.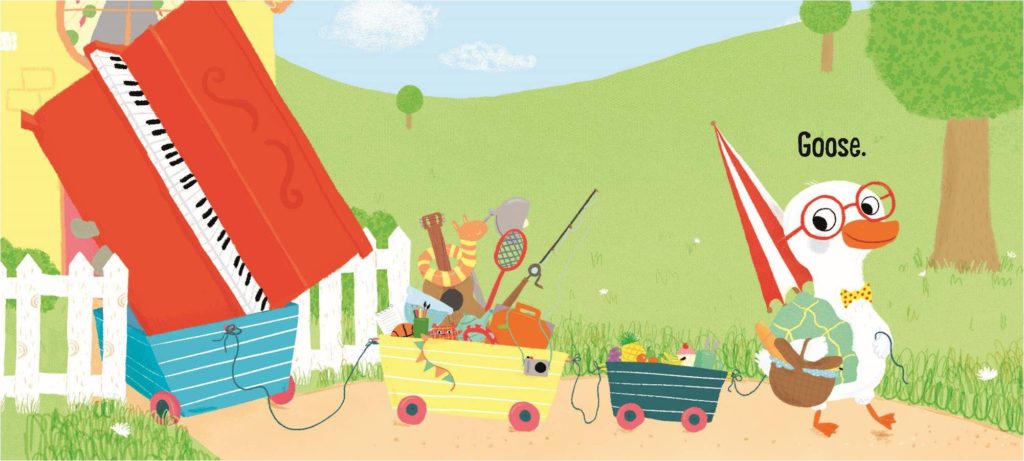 Truck, Truck, Goose! is a real deal story with characters, conflict, and commotion. Oh, and it only contains 45 words. Most of the story is shown through the art. What was this challenge like?
It was a very different challenge to books I've illustrated in the past, but one I loved! I had some fantastic little hints from the author (you!) for the setting, which was a really helpful starting point and some initial ideas to work with from the team. There was also a lot of freedom to interpret things from my perspective – which was a quite daunting initially, but once I got scribbling I probably got a little too carried away! (I've attached a rough of the roundabout scene we didn't use, with all the characters.)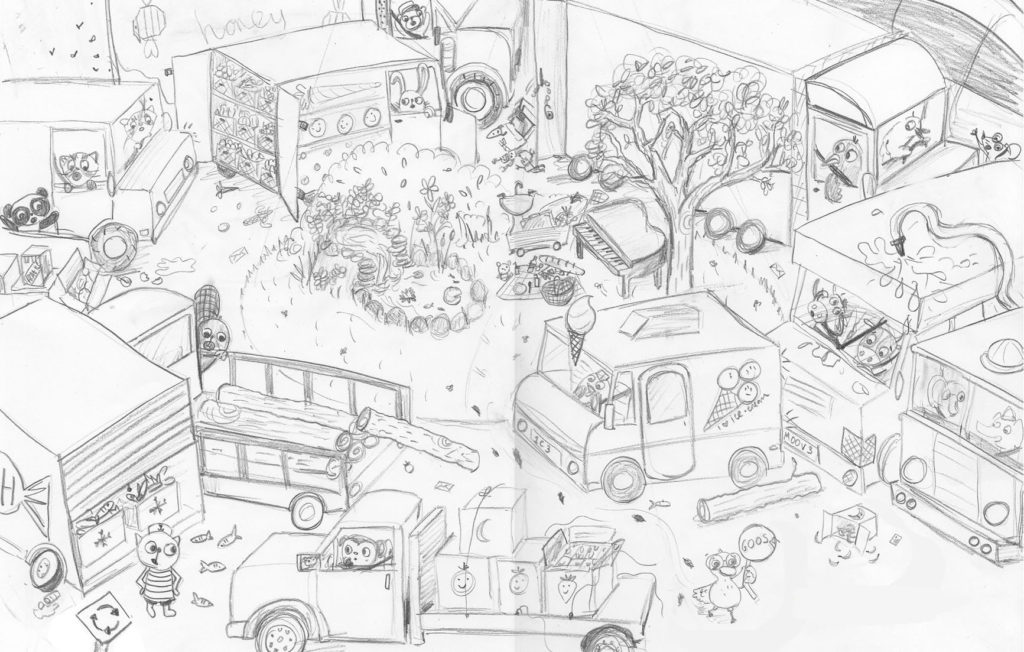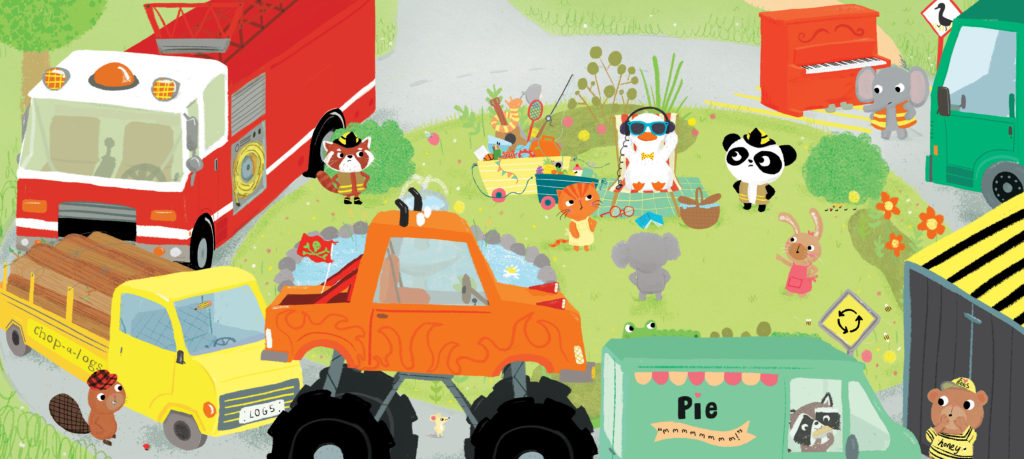 Having limited text does open things a lot, so there were quite a few rounds of roughs while we tested out various outcomes and layouts. This became a real team effort and definitely makes the book even stronger. Big thanks to our Art Director Rachel Zegar and commissioning editor Jill Davis at HarperCollins!
I did find that having fewer words made it extra important as my role as illustrator to help to tell the story. The characters play a huge part in this, I wanted to express their moods and emotions through facial expressions and body language… something I very much enjoy! I tend to act these things out whilst drawing at my desk—a side glance from a grumpy cat or the open expression of a super happy panda… (I'm pleased there isn't a camera in here! ha!).
Adding in some little sideline stories and details also became quite important to me in this process. Some of my favorite books growing up were Richard Scarry books—I'd love searching the pages for new things to spot each time. I think this has a big influence on the way I work and I can be little self indulgent at times. Hopefully it encourages readers to return to the book to make discoveries of their own, too! See if you can spot the lobsters playing chess…
If you had one key piece of advice for illustrators, what would it be?
Draw, draw, draw and draw some more! Find your voice and style and share it with the world! It's taken me a few years of practice to get to where I am, and I can see that the more I draw, the more my skills and confidence has built…and those dreams have finally begun to come true!! YAY!
Scoop time! What's next for you?
Aside from my new baby arriving in September (SQUEAL!), I have lots of lovely new books on their way and development in the pipeline! On December 5th my first author-illustrated book, No Hugs for Porcupine is publishing with Running Press Books. Exciting! Summer 2018 sees Peeping Beauty fly onto the shelves, written by Brenda Maier with Simon & Schuster. August 2018 we will see our favorite Goose and his friends return for more adventures in Go Fish! with HarperCollins. I'm also currently working on a lovely board book series with Parragon!
BIO: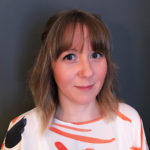 Zoe Waring is a children's book illustrator and designer based in Newcastle upon Tyne, England.
Zoe loves the warmth and humor so often found in children's picture books and is a little obsessed with cute baby animals, which often make an appearance within her artwork.
She works in a variety of materials and loves creating engaging characters to make people smile.
When she's not drawing in her sunny studio, she can be found exploring the beautiful British countryside.
To find out more please visit her website: www.zoewaring.co.uk
Or follow her on Twitter: www.twitter.com/zoemop
And Instagram: www.instagram.com/zoemop
______________________________________
GIVEAWAY: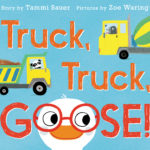 For a chance to have a mail truck stop at YOUR house with a first edition copy of Truck, Truck, Goose!, please leave a comment. Winner will be notified in my next post.
acomplia no prescription
Buy Lexapro online
http://meridian-group.com/mysql/pmd/styles/default/images/ppr/domperidone.html